Google Photos are claimed to be a spacious and reliable storage service for your images. However, phone users often complain about their photos disappearing from the storage. We've collected major scenarios and solutions to them.
We are describing how to retrieve images from your Google Photos account as well as giving existing recovery methods, both provided by the service itself and alternative ones (if there is no backup copy).
Contents:
Basic recovery from Google Photos Trash (Recycle Bin)
Your photos are stored in Google Photos cloud for 60 days. If you didn't empty Recycle Bin, you still can get back your deleted photos. Yet, keep in mind that this is going to work out only if the photos had been backed up using Back up and Sync on app.
Instruction for Android
1. Open Google Photos app on your phone (downloadable from Google Play)
Download Google Photos for Android
2. In the top left corner of the app find the main menu, navigate to the Trash
3. Select the elements on the list that need recovering: deleted files, folders with images and videos
4. To retrieve selected files, tap Restore
5. After that selected photos and videos should be recovered. Google Photos app will save them to the same album/folder where they used to be stored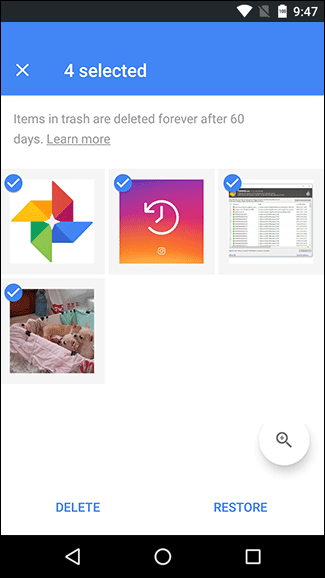 Instruction for PC
Make sure you signed in the account you are using for your Google Photos.
Google Photos Trash is here.
Recovery happens in the same way as in the mobile version: you specify what deleted data you need to recover and click the Done button to confirm your choice.
To recover Google Photos images press Restore.
All deleted files will be restored and synced with your Android phone.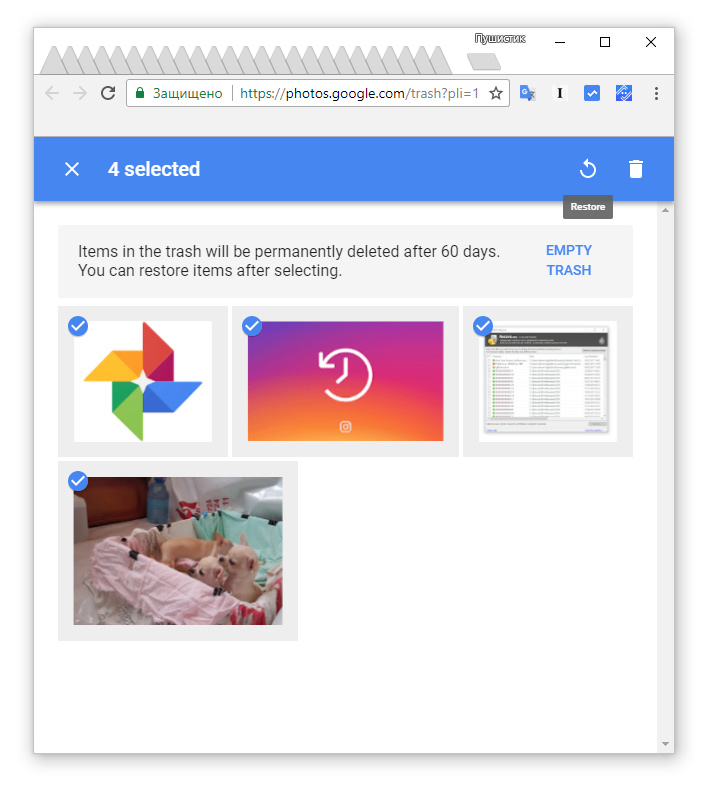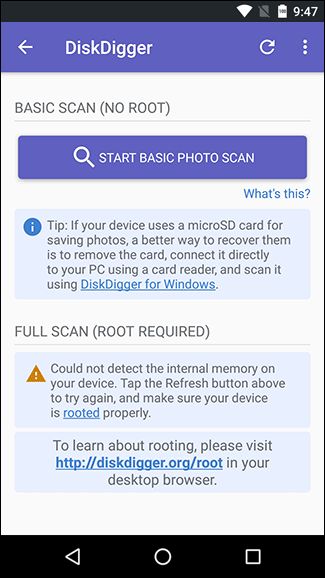 Universal method to restore Google Photos folder — DiskDigger
If the 60 days are over, you won't find your images in Google Photos Trash. It makes sense using a recovery tool which is proved to be effective: DiskDigger for instance. Let's have a look at how to recover deleted photos on Google Photos using its toolbox.
1. Download and install DiskDigger for Android from our website or Play Store.
2. Run the app and scan your phone memory or SD card.
Note: you need to define the exact location of the photos – internal memory or memory card. You can look it up in the settings of the app  (Camera, etc.).
3. Save the files you found.
There's a number of other recovery apps, besides DiskDigger, which are able to help you. We are now going to look at the best ones:
How else can I recover data from Google Photos? A few simple formulas 
Well, basically photo recovery from cloud can be performed only using Google Photos service, but there are a couple of tips and tricks which come in handy sometimes.
Check other folders in your Albums, since your photos can also be "hiding" in there. How to recover photos from Google Photos:

Open Google Photos in the mobile app or browser
Under the "Photos on device" find the folder you need
Look through the thumbnails to see what photos are in there

If you shared photos with other users, ask them to check if they have them in the Download folder. In turn, check your message history in messengers (Skype, Whatsapp and Facebook).
If you are using Samsung apps like Cloud, check for the backup copies of your photos on the server.
Question – Answer
I need urgent help. My problem is that all photos from my old phone were in Google Photos folders. When I got a new phone and tried signing in that account, the photos weren't there. They mean a lot to me and I need help. Where shall I find them, am I doing something wrong?
Answer.
Photos might have not been uploaded to Google Photos from your old phone; sync feature could be off or only partial synchronization was on.
Check if the photos are on your old memory card or in your old device.
---
My photos from Google Photos disappeared although before deleting them from the Gallery on my phone I double checked that they had synced with Google Photos. Please, help me restore photos from Google Photos service.
Answer. If it hasn't been over 60 days since you deleted them, look for them in Trash. To recover deleted Google Photos after 60 days use DiskDigger for Android to scan the internal memory of your phone for the images.
---
This morning I was making screenshots from Instagram and didn't open Gallery. In the evening when I wanted to take some pictures of nature I didn't find the screenshots. Then in Google Photos there were a lot of various files which wouldn't open. I deleted them to trash and removed. Where are they gone?
Answer. As you might have guessed, the photos were deleted as a result of your actions. However, from your question it's not quite clear what exactly you want to recover:
If it's Instagram screenshots, it's easier to capture them again or recover using this Instagram recovery guide.
If it's photos of nature, they should have anyway been saved not only in Google Photos but also to the memory card. Look for them using the software we mentioned above.
---
Please, help me retrieve google photos, I have no idea how it works. I transferred photos to Google Photos (from Lenovo phone) and then when the storage was full, I deleted them hoping they would remain in Gallery. But I can't find them anywhere, even in the Recycle Bin. My Google Photos disappeared!
Answer. You had synchronization with Google Photos enabled on your phone. Consequently, whatever files you delete on your computer go to the trash in the cloud. As was mentioned above, you can restore files within 60 days, after which trash will be emptied.