How to recover deleted video from Android phone? Take Recuva, card reader and mobile sd card. Let's begin recovering deleted videos on Android!
Our readers regularly ask how to recover deleted videos from phone, so I've written this guide for you and for them. Basically, all you need is a free app Recuva, card reader and memory card. No rooting is needed.
Let's begin the video recovery! The plan is:
Download and install Recuva
Recuva is a free video recovery app for Android which I'd recommend to use in the first place; it's easy to use. Besides videos, Recuva finds dozens of other file formats and data types. Overall, it can restore audio, documents and images on condition that your files hadn't been rewritten.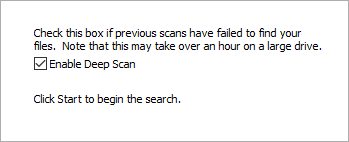 In the most complicated scenarios the deep scan option is of great help; it will make anything literally rise from the ashes (although the files can be corrupted with no chance to view them).
At the moment there's no mobile version of Recuva for Android. So firstly, download Recuva and install it on your computer. It can be installed to any disk but the one from which the files had been deleted!!
Connect your memory card to the computer via USB
To recover deleted videos on Android the sd card needs to be read on the computer and the disk needs to be scanned. For this use a card reader; a laptop would make your life easier because it usually has a built-in card reader which should be perfectly suitable to connect your sd card.
At the worst you can replace a card reader with an mp3 player (which has a slot for a memory card) or Android phone connected using MTP mode. The main thing is for the available disks list to show the phone's sd card when the device is connected.
Start Recuva video recovery Wizard
Recuva recovery Wizard can be of great help for the beginner users as it makes salvaging of videos much easier. The Wizard window appears at startup.
As Recuva Wizard appears, click on Next. Select the filetype(s) you want to recover from the memory card. In our case it's Video (Show only video files, digital camera recording).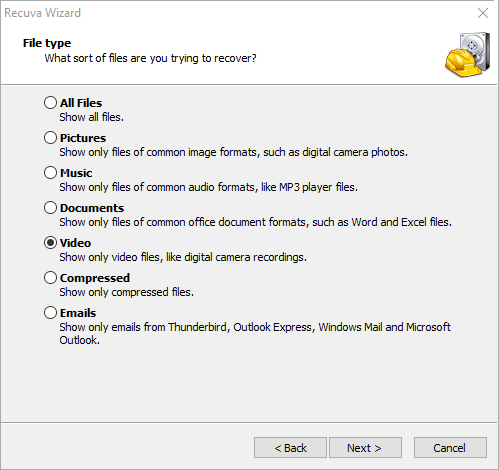 Recuva searches for the following file types: avi, mov, mpg, mp4, flv, wmv, mpg, mpeg, mpe, mpv, m1v, m4v, ifv, qt.
Restricting the file formats to certain ones will save you time as Recuva will skip all the odd media data types. In general, you can set All File Types (for example, if you don't see the file extension from the list above) but it will definitely make the video recovery process more complicated and slow down the search especially in the Deep scan mode.
In the File location field you need to set the location the video files were deleted and need to be recovered from. Select On my media card or iPod to scan particularly the removable media.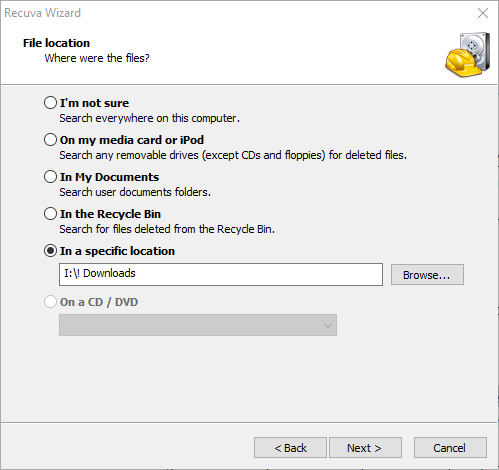 In the last stage enable deep scan. This option is really helpful in recovering after formatting or for a corrupted sd card in your phone. Anyway Deep scan boosts the chances to find deleted videos on Android). Besides, it takes less time to scan an sd card rather than hard drive with the capacity over 2 TB. From our experience we can be certain that scanning for deleted videos doesn't take longer than an hour.
Click Start and wait for Recuva to run the full scan of your phone's memory card.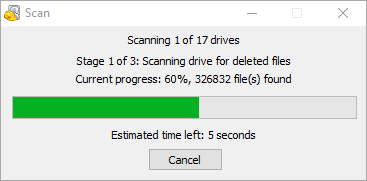 Save the recovered files to a disk
When the scanning is over Recuva will list the search results. To illustrate it let's move to the Advanced mode.
The line next to the file name displays condition markers in three colours:
red: video file is severely corrupt, chances are super low
yellow: partial or full recovery of files is possible
green: you can get back deleted videos no problem (the file didn't' get corrupt when deleted)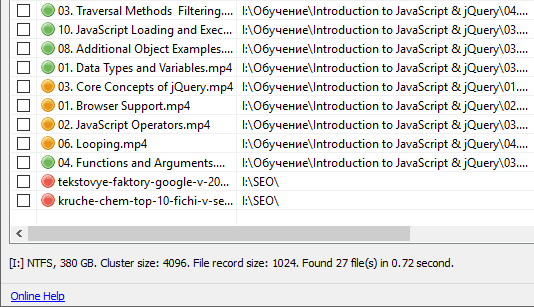 You can find the video file faster if you specify its name; however it's not always possible (when the file is deleted, file name metadata can disappear from the file table). Tick the files you want to recover and press Recover to retrieve deleted videos on Android. Define file save location.
Important! Don't restore the files to the disk they were removed from to avoid rewriting of the data which lessens the chances for the files to be recovered radically.
Check the recovered video files quality
Once you've saved the video on your computer, check it for corrupt fragments, make sure it plays correctly.
For that open any video player and look through the video to see if it's coherent and has no artifacts in it.
A lot of videos can be played even if slightly corrupt but if a video container or its essential part was damaged, it's bad luck. So you can't fix corrupted video using Recuva. 
***
We are close to the end now. As you can see, the procedure isn't too complicated and it's quite possible to undelete video on Android without root. What's of great value is that using Recuva you can recover all the found video files for free.
Gradually we'll be reviewing other data recovery apps, including paid ones.