Active File Recovery is a program designed to restore files on various storage devices:
fixed disks (hard disks, usb flash drives and memory cards),
removable discs (cd/dvd/bluray).
The QuickScan and Superscan modes allow you to select the optimal ratio of recovery time vs efficiency. It is also possible to create a virtual copy of the disk and to restore from raid 0-1-5 (in pro version).
All in all, it makes Active File Recovery a powerful, effective and in some situations indispensable tool.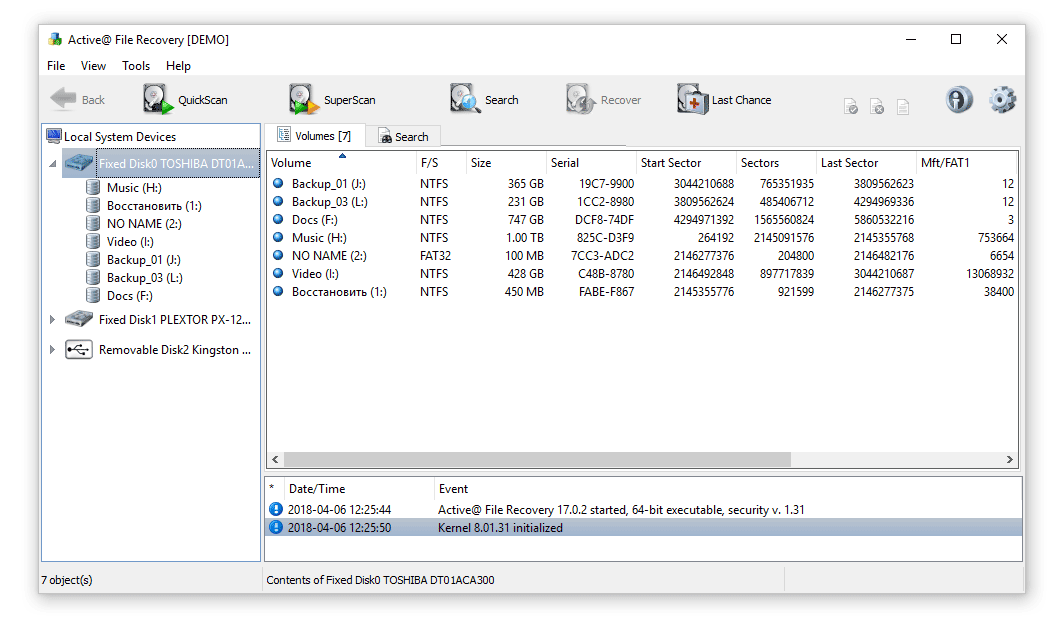 Devices from which you can restore files
Active File Recovery software works with the following data storage devices:
IDE / SATA hard disks, eSATA и SCSI HDD, SSD
USB Flash disks and Memory Cards (sd/microsd)
RAID arrays (RAID-0, 1, 5), Left/Right, types Synchronous/Asynchronous for RAID-5
Types of files for recovery
The Active File Recovery scanner recognizes main file formats which are most often deleted. Among them we will note:
image files:
Adobe Files
Camera Raw Files
Photos & Images
text files:
Formatted Text Files
Microsoft Office & OpenOffice Documents
other documents:
Compressed Archives
Electronic Books
Active File Recovery Functions
QuickScan (Plus) and SuperScan
The QuickScan option is useful if the files have been deleted recently, for example, after cleaning the Recycle Bin or quick format.   
The SuperScan option should be used if QuickScan hasn't brought any results. SuperScan is an analogue of DeepScan in Recuva and similar programs. Searching for files takes much longer, because the entire hard disk is scanned. This, accordingly, increases the chances of recovering deleted files.  
There is also an enhanced version – QuickScan Plus. Unlike QuickScan, all unallocated space is scanned on the storage device.
Saving of search session is available in each mode. In other words, you can save the results and open them for analysis and recovery later.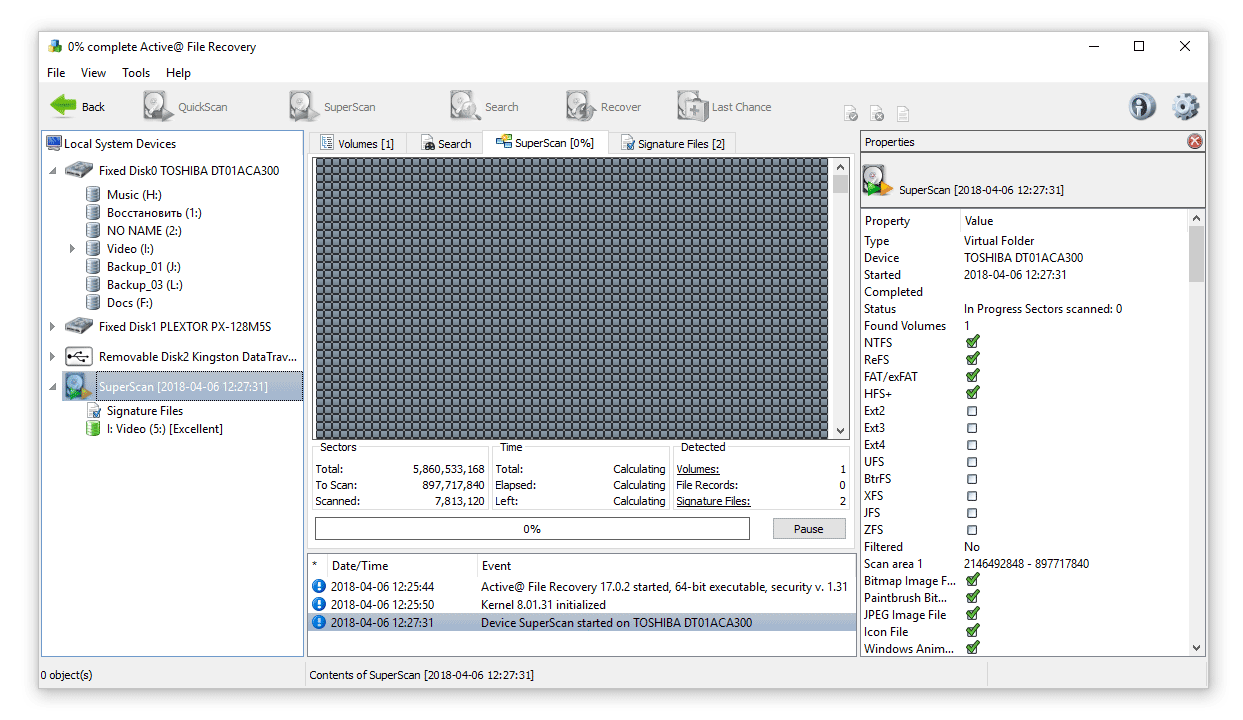 Last Chance recovery and file signatures
In the version of the program – Active File Recovery 13 – there is an option 'Last Chance recovery'.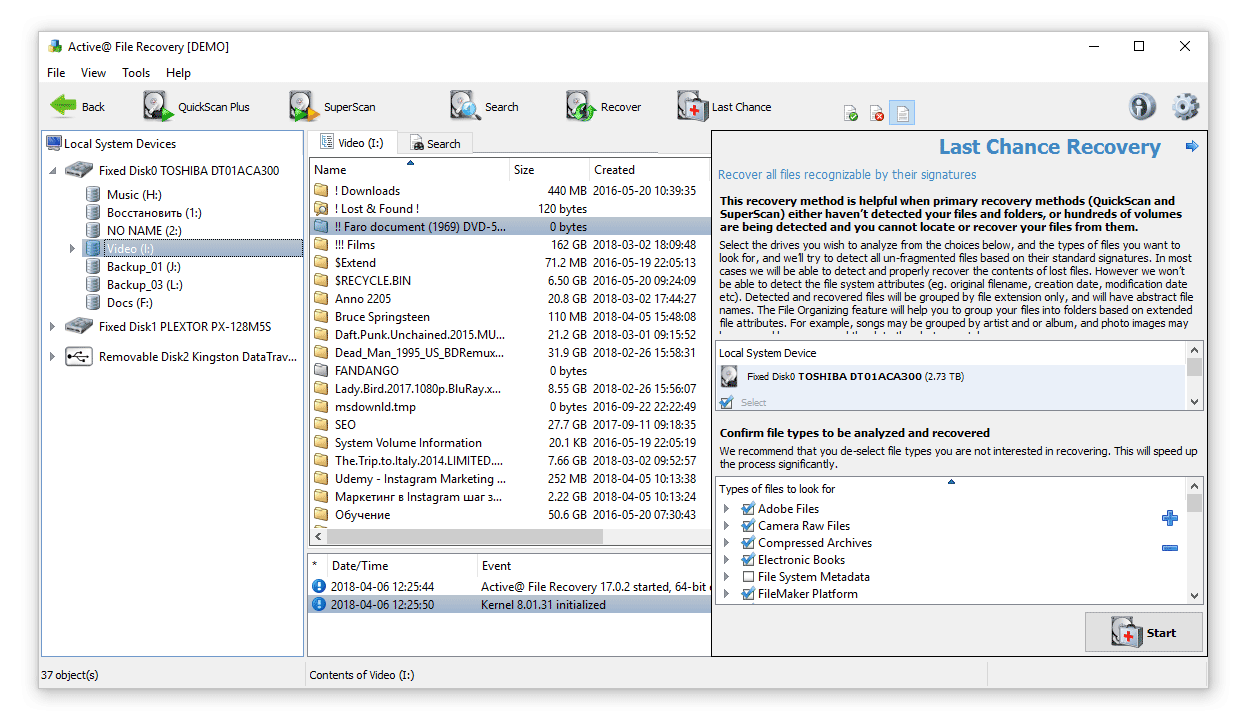 With this type of search Active File Recovery tries to find files by their signatures. It is necessary to understand that some of metadata can simply not be restored including the creation date, file name and so on. At the same time if standart scanning methods haven't helped, Last Chance recovery will bring results.
The original file extension with Last Chance recovery, as a rule, is not saved. Recovered files are grouped by types, signatures and other surviving data. Subsequently, it is convenient to organize them through File Organizer.
Convenient sorting of files through File Organizer
The recovered files may not have extensions and names. Therefore, when viewing results, File Organizer is convenient. You can create special folders and distribute files by their signatures.
File Organizer distributes files by extension, allowing you to view data through preview, move items to another folder, etc.
Checking the results through a preview
The preview is convenient for a quick review of the content and evaluating  success of the file recovery before it is saved. In this case, the files are placed in RAM and are not written to disk without the user's knowledge.
Active Image Recovery integrates an image viewer (jpg, png, tiff, bmp and other formats).
Deleted / Damaged RAID array (0-1-5) data recovery
One of the strengths of Active File Recovery is the recovery of files from a RAID array. The program assembles array from several disks. By connecting a virtual image to the device list, you can try to restore the data.
Creating Disk Image
With Disk Image, you can create a complete copy of the logical drive (volume) or physical device (HDD, SD card, USB). 
This is a kind of insurance against unsuccessful recovery and overwriting of deleted files.
After creating the image, you can work with it as with a conventional storage device. The following types of virtual disks are supported:
Active@ Image
RAW image
VMWare
VirtualPC Disk image
Where to download Active File Recovery for testing
Free Demo is available on the official website. The program can be tested by restoring files up to 64 KB in size.
Download Active File Recovery for free
Active File Recovery versions
Having familiarized with all the functions of the program through the demo version, you can purchase a license for one of the product editions:
Active File Recovery Standard ($29.95) *
Active File Recovery Professional ($44.95)
Active File Recovery Ultimate ($69.95)
* in brackets the prices are listed for the Personal needs.
The Standard version includes the full set of basic recovery tools.
The most functional versions of the program are Professional and Ultimate.
In the Professional version there is no LiveCD and Boot Disk Creator, otherwise this version of Active File Recovery repeats the Pro toolkit. Also, unlike Standard, Pro adds the following features:
Hex Viewer,
Raid array recovery,
File Organizer,
Creating RegExp-signatures for searching files.
There are some other differences between editions, you can study them here.