Usb flash drives and sd memory cards are capacious, cheap and convenient devices to store information. A usb flash drive can store data of special importance: confidential information, logins and passwords to wallets and bank accounts.
Following a simple mistake (or inadvertence) important information can easily be lost from a usb flash drive. Mostly information is lost due to corrupted file structures. For some cases the deleted files are really unrecoverable, but sometimes it's possible to recover deleted files from usb drive. In this is what we're going to do ourselves.
This review presents programs that can recover files from corrupted flash drive. Each application has pros and cons which we are going to list.
Contents:
Programs to recover files from a usb flash drive:
How the programs were tested
A 7.29 GB-sized usb flash drive with FAT32 file system was used for testing purposes. Following files were copied to it:
a movie - avi - 1470 MB
a music album - flac - 287 MB
a folder with photos - jpg - 263 MB
We have wiped files from the flash drive as it would look in reality (in case of accidentally formatted usb, etc.). To do this we:
have deleted files from the usb flash drive, by-passing the recycle bin (Shift + Del)
have executed quick formatting
have stored a 1.1 GB-sized file over deleted files.
Let's see what are the results of the above mentioned programs.
Programs Overview
The good thing about recovering applications is that they skip usb flash drive service information and access to memory directly. In general if not all than at least some of the suitable for further work data can be retrieved from the device memory.
The number of programs to recover files on a usb flash drive is countless. Many of them are of general purpose: they work with hard drives, system partitions and are suitable for recovering files of specific formats
I suggest becoming familiar with the programs operating on mobile storage devices – usb flash drives and sd memory cards.
PhotoRec recovers photos from a usb flash drive
Cgsecurity PhotoRec is a free utility to recover files from pendrive; it supports over 250 file signatures, including the most common photo and video formats. Installs on Windows, Mac OS, Linux. For DOS a console utility TestDisk can be used, which is an analogue of PhotoRec without GUI.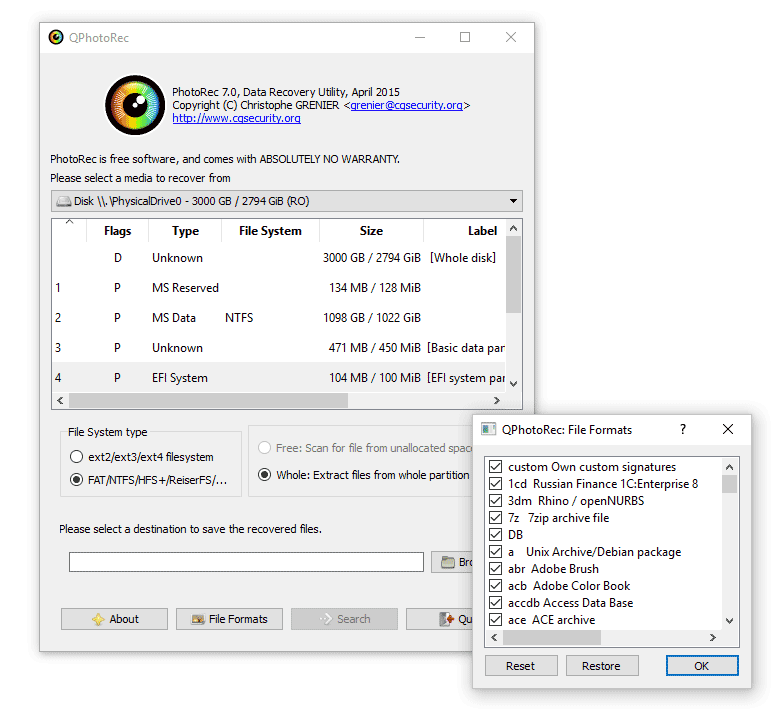 PhotoRec scans any data storage device which has been formatted with the FAT file system, HFS, NTFS, or exFAT. Initially, the program was created for digital photo and video cameras owners, but now you can scan any data storage devices: usb flash drives, phone sd cards, HDD drives, and even RAID arrays.
Among the pros of PhotoRec are worthy of note:
Creation of custom file signatures (might help if the search among the other formats did not help),
Selection of the type of scanning (carve the partition, whole disk or unallocated space only),
Copes with weak configurations (PhotoRec runs in Low memory mode).
File recovery using PhotoRec
PhotoRec stores the result in the specified folder as recovered.
The scanning took about 10 min.: fast enough taking into account that the results are the same as the results of Unformat. The program has recovered not only photos, but also videos, and not only what has been deleted from the usb flash drive after formatting, but even the files written and deleted before the test. It seems, that this place on the usb flash drive has not been overwritten, so 1 GB-sized videos were recovered almost without any damage.
Among the cons of PhotoRec is the absence of saving option. All files are stored in a specified folder together and the preview is not available. There is also no information on from where the files have been deleted.
Unformat
Unformat is one of the most effective programs for recovering deleted files. It was developed by LSoft Technologies Inc. company, which, by the way, has released such products as Active UNDELETE and Active File Recovery.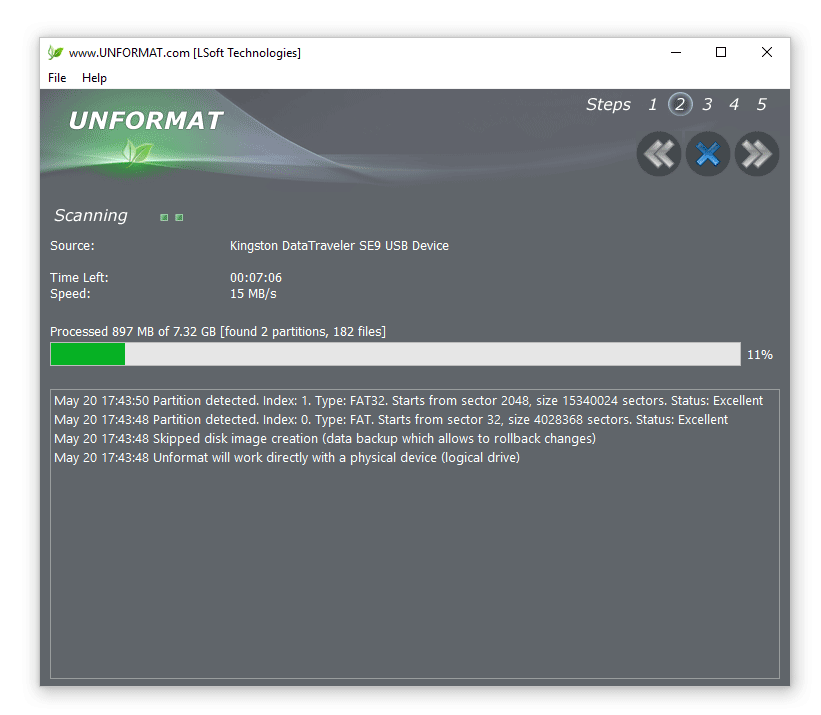 Program features:
Support for USB connected devices: HDD disks and flash drives
Recovery of formatted drives (after Quick or Full format)
Support for other devices: PC HARD DRIVES, SSD
Support for all types of memory cards
Support for file systems compatible with Windows/Linux/Mac OS
Creation of a disk image (allowing to repeatedly experiment with a usb flash drive without overwriting the files on a physical data storage device)
How to restore a usb flash drive using Unformat
The program is simple, there is a step-by-step wizard. Shortly, to recover files from usb flash drive with the help of Unformat you have to:
Select the usb flash drive in the list of the physical devices (tab "Physical Devices")
Click the "Next" button, wait for the scanning to finish
Select the data to recover and click the "Recover to..." button
Scanning of deleted partitions on the usb flash drive took about 20 min. Further scanning of the partition after selecting it from the list – about the same time. Saving files also takes several minutes.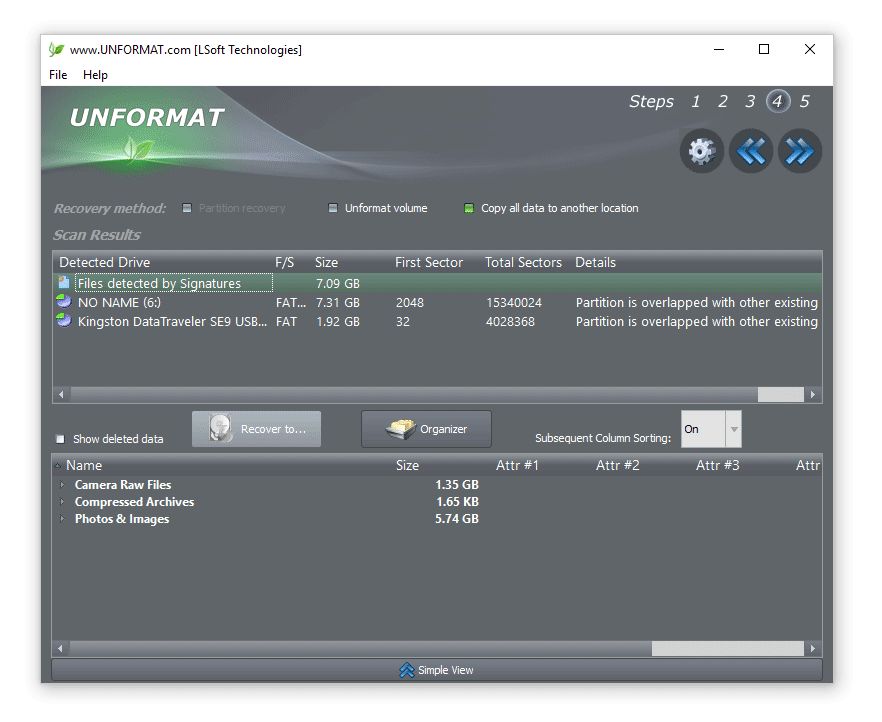 The program Unformat determines the deleted partitions, the type of file system, the quality of the results, the first and the last sector of the partition. All the process information can be tracked through the journal.
Files sorted according to their types, are accessible in the "files detected by signatures" section. However, the file types may not coincide with the extensions and they have to be manually changed.
As the result, the Unformat program found all the pictures in jpg format. After formatting and rewriting all the data including exif information was stored. But the file names were deleted. Video and audio files could not be found in Unformat.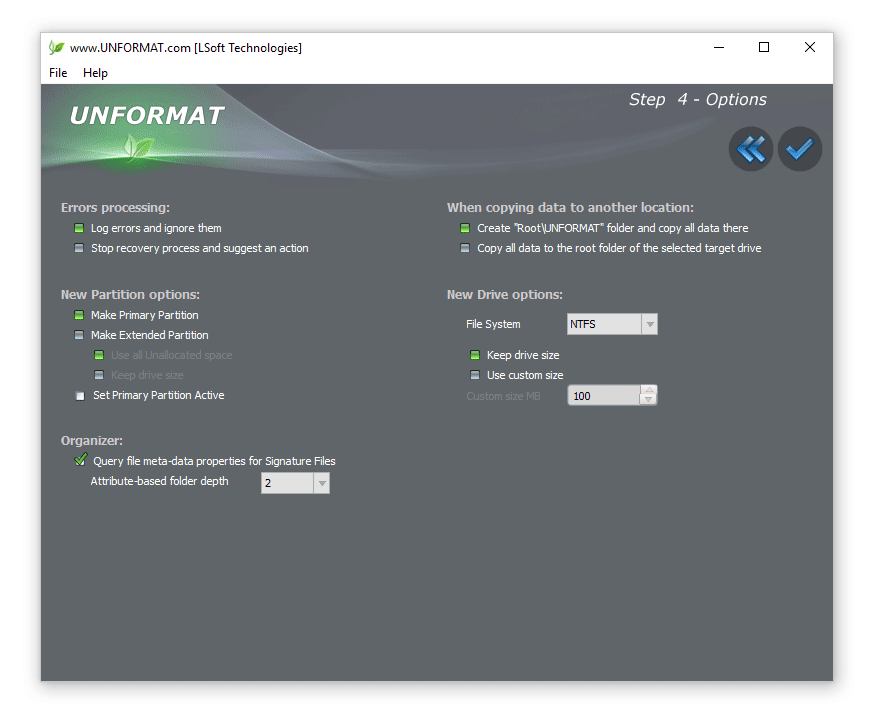 CardRecovery
The program CardRecovery fits the review, as the list of supported devices includes usb flash drives and portable drives. It will help to recover files which have been accidentally removed or formatted, when usb flash drive file system was corrupted or memory card was damaged.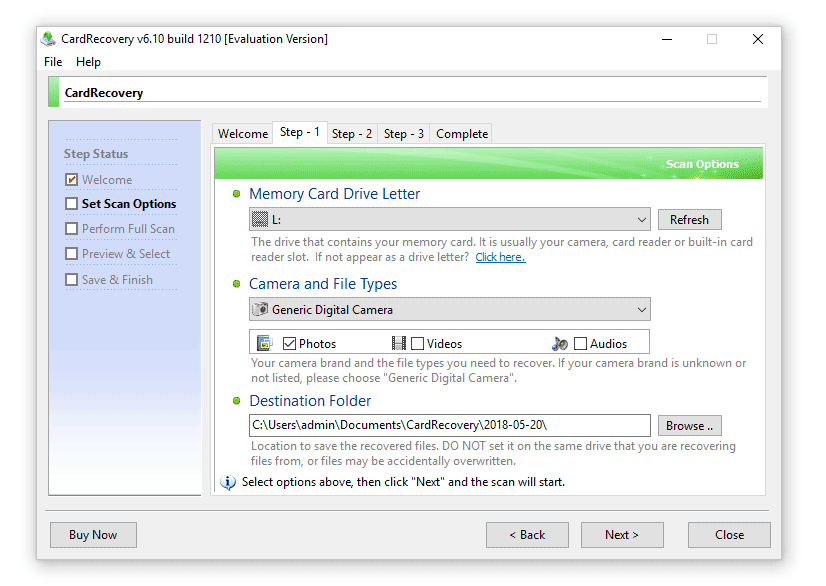 In fact, this product hasn't been updated for a long time, the latest version (6.10) was released a few years ago. However, CardRecovery works without any problems on Windows 10.
Unfortunately, the recovery of other information from a usb flash drive (files, documents) is unavailable. For this reason, utility CardRecovery is likely to be useful to photo and video cameras owners who have lost memory card or usb flash drive data.
The price of the program is low, single-user license is only $39.95 USD.
Recovering deleted files from pen drive using CardRecovery
To restore deleted files from flash drive we have to:
Run the program CardRecovery
Chosen usb flash drive as a storage device from the list of "Removable Devices".
Indicated the file types for the scanning of the usb flash drive (In CardRecovery the selection of extensions is limited by media file types: photo, audio and video).
The results of the scanning are displayed as "file name - properties". Exif-information can easily be retrieved from photos. One of the steps (Step 3), you can see the preview. From this perspective, CardRecovery is pretty much the most convenient program.
A preview is not available for videos: it can be seen only after purchasing the full version.
CardRecovery recovered all the images on the usb flash drive as Unformat did it. Many media files were damaged during the process, leaving no chances of recovery (apparently, this information has been stored on the usb flash drive for a long time and has been overwritten many times).
Recuva: pen drive deleted data recovery
Recuva is a multipurpose program which can be used to restore files from accidentally formatted usb drive, sd card, HDD and SSD. The toolkit is free and you don't have to buy a license to get round the limits, as with other data recover programs.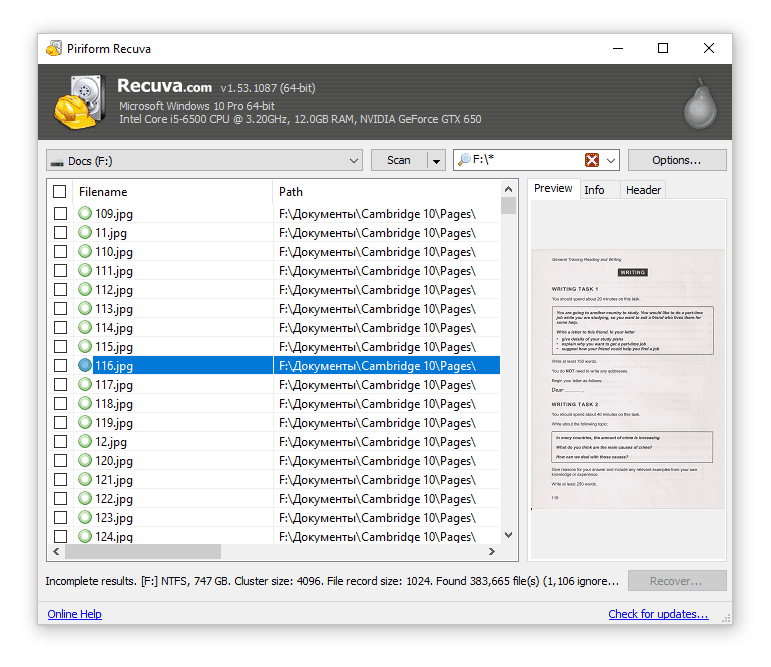 If the usb flash drive is in very poor condition, you can create an image of it and enable search by signature. Files color-coding is displayed depending on the extent of damage. For media files preview is available.
File recovery using Recuva
After connecting a USB flash drive, we run the Recuva Wizard, selected file types and a media storage (usb flash drive). Also we activated the "Deep Scan" option so it won't skip damaged and overwritten files.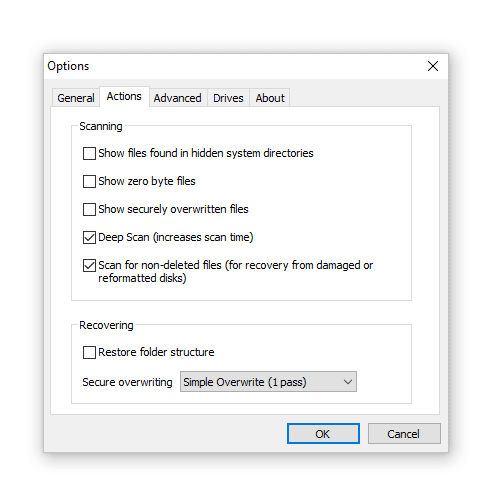 The recovery process took about 20 min. If a usb stick is more than 64GB, be prepared for the scanning to take even more time. Anyway, Recuva works faster than the programs like Unformat.
Recuva Wizard has a preview, which is especially useful when working with photos if you need only specific files
In general, it is possible to recover files from flash drive in several clicks, but in exchange you will not be able to choose a file search section and will not have a signatures sorting option.
File Scavenger - effective usb drive data recovery software for Windows
The list of problems File Scavenger solves is impressive:
It recovers files deleted from a usb flash drive
It recovers data after an accidental usb flash drive formatting
It fixes a corrupted usb flash drive
It deals with a usb flash drive not recognized by Disk Management
It deals with a usb flash drive which has been "reset" to factory settings
Files can be recovered on hard disks, memory cards, RAID arrays etc. Recovers data on most file systems (including NTFS, FAT 32/16/12, exFAT, ReFS) and virtual disks (VMFS, VMDK, VHD and VHDX).
The program runs without installation (you can select the corresponding option when you start File Scavenger).
File Scavenger is updated regularly and on the developer's website the latest version for Windows 10 and Server 2012 with 64- and 32- bit editions is available.
Note that in demo mode, File Scavenger allows you only to test the functionality; you can't save the recovered files or unformat usb drive without license purchasing. File Scavenger Standard Edition costs $ 57.00 and Professional Edition costs $ 195.
File recovery in File Scavenger
To restore files from a usb flash drive you have to:
Choose a usb flash drive from the list of devices
Set quick or long scan mode
Click the "Scan" button
After scanning a table with the data found on the usb flash drive will be displayed on the screen.
The status (the chance of recovery), modified data, size and other information that is useful for recovering data from a usb flash drive is shown.
Also File Scavenger shows the folder from which the files have been deleted. For some files that have been identified as available for recovering by Recuva File Scavenger shows no information.
There are no scan settings, the interface is not user-friendly, though it is simple. Files can be displayed as a File tree, plus a preview is available. You can select all files or only specified types (files are sorted according to their signature) through the "Save to" tab.
Download File Scavenger program
The verdict. Which unformat tool is better for USB flash drive?
CardRecovery application may be advised to digital photo cameras owners that have lost memory cards and usb flash drives files.
Unformat is a program with the most recovery settings, but the rate of scanning is the slowest.
Recuva is a free program which functionality is no worse than of the programs requiring payment and, perhaps, is the best for working with a usb flash drive.
Photorec, which, however, has less saving and scanning settings is as good as Recuva.
File Scavenger is also a good product to recover files from usb drive, but the interface is slightly outdated and the lack of scan settings is dissatisfying.
The results have shown that the usb recovery software we tested dealt with the task in roughly the same way. The probability of recovery largely depends on what actions were carried out with the usb flash drive after the deletion of the data.
So the main difference are the license cost and the ease of interface.
Questions - Answers
files from a usb flash are not opening and movies are not not playing producing an error message oxc0036c4
---
Unfortunately it can't format my PHILIPS 32GB usb flash drive card now what can i do to recover data or formation to use it again. So thanks
---
I mistakenly deleted some files from a thumbdrive on my laptop. How do i recover those files.
---
Hi, I'm contacting you because in the past I've recovered deleted files from a flash drive successfully … This is not the case now, since I'm in complete despair after discovering that my brother offered me to back up my folders, he thought he did, but unfortunately, he lied to me. I believed him and formatted my usb flash in order to install Windows 8.1 (which he convinced me to do so) and gave normal use up to two days ago. So, I'm desperately trying to recover those folders with no apparent luck this time around … Any help would be appreciated. Thanks in advance.
---
dear sir, I am from India. Can I ever able to recover data from my Sony 64GB usb flash drive, which has slightly broken at left corner and unfortunately not detected by computer PC. Sir, Is there any software that could help or need any professional examine.. please help me to get out of this problem!
---
I'm using 8GB usb flash but apparently it shows blank pen drive… i try a lot to recover data from MiniTool Data Recovery Tool, but nothing happened.
---
I downloaded the EaseUS data recovery wizard trial version. It works very well in viewing the files on a crashed usb flash drive for which I can not access. However, I was not able to recover files as the program is asking for activation code and specify that the trail version is for viewing only and no recovery function. The website however specify that up to 500mb of data can be recovered with the trial version.
---
after trying to recover deleted videos from usb using easeus data recovery, I can't locate the files again, some will not recover, some recovered but will not play, some are doing cut and join. please why this problems??
---
actually what happen. I deleted the tally data of my one of the client accidentally and now i am not able to recover it. It was deleted from my server. Please send me the solution how to recover it.