For users who actively communicate via this messenger the safety of their data (such as business correspondence, discussion of personal issues in groups and private chats, etc) is crucial. Creating backups is useful when you change your smartphone to a new one, store any valuable information in chats or just want a safety net, etc.
Data export from WhatsApp
WhatsApp messenger has a built-in feature allowing to save chats and messages into a file recorded in the memory of a phone. Moreover, depending on the configured settings, the app is able to send saved backups to a cloud storage, for example, Google Drive or iCloud.
Backup of WhatsApp chats
In order to save every active chat:
1. Launch WhatsApp (the latest version is required for it to work).
2. Search for additional settings (usually this item can be found in the menu which opens after you tap three vertical dots).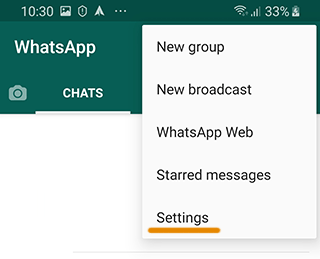 3. Open the "Settings" section.
4. Then go to "Chats".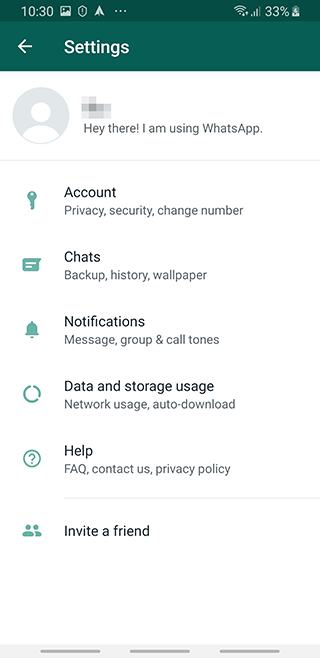 5. The next step is "Chat backup".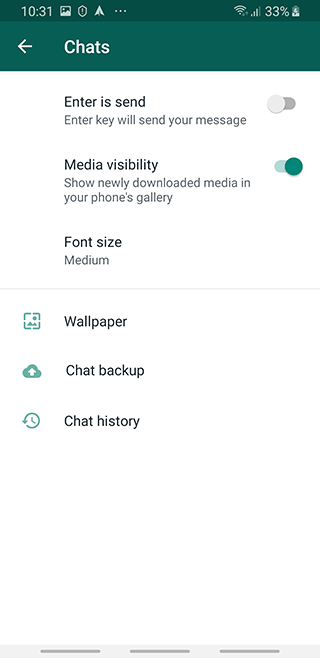 6. Select "Back Up" and wait for the process to complete.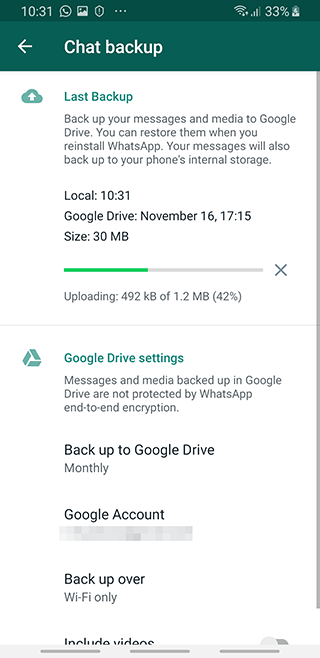 Message history export
Another useful feature of WhatsApp is the ability to export the history of messages from a specific chat or group:
Open the chat or group you need.
Select "Advanced settings".
Inside the opened menu find another "Advanced" section.
Then tap "Export".
You only have to decide whether you need media files (like pictures, audio or video) that are stored in the chosen conversation.
Confirm your intention and wait for an email with all the uploaded files.
This method has its own features:
If at the penultimate stage the upload of files was selected, the most recent media files will be sent as attachments to the letter.
When you export media files the limit is 10 thousand messages. If only text is important for you, you can save up to 40 thousand messages.
Data backup from WhatsApp to Google Drive cloud storage
Devices running Android OS can backup messages from WhatsApp directly to Google Drive storage.
Note: a lot of traffic is consumed during copying, so we recommend you to perform this procedure only when your device is connected to a Wi-Fi network.
In order to get started, you'll need the following:
An active Google account.
Google Services installed on your device (they are included in the standard package of apps on almost all smartphones running under Android).
A little bit of free space on your smartphone (the amount depends on how actively you communicate via WhatsApp).
Backing up to Google Drive
1. Open WhatsApp.
2. Go to the menu (three vertical dots or horizontal bars).
3. Open "Settings – Chats".
4. Select the "Chat backup" section.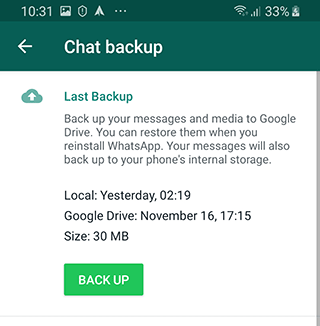 5. Here you'll find "Back up to Google Drive", after selecting it you have to determine the desired frequency of files copying.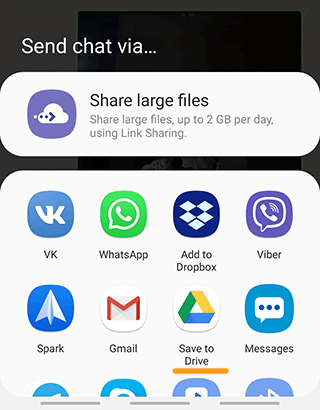 6. Specify the Google account and folder you want to save backups to.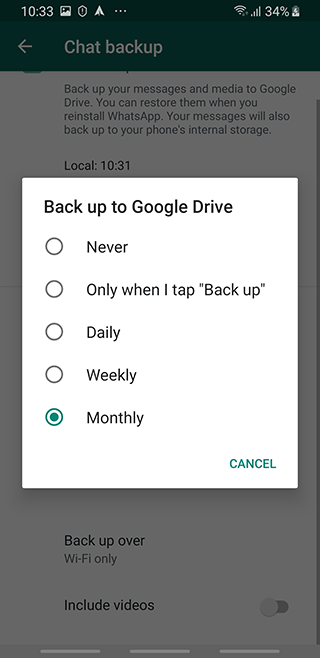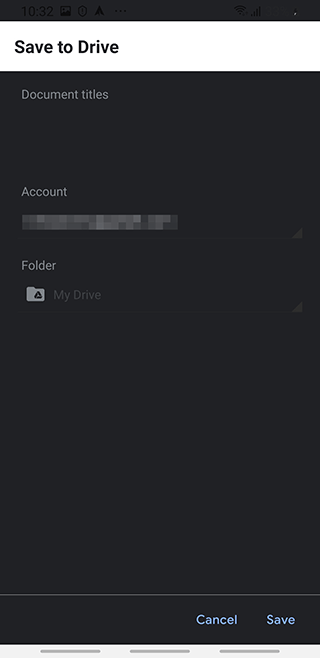 7. Also, it's better not to skip the "Back up over" section where you can choose via which network the data will be saved (mobile networks or Wi-Fi).
If you know for sure that you'll have to transfer data soon, you can perform a manual backup:
Run WhatsApp.
Open the general menu and go to "Settings – Chats".
Now tap the "Chat backup" section.
Finally, it only remains to choose "Back Up" in order to start the process of saving data to Google Drive.
Note: the information stored in the cloud storage isn't encrypted unlike the correspondence stored directly in WhatsApp.
Restoring WhatsApp messages and files from a backup on Android
Use the phone number and Google account you've specified while creating a copy of files, if you want the process to be successful. The sequence of actions is as follows:
Uninstall, reinstall and open WhatsApp.
Launch the messenger. Go through the process of confirming the number and then the app itself will prompt you to restore the data from Google Drive. You can agree by clicking "Restore".
After the process is complete, choose "Next" and every downloaded chat will be displayed on the screen.
The last step is to restore the files. This process will take place without your active involvement so you just have to wait.
Note: In case there are no backups available in your Google Drive, the app will offer to restore data from the local storage.
Data backup from WhatsApp to iCloud (iOS)
The owners of smartphones running under iOS can also use the feature of backup on their devices, but the data will be saved to the standard cloud storage from Apple – iCloud.
You'll need:
An authorized Apple ID account (required in order to access iCloud).
For iOS 7 devices you have to enable "Documents and data" which can be found in the Settings > iCloud > Documents and data.
For iOS 8 you have to toggle on the same "iCloud Storage" feature which can be found in the Settings > (your name) > iCloud.
The process of creating a backup copy is almost the same as on devices running under Android:
Run WhatsApp.
Go to the "Settings – Chats".
Find "Chat backup".
Finally, tap "Back Up".
You can also enable automatic backing up by clicking on the corresponding item in the same menu. You have to choose how often you want to save your data and whether you want to save video files to the cloud storage too.
How to restore deleted files in iCloud
It's easy to restore data lost in iCloud:
First of all, make sure you have active backups in iCloud. In order to do this, launch WhatsApp and go to the main menu. Next, open the "Settings", go to "Chats", then tap "Chat backup".
If you see the date of the last backup, you can reinstall WhatsApp without any worries.
After launching the clean version of the app and passing the identification via the phone number, WhatsApp will prompt you to start restoring process so just follow the instructions.