Contents:
What is factory reset
Factory reset (or hard reset) wipes out recorded data from your phone. Every single message, contact numbers, photo, music, audio and mail setting will be deleted. Moreover, your tablet/phone will be "rolled back" to its factory (i.e. default) state.
Why do you need to reset Samsung to factory settings
Hard reset is very helpful when problems with your device can't be fixed in other ways, for example:
if you can't install any app from Google Play,
if your device doesn't operate correctly,
if errors occur during the operation of your Android after it's been flashed.
It's worth performing hard reset before selling or giving a device to another user. Via it you are certain to get rid of all sensitive data from the device.
Preparations before performing hard reset
Before you perform a hard reset on your Samsung Galaxy, you'd better create a backup copy of every single piece of important data since it will be erased.
Make sure to delete your Google user profile or otherwise your device will ask for a login and password after the hard reset. If you (or a new owner) fail in entering it, the Android loading won't be available. Follow the link in order to read how to do it:
At worst, you can unlock the device in Samsung company service, but you need to have documents confirming that you're its buyer.
How to reset Samsung tablet: step-by-step guide
There are several ways how you can perform a hard reset on Samsung Galaxy S3-S10, Tab / Note.
Resetting device via main menu
Go to Android menu and select "Settings – General management".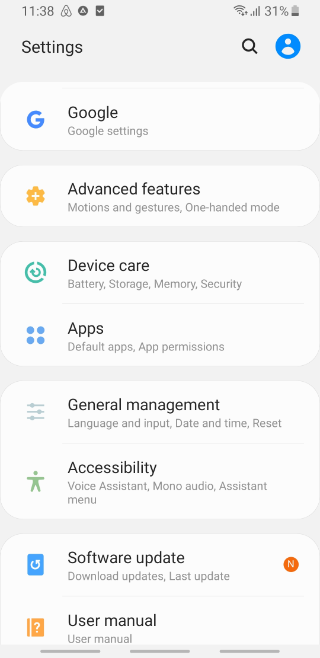 You need to find "Backup", "Reset" or "Privacy" (the names can differ depending on the version of your Android).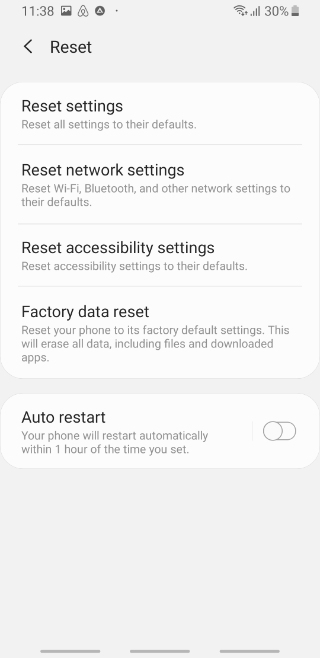 In "Factory data reset" section tap "Reset" in order to perform a Hard Reset.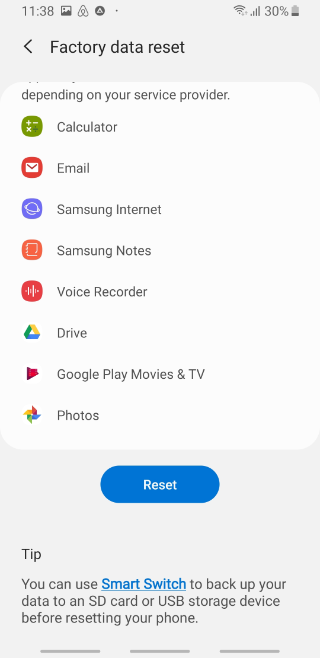 Your tablet / phone will reboot automatically.
And that's it, the hard reset is performed and your data is deleted.
Hard reset using Recovery menu
This method is useful if your Samsung device won't turn on at all or its screen is locked. In order to perform Samsung phone factory reset:
Turn off your device by pressing "Power" hardware button > "Power off" option from menu.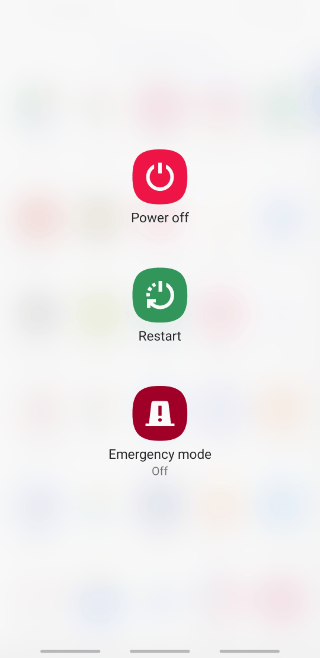 Hold the Power, Home, and Volume Up buttons at the same time. If there is no Home button, just hold the other two. If you have the Bixby button, you should also use it.
Release the Power button as soon as "Samsung Galaxy" logo appears on the screen of your device, hold the other buttons for 15 seconds more until "Recovery" sign pops up. If such sign doesn't appear, go through the previous steps again while holding the buttons for a longer period of time.
Now hold the Volume Down button in order to navigate and look in the menu for "Factory Reset" point which you can select by pressing the Power button.
Press the Volume Down button, if you want to confirm the deletion ("Yes").
By pressing on Power you can reboot the device.
After these steps are completed, the hard reset will be performed on Samsung phone.
A Samsung phone is blocked after a Hard Reset: what to do
Starting with Android 5.1 on Samsung mobile devices theft protection called Google FRP is generated. It works in the following way: when you perform a data reset and don't delete your Google account in advance, your device is locked.
Imagine you've rolled back your phone to the default settings but you forgot to delete the account data, then when you turn on the phone it will prompt you to specify the login information that you've provided before the reset. There are two solutions in such case:
Enter the correct login / password in order to log in to your account;
Contact the service and provide the documents confirming that you're the person who has bought this device.
If you don't have a certificate, a receipt or a contract, you will be denied in the unlocking of the device. This is why it's better to be extremely careful and follow the instructions when performing a hard reset.
Questions related to the topic
I've reset the data on Samsung J3 2017 and its SD card was encrypted. Is it possible to recover the data in order to decrypt the SD card? Or perhaps there is another way?
---
Is it possible to recover photos from a protected folder on Samsung Galaxy A5 2017? They all disappeared after a factory reset.
---
I have Samsung G350E I've performed a reset to the factory settings. Photos and phone numbers have been wiped out from the internal memory of the phone. Is there a way I can recover them? Everything was stored on a SD card. I didn't save anything on the internet.
---
Would you tell me how to fix such problem? I've handed in my phone for flashing. The person who was doing it installed Recovery program on my phone and I had no idea about it. After a while my phone started to work slowly and I reset samsung phone to the factory settings or to be exact I has an attempt to do it. Now when I turn on the phone this program appears and it doesn't let me go further. Is there a chance I can fix it on my own or should I consult a specialist? I tried to check firmwares on the internet, but honestly I didn't understand a thing. My phone is Samsung Galaxy S7.
---
If I reset the settings to the default ones, will my phone read the memory card which is formatted specially for it? For some reason, I experience failures during the operation of apps (almost all of them crash and it began on the same day).
---
Greetings computer geniuses! Please, save me. My phone is Samsung Galaxy S8. I have an urgent need to recover photos and videos that I've taken with it. Recently when my phone was turned off I opened Android program and pressed the "Reset" so the settings of my phone were rolled back to the factory ones, then I re-restored the account together with all the programs that I needed.
Is there a way I can recover the photos and videos which were deleted from the phone? Moreover, there were personal photos which are important only to me in a protected folder.The program itself is installed but the photos and videos were removed . Let me remind you that all the pics were made with the same phone. I hope you understand what I'm talking about and I look forward to your reply.
---
I've performed a reset on my sister's phone (Samsung Galaxy J5). And here comes the problem: now she can't log in to her account. She simply can't remember the data. I've tried so many variants ... So is the phone "dead" or do we still have a chance?
---
Samsung Galaxy S7 after a full reset stops during the search for networks, it checks them and refuses to proceed further. What should I do?
---
I have performed a hard reset and my tablet turned on but when I try to configure the settings of a Wi-Fi connection, an error appears stating that "The Settings app has been stopped". I have Samsung Galaxy Tab 3 tablet. Thank you in advance!)
---
After rolling back to the factory settings on my Android phone I've lost all the progress I've achieved in every app from Play Store. How can I retrieve it?
---
My friend wanted to make fun of me so he decided to reset all the settings and now my phone says: "The device was reset. Sign in with Google Account that was previously synced". What to do if I don't remember the data on the account: neither my username nor password.
---
I found a smartphone, performed a hard reset by using the Volume and Power buttons, with a special program I reset all the settings including Google Account, then performed a hard reset again, turned the phone off, turned it on and tried to register it for myself… Now it works with no problems!!
The question: Can the owner of this phone still find it?
---
After restoring and resetting my phone, a game was deleted, I downloaded it again from Play Market but now it starts from the very beginning. How can I bring back the level that I've had before?
---
After the official update on Android 8 my phone started to lose battery super soon, especially after it's been restarted. I noticed it right after the update, now I want to bring back the old version of Android so I tried to roll it back to the factory settings via Recovery. The reset is performed but the version of Android (6) which I had when I bought the phone wasn't brought back. My phone is Samsung J5 Prime 2016.
---
Now after resetting I have to grant permission, but my phone prompts to "Go to the Apps and then the Settings." But in the end I can't find any app I want to give permission to.
---
After the hard reset App Recovery launches but it's useless since I don't need it. How to get rid of it? The phone's been hacked and now I try to remove viruses from it. There are no buttons to skip the step of recovery.