The loss of Android phone/ tablet is the kind of problem you can find the solution for. If you lost the sight of you device, forgot it in another city or country, you should try finding it via the default features of a mobile OS. 4.4 Android versions and higher have a special tool for such purpose which we're going to discuss further.
Android built-in "anti-theft" features
You can call your mobile device even if another SIM card is inserted or the sound is switched off. Among other available remote control features are:
Forced screen locking,
Texting lost phone,
Forced deletion of all information.
Of course, you can't be totally sure that you will find the loss or you will be able to protect your device against the leakage of private data, but you should take even minimum chances. The manuals written below are for "clean" operating systems, however, custom firmwares also have the majority of the described features.
How to set up remote control on Android
Tablets and phones are usually displayed on Google Maps by default; so you can get a fix on its location via the settings: "Android Remote control" section. Moreover, you can remotely block your device. Thus, a hacker or a thief won't manage to get access to your private data.
Note. Stable Internet connection and a linked Google account on the lost device are required. Without the password to the account, you won't be able to gain access to the mobile device. We recommend toggling on location, but without it you can still track the most recent place where your gadget has been taken to.
Remote control option is usually enabled by default. If not, you can turn it on in the following way.
Android 5 >:
Settings – Security – Administration – Remote Management.
Android 4.4:
Find "Security" section in the settings (sometimes it's might be called "Protection").
Go to "Device Administrators" and check the box next to "Device Manager".
Allow remote services to erase data, change graphic password and lock the screen.
Click on "Enable".
If you've already lost your phone, unfortunately you are unable to check whether remote control is activated: this can only be done right after the start of the searching process.
How to locate a phone
In order to find or control a device you have to open the official page of the lost phone tracker on this link. Log in to your account, select the type of device from the drop-down menu and specify the task you want to cope with.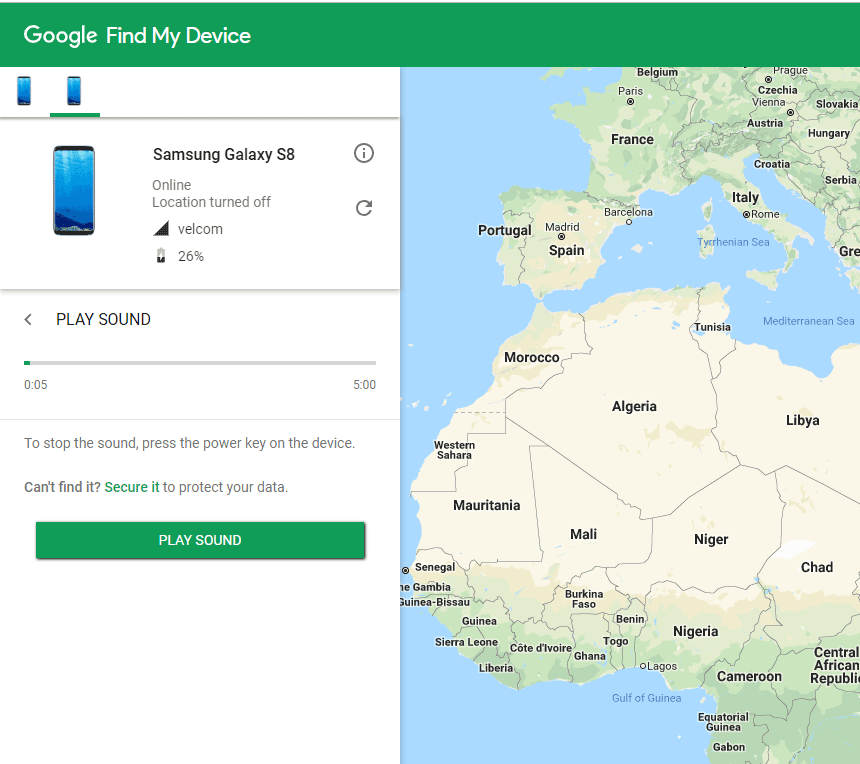 Searching for a device which has been stolen or lost
Look for the location (the list of the last visited places) of your device at the map which can be found on the right side of the screen. It's determined by cellular, wireless networks and GPS. This method works even if a thief (or the person who found your phone) has replaced your SIM card. Usually the search works perfectly, but sometimes the system can say that it's impossible to track your phone. In the list of the most important requirements are good network connection and a valid linked account. If the account has been deleted, you can still find cell phone location, but the process will be more complicated (we're going to talk about it further).
A remote call
Press "Call" and listen out for the sound. This feature is quite useful in the case when a device has been lost at home, and there is no other card or simply no one is around to dial your number. This feature allows ringing at full volume even when silent mode is enabled.
A remote lock
If your smartphone is connected to the Internet, you can remotely lock and/or display a message on its screen. The text can be a standard or a customized one and it usually contains a request to return the lost device to its owner.
Deleting private information
Losing the phone isn't as bad as losing the data of particular importance stored on there. Like passwords, bank accounts data, photos and etc. A hacker can gain direct access to all of the mentioned above information.
Select "Delete information" option in the phone user account and all the settings will be reset to factory settings. Moreover, all your photos, videos, downloads and browser histories will be erased. Internal memory will be completely cleared, but data stored on a SD card (if there is one) can't always be wiped out and it depends on the model of your device.
A thief has performed a hard reset and erased all my data: what should I do
No need to panic since there is still hope, but you will have to follow different instructions. To start with:
Go to your Google account.
Check your device location log
If it has been connected to the Internet before a hard reset was performed or your account was deleted, you are definitely going to see where your gadget has been. The question is how you're going to use this information.
Next steps:
Open the link https://maps.google.com via your Google account.
In the maps menu select "History".
Specify the date when you lost your device (if you can't remember, try different dates).
Look at the row with columns corresponding to the saved and recorded locations which are sorted out by days. In order to find a lost cell phone (the last recorded location), click on the blue column which is the closest to the current day.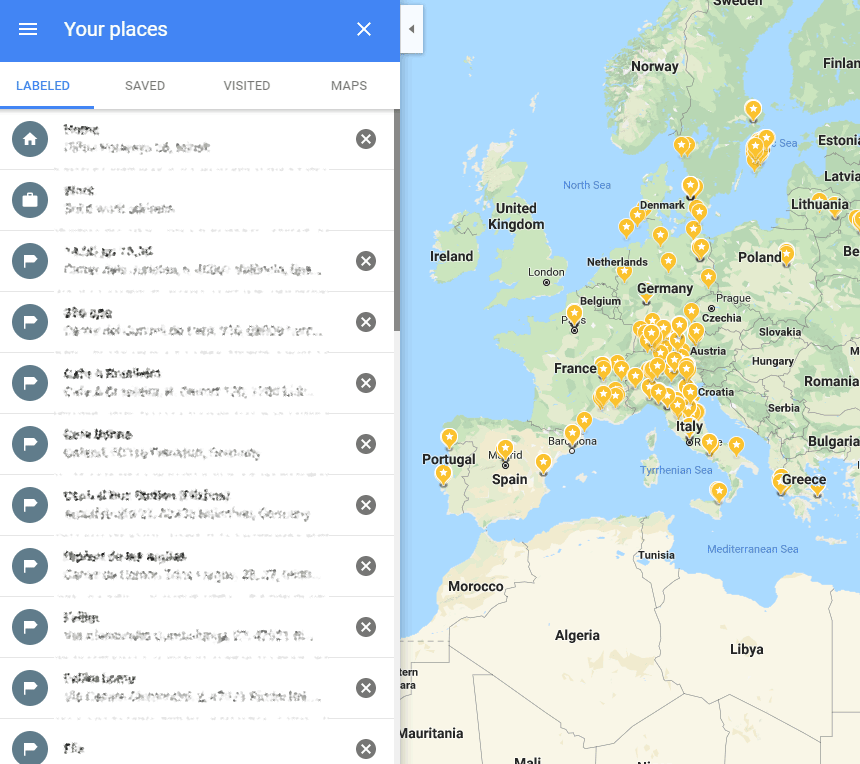 If you have a factory package with your code and personal data, you can ask law enforcement agencies for help. The quality of their work is the question of another matter, quite often such reports aren't even accepted, but the gadgets of some users were successfully returned to their owners by police. Websites for tracking devices by IMEI usually have problems with providing accurate data.
Other apps to find a lost phone
In addition to the standard tools and Google Maps, a lost device can be tracked with the help of special apps from antivirus programs. "Anti-theft" module is built into Kaspersky and Avast. It's disabled in the standard versions, but you can toggle it on in a minute and right after the loss of your gadget as well.
How to use anti-theft:
Open www.kaspersky.com and go through the process of authorization,
In "My Devices" select the phone you want to track. Remote locking and control are also available. If a thief doesn't remove the antivirus, you can take a photo by the camera of your stolen phone.
In order to detect the current location of your device, log in to avast.com website.
Select your device and press "Find": antivirus will build the route of your device transportation.
You can erase all the data from your stolen device, as well as display a message on its locked screen or turn on the alarm.
Note. You can download separate Android phone locator apps. A plenty of them exists. But be careful since you should avoid granting the program the full access to the data stored on your device. Pay attention to the rating on Google Play and judge by users' reviews.