If your contacts haven't been backed up (and have never been exported to a memory card), you risk losing them all in a flash. Contacts may be lost if an Android OS update goes wrong, after a hard reset, or through user error. We know it can happen to anyone, so we've collected the best solutions which will help you recover deleted contacts on your Android device.
How to restore deleted contacts:
How we can carry out Android contacts recovery using Google Contacts
Google Contacts is a handy address book in which your Gmail, Google Plus, Calendar, Disk, Android, and other contacts are saved. This service manages your contacts very well: you can add and delete them, and find and merge duplicates.
The most valuable feature of Google Contacts is that you can sync all your contacts between various mobile devices. Moreover, once you've signed into your Google Account, your contacts are imported to your Android phone.
If you have an Android User Account associated with your Google Account (which is a regular practice), you'll be able to retrieve lost contacts easily. Even if you have lost all the data from your phone, contacts will be stored in Google Contacts.
Note: Don't put it off until it's too late, as the contacts are only stored for 30 days!
To recover contacts on Android:
Log into your Google Account and go to Google Contacts.
On the left side panel, choose "More" – "Undo changes."
In the pop-up window, click "Custom."
Choose a time to go back to (Undo changes from…). You can set any date before the deletion of your contacts from the phone.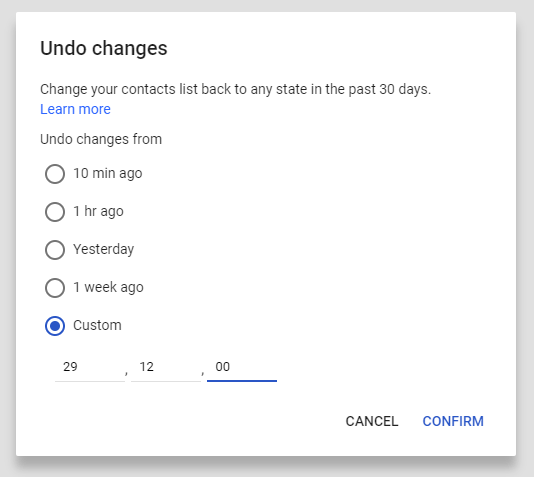 As a result, all the deleted contacts should be available and imported to your phone when it gets synchronized with your Google Account.
How to recover contacts from Android memory using MobiSaver app
EaseUs MobiSaver for Android recovers not only photos, videos, and text messages, but also contacts. MobiSaver always used to stand out among similar utilities for its nice free features. Now the app has become a bit greedier and asks you to get a license, but even though serious limitations on its free version make the app less useful, MobiSaver is able to handle the recovery task.
To recover contacts from Android phone memory:
Install the MobiSaver app on your computer.
Connect your phone to the computer via a USB cable.
Launch MobiSaver by pressing the "Start" button.
If the app asks you for permission to access the device, click "Yes."
Once you give it permission, MobiSaver will start scanning your phone (you'll have to wait a while).
Go to "Contacts;" here you'll see both recoverable and deleted contacts (shown in orange).
Enable the "Only display deleted items" filter.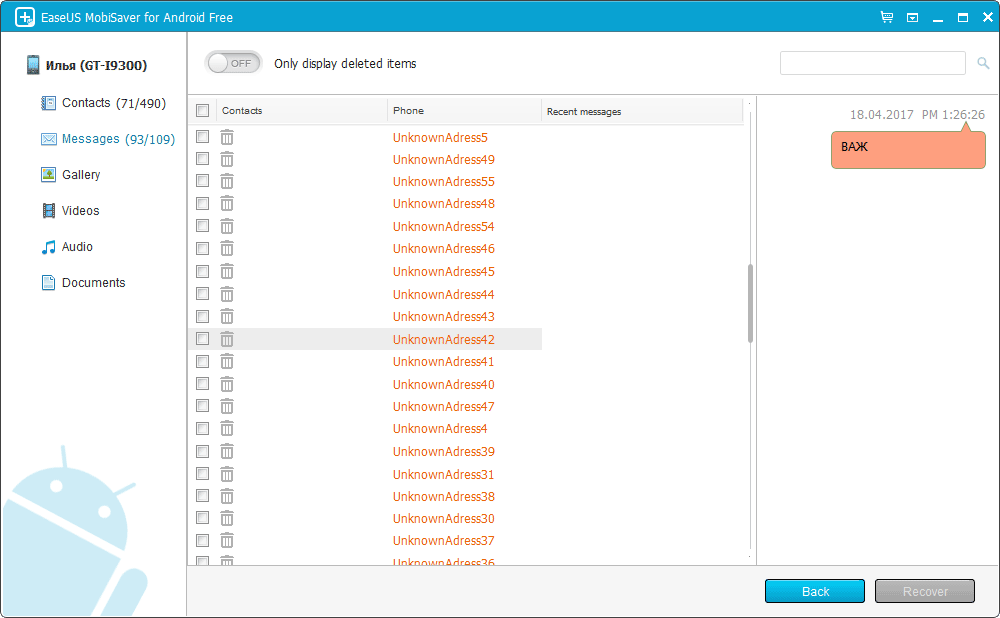 To avoid paying, you can simply transfer the found contacts into your Android Address Book by hand.
To recover deleted / lost contacts from an Android phone and store them in a local file, you'll need a license; only then can you import them to your phone memory as a VCF file.
Restoring contacts using MiniTool Mobile Recovery for Android
MiniTool Mobile Recovery for Android works in a similar way. You can retrieve only 10 contacts for free, so if you're happy to get back only the most important contacts, even a trial version of MiniTool Mobile Recovery will be fine.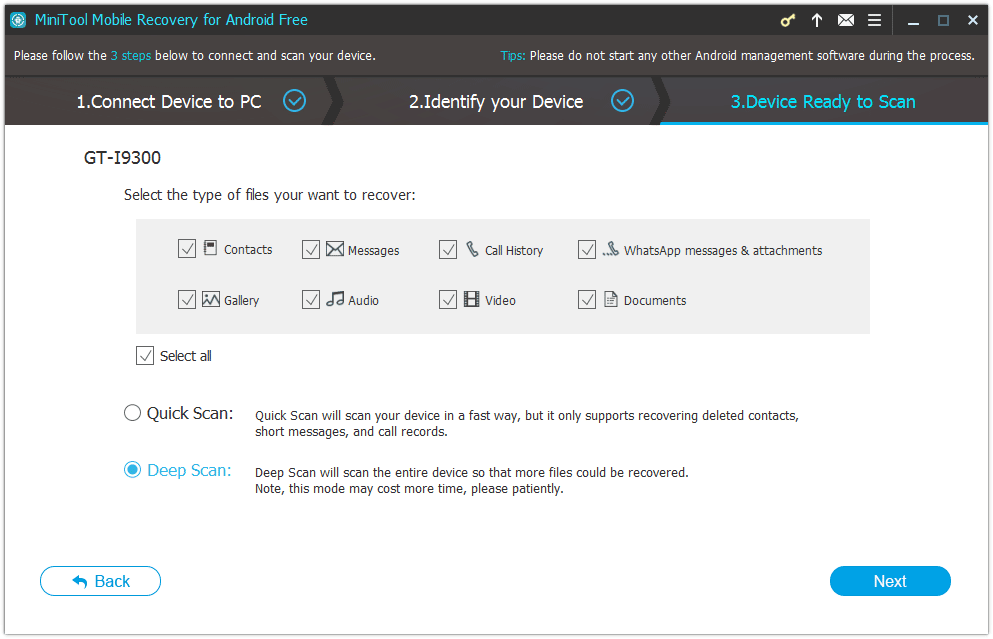 Your phone should be rooted.
When connecting, specify a data type – "Contacts," and a scan method – "Quick Scan."
In the "Messages & Call" log, tick the box "Contacts;" deleted contacts will be displayed as they are found.
To recover contacts on Android, check the necessary ones and click "Recover."
Available contacts in CSV, HTML, and VCF formats will be shown in the "Results" folder.
Download MiniTool Mobile Recovery
Note: Our research has shown that most of the software that restores contacts works in a similar manner. For instance, the Dr. Fone app does the same as MiniTool Mobile Recovery or MobiSaver: it offers the same recovery options and implements the same limitations. This means that trying out all the different apps which can recover Android contacts doesn't make much sense.
How to get deleted contacts from an SQL database on Android (for advanced users)
This is a last-minute recovery method for advanced or really desperate users who have lost their contacts on an Android.
You could retrieve lost contacts from the contacts2.db file stored in the Android file system, but it's not easy to access the contact database without a special file manager.
Sequence of restoring deleted contacts on an Android:
Get root permissions.
Install Root Explorer.
Using Root Explorer, copy the "/data/data/android.providers.contacts/databases" folder to the SD card (or any other user folder in the phone's memory).
Connect your phone to the computer and transfer the folder "Database" to the hard drive.
Download and install Firefox and SQLite manager (Firefox add-on).
Open the contacts2.db file (Database>Connect Database).
In "Data," you will find all the deleted contacts.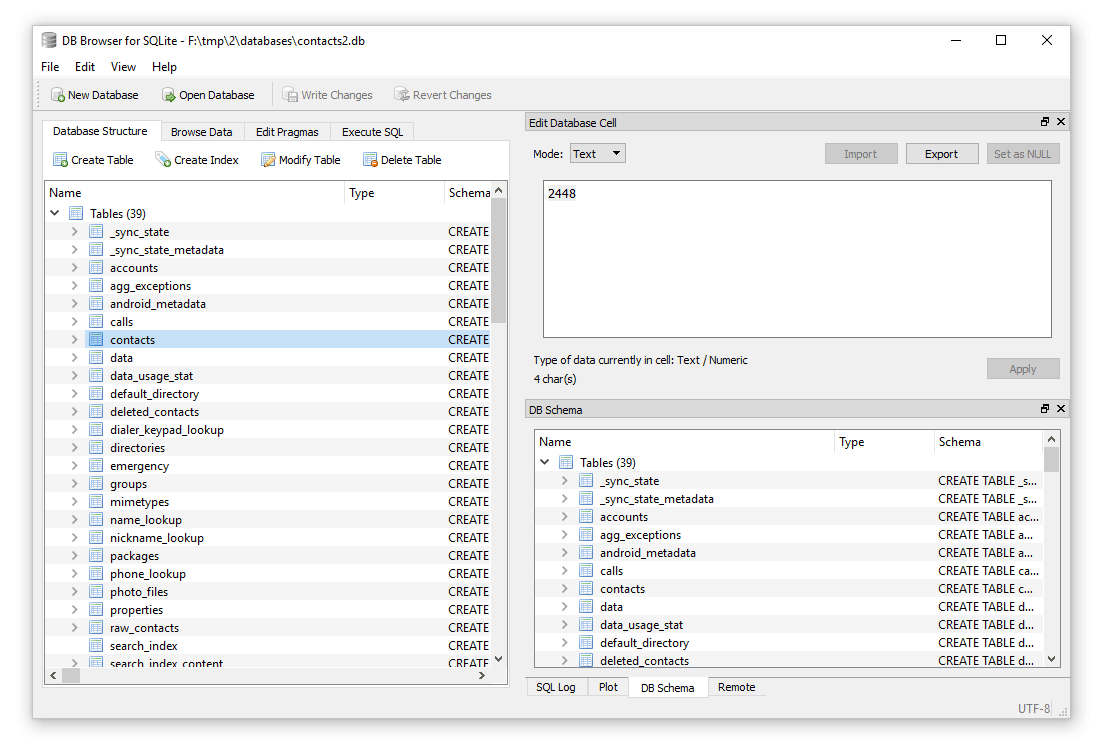 Note: This pulling out of deleted contacts on an Android isn't always applicable. The current contacts2.db will have only the latest data. To restore the old database, you need either to create an image of the internal memory or to make a backup copy using Nandroid Backup. The likelihood of a successful recovery of the old version of the contacts2.db file is 90%.
Questions - Answers
The employees of a service center have deleted photos and contacts from my Google account while repairing my phone. I didn't manage to find them neither in the Recycle Bin nor after performing a rollback to a month ago. Would you please tell me how can I recover the deleted contacts and other data?
The answer. If you lose your contacts on Android, it's not always the fault of a service center. You should check if your Google account is connected to your phone. In order to do this, go to the Settings – Accounts – Google and reconnect your account if needed.
You should also check if the contacts are on your SIM card or not: Contacts – Import/Export – Import from the SIM card.
As for photos recovery. Any of the mentioned above software such as Tenorshare Data Recovery, MobiSaver, etc. can cope with this case.
---
After changing my phone all contacts stored on its SIM card have disappeared. The reason why I stored the photos there was to avoid having any troubles with transferring them. When I inserted the SIM card into my new phone, I found no contacts. Please tell me how can I recover the deleted contacts? My phone is Nokia 5.1+ .
The answer. Phone contacts aren't saved to your SIM card automatically. In order to sync your accounts, you have to link the previously used account to the new phone (via the Settings – Accounts and Archiving). Or manually import / export the contacts from your Android memory.
---
With Smart Switch I've moved all the contacts to my computer (from a broken phone), but after converting via Kies there were only 76 contacts out of 250 left. Do you know the solution to this problem?
The answer. In order to be able to answer your question, we need the file with the contacts you're talking about. If the file is of vcf format, then try to export the data from the broken phone once again. If you fail to do so, we recommend checking for the contacts in the Google Contacts Recycle Bin or in the Samsung Cloud, since we are talking about a Samsung device.
---
I have a Samsung phone, model SGH-S730M (the model name is taken from the "properties" of the device). I've never connected it to the Internet. There was some kind of a failure, all of a sudden all my data (such as contacts, SMS, photos, etc.) has disappeared. And I don't know why. Out of the blue the phone suddenly switched to Chinese, maybe when I was blindly looking for how to get my device back to its initial state I have erased something. I have no clue, to be honest. Is there a possibility to recover my data? I have already given a try to Tenorshare Android Data Recovery software: the phone was connected and my PC could recognize it but the program – couldn't. What I mean is that I can't choose my phone as the place to search for the missing data. Please, help me.
The answer. Most likely, a Hard Reset took place. After Hard Reset every single file is deleted from your phone internal memory. If you didn't export the vcf file onto your memory card (if available), check the Google Contacts address book for the files. If you've enabled Android sync with Google Contacts, there is a possibility of your contacts recovery.
---
I had contacts stored on my SIM card. I bought a new phone, inserted the SIM card in it and found no contacts, what can be done in order to recover them?
The answer. A SIM card can store relatively few contacts: about 250 and the recovery method on a new device won't be a very convenient one. We strongly recommend transferring contacts from your old Android device to a new one. The most useful variant is to save a local file with contacts and export it onto a new phone.
The second option is to sync your contacts with the Google cloud and link your account on a new phone.
---
I have an urgent need to find a number lost 2 year ago which was deleted from the list of my contacts. Now I really needed it. Is there a chance to find it? There was no syncing with Google.
The answer. Could it be that you have made a copy of it on your SIM card? Try to import the contacts from it. Some contacts can also be stored in Internet messengers, if you have communicated via them with the owner of the lost number.
---
After Lenovo 1000 update some contacts have disappeared, I tried all kinds of recovery methods but alas none of them was a success... With the help of EaseUS Data Recovery software I can't detect my smartphone when determining the storage place and I can't figure out under which name it should be shown. The smartphone is debugged via USB, maybe I have to scan the SD card? In general, I'm unable to perform a recovery. Perhaps this software isn't suitable for such purpose?
The answer. The thing is that EaseUS Data Recovery can't give you a 100% chance of successful recovery. Root access is required in order to get full access to your contacts, and your device might be blocking EaseUS Data Recovery for security reasons. If you did grant root access, try upgrading EaseUS Data Recovery or using Mobisaver. However, the sufficiency level of both tools is quite low.
---
I've deleted my Google account and now I can't install it, I receive a notification stating that such account doesn't exist, but this is not my main problem: with the deletion of the account all my contact numbers were deleted too. How can I recover them? Thanks a lot.
The answer. First of all, go through the official Google support manual: https://support.google.com/accounts/answer/7299973?hl=ru. You can recover the access to your account by sending data to a backup email or phone. The rest is pretty obvious: sync the account with your phone and the contacts shall be recovered.

[I forget my google account password]
I lost all contacts on Android due to reset. I remember my old google account id but i forget my account password. I could give you a proof that old account is mine. But google does not accept it. Please help in restoring all my apps , contacts, images..etc.
---
[To get back deleted contacts from phone]
I forget my password to open the phone. Accidentally I ask my android to reboot.I got all my files back except contact numbers which was in phone memory only. How can I restore deleted numbers by a simple method?
---
[Deleted phone contacts]
Today I have accidentally deleted some of my contacts from my Android phone. I have tried recovering them from my Gmail account. My account says that I have 'no contacts'. Is there any way of recovering all the deleted contacts?
---
[Accidently deleted all my phone contacts]
I was half asleep and i thought it was my already called called from yesterday..i went up to the 3 dots on top of page and hit delete..then i realized what i had done.been sick to my stomach because i have lost A LOT of phone numbers of friends family and important business numbers.
---
[How to retrieve lost contact]
I already try your suggestion but it's just saying vcard file not found so please any other suggestions?
---
[Question about recovering text from a specific contact number]
Good morning,I accidentally deleted an important document that was sent to me by text message,I urgently need it back, how can I recover this.
---
[Lost contacts through my gmail account]
I have an android with 2 accounts as back up. I know the password of one, but I forgot the password of the second email and failed to recover it through gmail, so I removed it from the phone. I found out that around 500 contacts were gone after this action, is there any chance that the contacts are backed up anywhere else? Maybe the other email? Or the sim card?
Note that my device is not rooted.
---
[Lost contacts]
Used smart switch on my Samsung to transfer content from old phone to new but only 23 contacts transferred. Why? is there any way to retrieve deleted numbers on Android?
---
[How do I recover my deleted Contacts]
I formatted my first smartphone and I lost all my contacts in the process. I opened my new second smartphone, my emails could not give me my lost contacts. So how do I recover my contacts which was deleted when I formatted my first smartphone?
---
I'd like to know how to get a contact back. Someone hacked my phone and shared one of my contacts and blocked me from the original contact owner and now using that number like his own to be able to stay in my personal business. How do I get that stolen and blocked number back without always contacting the actual hacker?