If your contacts hadn't been backed up (and had never been exported to a memory card), you risk losing them all in a flash. Contacts may be lost if an Android OS update went wrong, after a Hard Reset or by user's mistake. We know it can happen to anyone and collected the best solutions using which you will definitely be able to recover deleted contacts on Android.
Contents:
How to restore deleted contacts:
How we can carry out Android contacts recovery using Google Contacts
Google Contacts is a handy address book in which your Gmail, Google Plus, Calendar, Disk, Android and other contacts are saved. This service manages your contacts very well: you can add and delete them, find and merge duplicates.
The most valuable feature of Google Contacts is that you can sync all your contacts between various mobile devices. Moreover, once you've signed in your Google Account, your contacts are imported to your Android phone.
If you have an Android User Account associated with Google Account (which is a regular practice), you'll be able to retrieve lost contacts easily. Even in case of losing all the data from your phone, contacts will be stored in Google Contacts.
Note. Don't put it off till it's too late, as the contacts are stored only for 30 days!
To recover contacts on Android:
Log into your Google Account and go to Google Contacts.
On the left side panel choose More – Undo changes.
In the pop-up window click Custom.
Choose a time to go back (Undo changes from…); you can set any date before the deletion of your contacts from the phone.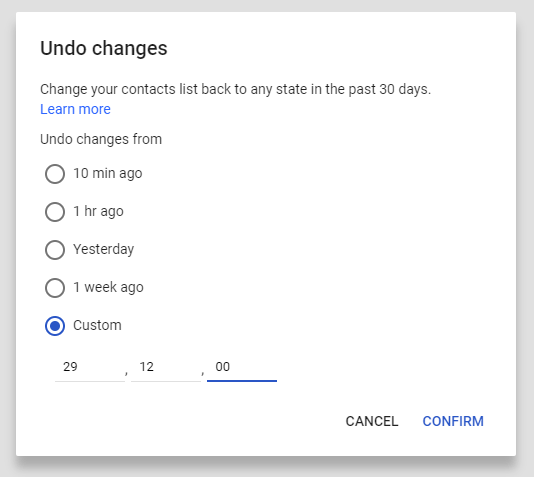 As a result, all the deleted contacts should be available and imported to your phone when it gets synchronized with your Google Account.
How to recover contacts from Android memory using MobiSaver app
EaseUs MobiSaver for Android recovers not only photos, videos and text messages but also contacts. MobiSaver has always stood out among similar utilities for its nice free features. Now the app has become a bit greedier and asks you to get a license but even though serious limits of its free version make the app kind of useless, MobiSaver is able to handle our task.
To recover contacts from Android phone memory:
Install MobiSaver app on your computer
Connect your phone to the computer via a USB cable
Launch MobiSaver pressing the 'Start' button
If the app asks you for permission to access the device, click Yes
After you accept it, MobiSaver will start scanning your phone (you'll have to wait a while)
Go to Contacts; here you'll see both recoverable and deleted contacts (shown in orange)
Enable 'Only display deleted items' filter.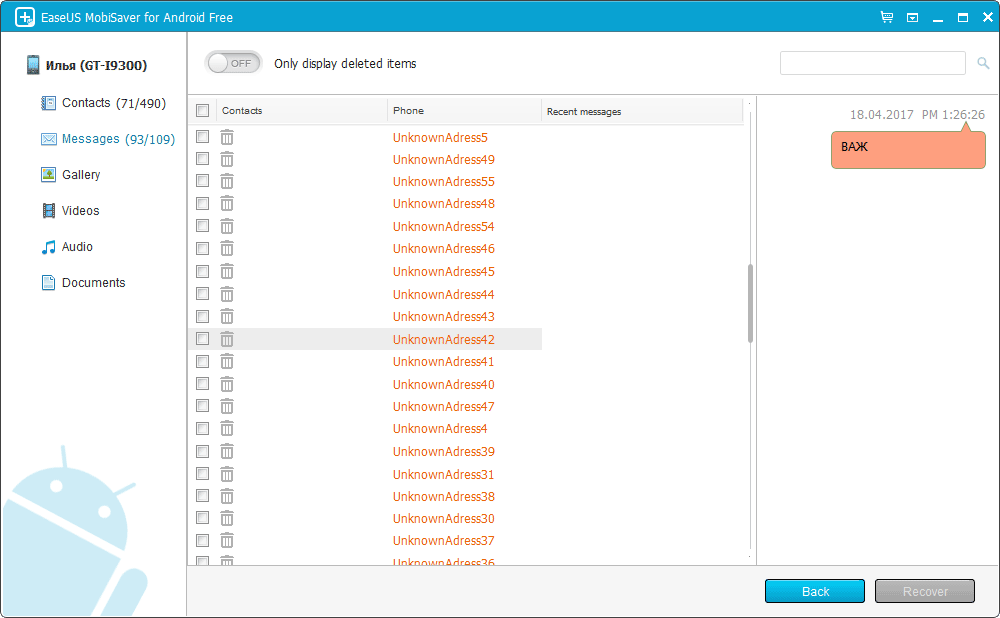 To avoid paying you can simply transfer the found contacts into your Android Address Book by hand.
To recover deleted / lost contacts from Android phone and store them in a local file, you'll need a license; only then can you import them to your phone memory as a VCF file.
Restoring contacts using MiniTool Mobile Recovery for Android
MiniTool Mobile Recovery for Android works in a similar way. You can retrieve only 10 contacts for free, so if you're happy to get back only the most important contacts, even a trial version of MiniTool Mobile Recovery will be fine.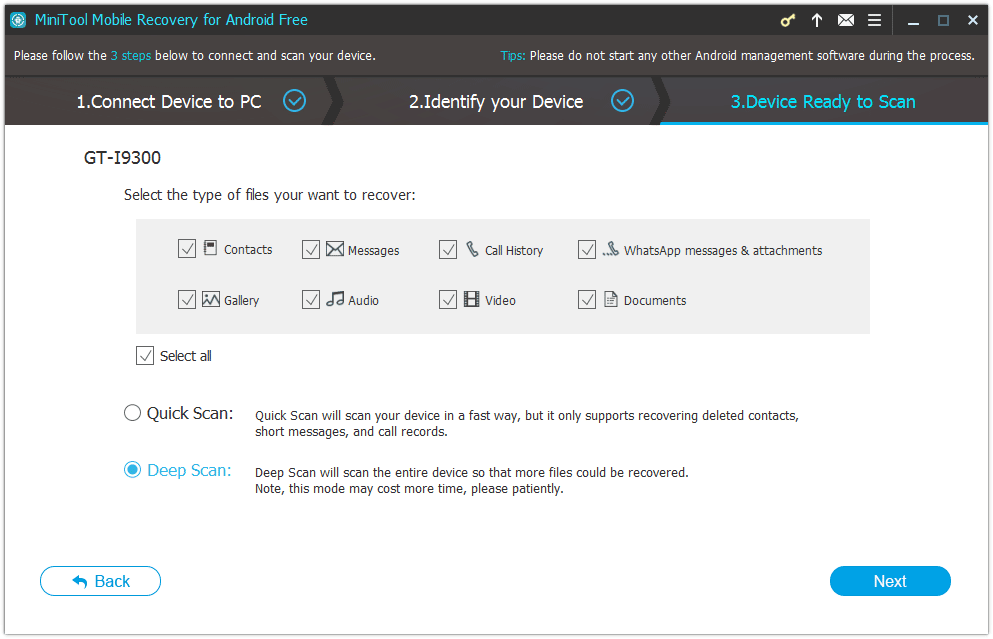 Your phone should be rooted
When connecting, specify data type – Contacts, and scan method – Quick Scan
In Messages & Call log tick the box Contacts; deleted contacts will be displayed as they get found
To recover contacts on Android, check the necessary ones and click Recover
Available contacts in CSV, HTML and VCF formats will be shown in the Results folder.
Download MiniTool Mobile Recovery
Note. Our research has shown that all the software that restores contacts mostly works in a similar manner. For instance, Dr Fone app does the same as MiniTool Mobile Recovery or MobiSaver: it offers the same recovery options and places the same limitations. That's why trying out all apps which can recover Android contacts doesn't make too much sense.
How to get deleted contacts from SQL database on Android (for advanced users)
Last minute – recovery method for advanced or really desperate users who lost their contacts on Android.
You could retrieve lost contacts from contacts2.db file stored in Android file system. Yet, it's not that super easy to access the contact database without a special file manager.
Sequence of restoring deleted contacts on Android:
Get root permissions
Install Root Explorer
Using Root Explorer copy the "/data/data/android.providers.contacts/databases" folder to SD card (or any other user folder in the phone's memory)
Connect your phone to the computer and transfer the folder "Database" to the Hard Drive
Download and install Firefox and SQLite manager (Firefox add-on)
Open contacts2.db file (Database>Connect Database)
In Data you will find all the deleted contacts.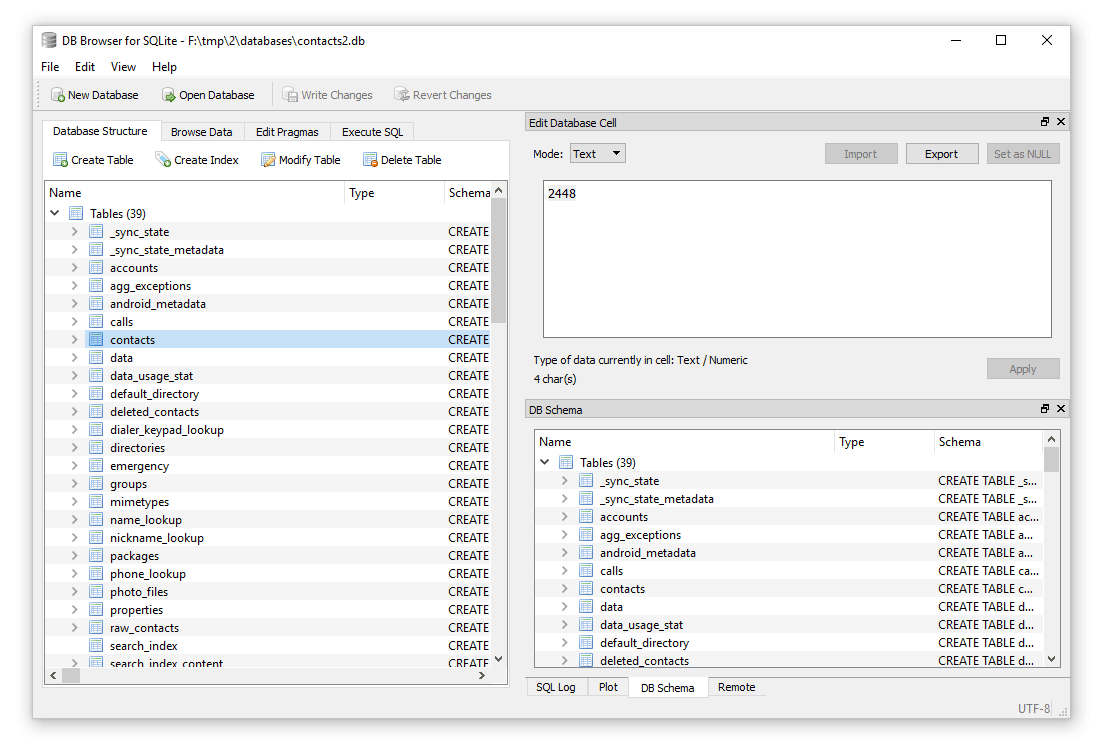 Note. This pulling out of deleted contacts on Android isn't always applicable. The current contacts2.db will have, consequently, only latest data. To restore the old database you need either to create an image of internal memory or make a backup copy using Nandroid Backup. The likelihood of a successful recovery of old the version of contacts2.db file is 90%.