Every sd card owner can face an error saying "You need to format the disk in drive before you can use it". Computers or phones can ask to format your memory card for various reasons: from inaccurate removal out of a card reader and up to normal wearing out.
Anyway, if there is no mechanical damage of storage device, it's likely to open its memory card without formatting and/or recover at least 40% of stored information.
The most important is to put away the sd card and carefully read this guide.
Contents:
What causes errors to occur on a sd card
Extra formatting is necessary for a storage device when it's mechanically or programmatically damaged. Most often it happens when:
a memory card has fallen down,
has been incorrectly removed,
has been formatted on your old phone/camera,
hasn't been removed during resetting a phone to factory settings,
has run out of its working capability,
has been formatted in an incompatible file system.
With mechanical damage and normal wearing out everything is clear: the more damaged your memory card is, the less likely anything is to be recovered. Although it worth trying anyway. Other problems can be solved in 8 cases out of 10.
Windows asks to format the memory card. Should I agree to it?
Agreeing on formatting when system leaves no other choice makes sense only in one case: if you don't need any files stored on that device. You can recover the information after formatting via special computer programs and mobile apps.
Note! It doesn't mean that any recovery software will return you 100% of deleted files after formatting.
If you need the information and you're not ready to lose it, hold off on formatting. Besides, it's not recommended to format a mobile memory card via standard Windows tools.
A special utility called SD Formatter which is compatible with all mobile operating systems will do it better. You can read about it below.
What to do first: check the storage device for read errors
The first thing you need to do in order to fix a corrupted file system of your storage device is to check it for read errors. The easiest way to do it is via a built-in Windows utility ChkDsk.
To check your SD card for read error, you have to:
Insert the card into a card reader and connect it to your computer.
Open a command prompt (Run → CMD).
In command prompt window enter chkdsk [drive letter] command: /f/r, for example: chkdsk M: /f/r.
After the checking is finished, also check the card contents via any file manager.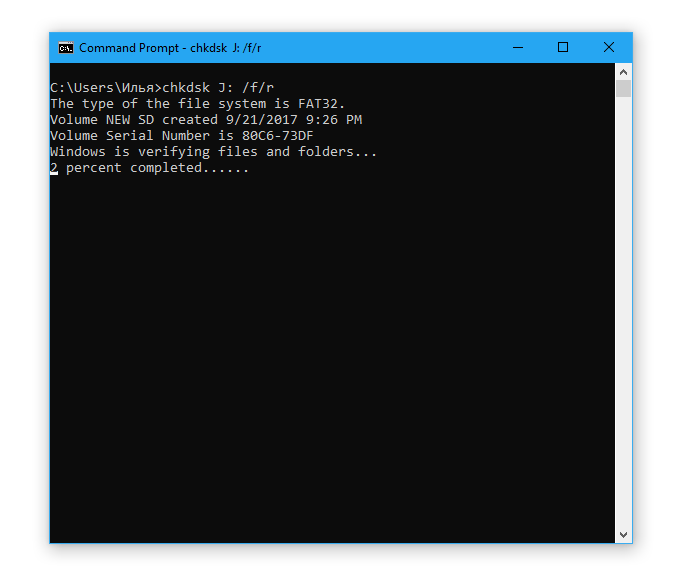 This method will only help if the files couldn't be read due to software failures, sectors local damage and accumulation of a lot of file system errors.
How to check a sd card for errors
If your SD card won't open and requires formatting, despite successful testing via ChkDsk, you will have to recourse to a last resort which is to format it with a further attempt of recovering the files.
Formatting a memory card via SDFormatter
The process of formatting via SDFormatter program is not much more complicated than formatting via standard operating system tools. Download SDFormatter and install it.
Next, connect your memory card to a computer via a card reader and do the following:
In the main program window select the letter of the memory card drive (view it in Computer);
Choose the type of formatting in Option;
Click "Format" button.
After the formatting, it's recommended to check the drive on a computer. If you can open it, it will also be available for recording on a mobile device.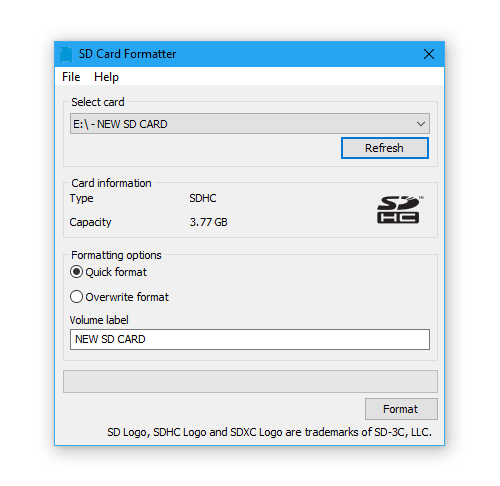 SDFormat utility supports two types of flash drives formatting: Full OverWrite and Quick. Quick is a surface formatting which only marks documents as available for overwriting in storage device memory; Full OverWrite deletes files content and records over zeros (gaps).
Note! If you want to be able to recover data from a formatted memory card via special apps, you should select Quick format mode.
How to prevent similar errors from occurring in the future
The first thing you should do in order not to face file recovering in the future is to get used to making data backup copies. They can be stored on a cloud server like Google Drive, Dropbox or Yandex.Drive, on your computer or your mobile device internal memory.
You can protect your memory card from read errors, switching to unreadable RAW format or simply prolong the serving time of your device by observing several simple operating rules:
Remove your device safely. Before removing a SD card from a mobile device, you should disable it in the settings (Settings → Memory).
Prevent your memory card from falling, being damaged or having any water around it.
On a regular basis, at least once in 1-2 months, copy its content onto another storage device and carry out preventive formatting, preferably in Full-OverWrite mode.
Make sure that apps installed on your smartphone/ tablet don't interact with external memory frequently, as it significantly speeds up the wearing out of the latter.
And the last one: never store anything of great importance on a sd card, for example, documents or valuable photos. SD card isn't the most reliable way of storing information as it can break at any time and no recovery software will help.
How to fix sd card without formatting: questions - answers
I have a sd card, where I store only music which I listen to via a portable speaker. I want to transfer the music to a PC or a phone, but they don't recognize the microsd card or ask to format it. I don't want to lose what I store there. What should I do to  open sd card without formatting?
The answer. A request for formatting appears when read errors occur on a memory card. You can try fixing those errors via special Windows software. One of them is a command-line utility chkdsk, which also has a convenient graphical shell.
After detecting read errors, you can reconnect the memory card to a computer/laptop and check whether request for formatting will appear.
---
I need help with recovering files on a memory card. A lot of important information is stored there. When I connect it to a computer, it offers me to format it. All programmers I know also say that it's impossible to recover anything. Please, give me a link to a program, if there is one. Is it possible to fix sd card without formatting?

My phone is Samsung Galaxy A3 (2015). The memory card asks for being formatted. I connect the card to my phone and it says during the sd card connection that it's empty and asks: whether to format the memory card or not. What should I do? Please, tell me how to recover photos from a memory card.

The phone is Samsung J7 2016 with a memory card Samsung 64GB. The phone stopped recognizing the memory card after I took photos. It says "DAMAGED". I have a lot of photos which I'd like to recover stored on this memory card. My computer asks to format the memory card. Please, tell me what should I do and if it's possible to recover photos?
The answer. When you receive a request to format a memory card, don't accept it. To recover sd card data without formatting install Unformat program and after familiarizing yourself with the manual and videos try to recover the files on the memory card. The files on the memory card will be safely stored until you try to format the drive or overwrite the old files with new ones. Then the chances of bringing them back to the SD card will significantly decrease.
If checking for errors doesn't help and restoring files seems impossible, you have to format the memory card.
---
My tablet is Samsung Tab A (Marshmallow). The problem is that the memory card (Sony MicroSD 32 GB 70MB) stopped working. I connect it and pendrive asking for format saying that it's damaged. After formatting up to 20% it fails and the tablet doesn't recognize the memory card any more.
The answer. If a sd card can't be recognized, check it for errors. You can do it via your computer. If chkdsk utility finds no errors or doesn't fix them, you can format your memory card via SDFormatter. Most likely, this utility will help.
---
My phone Galaxy Grand Praim doesn't recognize a micro SD. I tried one, but it says that it's empty and asks to format it,  even though there are files on it. I agree on formatting, but the card won't be formatted. When it try another one it's recognized it but won't open the files (such as photos). It says "not found".
The answer. Perhaps, there are read errors on your sd card. You should check it via chkdsk and then format it via sdformatter program. Of course, you can perform formatting on your phone, but it's better to do it on your computer.
---
My memory card is Qumo 16 GB. I purchased it to use with Samsung galaxy Tab s 2 tablet. I can record files with a computer, everything is fine. Then the time passes (1-1,5 hours) and files disappear and the tablet doesn't recognize the memory card. When connected to a computer, it won't open the memory card and asks to format the card . Full formatting helps. After uploading the files once again in 1-1,5 hours the same thing happens. What could be the reason? Is it the memory card or the tablet fault? Although tablet built-in memory works perfectly.
The answer. The memory card should be removed after switching off your phone and when working with it on a computer, remove it safely via the icon in the notification area. As the result of "hot removal" read errors can occur in the future. The problem is unlikely in the tablet, although it's possible that some apps on your device use memory card to operate, when you interrupt the process or don't wait till the end of copying by disconnecting the cable or the card reader from your PC.