Ontrack EasyRecovery Professional is data recovery software for Windows and Mac OS. This program is going to make data recovery super easy; it's also quick, effective and doesn't do any harm neither to the disk nor to the internal memory of your phone. And, on top of that, it doesn't require much from you.
EasyRecovery main focus is on hard disks (SSD, HDD) recovery, USB flash memory, SD Cards and removable drives (CD/-DVD/Blu-ray discs).
It's worth mentioning that the interface of Ontrack EasyRecovery duplicates that of Stellar Phoenix Windows Data Recovery tool (perhaps because both are developed by the same company).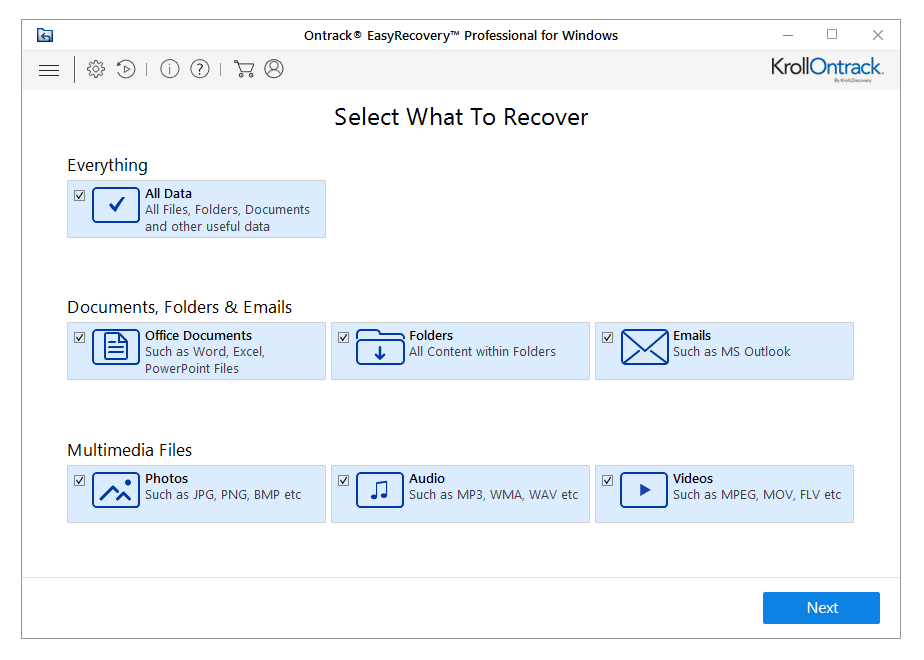 EasyRecovery Editions
The official page of Ontrack offers the following versions of this software:
Ontrack EasyRecovery Free
Ontrack EasyRecovery Home
Ontrack EasyRecovery Professional
Ontrack EasyRecovery Technician
All the versions of EasyRecovery (except for the Free, obviously) are paid. Each of them has a free trial period of 30 days.
In the Trial mode you don't get to access 100% of the features but what you get should be enough to scan the disk from which your files were deleted and do the preview to make sure the file was found so that you can make decision: either to buy the full version of EasyRecovery, or give a go to other recovery software.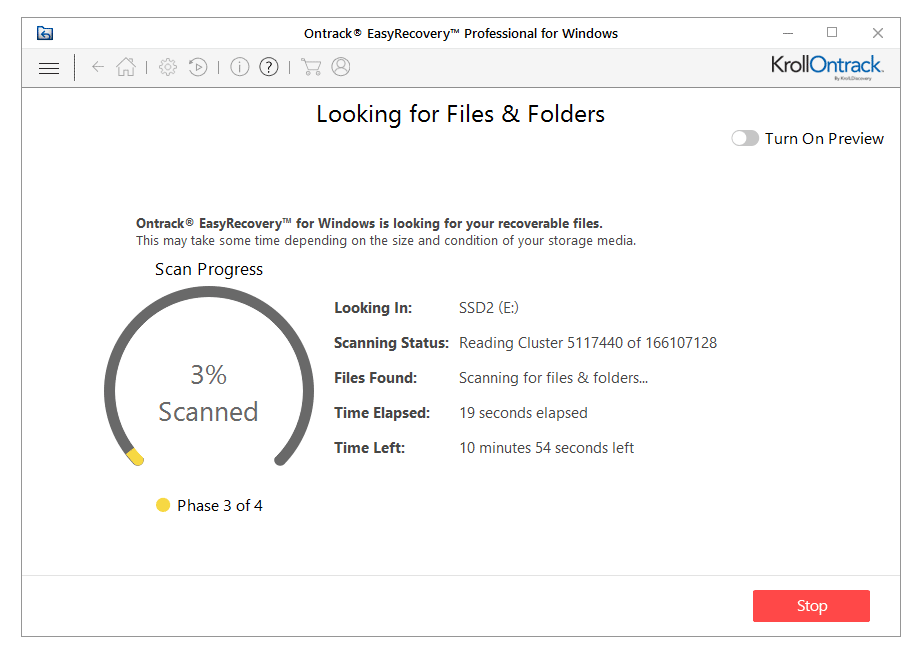 The size of files you can recover using Ontrack EasyRecovery Free is limited by 1 GB.
Ontrack EasyRecovery Professional is the most suitable version of the product for home use, so we'd recommend this one to get an idea of the Easy Recovery product line.
Easyrecovery Professional download
The annual subscription to Ontrack EasyRecovery Pro is $139.000.
Key features of Ontrack EasyRecovery Pro
A set of tools offered by EasyRecovery Pro for data recovery isn't free; however, this software is considered some of the best in its category. See below for its key features.
Reliable data recovery
When EasyRecovery scans device for deleted files, it doesn't write information over the disk which is subject for data recovery. When saving results, you can choose any other location. There is a wide selection of them: HDD/SSD sectors, network disk or removable storage devices (USB stick or SD Card).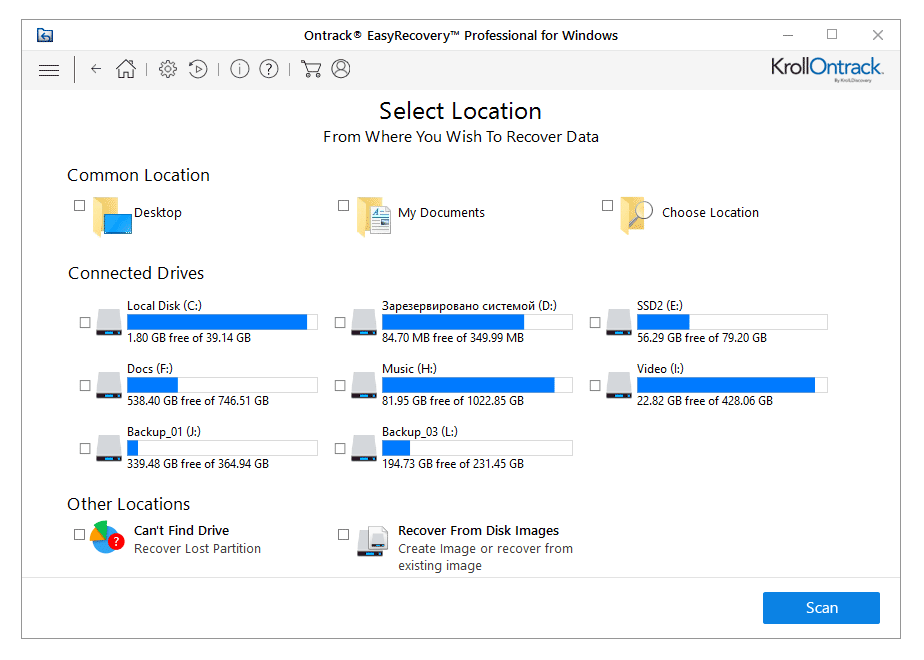 Another option is creating an image or full copy of the disk (VDI). Once you have a copy of the data storage you have issues with, you can work with it as with a physical device without the risk of it breaking down.
Two modes of scanning for deleted data
Quick Recovery option enables you to shorten the time spent on scanning and find deleted files in as short time as possible.
If basic scan is ineffective or you don't get all the files you want, try again but in Deep Scan mode. Searching by signatures increases your chances to find partially deleted or damaged files.
In the Deep Scan mode the program is able to scan all partitions on the hard disk or another storage device and allows further file structure showing.
Deleted partition recovery
If you had lost the whole partition, files from it can be found even if the type of file system is unknown. EasyRecovery Pro recognizes a wide range of filesystems, including HFS, HFS+ (Mac OS), (ex)FAT and NTFS (Windows) and finally able to  restore deleted partition.
Universal data recovery
This program can be used for any removable and non-removable media, including:
local or external HDD  and SSD,
USB flash and SD Cards,
RAID arrays,
mobile phones (Android / iOS).
RAID arrays recovery
One of the most disastrous cases you can imagine is damaged RAID array or similar. A crash results in all the disks and data on them going out of order. Due to the capabilities of Ontrack EasyRecovery, you can recover RAID 0 / 1 / 2 / 5  or create its virtual copy and then restore it in a basic mode.
Usable interface = visual clearness of recovery
The in-built recovery Wizard is there to assist less experienced users in making as few mistakes as possible.
The results of recovery are sorted by type and can be displayed as a file tree. It all is really handy for keeping the files you save in order.
Preview in Easy Recovery Pro is available for images; it's great to see the results and select the files you want to retrieve.