Published on
Standard methods of recovering deleted emails from Gmail

Written by: Ilia
Data recovery specialist, guest author, journalist.
Many people certainly have experienced the following: after opening your mailbox you realize that an important email is gone. And you have no clue what to do with it: since we're not talking about a deleted file, but about a virtual email message.
Gmail has reliable and proven methods of deleted emails recovery. Today we're going to talk about them.
How to recover deleted Gmail emails:
Contents
Method 1: Recovering emails from Gmail Trash
A deleted email message remains in Trash for 30 days and after it's permanently deleted from the Gmail server. This should be taken into account when searching for missing emails. Before the end of the 30-day period you can easily return an email from Trash folder to its original place.
Where is Trash folder in Gmail:
Sign in to your Gmail account.
Open "Trash" folder via the left sidebar. All deleted emails are stored there.
Find the message you need and open it.
At the top of the window you can find "Move to" button, click on it and choose "Inbox" folder.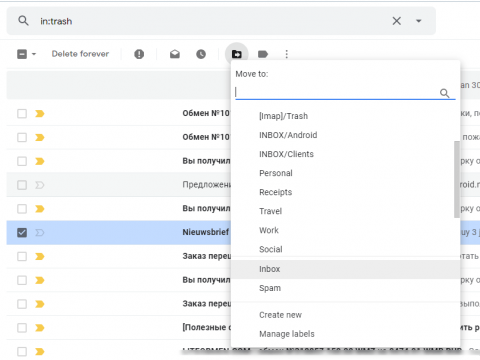 The trash emails will be returned to your Inbox.
Method 2: Via Gmail search
If there is a lot of correspondence in your Trash, find the right message can be challenging. Due to this the messages you need can be easily lost, although they are actually present on the server.
Ordinary scrolling and "eye-scanning" can take a long time so it's more convenient to search for a loss via Gmail search bar.
Open "Search mail" window.
Enter the data on the email you're looking for. The more data you provide, the easier it will be to search for this message.
After you're done typing, press Enter and then all the messages matching your preferences should appear.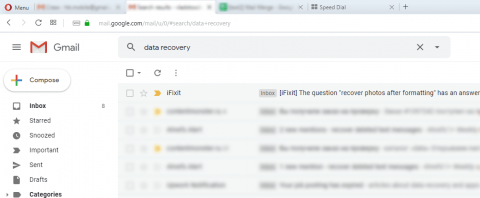 Method 3: Service "Mail & Spam & Trash"
Sometimes Gmail emails can be sent to "Spam" folder accidentally due to the settings of your mailbox. Or they can be marked as Junk by you personally. Therewith, they are moved to "Spam" folder, stored there for a month and then deleted automatically.
In order to restore deleted emails from Spam, you have to:
Open "Spam" folder.
Select the desired message by marking it.
At the top of the screen you can find "Not spam" button which you should click. Or you can move this email directly to your Inbox.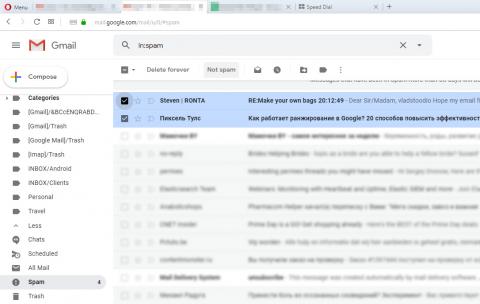 Gmail service "Mail & Spam & Trash" can be very helpful in finding emails among spam.
It's better to search for emails on a computer rather than via a mobile app since some of the features aren't available in the latter.
Sign in Gmail.
In the search bar with the down arrow find "All Mail" tab and then "Mail & Spam & Trash".
If you remember anything, fill in the data on the email you're looking for (for example, from whom it was) and press Enter.
Every deleted email will appear.
Method 4: Via Google Mail support Team
As we've already mentioned, emails stored in Trash are deleted forever after a month. However, there is a little chance of retrieving them. And this is when the feedback form from Google Mail support Team comes to the rescue.
Sign in your Gmail account.
Open the following form.
Fill in the form providing all the necessary information.
Describe the problem you have and send a message.
Feedback is provided within 30 minutes. From the received message you can find out whether it's possible to undelete Gmail emails. If for any reason it can't be done, you'll receive a negative answer. If everything goes well, your emails will be recovered directly to your mail Inbox.
Method 5: Searching for emails on a mail client
It's quite likely that you use your mailbox both via web interface and computer with the help of Outlook, THE BAT!, Thunderbird, Postbox, Spark and etc. If you have deleted an email from the server via the mobile app, but you've previously downloaded it via any mail program, you're certain to have a local copy of this email. Look it up on your computer.
Sometimes it happens vice versa: mail program configurations don't allow deleting messages from the server. But you managed to delete an email from the folder located in the mailer on your computer. In this case it should be saved on the server thus you can find it via web interface.
In both cases, it's crucial that the syncing of a mail program with the server is disabled.
Method 6: Ask the addressee for a copy of your correspondence
Gmail only stores one copy of each email. When you delete it from any location, it's completely gone from Gmail.
Therefore, if you delete an email from "Trash" folder or it was done automatically by the software after the storage time has expired, it's impossible to find it.
For now there is no software allowing you to recover a permanently deleted message. Here are the reasons for it:
Data recovery apps can search for lost files stored on your PC local drive or external storage devices. Emails aren't considered as files.
By deleting an email you change the contents of a file in the same way as when you edit a Word document, for example.
Therefore, if it turns out that the email disappeared from gmail has been deleted with no possibility of recovery and you can't find it neither on your computer nor on the server, there is another way to retrieve it: ask the person with whom you were exchanging the messages to send you a copy of this email.
Conclusion
Thus, there are several steps that should be taken when you're unable to find an email in Gmail for any reason.
In order to protect yourself against accidental deletion or disappearance of messages, we recommend you to back up all inbox email messages. We also suggest checking the settings of the mail server and web interface you use in order to prevent emails from getting into "Spam" folder and being automatically removed.