After recovery there are a lot of damaged files left and most often they are in jpg format. Also, after shooting on a digital camera especially with an old sd card you can find a lot of corrupted files which aren't suitable for storing.
Let's see what tools to recover jpg (and other image formats) exist and find out how useful they can be.
Jpeg recovery software list:
PixRecovery
PixRecovery is a program to recover damaged photos taken on Kodak, Nikon, Sony, Fuji and other digital cameras.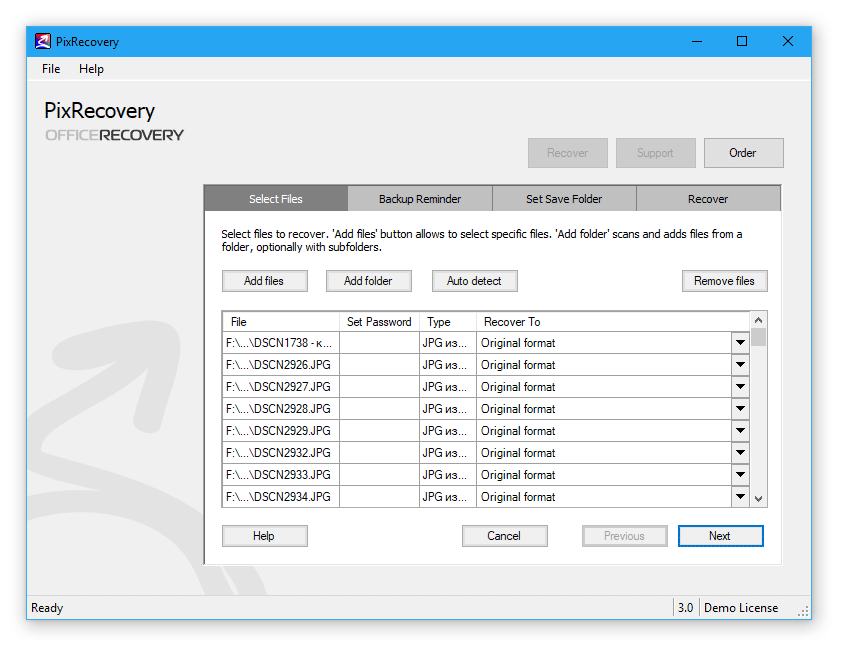 Program features:
Recovery of information in jpg images saving its original color depth and dimensions
The choice of the recovered images saving format: jpg, bmp, png, tiff and etc.
PixRecovery supports most image formats; it's able to repair jpeg files except of progressive JPEG pictures.
The program is easy to use and jpg files fixing process is as follows:
Select the files to recover (tab "Start recovery Wizard")
After clicking "Next" specify a folder for saving (Set Save Folder)
Click "Start" and wait till the end of the process
Read "Data analysis results" and check the photos/images in the specified folder.
The program works in a demo version so watermarks will be applied on the saved file. They can be removed only after purchasing PixRecovery full version. The cost of PixRecovery standard license is $ 49.
RS File Repair
Using RS File Repair you can fix corrupted jpeg files, recover damaged images and photos. The program corrects different types of errors caused by viruses, software errors, mechanical damage of a memory/ flash card.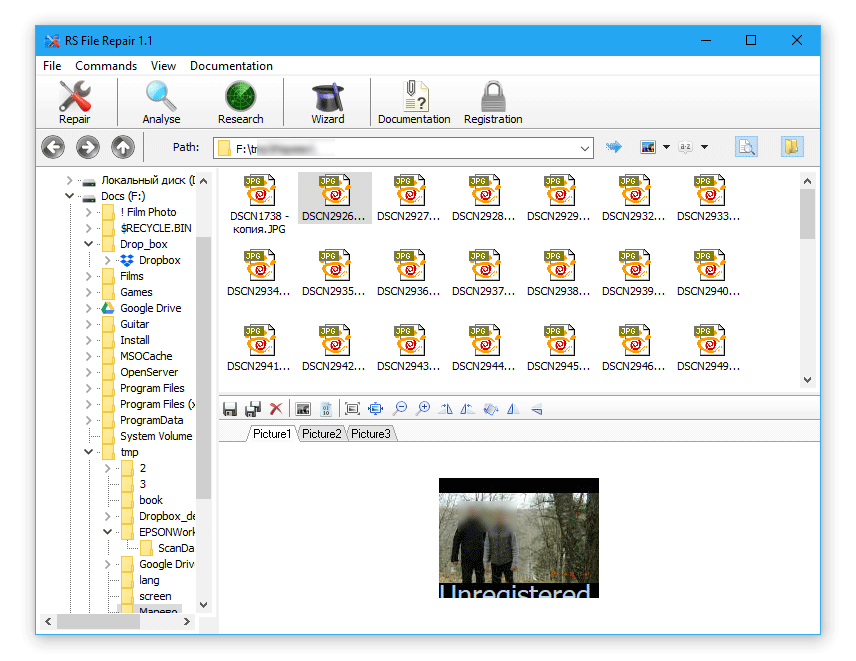 The easiest way to start recovery is via the Recovery Wizard where you specify the files and folders to recover. It's noteworthy that RS File Repair supports 2 types of analysis: the actual Analyse (a quick one) and Research (slow). Research involves a more thorough analysis of the file structure.
Recovered jpg images are saved in the specified folder. The program has the preview feature of jpeg pictures; even if you use RS File Repair trial version, you'll see the results of recovery directly in the program view.
By the way, the beginners are certain to like the program as its interface resembles the Explorer. RS File Repair is convenient for managing files and viewing the source files/ results.
JPEGfix
JPEGfix is a small (less than 1 MB!) and free but very effective program to repair damaged jpg, fix and analyse corrupted jpeg.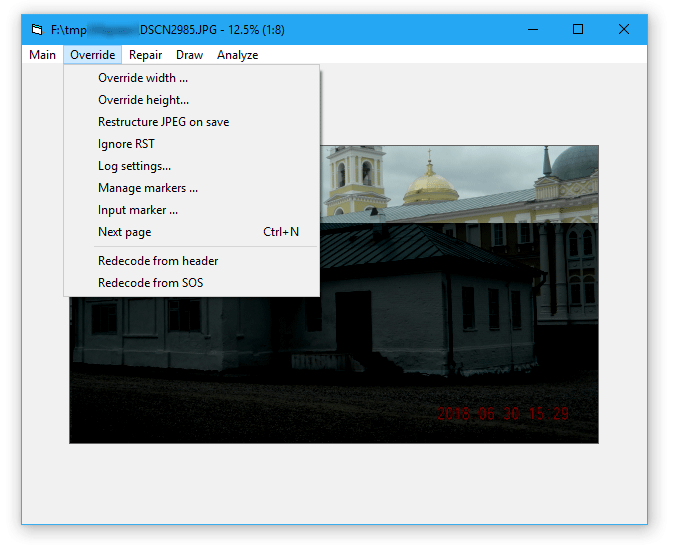 As follows from the program description the main types of errors that can be fixed in a jpg file are: color shift due to an error or a failure, so-called decoding shift ("grey bottom").
After a quick analysis JPEGfix finds in a damaged / distorted file technical information that will help to recover the file destroyed part. However, you should understand that this program isn't a magic tool: JPEGfix can't recover something that doesn't exist physically.
The functionality of this jpeg recovery software excels all the programs listed in this review. At the same time, only experienced users can work with this program. Especially for them a detailed manual has been published (you can translate it into English via Google Translate).
JPEGfix focuses only on damaged jpg files; it can't analyze and restore corrupted photos of other graphic formats. Anyway, you can fix damaged photo and save the results in bmp format in addition to jpg.
Download JPEGfix from Google Drive
JPEG Recovery Pro
JPEG Recovery Pro is one of the easiest programs to fix corrupted photos with jpg extension. The program doesn't have any settings and the whole process comes down to choosing folders and files and clicking "Scan / Recover".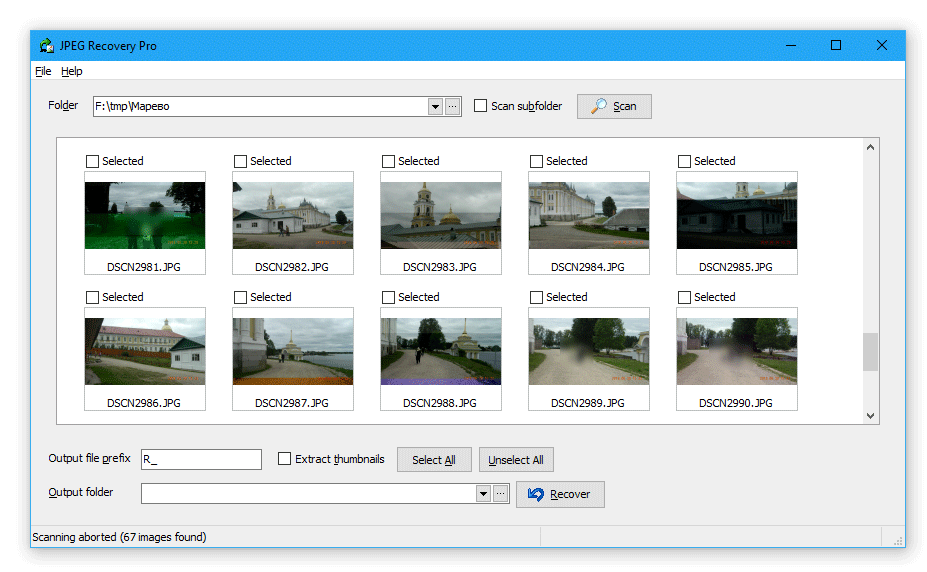 Aside from the file being saved JPEG Recovery Pro also finds thumbnails files which are embedded in the file. Although their resolution is lower than of the original they often remain undamaged.
The saved jpg file is unusable: it has a watermark and its quality is lower than of the original. You can purchase the full version and remove these limitations. The cost of JPEG Recovery Pro for personal home use is 49.95.
Other JPEG Recovery features:
If the program detects illegal JPEG encoding or file corruption it automatically fixes errors
All important information including Exif remains undamaged
Illegal JPEG data isn't written in the final file
File which contains another image parts can be divided into several files
Download JPEG Recovery Pro trial
Picture Doctor
Picture Doctor is a program to fix corrupted images, mostly in JPEG and PSD formats. The results are saved in bmp-format which in its turn is easy to open in any graphic viewer.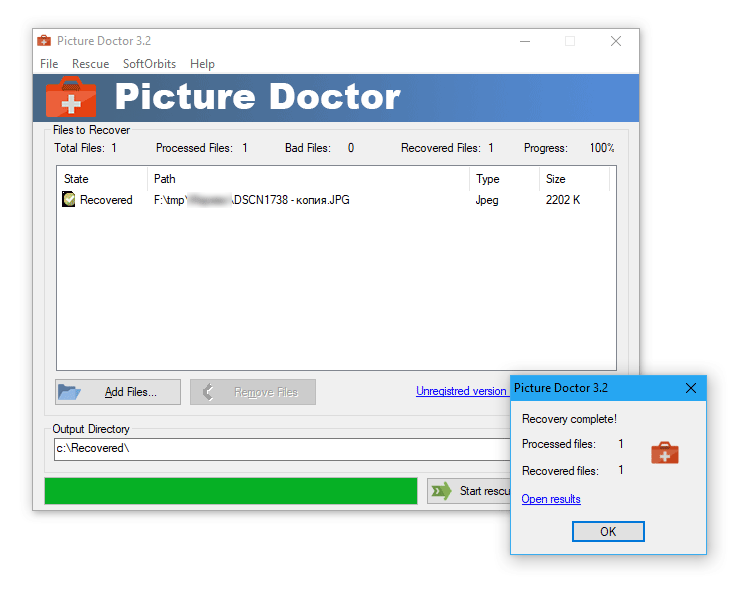 Similarly to the above-mentioned jpeg recovery program it recovers original dimensions and palette. You can select multiple files and folders at the same time and run an automatic recovery.
As for PSD (Adobe Photoshop default file format), Picture Doctor recognizes layers and recovers them. In fact, this is the only thing that distinguishes this program from others alike.
The cost Picture Doctor is relatively low which is $24.99 for a license version. Demo version allows you to test the program and recover corrupted jpeg files with watermarks graphic psd / jpg files.