Published on

Updated on 
Repairing a USB flash drive with repair tools
Authors
The repair of a USB flash drive has its own features. The good news are that unlike SD cards these devices are maintainable. Therefore, if you can't replace your pen stick on a warranty, why don't you use 60-70% chance and repair it?
In this article we're going to consider different cases and typical issues associated with the breakdown of USB flash drives, as well as options of their solution.  
Table of Contents
Recovering data or flash drive repair
It's not the same, although the concepts are quite related.
The main task of a repairing process is to fix the performance of a flash drive so it can:
be recognized as a storage drive in Disk Management,
be correctly recognized in Explorer,
be available for reading data writing.
As a result of repairing a pen drive you can easily lose all the data stored on it, even though you will still be able to read it and write data on it.
File recovery is possible only on a working flash stick.
The main reasons for a USB flash drive failure
How to understand that your pen drive needs to be repaired:
After connecting a USB flash drive the led on its body won't lit;
The device can't be recognized on another computer/laptop;
A flash stick is recognized as an unidentified USB device.
It's incredibly easy to damage a USB flash drive. Like any physical device, flash memory can be a subject to external influences (such as strikes, thermal effects, ingress of water and etc.). In addition to this, there is a number of software errors due to which your USB flash drive can be out of order.
The damage of the pins of a USB connector
Quite often the problem lies in the damaged pins of the controller and USB connector.
How to check it. In order to check a pen stick for this problem, try using it with another computer. Or insert another pen stick (if there is any) in the USB port of the same computer.
If other pen sticks can be easily read on your PC, the problem is probably in the storage device.
If you can't read the data from your pen stick only on this computer, the problem may be in the USB sockets of the PC or laptop motherboard.
How to repair usb drive:
A link to a third-party guide on how to repair a USB connector: Repairing the USB connector of a laptop by ourselves.
If you don't want to dig into the wires, it's better to bring the PC or flash stick with a broken USB port to repair. The approximate cost of replacing a USB is $20 - 50.
Hardware-mechanical problem: the damaged of a controller
Most often the problem is in the controller of a flash stick which is the main link in the drive. The controller contains important chips, and disconnection of the contact or the burnout of legs will make data recovery from such flash stick a very problematic process.
How to fix a USB flash drive:
Replace the pen drive controller yourself (which is quite unrealistic to do at home).
Take your USB flash drive to the service, but the repair of flash memory will cost quite a lot. You won't manage to buy a USB flash drive controller. In a lab a donor USB flash drive can be found and its controller will replace the faulty one
If the data stored on the flash stick is of great importance and you want to recover it, an expensive hardware and software complex for extracting the data bypassing the hardware controller can be used.
Ask the workers of the company repairing flash sticks in your city for the cost of services. It can start from $30 and go up to $500 - 1000.
Updating damaged USB flash drive firmware
USB flash drive contains a firmware which is a microcode with service data. If the firmware of a flash stick is damaged, it will inevitably stop working.
How to fix it. Such flash stick can't be formatted via usual universal soft like SDFormatter., it will require a full "trepanation", i.e. reflashing. This will require a firm utility from the manufacturer.
However, you can reflash your flash stick only after figuring out the name of its controller. The difficulty lies in the fact that manufacturers usually use different types and models of controllers and can implement not only their own, but also others practices. Therefore, it's not always possible to immediately determine the type of your flash memory controller.
Fortunately, there are special usb repair tools allowing you to determine the type of VID&PID* for the storage drives from Transcend, Silicon Power and etc.; we're going to list them and provide the links to the installers.
(* VID is the vendor's ID, PID is the device ID.)
ChipEasy is a user friendly program that will help to retrieve a USB flash drive. It allows you to find out the manufacturer and model of your USB flash drive which will help you to reflash it. Mostly ChipEasy is applicable to Kingston and Transcend devices.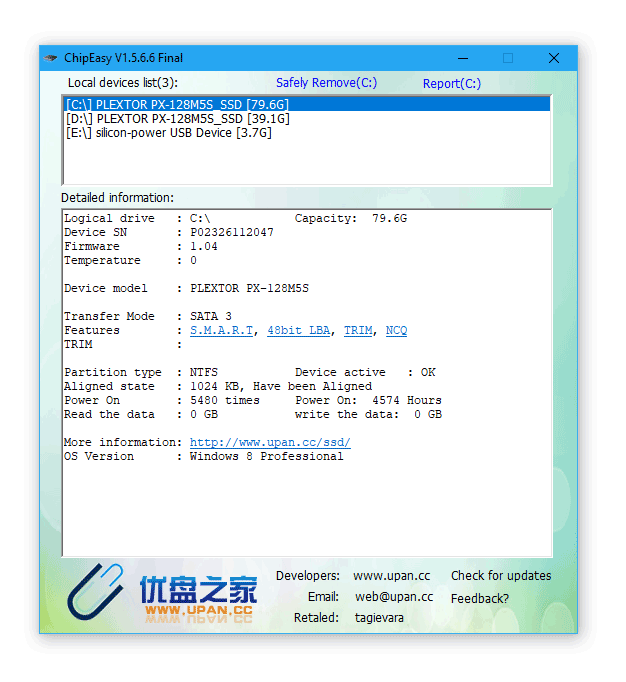 Flash Drive information Extractor - best usb repair tool for Windows
Flash Drive information Extractor is an utility for gathering all the information necessary for repairing: The VID&PID of your controller, the model and type of your flash memory (for Silicon Power and other models). It differs in the amount of detail of the information provided on the device.
CheckUDisk quickly scans the source and provides VID&PID for repairing a USB flash drive and its reanimation with the same amount of detail as CheckUDisk.
You won't manage to find a firmware for a lot of storage devices. In such case, you can forget about repairing it yourself. As an option you can use the variant we've described above: a donor controller transplant.
Software faults can be solved on the cheap
There is a number of flash stick problems that don't require repairing and can be solved via programs. In such cases, usually the system information on the stored data is corrupted: the size and title of a file, its directory structure, cluster size, file system and etc.
How to fix it. We're going to share the links to the guides which will help you to get rid of errors on your pen stick and make it readable again:
When you connect a USB flash drive, a message pops up: "the USB flash drive is copy protected": https://howtorecover.me/remove-write-protection-microsd-memory-card
Your USB flash drive can't be recognized by Windows or other OS and its contents isn't shown in Explorer. How to fix USB drive: https://howtorecover.me/what-do-if-your-computer-doesnt-read-sd-card
Tips:
Your flash stick should be as "clean" as possible when you open it in operating system. Restart your computer in safe mode.
You can find useful software for fixing flash sticks (Apacer, HP, Kingston, Panasonic and etc.). We suggesting going through the website of your flash stick manufacturer, perhaps, there might be other software available.
Summary
In case of a problem occurring, it's important to determine its symptoms and causes. This will help you to make the right decision and also it will save your time and nerves. Some people don't mind trying all the possible methods of repairing a pen stick and for some it might be easier to buy a new one and forget about it. In any case, we've given you all possible ways to repair a USB flash drive.
If the described above methods aren't helpful and your flash stick still doesn't want to work, we suggesting going through other sections of our website: there is a plenty of other useful guides on repairing a USB flash drives and recovering a SD card. You're also welcome to ask questions via the feedback form and we will do our best to answer them.
FAQ
The connector of a usb drive not working, but 4 pins are alright and it was the board that went down. My sister had been using it for 2 days after it happened as she had no clue about it. The system shows the flash drive as a removable drive. There is nothing at the bottom. She didn't copy the files.
It's unclear from the question which board exactly broke down. If it's a chip board, unfortunately it's impossible to repair it. If your USB flash drive connector broke down, you can replace it. The only thing you need is to know how to use a soldering iron. Well, and a soldering iron itself. Here you can look at the scheme of the pins of a USB flash drive board.
---
My micro pen stick (32GB) broke in half. How can I recover the information from it? Please tell me where to go and who can help me to fix it?
Alas, but there is no way your pen stick can be repaired or somehow reanimated. If the problem was in its firmware, then there could be some chances. As for physical damage, it all depends on the kind of damage. If the chips of flash memory are safe and sound, you can read the data from it via PC 3000 Flash reader and etc.
If the files aren't of great importance, the most obvious solution is to buy a new microSD card.
---
A flash stick won't open, it isn't recognized as a removable drive and it isn't shown in Device Manager. It's unlikely to happen due to physical impact, since there are 3 flash sticks with the same problem and with each of them different people were working.
You haven't specified the type of memory you are working with. In any case, try working with it on other phones or devices to which it can be connected. If it's an sd card, connect it to your PC via a card reader.
Check whether the connected device is shown in Device Manager. If yes, use any software for disk partitioning/ regular Windows tools or firm software for formatting a flash stick in NTFS or FAT available on the website of the manufacturer.
---
I have a JetFlash Transcend 8GB USB flash drive. Which can no longer be recognized by the system. I formatted it via JetFlash Online Recovery program and it deleted all the data. Is there a chance to recover the data stored on the USB flash drive?
Unformat program is suitable for recovering Transcend usb stick. The chances of recovery depend on the depth of formatting: Full or Quick. Anyway, try the deep scan option (you can find it in Recuva).
---
I have a Canon A610 camera. During the process of memory card formatting the camera ran out of its memory. After I charged it the camera gave me a notification: memory card error. It won't format at all. Please tell me if there is a chance I can somehow fix it. Or should I just throw it away? (it's a SanDisk SD card).
If there is any useful information on your SD card, then you should connect it via a card reader to your PC and perform a recovery via SanDisk RescuePRO Deluxe program.
If there is no useful information left there, insert it into a card reader, connect it to your computer and perform formatting via windows tools or Storage Tools utility.
Answers to the readers' questions
---
During the formation of a pen stick (transcend) it was pulled out from a PC. It was quite obvious that it won't be working any more and testing only confirmed it. The computer doesn't see it, the indicator of the pen stick blinks all the time, it can't be seen in "My Computer", but it's shown in Device Manager as a device that works normally and is recognized as a storage drive.
The answer. Probably, its file table is damaged. You can still repair your pen stick by creating a partition and formatting it. As it has already been mentioned, you can retrieve it via special tools such as Acronis Disc Director, but it's better to use TestDisk app.
---
I've recently bought a USB flash drive Transcend JetFlash 220 (TS4GJF220). I decided to format it via a service utility for UT163 controller.
After a while I decided to bring everything back to the original state so I launched the program for redistributing the place between open and closed partitions. When I insert the flash drive, I see 2 partitions as right after I bought it but when I try to receive the data on fingerprints or enter a new fingerprint, an error occurs (Access violation).
Is there any way I can get the flash drive back to its original state?
---
After connecting via a USB port one of the computers under my assistance at work, 3 flash drives and 2 flash players were damaged. At first they heated up a little bit and then they couldn't be recognized at all or an error occurred when I connected them to other (and to my) computers. However I'm not sure that it happened because of exactly this computer, but it might be the case (some USB flash drives were connected to it many times and everything is fine with them and they continue to work). Is it possible? Can I somehow check: whether I should blame it on the USB port or are all those USB sticks and players faulty? The last player stopped working at all both as a player and as a flash drive ... Is there anything I can fix an usb drive or should I just throw it in the trash?
The answer.
Perhaps it's the fault of the computer port (if it's located on the front panel of the system unit) in such case you should blame it on the cable connecting the motherboard with this port since due to its poor quality any device you connect may be overloaded what can pretty much affect its performance. For example, the device can heat up and it will eventually led to its failure.
If you connect devices to the ports located behind the system unit, then I guess you're just very unlucky with buying low-quality devices...
Everything can be fixed in in a service center but are you ready to pay for it? Although, if you want to to repair it, you should start studying this topic from the very beginning.
By the way, such problems are much less common in offices with grounded 220V power supply network.
---
My USB flash drive is 8GB Kingston Data Traveler 101 Retail. I got this flash stick with a password-protected part of memory, so I made a decision that there was nothing necessary on it and I formatted it. After formatting I found out that the password-protected part just vanished and from the initial 8GB I can see only 5.6 GB available (which weren't password-protected by its previous user) so how can I repair a flash drive and recover the missing 2.4 GB?
The answer. Try to determine the type of its controller: its vid and pid (UsbIDCheck and etc.), and send this information here or: with a search engine find a special utility for your controller and perform a low level format. If you do everything right and your memory card has no physical damage, the problem will be eliminated. And if you're afraid to mess things up, then simply send us the vid and pid of your USB flash drive.
---
I have a Transcent JetFlash 1GB USB flash drive
VID 058F and PID 6362. Chip Vendor: Alcor(??) Chip Part-Number: AU6368
The thing is that there is a lot information regarding this device, but I found nothing about how to fix it without losing data. The flash drive has accounting records for a couple of years written on it ... With no backup...
The problem is most likely with the controller since OS sees it, but shows that the table of files is unknown, and it can't recognize the USB drive itself... I launched precious JetFlash Recovery program and it managed to recognize the USB flash drive, but I didn't dare to click on "Format" because of the above mentioned.
In this regard, how can I repair an usb drive without losing even a byte of information???
The answer.
Generally these are incompatible tasks. Usually in case of severe problems you can either fix the flash drive or recover the information from it. If you need to save the data stored there, then please contact the professionals working with it Your flash drive will have to be disassembled.
But first you can check whether it can be read, try to make an image file of it. If it can't be read, then read above what to do, and if it can be read, you can try to retrieve your data from the image via well-known recovery-tools. But keep in mind that this can be a waste of time since the best way is to edit the file system manually, because if you do it automatically, you can get only a rubbish pile in the end.
Obviously, it all makes sense only if the data hasn't yet been lost in attempts to recover it via "miracle programs".
---
Good afternoon. A problem has occured. My laptop can't recognize a new USB flash drive Corsair Voyager 4GB. Vista SP1 says that "the hardware ID is missing." Other USB sticks can be easily seen by this laptop. This flash drive works perfectly with other computers. While surfing the internet I found a lot of questions regarding this matter but without any answers. Thank you in advance.
I also had a similar situation with Voyager and Vista. For some reason the volume name "hang up" (since there was an attempt to assign it an already occupied letter), what helped me was manually assigning a volume name...
The answer. Give a try to Safely Remove program and via it change the volume name of the connected flash drive.
---
This might have been already discussed, but I want to share my experience of USB flash drives recovery.
I have two USB flash drives 16Gb V85 and with enviable constancy (one within six months, another one even faster) they died, moreover the cause was in the hardware since during their operation I noticed how heavily they were heating up which was very much alarming.
At first, I just tried fixing them via AlcorMP.exe but it was useless. Afterwards when I disassembled the flash drives I found out that one out of 4 pins of the connector of one flash drive fell off, following this I've soldered every pin of two microcircuits in the flash drives, launched AlcorMP.exe once again and voila everything is fine
---
My USB flash drive is recognized but I can't open it, i.e. it's enabled when connected to PC  but when I click on "Removable disk E" - it says "insert a disk...". As I understand this problem occurs quite often and it can be solved. I need your help to determine the chipset and figure out the software via which it can be formatted.
The answer.
Identify the type of your controller: http://www.antspec.com/usbflashinfo/. Then find the optimal USB flash drive repair tool specially designed for your controller (see the article above).
---
USB flash drive of an unknown manufacturer was connected to a USB port which once (as I found out later) burned another flash drive. Now it can't be seen by the system or CheckUDisk utility, usbflashinfo and UT163-MPTool-v3.9.35.0. When it's connected, the UT163 T6 microcircuit is strongly heated. What else can I give a try to in order to recover the information?
The answer.
Look for someone who can do it and knows how to (this option is the best one).
Try to change the controller.
---
My USB flash drive is A-data 16GB (the text on its aluminum case has been erased, alas)
It's recognized as an unknown device on all computers.
UsbIdCheck is strongly dissatisfied with it and it doesn't want to recognize it (an error DeviceFailedEnumerationoccurs).
The data is backed up. Is there any use in trying to recover this flash drive? Or should just exchange it under the warranty?
The answer. Give a try to a Prolific PL-2528 MPTool CM M2209 pen drive repair tool. It helped me to recover my A-data 16GB.
---
I don't know neither the model of my USB flash drive nor its capacity (there are no markings).
The controller is CBM2091 and the memory module is 29F16G08MAA
The problem is certain in the controller since it's faulty (it strongly heats up, experiences voltage failures and its led hardly burns).
The question is: if I try to read the info from the memory microcircuit via a programmer (which is possible), am I likely to recover the data from the bin file? I have no clue about the file system.
The answer. The file system is most likely FAT32, but everything is mixed in the bin-file so without special programs and experience it's quite difficult to gather data, to put it mildly. You'd better consult a professional.

Ilia is a professional writer. He has expert knowledge in data recovery with 15 years of experience. He started his career as a journalist by reviewing PC and mobile apps. His current responsibilities are to keep track of users' questions and answer them.