How to find apps you deleted on Android: for Samsung Galaxy and other models; is it possible to recover deleted app that were uninstalled a long time ago or lost after a hard reset.
The main reasons for deleting apps
Phone apps are deleted for a number of reasons. We're going to consider the following cases:
Buying a new phone: you need to restore all the settings right from the onset, connect your google account and reinstall all the apps.
Deletion of apps after a factory reset: after performing a factory reset your device will be pretty much as in its initial condition: having no applications and with default settings enabled.
You deleted apps a long time ago and decided to restore them on Android, but forgot the names.
Apps were deleted accidentally or the user wasn't involved in the deletion at all. The apps need to be found and restored.
Viruses deleted (damaged) apps on Android
As you can see, there could be various situations, but, fortunately, it's much easier to retrieve deleted apps than files. You won't need any additional Android recovery programs in order to do that, you just have to follow a few simple steps. Which we're going to describe further.
Restoring accidentally deleted app via Google Play
Video guide on how to check recently deleted apps and recover them via Play Market:
1. A standard app Google Play is suitable for restoring apps on a smartphone or a tablet. You don't have to download it as it's installed on Android from the very beginning.
2. Find Google Play on the list of your phone apps. This can be done via the search bar of your device.
Note. If you can't find Google Play on the phone then download an apk file from a third party source like apkmirror.
3. Open Google Play and click on the icon with three lines. The main menu of the app will open.
4. To find deleted apps go to "My apps and games" tab.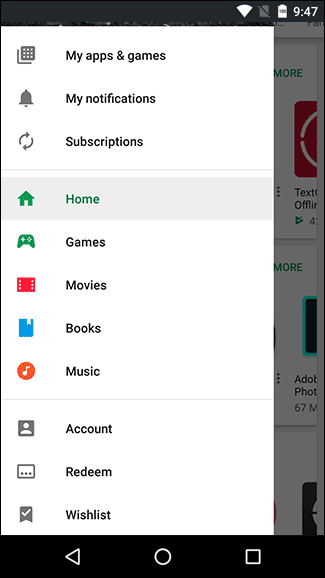 5. All applications including those that have been deleted and those that are installed on the phone at the moment are listed in the tab "All". If the application is already installed you'll see the words "Installed" or "Updates" written next to it.
6. You can find deleted applications in the tab "Library".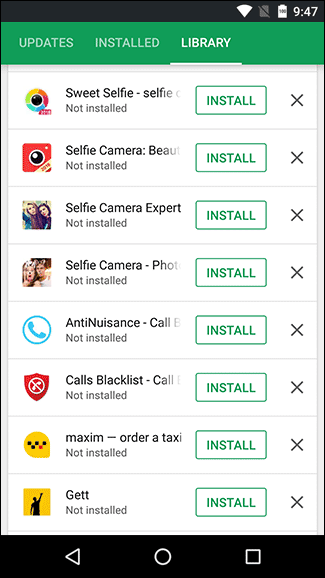 Note. If you can't find the deleted app make sure you're using your Google account. Try to recall if you have any other Google accounts and log in once again if needed.
7. If you want to find an old app it's easier to search for it by the date of the installation. You can find the newest apps at the top of the list and the oldest ones at the bottom. Or vice versa as it depends on the way the list is sorted.
8. Find the desired items on the list. To recover uninstalled apps just click the "Install" button and install them one by one.
How to restore apps: Questions and answers
1. I deleted a paid app by mistake after an hour of usage. I wanted to reinstall it but there was a price tag again. Isn't it recorded anywhere that I have already paid for it? What should I do in this case?
2. [Deleted apps from Google library]
I managed by mistake to delete an old app (paid version of flight radar 24) on my Google library account and now I can't download it anymore or find it anywhere at all. Is it possible to undo the deletion from the Google library and restore the application?
The answer. A paid app is bound to your google account and you don't have to pay for it again if you reinstall it. In some cases, if not enough time has passed since the installation and you deleted the paid app you'll get a refund after a while. If nothing from the listed above happened and you're still asked to pay for the app when using your account, please contact the support team.
---
I've deleted system apps Phone and Contacts on Samsung Galaxy smartphone. As a result, the connection was lost. It shows an error message "android process acore". What should I do? I can't reinstall the apps.
The answer. There are two options:
1) to download system apps for your firmware;
2) perform a hard reset on Android, but save your personal data on a memory card before that.
---
If I delete a game can I download it again and continue playing from where I was?
The answer. You'll be able to download the game again. If you download it through Google Play, it will be saved in "My apps" library.
And talking about settings and results: it all depends on where the game savings were stored. If they were stored on your device then most likely not. But if they were stored on the game server then yes.
---
How can I restore the system apps I've deleted?
The answer.
Some apps can be downloaded from Google Play (or any other sources) and installed instead of the deleted ones.
Perform a hard reset.
Note. A hard reset won't help if you delete something important when having the root rights. In this case you have 2 options:
take the files you need from the backup (if available) and using Root Explorer put them in directories from where they've been deleted;
search for the copies of deleted data on the Internet; however, be aware that some system files can be tooled for certain parameters of a device like the processor model and the screen resolution.
---
How can I find the apps that have been deleted from Play Market? Where can I download them?
The answer. There are other app stores apart from Play Market, for example, F-Droid which is a free software repository. If you remember the names of the applications you want to install then search for them in Google.
---
During phone cleaning apps were also deleted together with trash and cash. I wanted to restore an app via Google Play but Android says that the program is already installed. Did I understand it correctly that I need to reset to factory settings and then reinstall everything? Or is it possible to restore an app without resetting somehow?
The answer. If those are preinstalled apps which you've deleted without a root then they'll be restored after a factory reset.
If you install the application on your own then it won't be restored.
You can find the missing apk files (if there are any on the phone) by searching through the phone and card memory.
---
[Recover (reinstall) deleted Android app without using google play store]
Hello really need help! Hard to find any answer on the web… My accidentally deleted app is the older version app which compatible with my current phone/tablet setting, which is an older 7" samsung galaxy tab 4. The app store has new version app that's not compatible with my device. How do I reinstall the deleted old version app? Please help. Thanks soooo much!
---
[Restoring information on deleted apps]
I have accidentally deleted apps and managed to restore them, but the information that I had in them is gone. Is there any way to retrieve this information from recently deleted apps?
---
[Deleted App]
I recently deleted a paid app on my Samsung edge 7. The app is not listed in my library and I only have one google play account. I searched the google play store without luck. Please help, is it possible to reinstall deleted app?!
---
[Couldn't restore deleted apps from play store]
I have a fossil q Marshall smart watch which run on android wear app but accidentally I deleted this and letter did not find in play store.I have followed your recovery process but in Library under my app in play store the android wear is missing.Please suggest me how can I restore the app.Help me please"
---