PhotoRec is a free utility to recover data from damaged or formatted disk partitions, devices, flash memory media, SD cards, digital photo and video camera memory. Due to the File carver data recovery method, PhotoRec searches and recovers what other utilities overlook. The app ignores the file system and scans for deleted files by signature.
By the way, PhotoRec utility is part of several LiveCDs; so if you your OS is down, you can run it from a LiveCD and utilize PhotoRec during recovery process without installing Windows.
Which data types are recovered by PhotoRec
PhotoRec can find and restore deleted documents, images, archives – all in all about 500 file extensions. The range of file types is unlimited and an experienced user can create their own signature to scan for particular data types.
Note. PhotoRec is often mentioned as one of the best free recovery apps for video, images and photos. HowtoRecover provides lessons on how to recover using this app.
The application can be installed on DOS, Windows, Mac OS and other platforms, which makes it a universal solution for users. Windows has both console and graphic versions of PhotoRec. The package also includes TestDisk – partition recovery utility.
If you want PhotoRec to work without any restrictions (to have full access to media sources) it needs administrator rights.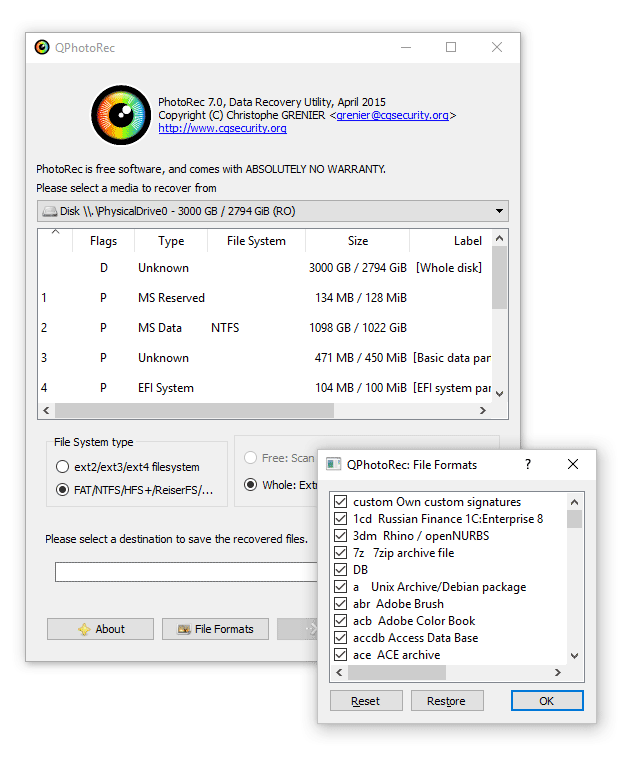 Supported storage devices
PhotoRec works with the following systems: (ex)FAT, NTFS, ext2, 3, 4, HFS+. SSD, HDD and CD/DVD, memory cards such as Memory Stick, SD, etc., as well as USB flash drives.  It also supports memory from Canon, Casio, Fujifilm, HP, Nikon, Olympus, Sony, Pentax and other digital cameras.
How to use PhotoRec
Recovery options
In the available media list in the main window you can select the disk, medium and file volume.
Paranoid is a recovery method which retrieves only correct files and disregards the corrupted ones (the Keep corrupted files option enables saving all the found files with no exceptions).
The Expert mode allows you to change file system block size and the offset. It helps to find files on reformatted sectors and in other more technically tricky situations.
Scan options
In the PhotoRec main window the file type, if supported by the app, is specified (see above).
During the scanning process restrict file formats so you won't have to save the whole volume of data on the disk. PhotoRec recognizes formats by header perfectly well and skips it if the format was added to exceptions by the user.
There's another useful option – restriction of the search range enabling a user to narrow it down to not just hard drive or its sector but to unallocated space.
Save options
While saving files you need to define the destination drive.
Results can be filtered by extension, date and time, which speeds up the search of particular files for you to look through them. However, PhotoRec may fail to save metadata such as file name; a recovered image can miss the date taken. That's why filtering isn't always possible but if EXIF data doesn't get corrupted, these details are recoverable and you'll get your date and time.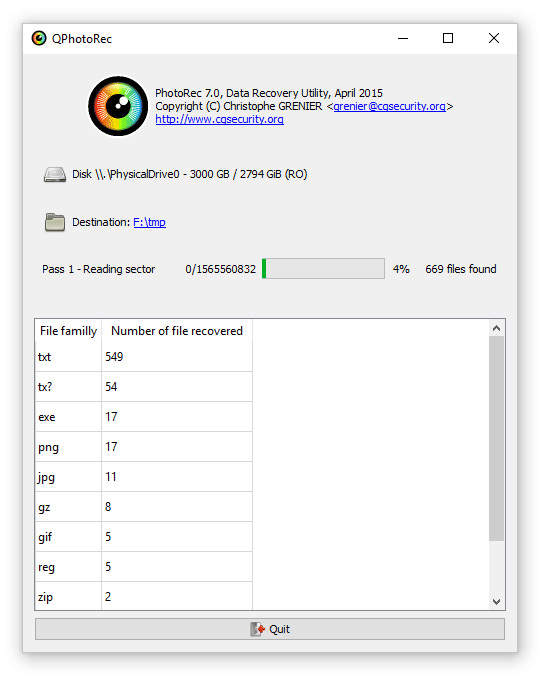 Where to download PhotoRec
PhotoRec is part of the TestDisk software package. The archive can be downloaded for free here. The latest version is TestDisk & PhotoRec 7.1. No installation is needed.