Published on

Updated on 
How to make a bootable USB flash via HDD Regenerator app
Authors
A question from the reader:
"The hard disk stopped working. There is a suspicion that the reason is bad blocks, because earlier there were symptoms suggesting it. The problem is that I can't boot Windows. How to create a bootable USB flash drive with HDD Regenerator program, if it is at all possible? Will it work like live cd?"
Indeed, in some cases the loading of the operating system and the subsequent hard disk check in Windows are not possible. The bootable usb flash drive comes to the rescue. Regenerating flash allows doing performance tests, fixing bad sectors and - if lucky - reviving the HDD.
Table of Contents
Making a bootable flash drive: step by step guide
Fortunately, in HDD Regenerator it is possible to burn a flash drive through the main window of the program. How to do it:
1. Insert the flash drive into the usb port of the working computer or laptop (where you can download Windows OS). USB flash drive of almost any size is suitable.
2. Download the latest version of HDD Regenerator and install it on your hard disk.
3. Start the HDD Regenerator.
4. Click the 'Bootable USB Flash' button.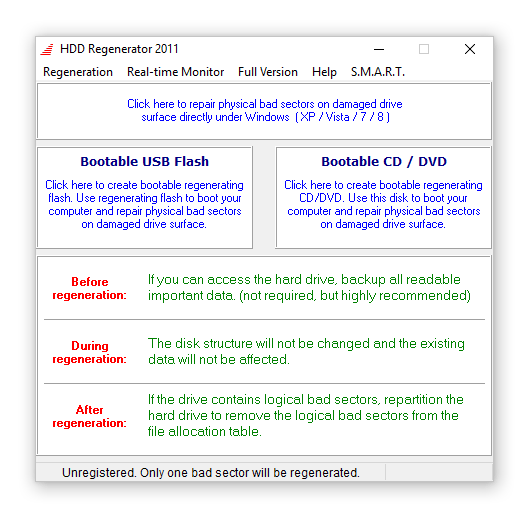 HDD Regenerator: making usb bootable flash
It is important to keep in mind that the flash drive will be formatted. Consequently, all the data on it will be deleted.
5. In the device list, select the usb drive that you want to format to bootable, and confirm [OK]. Wait until the file is copied burnt to the USB flash drive.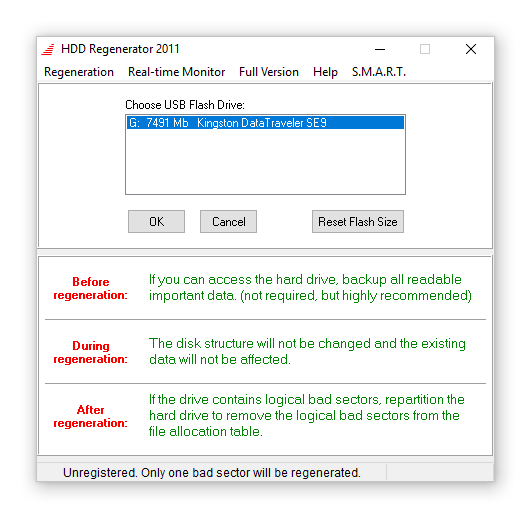 Converting media to bootable regenerating flash
6. The bootable flash drive with HDD Regenerator in the kit is ready for use. The BIOS must be set to boot from it. It is clear that these operations should be done on a computer with a bad hard drive that needs to be regenerated.
Other ways to write a bootable regenerating flash with HDD Regenerator
In addition to the bootable USB stick, you can also burn a CD / DVD with the HDD Regenerator software included. (Although, of course, the option with a USB flash drive is more convenient). To do this, use the Bootable CD / DVD command.
In addition to burning the bootable disk through the program, you can download the LiveCD under the name GRUB4DOS. In addition to HDD Regenerator, LiveCD includes other utilities - MHDD, Victoria HDD, MemTest and other hard disk test software.
GRUB4DOS can be written using Rufus or another utility. You can download the LiveCD here:
If you have questions about the HDD Regenerator (or if there were problems with writing a bootable USB flash pendrive), do not hesitate to ask them via feedback form.

Ilia is a professional writer. He has expert knowledge in data recovery with 15 years of experience. He started his career as a journalist by reviewing PC and mobile apps. His current responsibilities are to keep track of users' questions and answer them.