Spyware is called software stealing personal data from mobile devices and transmitting it to malefactors' servers. Spyware can operate in different modes like discreet or annoying. Discreet spyware operates in the background and tries to disclose its presence in the system. Its main task is to gather information. Annoying malware showers you with advertising messages which significantly slows down the gadget operation. Moreover, every time you accidentally click on an advertising banner, you help its developers to earn money.
Why spyware is dangerous
The greatest danger of spy apps for Android is that they keep a close eye on the owners of devices. Via spyware some dishonest programmers can steal private information such as:
text of your messages,
call history,
GPS coordinates,
passwords and other authorization data from a browser,
photos and videos,
audio recordings of telephone conversations.
You may think that there is nothing special on your phone. For example, SMS: you can use them rarely, but never forget about mobile banking. An app only needs to extract a one-time password from an SMS for authorizing in online bank and making your bank account available to third parties. Social networks pages, e-wallets, access to corporate sites are stolen in the same way: via sent in a message password.
Defrauded call histories are usually added to paid databases used for sending commercial messages. Therefore, if you receive a lot of spamming, it's quite possible that someone from your contact list has been hacked via spyware.
No need to explain the case with multimedia: no one wants his or her private photos and videos to be published online. Especially when it comes to nude photos. Malefactors can even demand money for material with especially "juicy" details; but there is no guarantee that they will get rid of the stolen contents from someone else phone gallery after receiving a payment.
How to figure out if there is a virus on your phone
It's quite a hard task to detect a spy app without using an antivirus. Indirect signs of having a virus on your device:
reduction of your mobile device battery operation time,
mysterious disappearance of mobile internet traffic,
occurrence of advertising messages in your gadget interface.
Even if you've spotted just two symptoms from the list, you should immediately take actions and preferably of radical kind.
How to remove spyware from Android
The most radical way to remove spyware from android phone is considered to be an internal memory formatting with a simultaneous hard reset of a smartphone. But some of the most cunning kinds of spyware can survive such actions since they've already got into the system files. Therefore, if you make a decision to perform a reset and formatting, after the first device restart it's better to scan it via an antivirus.
The best anti spy apps for Android
One way of dealing with spyware is to scan your phone for viruses. There are a lot of apps(both paid and free) for Android platform. According to test results, the most successful ones for removing modern spyware are: 
Malwarebytes Security
Malwarebytes Security is a free app targeted at removing spyware, trojans and other malware. It scans device internal memory and sd card for viruses and conducts a security audit in one window.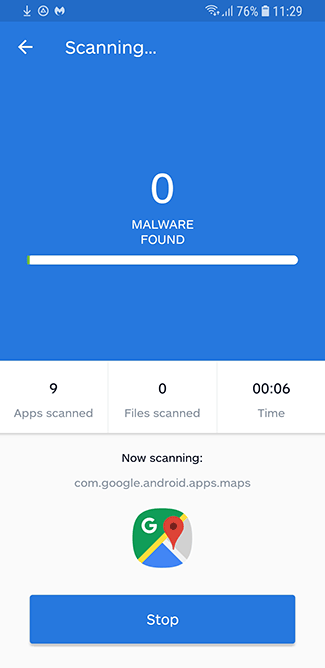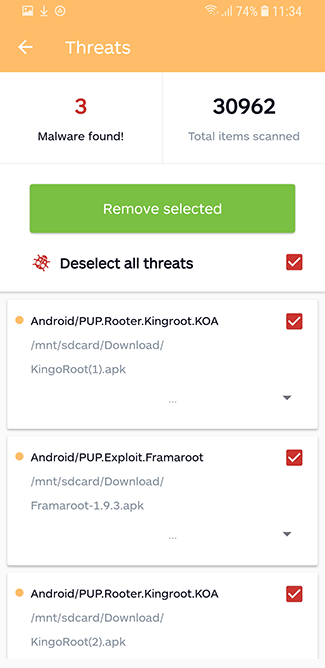 Malwarebytes Security operation principle: you select the path to files, run the scanner and click on "Delete",  if it finds anything. Audit works slightly different: a built in feature checks the permissions of all installed apps. It's convenient for controlling access to camera, messages and internet. One of the best spyware removal for Android at all!
Bonus feature: Malwarebytes Security spyware remover automatically checks incoming messages for suspicious links and blocks access to dangerous URLS thus preventing your mobile device from downloading any viruses / malware apps.
Incognito - Spyware Detector and Phone Security
It's a highly specialized anti spyware app for Android. In fact, "Incognito" has only two functions: to find a dangerous file and destroy it.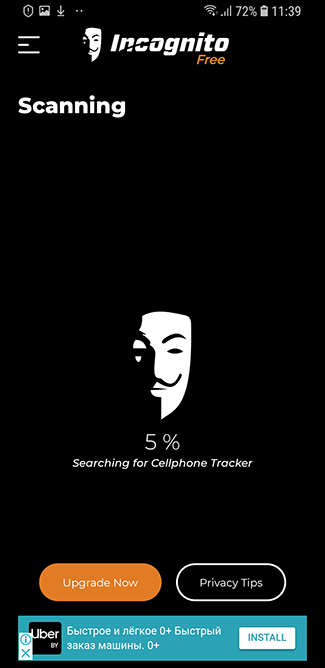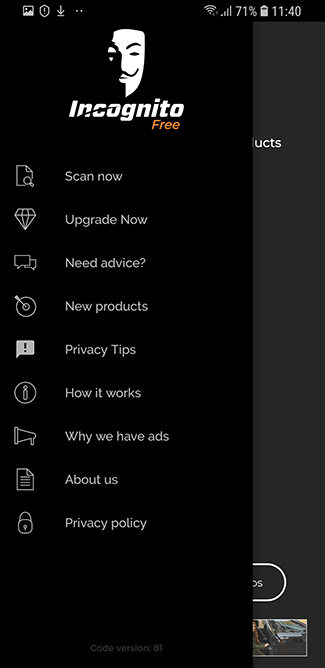 It's important that antivirus databases are updated often enough and while operating in the background this program doesn't waste your device resources, so it's quite useful to have it at your disposal in case of downloading a virus, for example.
Kaspersky Mobile Antivirus
A virus guard and spyware remover app for Android which hardly needs any introduction. This app doesn't have a separate feature for dealing with spyware and malware, but its background protector and standard scanning can easily detect it.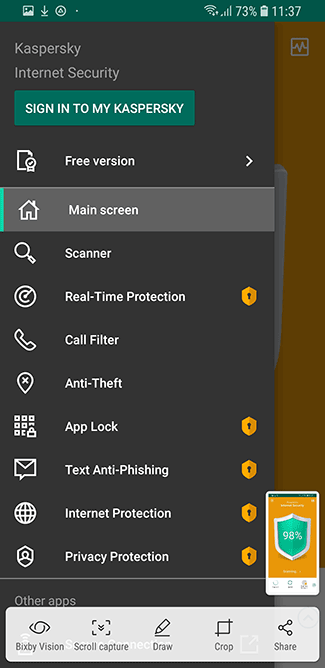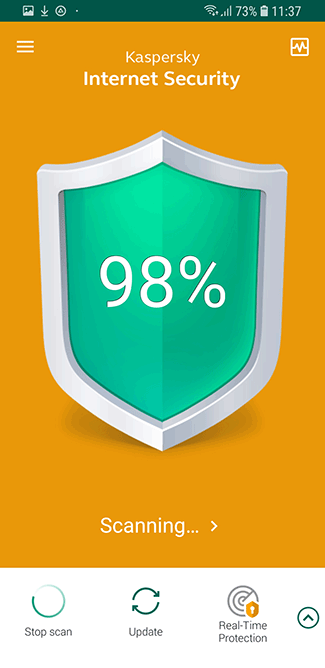 Just in case, in the menu you can find an option called "Secret contacts" for storing the most important phone numbers and chats protected with a password.
Download Kaspersky Mobile Antivirus
Avast Mobile Security
Another popular spyware detector for Android and other mobile platforms which can find spy apps and detect trojans. Standard scanning finds malware and the app via removing feature easily gets rid of it forever. Avast constantly operates in the background preventing your device from downloading spyware.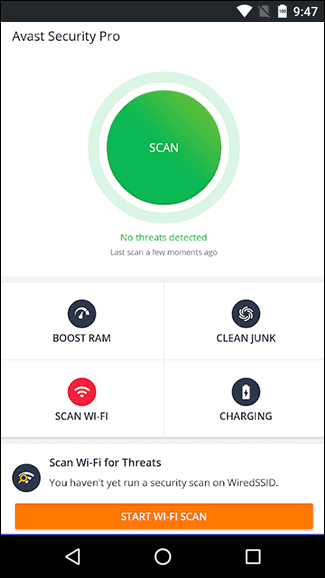 Bottom line. The above mentioned antiviruses and anti spyware apps for Android can help you to stop the tracking of your device. And yet the best way of protecting your device is to prevent the occurrence of the cases we've described here. Avoid installing unknown programs (especially not from the Play Market) without urgent need, keep your antivirus operating while you surf the net and never follow the links sent to you in unknown messages.