SMS messages often get deleted by accident or after a hard reset; even if you are aware of what you are doing, it's easy to forget about important information those messages contained (passwords, addresses, etc.).
If you don't back up your text messages, you can lose them from your phone as easily as any other type of data. Just like other data, SMS messages are not deleted then and there. They get marked as "available for overwriting," which means that is a chance of recovering them, though it may be minimal.
Summary
This guide will help you recover deleted SMS messages on your Android device using the Wondershare Dr. Fone app.
Step-by-step guide:
1. Download and install Dr. Fone
Despite its name, Dr. Fone for Android is not a mobile app which you run on your phone, but a desktop app. Dr. Fone is compatible both with Windows and MacOS, so its settings and the sequence of steps are the same for all versions of this tool.
Begin by downloading, installing, and running Dr. Fone.
2. Connect your phone to the computer
To connect and synchronize Dr. Fone with your phone, you'll need a USB cable (it comes in the box with your phone) and installed drivers suitable for your mobile device. You can do without them, but first, see if Dr. Fone is responding to the connection.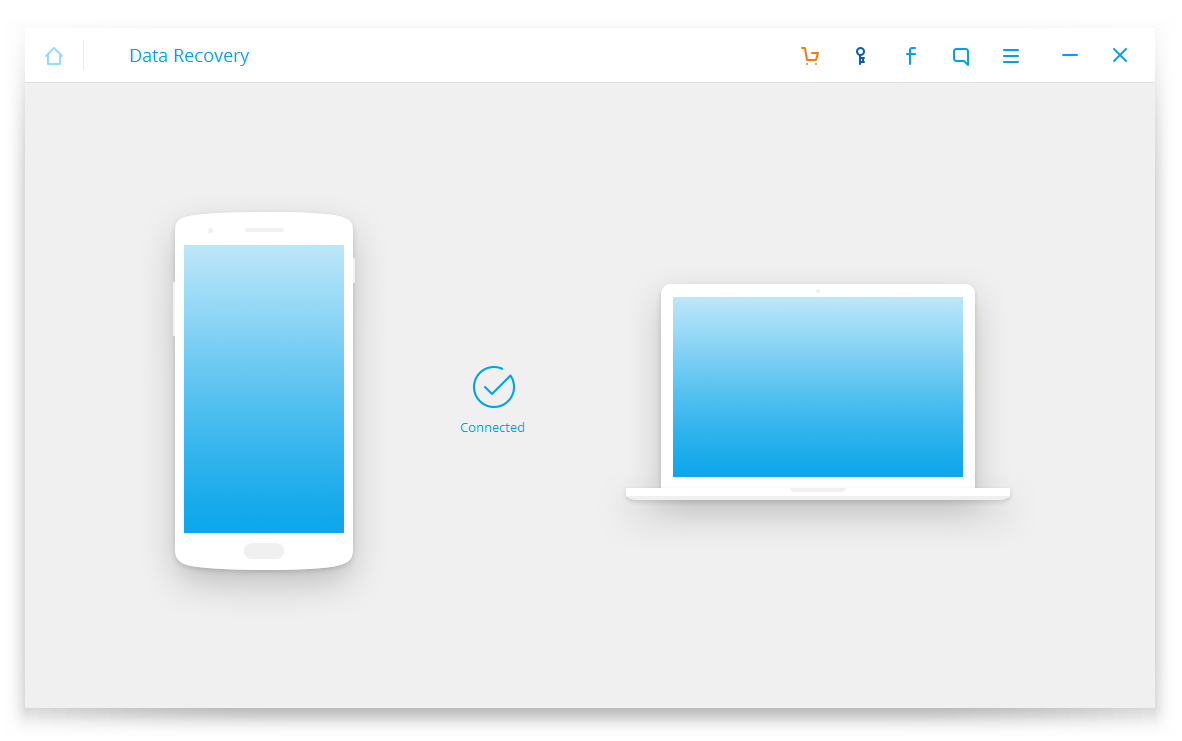 3. Enable USB Debugging Mode on your phone
When Dr. Fone has been started and the USB cable is connected to the phone, you should see a pop-up window with Superuser request on the screen. Tap Allow to allow the access, otherwise the app won't be able to access your phone memory, which stores the text messages.
If you already have a root app installed on your phone, you need to allow Superuser access in the same way.
4. Scan your device (to find deleted messages)
After you've followed the above steps, tap Start to scan your phone memory. The whole process usually takes up to 5 minutes.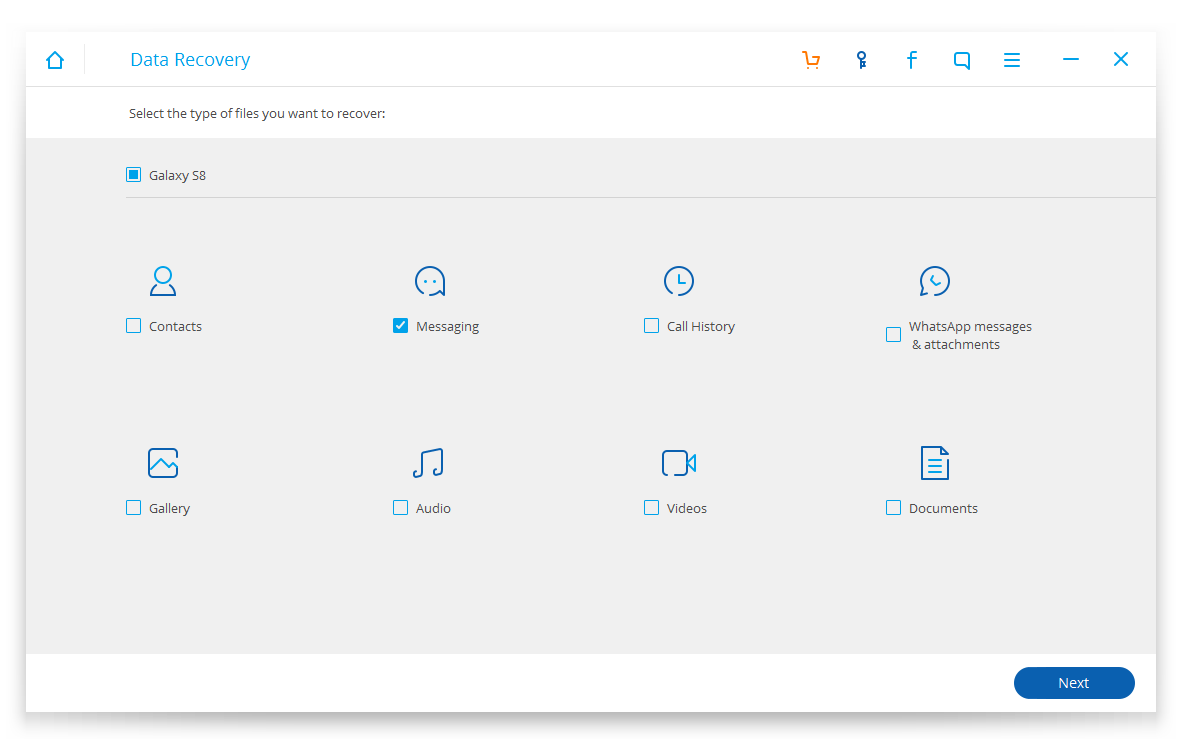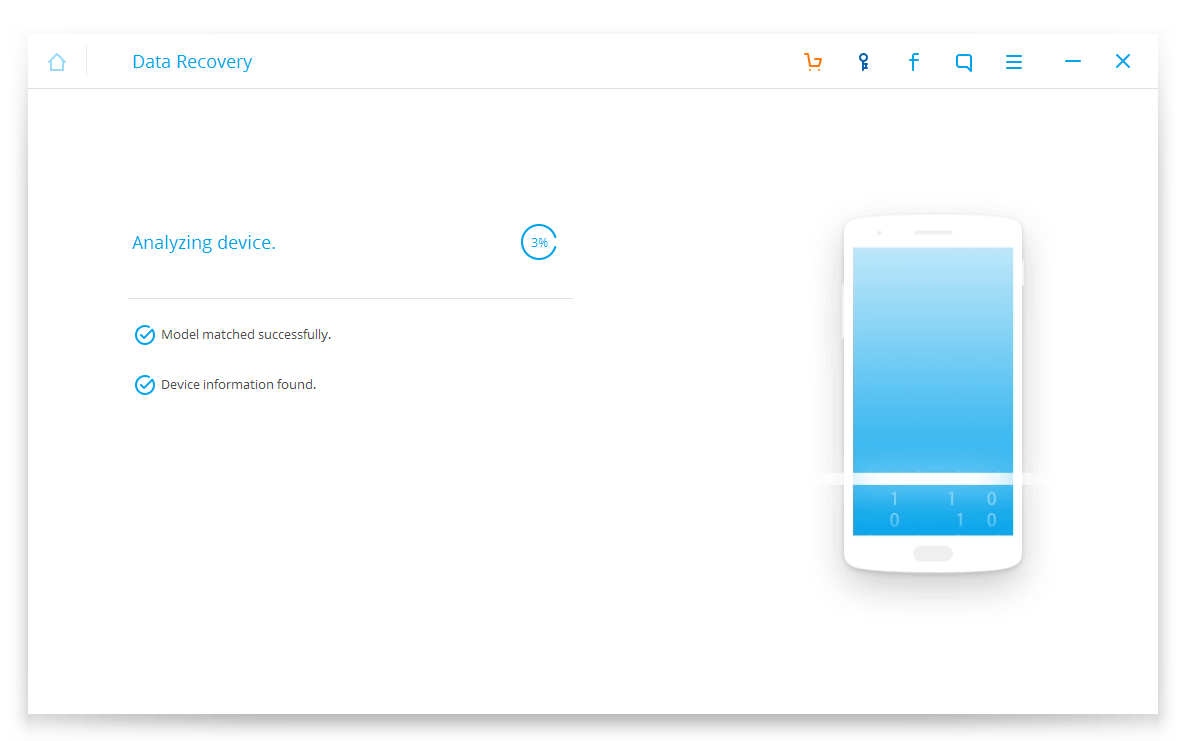 5. Preview deleted messages before saving them
When scanning is complete, navigate to the Messages section of the app. You will see a list of all your data, including the text messages you currently have on your phone. If you don't need the latter, hide it by sliding the toggle "Only display deleted items," and then you can view your deleted messages.
The given list shows the content of the retrieved SMS messages and deletion/modification dates. The search box can be useful if you are looking for specific information: put in the text itself or key words.
6. Saving recovered data
To save recovered text messages in Dr. Fone, you just need to check the box with the necessary elements from the list and tap Recover.
What to do if Dr. Fone doesn't help
Look through the Answers to users' questions.
If this way of recovering text messages doesn't work, try testing some other software: we don't claim that Dr. Fone is infallible or the only useful app of its type.
If other apps also fail, you are unlikely to be able to recover the missing SMS messages, and you will have to accept your loss.
Answers to users' questions
If you have questions referring to SMS recovery, leave them in the Ask the Expert section. Before asking your question, please have a look at the answers we've already given. You may come across a case similar to yours.
---
My Android phone is z150. I accidentally deleted all my text messages. How can I recover them on my phone so I'll be able to read them?
Answer: The version of Android on your Acer Liquid Z5 (or z150) is 4.2.2. To get your SMS messages back, you need to gain root permissions (what is it?) and enable USB Debugging. Once you have done this, follow the steps above.
---
1. Can I recover old text messages (from 2012) and how?
2. Could you tell me if I can restore my incoming messages deleted in December 2015? My phone is Asus ZenFone Selfie.
Answer: Even if you are still using the same phone which your deleted text messages were stored on, the chances of recovering them are tiny. For the last 4 years, the data on it will have been overwritten many times, whether through firmware replacements, Android upgrades, installation of new apps to the device's memory, etc.
---
I need to urgently recover deleted SMS messages from two phones (Android SE and Windows Nokia) dated last November. Will I be able to retrieve them? Could you suggest effective software for Android which can do it? I downloaded Tenorshare utility but it doesn't recognize my phone.
Answer: As an alternative try Wondershare Dr. Fone for Windows. Remember that you need to:
gain Android root privileges.
enable USB Debugging on your phone.
download the full version of the app in case the demo one failed to find your SMS messages.
Another SMS recovery tool for Android is Coolmaster Android SMS. It is a slightly less expensive than Dr. Fone and has identical features.
---
How can I recover messages deleted from my old Samsung phone over the last month if the software can't find the driver for Samsung when it's connected to the computer?
Answer: Install Android USB Driver for Windows and try again.
---
[Extracting data from SIM card]
I have a SIM card only and need to extract deleted text messages from it. Can I get deleted messages back? Is there a way to do this? The phone isn't connected to the internet any longer but it still turns on.
Answer: You can do it via the Sim Manager program and a special device called SIM card reader. Detailed instructions on how to recover data from a SIM card can be found here: https://howtorecover.me/how-recover-deleted-sms-sim-manager.
---
Is it possible that I see incoming text messages on my bill but not in my phone? I installed Dr. Fone and scanned a device, but did not recover anything. Is it possible that those texts just did not come?
Answer: Check other apps for recovering SMS messages on Android devices. If this doesn't help, try to find the SMS messages on your sim card via Sim Manager (see the link above). Finally, you can try asking SMS senders, who may have saved the outgoing text messages. Unfortunately, there are no other ways.
---
1. I've reset my phone to factory default settings. Before doing it, I transferred important data to a memory card. The question: can I retrieve deleted text messages after resetting to factory default settings (there were very important messages)?
2. I've read here about recovering pre-saved SMS messages. Unfortunately, I haven't saved important messages before reflashing my phone and they are lost now. Please tell me whether there is any chance of getting the text messages back, or should I stop looking for solution because it's impossible?
Answer: You will probably not be able to do it as your text messages would likely have been stored in the mobile device's internal memory, and this user data is overwritten during a hard reset. A note for future use: create a backup copy of your messages via sms backup app before resetting your device.
---
I have a question. It's said that the program is good at recovering accidentally deleted text messages, but how do I make it work without any problems on Samsung Galaxy DUOS?
Answer: Update Dr. Fone to its latest version (which supports Galaxy DUOS) and enable root access. If it doesn't work, try other apps with similar tools.
---
Tell me, can the program recover not only backed up SMS messages but also deleted ones? I deleted important SMS messages and now I'm wondering if the Dr. Fone program will help me or not?
Answer: Use the app you've created a backup copy with to recover SMS messages from a backup. Dr. Fone works with data that hasn't been backed up, so yes, this program is suitable for recovering in such a case.
---
I accidentally recovered SMS messages twice and now I have two copies of every SMS message.
This happened a long time ago and since that moment I have had two copies of a lot of SMS messages. I need to delete the ones that are duplicated and leave only one copy of each SMS. How can I do it? Is there any program to help with it?
Answer: Install the Deduplicate SMS app on your phone. It will delete the existing messages in one click.
---
Recovery process takes place up to a certain point, then stops, though the program continues to count the amount of recovered SMS messages.Answer: Try Dr. Fone's newest version, as this may be a system glitch. Check whether root access is enabled on your Android. This can be done via the Root Checker app. If there is no root access, install KingoRoot or FramaRoot and then try to recover the messages again.
---
My old Sony Ericsson Xperia Neo works with v8.20.27 version from the Market. Everything seems to be easy and works quite fine, but SMS chats are recovered randomly, not in the order they were before they were deleted, even though the order in sms-хх...хх.xml backup file is as it should be.
I didn't manage to find anything apart from the settings on the screen, but it's not what I need and it's not connected with the order of recovered chats.
---
This program works perfect on my old Sony Ericsson Ray. But it doesn't recover right chats with some certain contact on Xiaomi mi4s: it separates incoming and outgoing messages.
Perhaps, the matter of this problem arises from the fact that some contacts weren't recorded in the international format on my phone, but again it recovers everything in the form of dialogues on my old phone.
---
The program can't find SMS on Xiaomi Redmi Note 3 Pro. I also used Acer and Lenovo and with them the program worked perfectly. I recovered 2 years history of messages which weighed more than 3 megabytes and everything was fine. Call history isn't as big as message history but also weighs quite a lot and again there was no problem. When I try to back it up it works with call history but not with SMS. If I uncheck the box with calls, I receive a message saying that no objects for backing up were found. In spite of the fact that all messages are stored in default folder and none of them has disappeared. Is there a glitch or am I doing anything wrong?
I can provide an answer myself: the problem was that "Security" app didn't permit access to SMS. After allowing access everything was fine.
---
Dr Fone doesn't want to undelete text messages on Android 6 Marshmallow. It creates three separate message threads on Android 6 when trying to recover one message thread containing 1500 thousand messages. I hope that new program versions will fix it and I'm waiting for this moment, because the device with Android 6 is kept in a drawer and I can't recover important chats.
---
[Deleted text messages]
I deleted several text messages on my LG V20, TMobile. Can I retrieve them and if yes, what would be the best way? I know the date they were sent
---
[Box of messages]
I don't received any message from anybody also I did not send message to anybody cause the box of messages in my phone was evaporated. So what can I do to return that box of messages??
---
[I lost my phone, have ordered a new sim with same number]
I have lost my phone which has very important messages on it, I have ordered a new sim card with the same number, I have a new phone to put it in…the messages were on messaging, is there anyway o will be able to retrieve the messages ? It was a tesco android phone.
---
[Lost messages]
I have recovered some deleted texts, but a lot of in between messages are missing. I recovered those from 12 months ago, but not from 3 to 5 months ago. Is there anything i can do to get those back?
---
How can I undelete a text message a friend send to me and he still deleted it, so that I can't see it, I'm so curious to know what he sent because he won't tell me.
---
[Recover deleted messages]
I deleted my account n all my messages hav been deleted after recreating the account all my chats hav been deleted and the database is also deleted how do i get my messages back??
---
[is there anyway to recover deleted texts?]
please how can I find my text messages that was sent to me over a year ago . I think the messages was stored in the phone memory and the phone is no longer with me , as it was stolen .
---
[Recovery of contacts and memo]
I HAVE ACCDENTLY RESET MY GALAXY ON8.. WHILE RESTARTING I LOST MY DATA… I HAVE TRIED DR FONE FREE DOWNLOAD BUT NOT ABLE TO RETRIEVE.. ALSO TRIED DR.FONE ROOT BUT IS IS SAYING MESSAGE THAT "NOT YET READY" AFTER 20 % OF ANALYIZING… IS IT POSSIBLE TO RECOVER DATA…
---
[MESSAGE DISAPPEARANCE]
I noticed some of my messages disappeared from one specific contact including all my replies. I did neither deleted the messages from my Android (LG) nor has my device been in the hands of anyone else. How can I get my messages back?