One of the frequent problems among Android and iOS users is losing photos from SD Card. There exist reliable ways restore deleted photos from memory card for such cases. Unlike internal storage, SD Card can be connected to the computer, which makes things easier as you can use recovery soft without limitations.
We are going to explore Recuva, a tool that we've mentioned a lot, and give you a step by step tutorial on using its features in photo recovery. By the way, this guide is applicable to other types of files.
Contents:
What do I need to restore files?
Basically, you don't need anything extraordinary to restore files on your own at home:
computer/laptop to install software on
card reader to connect memory card
memory card from which files were deleted
patience and accuracy for faultless result
When are photos lost from SD Card?
In most cases it's caused by:
Accidental deletion of photos
Transferring files from memory card to internal memory and the other way round
Errors after incorrect unmount
Corrupted files on SD Card
Memory card format error
1. Take out SD Card from your phone
Take out SD Card from your device (smartphone, tablet, digital camera or other device where it was used). It has to be done to avoid accidental overwriting of the data on it.
2. Install recovery software
Free card recovery software software isn't less effective than many paid analogues (which you can test any time). Besides, why not start with a free solution which may turn to be pretty helpful.
We are going to use Recuva tool. It restores images and in fact should support any photo format be it jpg, png, raw, gif or others. There is a version for Windows but none for Android yet unfortunately.
Install Recuva on any partition of your computer– data was deleted from SD Card.
3. Select media formats
At the start you'll be greeted by Welcome to Recuva Wizard. This step by step recovery guide is meant to assist newbies: simply answer a few basic questions to get the result.
Press Next, you'll be offered to select among file types. Check the box next to the image file formats. You can just skip filtering formats, it doesn't even affect scan speed. Yet, you will have to filter restored files by hand, and it's not that much fun to sort hundreds of photos.
Choose Pictures and tap Next.
4. Connect SD Card to the computer
Connect card reader (with SD Card in it) to your computer or laptop. The instruction on it is given [here].
In File location specify the location files were deleted from.
Tip. Not to waste time on scanning other directories you can create a separate folder. If you are not certain whether you want to enhance chances for sd card data recovery, choose root directory.
Where are files stored on my device?
As a rule, photos are stored in DCIM folder. This is common storage on devices with memory card support. This folder also has photos from Camera, downloaded images, video, etc. For more detail see here.
5. Enable Deep Scan feature
Deep Scan feature is a thing thanks to which Recuva is able to find files which basic scan doesn't see. Even though this method proves effective every other time, still you'll notice the difference.
Enable Deep Scan in Recuva main menu: Options – Actions – Deep Scan.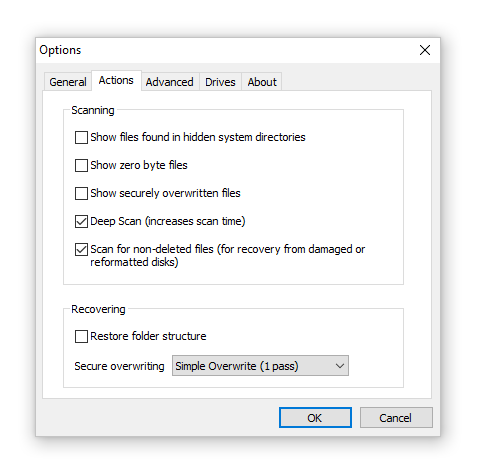 6. Launch SD Card scan
To begin press on Start.
Wait for the scanner to finish checking selected folder on the memory card; it can take from several minutes to an hour.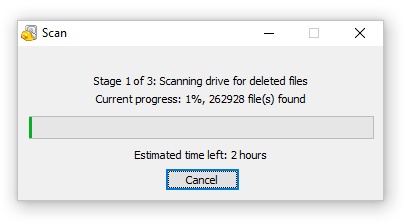 7. Sort photos, keep the ones you need
Deleted photos found by Recuva are displayed as thumbnails. It's really handy since you get the results straight away and know which ones you are going to save.
If necessary, you can switch to Advanced mode and see more detail about selected files you'd like to get back.
Recovery chances vary from case to case. Recuva uses colors to mark it:

red for minimal likelihood,
yellow for average,
green for maximum.

In the Info all the information about a file can be checked: Filename, Path, Last modification time and more (also duplicated in columns); sometimes they come in handy. Preview shows the result as is: pictures damaged or not.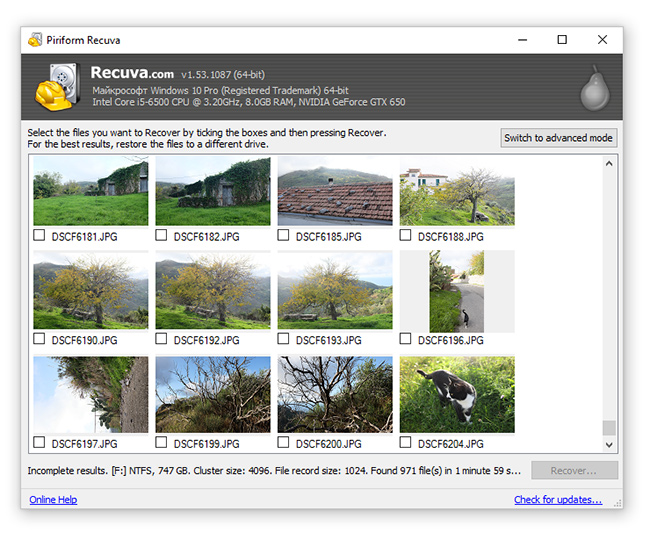 Tip. If Recuva hadn't managed to locate any files, add more formats in the settings of Recuva Wizard or via Advanced mode in the search bar. Try adding RAW, .CR2, .NEF or .ARW when scanning to retrieve photos.
8. Save selected photos to the disk
Select photos and press on Recover.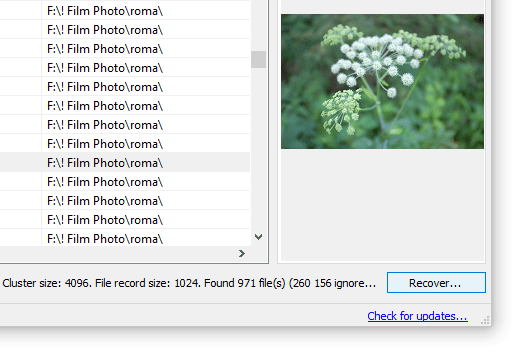 Ideally, restored data should not be saved to the disk it was deleted from (especially it's true for files deleted from an HDD). In our case it doesn't matter too much, just don't save photos back to your SD card unless you want to significantly lessen chances for recovery.
P.s. What if Recuva fails to help to get deleted photos from memory card
Let's suppose you followed the tutorial and set it up in Recuva Wizard correctly but you are not happy with the results. Then:
Peep at this page on recovery: here we've collected materials concerning data recovery on mobile devices and personal computers.
Try some other recovery soft, for example free options like PhotoRec and DiskDigger.
Have a look at the answers from other users and our answers (see below).
FAQ
My phone Huawei y5 went glitchy, turned off itself, and nearly all my Camera photos disappeared. Scanning SD Card shows that there's more free storage on it, which means that photos are lost. I wonder if they were removed permanently. It's a pity, this memory card I've been using in my previous phone as well and never had any problems with it, and this thing happened on my new phone. Would be great if you could help me to recover deleted photos from sd card for free.
Answer. Unless you had deleted photos yourself, there must have been an error on your SD Card – usually it's bad sectors. Windows will suggest formatting but better refuse. Try our tutorial on fixing errors on memory card. If it doesn't help, in Recuva specify the folder where lost files were stored and try restoring them using method described in this guide.
---
I wanted to transfer photos from my photo camera to the computer. A window popped offering to format memory card, and I pressed on OK by accident, so my SD Card got wiped. How to retrieve deleted photos from memory card? There were many files that were not backed up on other media.
Answer. You had to scan your memory card for errors on your PC but you formatted it instead. Recuva may help in your case but only if you had done quick format and hadn't had it overwritten. Read our compilation of questions and answers.
---
Problem: Galaxy s4 refuses recognizing photos on SD Card but apps installed on it are fine…
Every file shows some free space, as if the files were there, they all are dated by 1980 and won't open in Android Gallery. On my laptop I can't see them either. What can you suggest?
Answer. It could be corrupt exif data or memory card reading errors. Our suggestions:
Make a backup copy of files on the computer or in Google Photos.
Format your memory card in Full Format mode to repair reading errors. Use SDFormatter.
---
On HTC phone I was transferring photos from internal storage to SD Card but for some reason they all got deleted. I restored them using some utility but they are blurred now. How can it be fixed?
Answer. You must have restored thumbnails. Try scanning the folder on SD Card one more time but in Deep Scan mode.
---
I used USB cable to send files to SD Card in the same phone by copy and paste. But they never showed up and files disappeared from sd card.
Answer. We'd suggest using DiskDigger utility for Android in this case and for photo recovery from memory card. If it fails to help, here is our guide on how to retrieve deleted photos from phone internal storage – a lot needs to be taken into consideration.
---
[How to recover photos from sd card???]
I accidentally deleted photos from my mobile phone microsd card (Redmi Note 4). All my photos are saved in Google Photos. How can i get back into my Redmi Note 4?
---
[Memory card not recognized by device]
My SD card was in a camera, my friend took it and put it in her mobicell now my memory card keeps saying "this device dies not support this SD card." please help I don't wanna lose my photos because when I tap on the set it up button it says I must format the memory card
---
[sd card photo recovery]
photos are not showing in my phone which i have downloaded from twitter. i have not deleted any photos still my gionee phone is not showing any photos niether in gallery nor in downloaded folder
---
[I accidentally deleted photos from the archive]
Hey, my partner and I debated and transferred the pictures to the archive, and then I deleted them. Is there a way to return them to the archive?
---
[sd card from Huawei toJ3 then took out]
I downloaded all my pictures to my SD card on my Huawei bought a Samsung Galaxy J-3 and transferred everything into that can I now put the SD card back in my Huawei and transfer all my pictures back to it so I can put a empty SD card in my Samsung Galaxy and delete over half of my pictures in my gallery in the Samsung because they are the same photographs My Huawei is not hooked up to phone service but it's hooked up to my Wi-Fi and I can still use it so can I use it to store all the contents from my SD card
---
[Photo Recovery]
I had to do a factory reset and my phone. Turns out, not all my photos were on my memory card and I lost all my pics from the last two years. Will the Root system allow me to recover photos from sd card?
---
[Permanent deleted photos recovery]
I permanently deleted picture from my phone and now I unable to recover the photos from sd card. I am using samsung max. And through share it I receive some pictures around 798 but by mistake I deleted that photos. before deleting I lock them into safe gallery app. And i deleted that photos.by using this app I couldn't recover those pictures. those pictures are more valuable to me. pls help
---
[Deleted photos]
My no crop photos suddenly deleted on my sd card and I've tried using diskdigger to get them back but it came out as a low quality. Please help me get them back I would appreciate this alot and recommend this site.
---
[Pics cant be viewed]
Before formatting my phone, i removed the sd card and the sim card. I guessed i didnt unmount it properly. After that, most of my pics can be viewed. It said that the image is corrupted or damaged. Even my documents cant be viewed.
---
So i had a sd card it worked fine, i transfered a lot important fotos on it,but after a while my phone just did not turn on anymore. I tried turning it on but no use. And now how can i get my fotos back?
---
[Pro version not retrieving all deleted images]
I paid for the pro version but I have both versions on my phone.. My phone is not rooted, but previously when I've used the pro version it retrieved all the deleted images from the internal memory as I don't use an SD card, however now it's not retrieving the pictures Hopefully, you can help me to recover pictures from sd card and figure out what has happened.
---
[Pictures and videos out of date]
I copied my pictures to my SD card now all the dates have modified. How do I get the original dates? My sd card has original and modified pictures now because I was afraid I didn't get all my pictures it was saving my videos in a separate folder. So I ended up saving them and then my pics were separate from videos .a mess I know. I just want them back in order again with pictures and videos in dates so I can use slideshow when I put them on dvd
---
I was copying photos from a sd to my computer. After some time I stopped, correctly completed the operation and turned everything off. The next day, when I tried to continue copying, I saw a message: "This device doesn't support this memory card" … In order to copy photos I tried to insert that memory card in many devices. All of them see it, but none supports it. I didn't dare to format it as it was suggested since there were very important photos on it. When trying to reinstall the card driver, I removed it and now I can't install it on the card again. There are no mechanical damages of the card. Please help me to recover the photos from this sd card.
---
My phone has an sd card, which somehow is empty now. There is no way I could have formatted it. The only possible explanation is that I've dropped my phone a couple of times. Please help me to bring back the photos stored on the sd card (those are the photos of my son from the day he was born). There are none of them in Android Gallery.
---
My sd card keeps ejecting on its own. It was deleting photos I can't replace. So i put everything on my internal hard drive. My phone kept telling me to format it so i did now i can't find it what do i do
---
Neither my phone nor my laptop can see the sd card I use. When I went to repair it I was told that it burned down and that was the reason why no device could see it. I have a lot of photos and videos stored there. Is there any way to recover pictures from sd card? Or is it impossible since the card burned down?
---
I bought a micro SD and decided to transfer the photos from my phone to it. Everything was transferred but none of the photos can be opened (Android says "the format isn't supported" and 1×1 is given as the resolution in the photos properties). Moreover, not all photos were transferred, although the operation was completed successfully. Could you help to recover deleted photos from microsd card?
---
I had taken a video and had sent it to my bf and when it went to messenger it says retry or delete so first I retried and did not work so I deleted it then went to repost it from my gallery and nothing was there it said no photos at the same time a message popped up that Gboard needed to be updated it said not enough room so I hit the migrate on my SD card to add space and it did not work so I gave up and hit factory reset corrected my gboard problem but my gallery stuff is still gone. Can I get the pictures and videos back that disappeared from sd card? Also how do I do it?
---
I inserted a sd card in another phone. Then I discovered that the new phone didn't have the photos I needed, so I wanted to transfer them from the phone in which the sd card had been inserted before to my computer, but I couldn't found them anywhere. I put the sd card back in the old phone but it didn't change anything. I also tried to look via a computer app but it found nothing on the sd card. I started searching in all the folders stored in the internal memory of my phone. Still nothing… I don't know what to do and there is no one in my town whom I would trust to do it…
---
My mobile model is samsung s7 when I set my sd card it was ok but after 8 months one-day I saw I didn't find my some picture. Then I search my sd card . It is showing no insert sd card. But my card is inside. My question is why my phone can't recognised my sd after so many months? And give me solution please how to recover photos from sd card. Thanks
---
I put a new file or photos etc. In my SD card it's there at first but will be gone few minutes later. Same goes when deleting a file in my SD card, when I deleted a file it will be gone a few minutes then it will be back.
---
My SD card photos were deleted. How I recover deleted pictures from sd card? It had crypted. 
---
[Recovery of lost photos]
Hi, few days back, i transferred some photos from DSLR camera Nikon D5300' SD card to my Huawei Nova 3i phone memory using OTG cable as transfer media. The folder was initially saved as D5300. I renamed the folder to anything else. The next day i transferred some photos from that camera to my phone using the same OTG cable. Later, i wondered to see that my old photos were replaced by new Photos without any sign to me in the same folder. I have lost those old photos which are important to get back in original size. If you any solution to get back the original sized photos, please share with me.
---
My dad has a galaxy s7 edge and the photos we clicked have randomly got deleted of the past 3 days, few of them were saved in internal memory and few on SD card. Don't know why they were getting saved in this fashion. Also there were many blank photos with the Facebook messenger logo on the down right side randomly. They were really important photos and I don't know what to do.
Also the phone was used to clicks more photos but the amount clicked was way less than the amount that got deleted.
Please help me to recover deleted images from sd card!
I deleted by mistake the pictures from the internal memory of my Samsung galaxy S8. My mobile is not rooted. I tried to recover them, but it didn't work.
---
[No recovered pictures on microsd]
I accidentally deleted my pictures and went to the computer shop to let them retrieve deleted photos from sd card. i did not used my memory card after i accidentally deleted it but there were no restored pictures. what must be the possible reason? is there a possibility that i can restore it? the technician said that there's no even 1 % chance.
---
[Recover videos and photos]
I recently lost all videos and images in my downloads folder of my Android phone HTC.This happened after I had cleared the cache storage to create more space on sd card. Can I get my downloaded photos back to microsd? There are some videos I had planned to watch later now they are gone.
---
[photo recovery]
i replaced some photos while moving my photos from a sd card to a particular album now both album and photos are seen nowhere …i use Samsung A50
---
[Regarding to recover data]
Sir, could you please help him to restore sd card photos, which I had saved in my newly purchased mobile MI Y2, but i was not having any SIM Card or Email, I had not yet started the mobile fully, and due to screen lock, I had no other option suggested, just to reset the mobile, and I had lost all my photos. Can these be retrieved?
---
[How to recover deleted duplicate files in samsung note 8]
I have copy around 300 photos and put in a folder X in my gallery on sd card. Then my phone stated low storage therefore I deleted duplicate files thinking it will only delete the duplicate photos and not the original photos. Unfortunately it deleted the duplicate and original photos. Please do let me know on how do I recover the photos.
---