Formatting is not simply removing a file or folder but full erasing of a memory card. All the photos, videos and documents will be deleted once you use format command. However, it is possible to restore files after you format them even if a situation feels hopeless. We're going to show you how to do it but first a bit of theory.
Contents. How to restore files after format using Recuva:
Difference between quick format and full format options
Remember about two peculiarities:
you won't always be able to find deleted files on a formatted memory device (it depends on the formatting type – quick or full – used with an SD card)
no one can guarantee that the recovered files won't be corrupted (for example, after multiple overwriting of a formatted partition it is impossible at all).
We should explain the difference between format and quick format of a disk.
During a quick format an OS writes boot sector and empty filesystem table to a partition. The whole space on your memory card is marked as free and available for other applications to use. 
In other words, after being formatted, a memory card still has the files until they get overwritten. Basically, you can undo quick format by scanning the SD card and recovering the files.
*In fact, files on an SD card can get overwritten without you noticing it when your Android decides to copy data.
During a full format on top of the operations described above, disk partitions get zeros written onto them. As a result, it's impossible to recover formatted files because of wiped out partitions.
The things you do after formatting an SD card
Don't write new files over the formatted SD card
If Windows asks to format the memory device, don't
Eject your memory card from the phone (or other device it is connected to)
Why Recuva is some of the best software to recover files from formatted SD card
Basically, any more or less functional data recovery software should be able to work with formatted disks, memory cards and USB flash drives. Yet, our suggestion would be Recuva software in the first place. Developers from Piriform point out at its "Recovery from damaged or formatted disks" feature. We, in turn, want to mention some other features useful when you need to recover data from a formatted SD card:
Recuva can handle SD cards and USB sticks perfectly well. You can connect your memory device to the computer and use it as a regular hard drive
The Deep Scan recovery option increases your chances to find files which are hard to get. Since we're talking about recovering data after format, it is essential.
Recuva supports FAT/NTFS and Ext 3-4 filesystems covering all desktop operating systems.  
Finally, using this software you don't have to pay for saving recovered files and buy the license. There is no limit on the file volume and functionality.
1. Download and install Recuva
Let's begin. Download Recuva latest version from the official page; select Recuva Free edition (you can choose 32 or 64-bit build).
Besides the standard installer there's also a Portable version which is not the most suitable variant for recovering formatted SD cards but useful in case you want to restore a deleted partition or files after formatting an HDD since the portable build doesn't write files to a hard drive.
When download is finished, install and run Recuva software on your computer.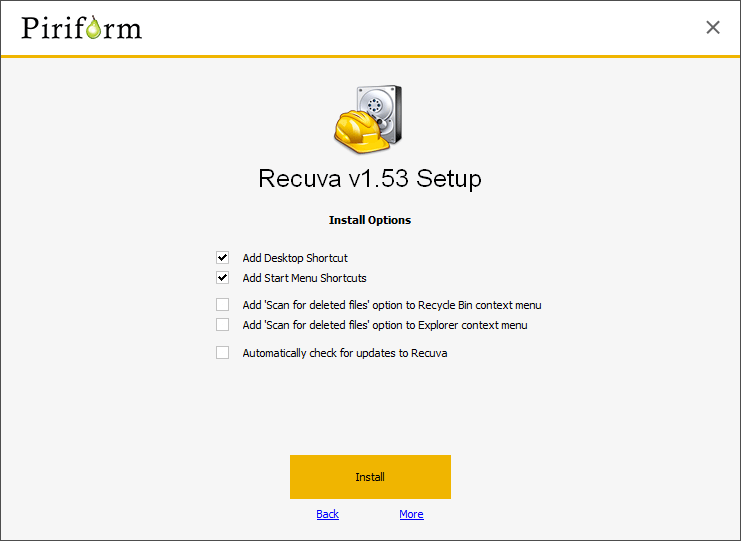 2. Use your memory card on the computer
To use a memory card as a disk you need to connect it to your computer or laptop using an sd card reader.
3. Scan for non-deleted files option
After starting the app, we won't use Recuva Wizard and instead change the settings in Advanced mode.
In Options dialog box select Actions tab.
Check 'Scan for non-deleted files'
'Scan for non-deleted files' option allows Recuva to scan the entire SD card space for deleted files, both occupied by other data and not. This option will be useful in case of files on the card have been overwritten.
4. Deep Scan option
Deep Scan recovery option is used to scan the entire hard drive. Unfortunately, file names can be lost sometimes.
It should also be taken into consideration that Deep Scan is suitable for some file types only, the ones whose signatures are known to Recuva.
If files aren't found with the help of Deep Scan recovery, you'd better try the software with a wider range of supported formats – for example, PhotoRec or DiskDigger.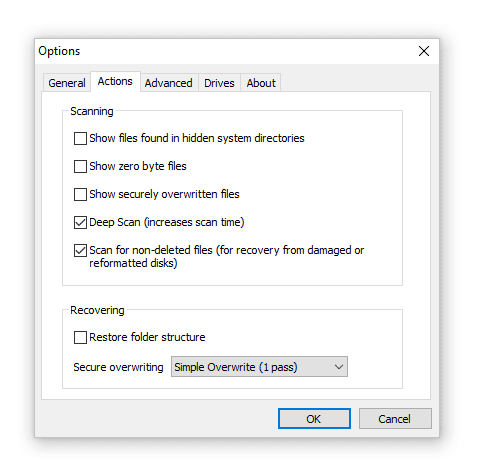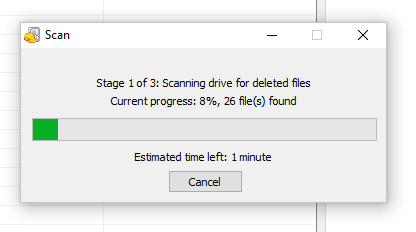 6. Preview and save results
The probability of file recovery in Recuva is marked with colors. Results can be filtered by date and file name (if the names haven't been lost) as well as by file type. It all makes further work with found and recovered files easier.
After the files have appeared in the list, save them to a disk but not to the formatted SD card where they were deleted from.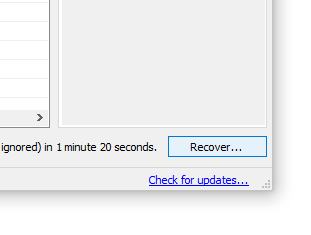 Video instruction
Other recovery software (if Recuva software failed to help)
Auslogics File Recovery
Auslogics File Recovery comes in handy when you need to recover formatted SD card, hard drive/SSD, USB stick. It scans for all file types with no exception, has additional options ('Perform Deep Scan' and 'Restore damaged files' among others).
If a partition was removed from a disk or memory stick, it can be restored with the help of 'Search Lost Partitions' feature. Consequently, having recovered a partition, you can scan it for deleted files, and if they were overwritten, there's still a chance to recover files after format.
DiskDigger for PC
DiskDigger works on Windows and Linux. It is free, and its features are identical to those of Recuva.
Dig Deep mode is applicable for FAT32, exFAT and NTFS file systems, so if your memory card was formatted in one of those, feel free to test this software. Dig Deeper mode, though, works for all file systems. If DiskDigger finds familiar signatures, it will recover your documents, audio, video, archived and other types of data stored on formatted memory cards.
One of bonus features in DiskDigger is creating virtual disks VHD and VDI (a great opportunity to experiment with a copy of an SD card without risking of it getting overwritten).