Contents:
Types of SDHC card corruption
The most common cases leading to an SD card being not recognized by mobile devices are as follows:
An SD card is physically damaged
Erroneous partitions in the File Allocation Table of an SD card:

as a result of failed file transfer (copy-paste or Ctrl + X)
system crash on your computer (sudden power off) or on mobile phone

Unknown reasons
How to recognize that your SD card is corrupted
Let's list the typical symptoms of a corrupted SD card:
Photos and videos open incorrectly or fragmentarily
SD card cannot be read or is not recognized by the phone/PC
You get a message on your phone that you cannot save files on your SD card
SD card needs formatting but throws a message "SD card is not formatted, do you want to format it now?"
OS shows reading errors, doesn't respond when you try to connect your SD card to the computer
How to repair corrupted memory card by command prompt
To fix a corrupted memory card you can use Command Prompt and chkdsk command; this utility is part of any Windows version.
How to use chkdsk to fix a corrupted micro SD card:
Open Run menu via Start or using hotkey Win + R.
Enter cmd
In Command Prompt enter chkdsk [drive letter]: /f /r
Press Y to confirm chkdsk
Keys in chkdsk:
Parameter /f – fixes errors on the memory card
Parameter /r – fixes corrupted sectors on the disk
Chkdsk has other check parameters which can be viewed using switch /? .
If you don't want to use a console utility to fix a corrupted memory card, another way is GUI shell. It can be opened in the Explorer:
Start - Computer/This PC
Right click on the SD card drive – Properties
Tools tab – Check (now) button
As you can see, here you have the same options as in the console version of the utility.
Video:
Memory card formatting using SD Formatter repair tool
Common SD card issues are caused by incorrect formatting. As a result,
Damaged SD card cannot be read
It is not recognized when connected to certain computer configurations
memory cards with NTFS filesystem are not available for write access on Mac OS.
To avoid filesystem conflicts we suggest that you would always format your memory card to FAT or exFat (Extended FAT). It guarantees reading/writing files to use them on Windows, Linux and Mac OS.
The free software SD Memory Card Formatter comes in handy here. It performs SD formatting, and this is all you want from it. SD Formatter does the job better than standard Windows formatting tools which are actually not that suitable for SD/SDHC cards formatting.
How to fix a memory card in SD Formatter:
Download SD Formatter for Mac OS or Windows.
Launch the app having acquired Administrator Rights.
To connect your memory card to the computer, use a built-in or external card reader.
In SD Card Format Tool settings specify not 'Quick' but 'Full format'.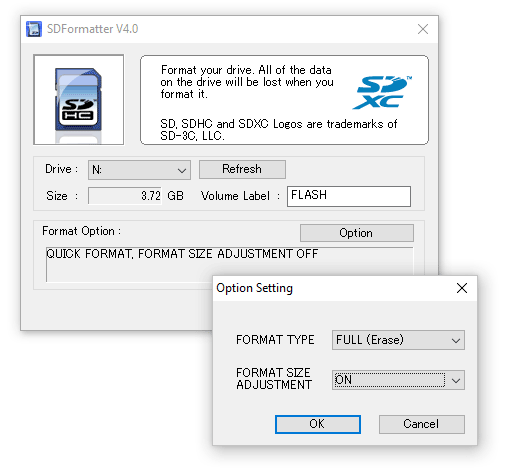 Video:
This is not the only utility which works with memory sticks, USB Disk Storage Format Tool being a great alternative. It is free and offers the same features: formatting to (ex)FAT/NTFS and file tree/clusters check for errors.
The disadvantage of formatting as a method of fixing errors is pretty obvious: you'll lose all the files stored on the memory card. Yet if your priority is to fix a corrupted SD card and get it functional again, there is hardly any other solution than formatting.
Can you repair sd card without formatting (if the memory card asks to format)?
Again, a damaged memory card can be storing valuable files which can sometimes be recovered but in a number of cases are irretrievable.
One of the most common cases is when the operating system suggests by far not the best solution – to format your memory card which means removing all the information from it.
What can you do in case your memory device (or Windows, to be more precise) wants formatting? Try to repair the corrupted/damaged SD card without formatting so as to save the files on it.
How to repair damaged sd card without formatting
How to recover data from corrupted memory card without formatting
Dismiss formatting request.
Use recovery software (such as PhotoRec or TestDisk) to scan the memory card.
Save the recovered files on your computer.
How to fix a corrupted micro sd card using PhotoRec: find out here.
Is the likelihood high that the damage of the card will be irreversible?
Yes it is! Corrupted memory card can't be fixed if the errors were caused by mechanical damage:
If you dropped your memory card or stepped on it,
If it got liquid spilt on it,
if your phone catches fire, the heat damages the memory card.
In case the problem is hardware-related, say it's a Hard Drive or USB flash drive, the microchip can be replaced in a lab. Yet a really tiny SD card can't be fixed, and the only solution is to replace a corrupted memory card with a new one. Visible mechanical damage, however, excludes free replacement under warranty.
Questions
I've a couple of memory cards almost all 32GB which are corrupted and unreadable by means of software due to viruses attack.. A few are / were gone off working properly possibly due to viruses, Windows 7 says to format drive when connected if attempting to format Windows can't…
It's either UNALLOCATED or CORRUPTED drive hence all the drives are pretty new and recently bought…
How to fix broken sd card since one has a warranty which can be claimed what about the rest..
Window falls poor before them And I'm not much experienced with rest of the applications…
---
Phone got wet. Phone works perfectly but SD card is now corrupt (5 days ago). All photos lost! Phone came from carphone warehouse so they tried card in another device without any joy. Any help much appreciated.
---
My 32gb sd card has been corrupted and lost all important files. Please, how do I restore corrupted sd card, even though I have tried the chkdsk command but still isn't working.
---
My SD card got corrupted, i tried using cmd and it tells me chkdsk is not available for RAW drives, and if i go to properties>tools>check, it doesn't check, instead it tells me to format it.
On my phone i can't see any pic the albums exist but all pics and videos are now a grey image with!
If i format it can I recover the videos using a recovery software or repair tool?? Those videos and pictures are so important for me i'm not able to find them anywhere else or do them again
---
[I want to repair damaged SD card]
Well it's been a year since my SD card isn't working. And I am tried to find ways to repair it but I failed. My computer can not access the SD card and whenever I insert that into my phone, it says "Blank SD card or unsupported files…..Format SD card. Please suggest me something what to do if sd card is corrupted to get my lost datas back.
---
[Memory Card 16 Samsung]
My memory Card 16 GB samsung has been damage but another show me memory Card seeing local phone show me android phone not show me memory card deleted.
---
I accidentally migrated data to Samsung SD card from my Nokia 5. The card is damaged the pictures gone. why is my sd card corrupted, is there a way to retrieve them from my phone directly or not?
---
[memory card repair]
My daughter took some photos on her phone at a concert (about 100 pictures) she tried to look at the photos on her phone and also in a micro sd card she attached to our pc and the files are corrupted. They are unable to be viewed, and the symbol is grey with a thunderbolt through it. Do you think she can recover these pictures at all please. They are showing the same on our pc.
---
[micro SD card damaged]
I would like to know how to recover my SD card. Windows and my Android are unable to recognize it.
I've already read the full article, but nothing seems to work, cause even CHKDSK doesn't work. I can't even format the micro SD - neither on my computer nor my Android. Can you recover a corrupted sd card? Please help me. THANKS