Google Photos are claimed to be a spacious and reliable storage service for your images. However, phone users often complain about their photos disappearing from the storage. We've collected major scenarios and solutions to them.
We are describing how to retrieve images from your Google Photos account as well as giving existing recovery methods, both provided by the service itself and alternative ones (if there is no backup copy).
Contents:
Basic recovery from Google Photos Trash (Recycle Bin)
Your photos are stored in Google Photos cloud for 60 days. If you didn't empty Recycle Bin, you still can get back your permanently deleted photos. Yet, keep in mind that this is going to work out only if the photos had been backed up using Back up and Sync on app.
Instruction for Android
1. Open Google Photos app on your phone (downloadable from Google Play)
Download Google Photos for Android
2. In the top left corner of the app find the main menu, navigate to the Trash
3. Select the elements on the list that need recovering: deleted files, folders with images and videos
4. To retrieve selected files, tap Restore
5. After that selected photos and videos should be recovered. Google Photos app will save them to the same album/folder where they used to be stored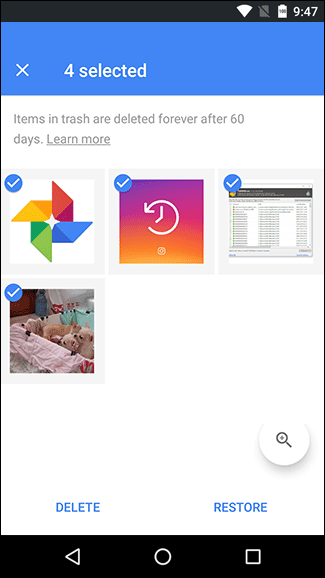 Instruction for PC
Make sure you signed in the account you are using for your Google Photos.
Google Photos Trash is here.
Recovery happens in the same way as in the mobile version: you specify what deleted data you need to recover and click the Done button to confirm your choice.
To recover Google Photos images press Restore.
All deleted files will be restored and synced with your Android phone.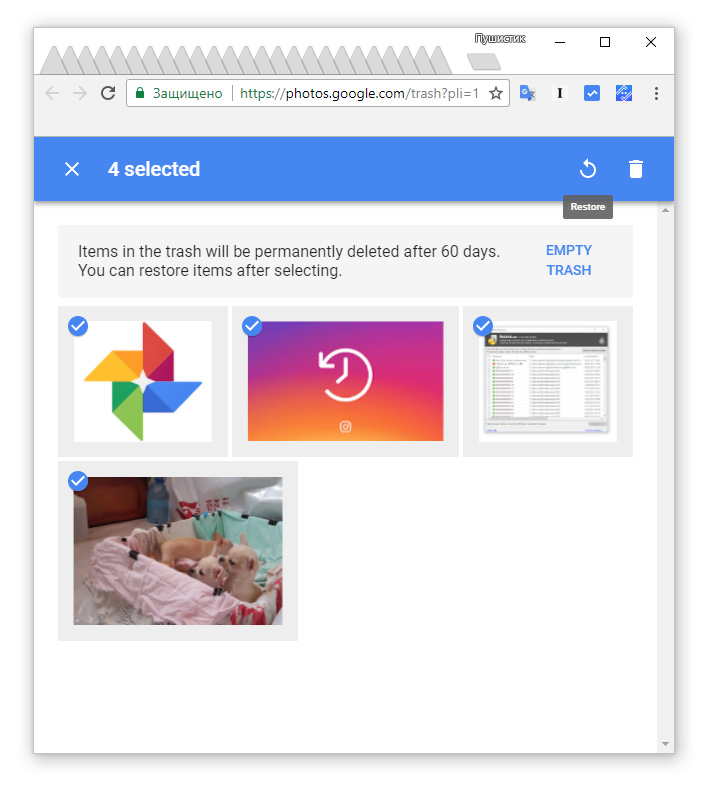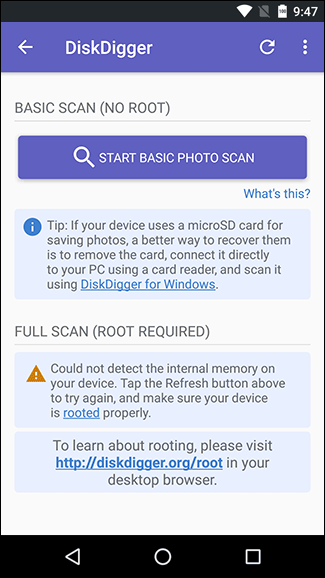 Universal method to restore Google Photos folder after 60 days — DiskDigger
If the 60 days are over, you won't find your images in Google Photos Trash. It makes sense using a recovery tool which is proved to be effective: DiskDigger for instance. Let's have a look at how to recover deleted photos on Google Photos using its toolbox.
1. Download and install DiskDigger for Android from our website or Play Store.
2. Run the app and scan your phone memory or SD card.
Note: you need to define the exact location of the photos – internal memory or memory card. You can look it up in the settings of the app  (Camera, etc.).
3. Save the files you found.
There's a number of other recovery apps, besides DiskDigger, which are able to help you. We are now going to look at the best ones:
How else can I recover data from Google Photos? A few simple formulas 
Well, basically photo recovery from cloud can be performed only using Google Photos service, but there are a couple of tips and tricks which come in handy sometimes.
Check other folders in your Albums, since your photos can also be "hiding" in there. How to recover photos from Google Photos:

Open Google Photos in the mobile app or browser
Under the "Photos on device" find the folder you need
Look through the thumbnails to see what photos are in there

If you shared photos with other users, ask them to check if they have them in the Download folder. In turn, check your message history in messengers (Skype, Whatsapp and Facebook).
If you are using Samsung apps like Cloud, check for the backup copies of your photos on the server.
Question – Answer
I need urgent help. My problem is that all photos from my old phone were in Google Photos folders. When I got a new phone and tried signing in that account, the photos weren't there. They mean a lot to me and I need help. Where shall I find them, am I doing something wrong?
Answer.
Photos might have not been uploaded to Google Photos from your old phone; sync feature could be off or only partial synchronization was on.
Check if the photos are on your old memory card or in your old device.
---
1. My photos from Google Photos disappeared although before deleting them from the Gallery on my phone I double checked that they had synced with Google Photos. Please, help me restore photos from Google Photos service.
2. 21/04/2018 19:37, Amanda (recover deleted photos)
My boyfriend deleted photos that i wanted to keep, then someone stoled my phone. Now i've just got a laptop and got into my Google Photos account but cant figure out How to recover deleted photos from Google Photos. Is there anything i can do?
3. 22/04/2018 5:36, Dusty (Photo recovery)
I believe someone deleted my photos and emptied the trash folder. How can I get my photos back if they got deleted from Google Photos, and emptied in trash? Is there any way I can still undelete Google Photos?
Answer. If it hasn't been over 60 days since you deleted them, look for them in Trash. To recover deleted Google Photos after 60 days use DiskDigger for Android to scan the internal memory of your phone for the images.
---
This morning I was making screenshots from Instagram and didn't open Gallery. In the evening when I wanted to take some pictures of nature I didn't find the screenshots. Then in Google Photos there were a lot of various files which wouldn't open. I deleted them to trash and removed. Where are they gone?
Answer. As you might have guessed, the photos were deleted as a result of your actions. However, from your question it's not quite clear what exactly you want to recover:
If it's Instagram screenshots, it's easier to capture them again or recover using this Instagram recovery guide.
If it's photos of nature, they should have anyway been saved not only in Google Photos but also to the memory card. Look for them using the software we mentioned above.
---
Please, help me retrieve google photos, I have no idea how it works. I transferred photos to Google Photos (from Lenovo phone) and then when the storage was full, I deleted them hoping they would remain in Gallery. But I can't find them anywhere, even in the Recycle Bin. My Google Photos disappeared!
Answer. You had synchronization with Google Photos enabled on your phone. Consequently, whatever files you delete on your computer go to the trash in the cloud. As was mentioned above, you can restore files within 60 days, after which trash will be emptied.
---
(I deleted photos from my google account and they are still on my phone)
I deleted photos from my online google photos account (using my computer - I also emptied the trash in google photos) and they are still on my phone. How do I make the online version and my phone be the same. I know that my phone has synced with my google photos account.
Answer. Most likely, you have disabled the syncing of google photos with your phone. You can enable it via Google Drive by clicking options Back up & sync in your Google account or directly through the settings of Google Photos.
If this option has already been enabled, but photos are still stored on the phone it's easier and faster to manually delete the photos from your android device using any file Manager.
---
09/05/2018 7:03, Pratima (about google photo deleted)
Today i installed Google Photos and there i saw an option backup and syncs and i turned on it and suddenly all photo deleted. How to recover deleted pictures from google photos? My mobile is Samsung J1.
I have inserted a new usb stick into my phone. I copied photos from the phone memory to it. Then I decided to delete the files to free up space on the phone memory. The photos have been deleted from the stick! I can't find the way to recover them. Google Photos app wasn't installed. Then I managed to find only photos from 2016 and that was it. How to retrieve deleted pictures from Google Photos?
Answer. This could happen after you have deleted synced photos on another device besides your phone. Search for them in the Google Photos recycle bin or any other local storage sources like a sd card or a PC. If they aren't there, use programs to recover photos from Android Gallery.
---
10/05/2018 13:10 (Recover deleted pics)
I have Recuva with me and it worked well on MicroSD. But now new Androids can't be read as a drive and also my device is not rooted. I have tried all the mentioned softwares already and none works. I deleted pics from my cell which were not backed up by Google photos by that time. Now all the softwares only show me the pics which I already have in backup or my cell. None shows up the ones deleted. Pics were clicked and deleted 6th May 2018. Help me to restore pictures from google photos please!
Answer. The thing is that the images can be stored on the internal memory of the phone too. Actually the majority of the phones connects to PC in MTP mode and no program is able to scan the phone memory like it scans a sd memory card. You can make an exact copy of Android internal memory and try to recover the image using Recuva program. You can find here how to do it.
---
My old photos in google account disappear when I delete them from the Gallery. I don't think it happened before. Moreover, in this app the recycle bin is empty. In what cases files should be stored there during 60 days after being deleted?
Answer. You need to enable syncing in Google Photos app. Android copies all the files from the Gallery to the cloud by default. You can also make a backup copy of certain photos by selecting the Backup option in the Google Photos app menu.
All the images which have been deleted from the synced folders are stored in the Google Photos recycle bin and after 60 days they are automatically deleted.
---
How to retrieve deleted google photos which have been wiped out over a certain period? For example, all those that were deleted from yesterday to today?
Answer. Since the Google Photo recycle bin doesn't have an option of sorting by date you have to recover all the photos. Unfortunately, the date of removal remains unknown.
We suggest using stored inside images EXIF data while making photos so it would be easier to distinguish photos in the future.
---
Please tell me if there is a chance of recovering photos/videos from the phone I don't have access to anymore? The thing is that I broke my phone and I can't download anything from it to my computer or another phone. I don't want to lose all the files.
Answer. If you have enabled syncing with Google Photos, search for your photos in the cloud. In this case you can access the images with a PC (using Google Photos web version) or a mobile phone.
If you don't have the backup copies and only the phone screen was broken (the phone itself still functions), use DiskDigger or Undeleter programs to retrieve deleted google photos.
To recover photos from the memory card use Recuva after connecting the sd card to a PC via card reader. By the way, it's likely that the files are stored there and you don't have to recover them. It's enough to simply copy them.
---
I have a Samsung A8. Photos and some folders with photos have disappeared from the Gallery. It seems that it happened after I made a backup copy. What should I do? Is it possible to recover my Google photos?
Answer.
Search for photos in the backup or Google Photos Trash.
Check the syncing settings: whether it was enabled in the Google Photos app settings.
Try to remember where else the deleted files were stored and try to recover them according to our guide.
---
I opened Google Photos from another device and the latest photos weren't displayed there. Although everything is fine when I open Google Photos from an old device. I store nothing on the telephone and I remove any files right after downloading them. In Google Drive the photos can be viewed by both (old and new) devices. At the website photos.google.com everything is shown too. What should I do in order to make new photos appear in Google Photos on my new device?
---
My phone automatically changed to Google Photos which I find to be a nightmare. I have just taken a few photos and sent them to my yahoo account. they do not open up there, where I usually download them. I also cannot find them on my Google account. It changes each time I use my phone and becomes less reliable each time. Do you know how I can find and download these photos to my laptop?
---
I have deleted my google account from device and add the other google account just want to know will photos and video will remain save in backup or google photos of first account. if yes please help me to delete the same.
---
[Restore from already deleted photos and videos from trash]
I deleted photos and videos from Google photos and also deleted permanently from Trash. I have to restore my all photos and videos from already deleted trash. What should I do and how to recover deleted google photos?
---
[SD Issue with Oreo and Moto G6]
I have a new Motorola G6 (64GB/4GB). I've got a new SanDisk 125GB card and it worked fine for 3 - 4 weeks (with issues like unable to move files to SD card using the stock Orea Google Photos). Now the phone shows the card but not the contents. Using a PC I can see everything and read/write normally. Tried to restart, eject the card, etc… no use. Any suggestions?
---
[Google pixel boot loop]
I have a google pixel that got stuck on the restarting screen. I have tried various things to fix it. I can't enable debugging, root the phone. The Google photos weren't backed up for a month and a half. They're very important, it was the day before my son started school. I'm wondering if I factory reset the phone or delete all data through an app if I will be able to see the pictures in the google photos trash folder or if they'll be lost forever. Or any way I can access the internal memory and retrieve google photos.