Contents:
DiskDigger for Android
DiskDigger is a free data recovery tool. There is a desktop and mobile version of this Android application. The mobile one enables smartphone and tablet users to take out files from their device memory.
If you, say, can't find photos in Gallery or accidentally deleted photos while transferring them from your phone internal storage to SD Card, install DiskDigger for Android on your phone. This tool is going to save you time since it doesn't need installing on the computer and can run (partially) without gaining root access to your filesystem.
Where to download mobile version of DiskDigger
It won't take you much effort to find DiskDigger for Android if you type "DiskDigger" in the Google Play Store search line.
The official page doesn't provide .apk files, and URL is likely to lead you to Google Play again. Use the link below to download the app with minimum effort.
Download DiskDigger app for Android (for free)
DiskDigger can run on most Android devices, be it a tablet or a smartphone in working condition with OS Android 2.2 (Froyo) an above, up to Android Oreo.
Why do you need root privileges to use DiskDigger
Just as many other data recovery tools, initially Diskdigger app doesn't require your device to be rooted. In fact, if the files were deleted from an SD Card, you don't need root access indeed.
At the same time, rooting is highly recommended as it enables DiskDigger to find more deleted files in the device internal storage.
Comparing DiskDigger Free and Pro versions
DiskDigger Free:
recovers only photo and video files, the most frequently deleted file types;
rooting your Android device is required for video recovery;
entirely free.
DiskDigger Pro:
recovers all types of data;
transfers restored data securely over FTP;
requires root access to restore any file types but photos;
price is $14.99.
Algorithm of DiskDigger mobile version work
As you open DiskDigger app, you see a request to get superuser permissions. Click "Allow" to permit for DiskDigger to access your device filesystem.
Diskdigger app offers two variants to search for deleted data:
basic (doesn't depend on whether your Android is rooted or not; so you can  recover deleted files on Android without root);
full (photo / video recovery available on rooted device only).
Basic scan (file recovery without root)
If your Android is not rooted, tap on "Start basic photo scan" to continue Android data recovery without root and navigate to "Scanning for files" section.
Full scan (rooting is required for data recovery)
If your device is rooted, you will be able to select the partition of the storage to scan. Phone internal storage is usually named «/data» while SD Card – «/mnt/sdcard» (or something alike).
After you've selected the partition from the list, choose what types of files you want to search for. If you want quicker scan, do only the formats with highest priority.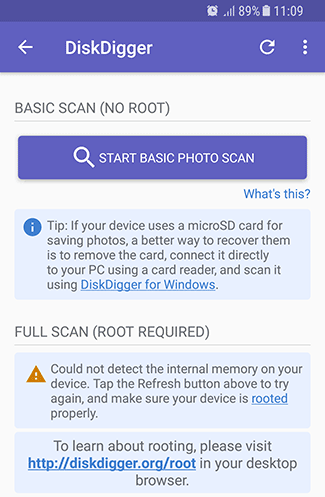 Scan and filter files on your phone
As the scanning proceeds, DiskDigger main window will display a list of the found files.
On top of the files you need to get back, DiskDigger is likely to restore more, so you'll have to check a bunch of them by hand.
Filter files by size and file type by tapping on the Settings (gear icon).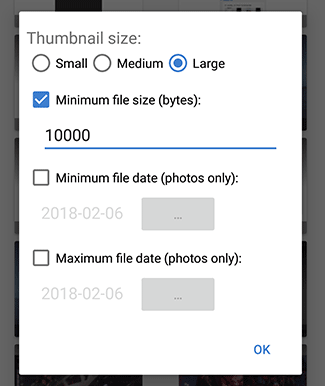 To display only files over 1MB check the box next to Minimum files size (bytes) line and put in the number.
Restricting file size relieves you from looking through odd files. They can be photos in the device internal storage, and apps cache files, for example, will be removed from the list.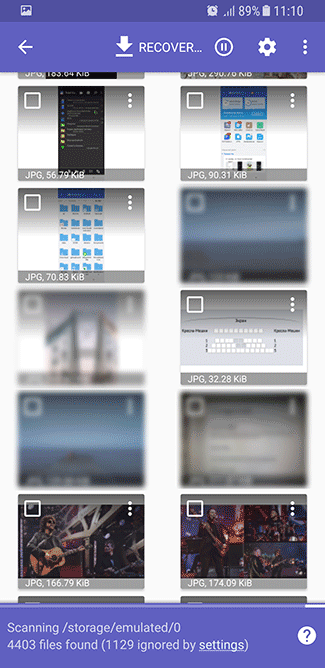 Note. On a rooted device, you are likely to find low resolution photos. To recover full resolution images, get a root tool installed and provide DiskDigger with access to Android filesystem.
Saving recovered files
To recover one or several files using DiskDigger check the files and tap Recover in the top right panel.
Diskdigger for Android offers three options:
Upload selected files to FTP
Save selected files locally
Send to an app
Recovery parameters for each file can be set in the menu.
Send to an app
Send selected recovered files to another app on your device.
If you don't want to save files into the memory card, send them to email or cloud (such as Dropbox or Google Drive).
Save files locally
Save restored files from Diskdigger app into your device internal storage or SD Card.
Upload restored files over FTP
Uploading files to FTP you don't have to save them to SD Card or device internal storage. Overwriting lessens your chances for further data recovery.
To upload files to FTP via Diskdigger for Android you need to specify data access to FTP server. You can do it when connecting: DiskDigger will display a dialog window for a hostname/username/password to access the server.
Press OK to upload selected files. If it is successful, you'll see uploading status until all the files are uploaded.
Saving files on Android 4.4 and earlier versions
You will be offered to select a catalogue to save files into. In most cases memory card (usually /mnt/sdcard) directory on the device is given as default in the catalogue.
Nota Bene. This method should be used only when you can save files to another partition (not to the current one). For example, if you recover files from internal storage, save them to the external SD Card (not back to the internal storage!).