Since modern smartphones are equipped with good cameras the amount of video content stored on mobile devices is increasing exponentially. Videos, although undoubtedly document memorable moments meaningful for us, mostly end up piling up on our SD cards long forgotten.
One day we'd like to look at them but can't because the videos had been deleted:
by accident or intentionally,
by formatting,
because of the read error,
as having been rewritten.
I have a few suggestions as to the tools which can recover deleted videos on Android phone's sd card or computer. Download and install these apps to find deleted/corrupt videos and save them. Further on I'll be talking about main difference and key features of these apps and similar video file recovery software for PC and mobile.
Active File Recovery – video recovery software with search by signatures and broad filesystem support
With the help of Active File Recovery app you can recover deleted videos not only on a phone but also on a USB memory sticks and external USB drives. The application is compatible with file systems  not just for Windows, such as UFS, XFS, Ext2/Ext3/Ext4 & BtrFS, which makes it more probable to find the deleted video on the hard drive. As for SD recovery, FAT or exFAT are usually used, and obviously Active File Recovery works with these filesystems.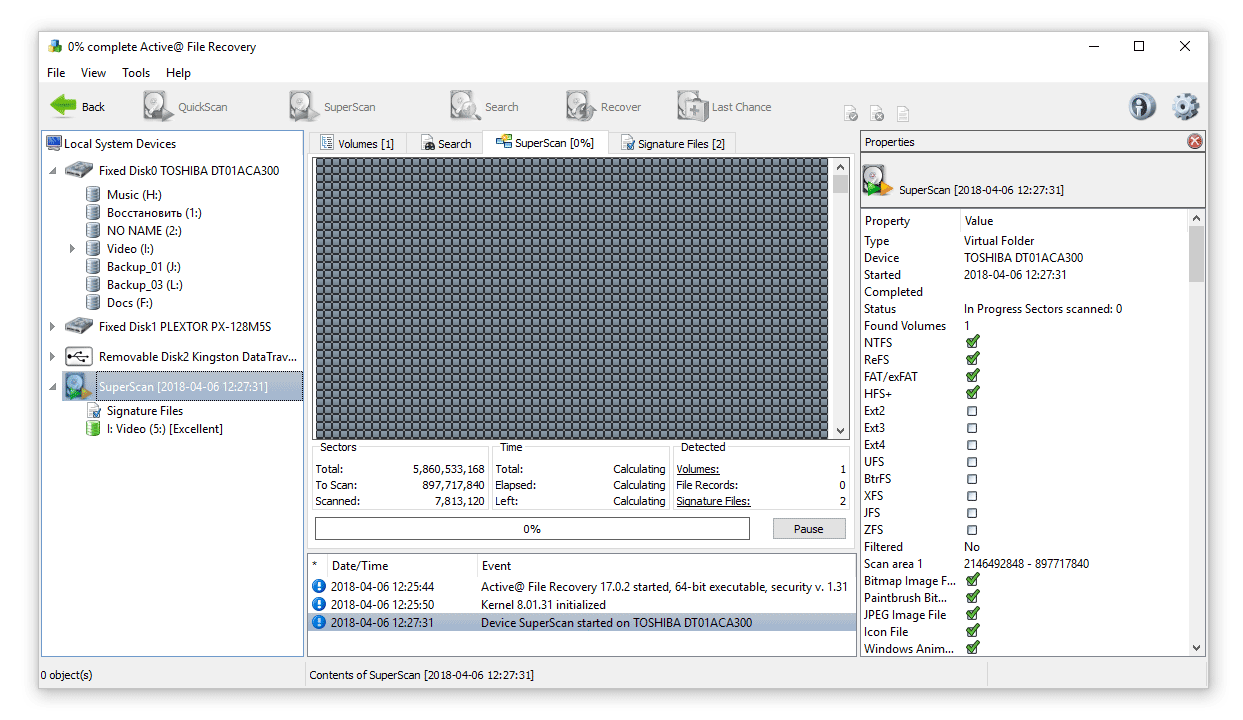 Supported formats list posted on the product's official website includes 4xm, asf, amv, avi, fli, flc, flv, mxf, mkv, mpg, mts, mpeg, m2v, r3d, rm, rmvb and wmv.
Pro- version of Active File Recovery provides support for RAID – the feature which might interest video editing specialists.
And finally, Active File Recovery allows scanning for files by signature – LastChance Recovery. This option is useful if the other two search modes – QuickScan and SuperScan – didn't give you the expected result.
CardRecovery – recover deleted videos from SD Card and Memory Stick
Recovery app CardRecovery focuses on removable media like memory sticks, memory cards, microSD, etc., so it's absolutely possible to recover deleted videos using this application. The developer claims that this product recovers video data deleted from smartphone or tablet's SD cards.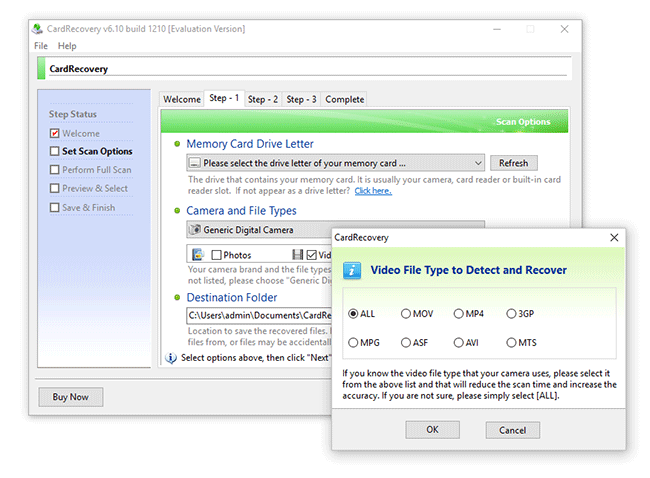 It recovers the following video formats: AVI, MPG, MOV, MPEG, ASF, MP4 and 3GP, which is perfect for the videos made with a smartphone or digital photo and video camera.
In addition to the standard scan mode one can activate SmartScan to enhance the chances of finding lost videos and photos. I'd say this is the recovery with search by signatures option mentioned above.
DiskDigger - video recovery app for Android and PC
DiskDigger app is one of the closest alternatives to the free app Recuva. Although it's not free, we believe $14.99 is not too high a price for a personal license for a video recovery software with the features like this.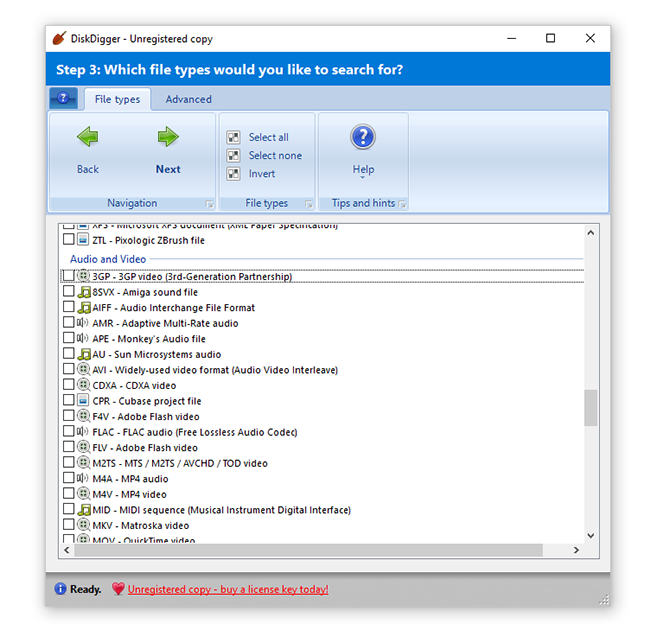 Without giving a detailed description of all it can do (because it can do loads of things), it's worth mentioning though which video formats it can recover: : AVI, FLV, WMV, MOV, M4V, MP4, 3GP, F4V, RM, RMVB, MKV, MPEG, MTS, M2TS, R3D and WEBM. They are also the formats of videos from the Internet.
DiskDigger does deep scan and scan of selected areas on your phone's SD card. The app supports virtual and hard drives, micro SD cards, USB flesh memory and other storage devices.
On top of that, DiskDigger has a mobile version which can be used to recover deleted video from the phone's memory.
Recuva - one of the best video recovery apps for Android (and it's free)
Recuva is genuinely good recovery software easy to handle and free. The app doesn't lose ground when compared to other more functional paid analogues. Its specifications don't list the video data formats the app works with, and from this we conclude that it's not of huge importance. Recuva Wizard lets us restrict the file extensions to the ones you need ('Show only video files' option) while deep scan mode enhances the probability of the videos to be recovered in less simple cases.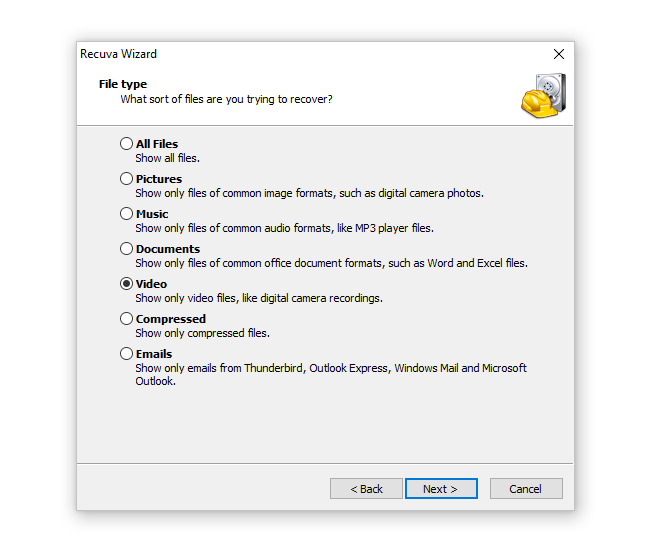 By the way, we had a piece of text on how to recover videos from a memory card using deep scan; we'd suggest looking closer at this guide.
EaseUS Data Recovery Wizard Professional – data recovery for every occasion
One of EaseUS Data Recovery Wizard's coolest features is the fact it supports loads of data loss scenarios. If you emptied recycle bin, formatted the memory card or memory stick, lost videos when reinstalling your OS, as a result of mechanical damage or virus / malware attack, Data Recovery Wizard is a universal solution and will definitely pull it off.
Among the supported deleted video formats are AVI, MOV, MP4, 3GP, WMV, MKV, ASF, FLV, MPG and MPEG to name a few.
This recovery software comes in handy not only to recover videos; we recommend EaseUS Data Recovery Wizard for more general issues, such as restoring HDD and other removable media.
This software is also there for you unless any other video recovery app has managed to resolve this important task. To assess how effective it is why not download a free trial version which will serve you for a month. Full version of Data Recovery Wizard costs $53.97.