Gallery on Android is your primary storage for: Photos taken with Camera, WhatsApp pictures, Downloaded images. It is from Gallery that files tend to get deleted massively. I am going to answer the most frequently asked questions: why photos are not showing in gallery, how to recover lost gallery pictures on Android, why images are distorted and one can see only black squares instead. Let's begin!
1. Apps which recover photos from Android Gallery
Among photo recovery software we'd like to single out three tools:
These apps are of use when photos not showing in Gallery, pictures were deleted, corrupted or lost as a result of file transfer:
from phone's internal memory to SD card
from phone to computer
We'd advice testing those three apps in a deep scan mode. They are installed on the computer, and it is recommended to save photos from Gallery to a hard drive instead of an SD card, otherwise deleted files will be overwritten, which reduces your chances for recovery significantly.
2. Change the location where your photos are stored
Many Android users insert new memory cards into their phones only to find out that the pictures and videos they take keep getting saved to the internal memory of their phones.
In order to change it:
Navigate to the Camera Settings,
Find the Camera Storage option,
Change it to SD Card.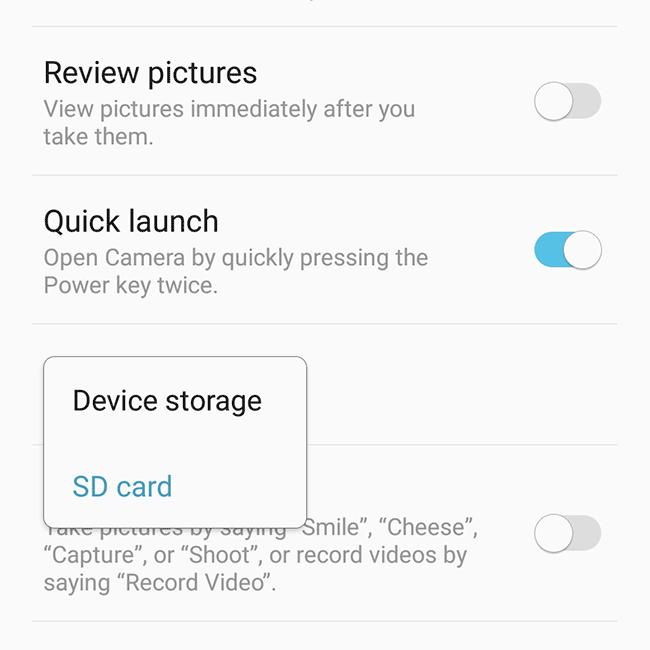 3. Remove files you don't need from the memory card
It is likely that there is not enough space on your SD card and Android uses your phone internal memory as a storage
If your new photos are saved to the phone internal memory even though you selected SD card in the settings, it is likely that there is not enough space on your SD card and Android uses the internal memory as a storage. 
How to free up space on
Android internal memory
To fix it, check the available space on the disk: Settings – Device Maintenance – Storage - Clean now.
If necessary, delete files on your phone. You can do it the following way:
using the Free up space option,
using Android utilities CCleaner and CleanMaster,
file by file using any Android file manager.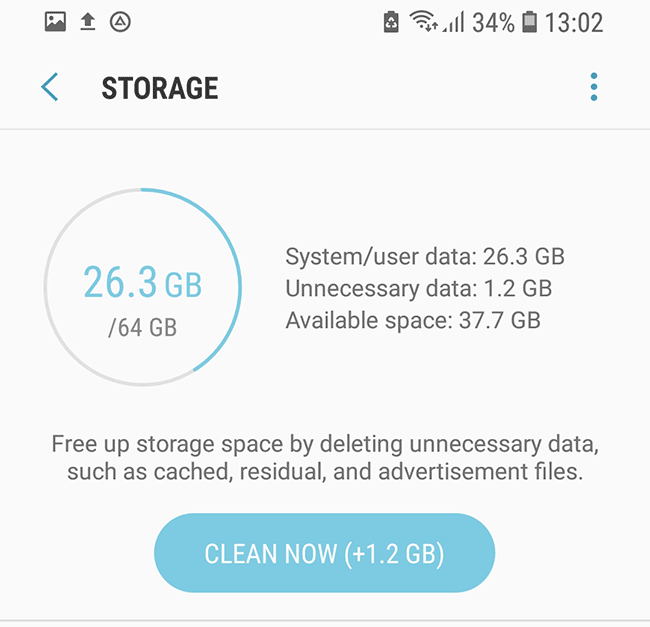 4. Format the memory card and scan it for reading errors
Another widespread problem is when pictures on sd card not showing in Gallery; photos are displayed incorrectly or disappear from Gallery every now and then. The reason is reading errors on your SD card.
This problem is quite easy to solve:
Format your memory card
Check the disk for errors, say, using chkdsk utility
5. Where are Gallery photos stored?
You need the DCIM (Digital Camera Images) folder.
All photos taken with your camera are saved in the Camera directory on the SD card or in the internal memory. To arrange them in the way suitable for you, you can create more folders within DCIM.
Note. In DCIM (and its subfolders) there should be no files with the name nomedia (they are not seen during the scan).
If Android Gallery doesn't display photos, check the content of the DCIM folder on your computer:
connect your phone to the computer using a USB cable,
connect your SD card using a card reader. 
If photos are found, copy them to the computer, if not – turn to recovery software.
6. Clearing cache (Android Gallery thumbnail problem)
If instead of thumbnails you see only grey or black squares, clear the cache.
For this:
Go to Settings > Apps > All
Select Gallery app
Press "Clear Cache" and then "Clear Data"
Before resetting Android Gallery you'd better reserve files from the DCIM on to the hard drive.
FAQ
---
I deleted the whole Camera folder from Gallery instead of one bad photo. So I lost all my files and Android gallery app not showing pictures. I can't get them back except for those deleted why by one. 
I have Galaxy А3 (2016). Several times already my gallery pictures disappeared; I lost a lot of important photos :( The recovery software I downloaded didn't help me to retrieve the ones which got deleted by themselves. Please help me find my gallery pictures!
Answer. Saving recovered files to where they were deleted from you lessen the chances to get them back. If your files were stored on SD card, try recovering photos from Gallery using CardRecovery app. In case they were stored in the internal memory of the phone, DiskDigger should come in handy (define DCIM folder with thumbnails to scan).
---
When I take pictures or shoot videos with my phone (Samsung Galaxy S7) they are saved on the microSD, and then Android Gallery app is not showing pictures, only black squares. Why does it happen and can I recover them?
On several Android versions – 6.0 and 7.0 – when I specify to save files in the internal memory I have no problems with saving files, but when I change it to SD card, the Gallery is not showing SD card pictures, only blank icons of the format not recognized by my phone, the picture itself isn't there. In My files, DCIM (thumbnails) folder, I can't find them either. Where are they gone?
My Digma HIT 4G tablet removes children pictures from Gallery (internal memory). The apps remain but Android Gallery refuses showing photos. When I reset settings, it all started to work and the images were displayed but in a while my Android photos disappeared from Gallery again. Can I get back missing children pictures? 
My Asus Zenfone stopped showing any files, music and photos which had been stored on SD card. I can see them in the file manager on the phone and on the computer. If a photo saved to the internal memory is transferred to the memory card, downloaded photos disappear from Gallery.
Answer. Free up storage space in your phone because the OS doesn't have enough of it to store new images in Gallery. Consequently, they can't be saved to the memory card which has enough storage space. You can clean up your device via file manager using CCleaner utility for Android or Storage Analyzer app.
---
I have Samsung A3. Today I was going to delete some videos from Gallery, selected the ones I wanted to delete, tapped Delete, and my phone stopped responding. I then pressed "Back" button. Afterwards I headed back to Gallery but found no photos and albums which were supposed to be in there. I restarted the phone, but nothing. Can I somehow recover deleted photos from Gallery?!
Gallery on the phone displays all my photos without any problem. I wanted to send some photos to the computer. When I connect and go to SDCARD/DCIM, my Galaxy S6 phone doesn't see the CAMERA folder. I tried searching photos by title but it didn't give any result. How to recover deleted photos from Gallery?
All my photos used to be saved on SD card, as it was selected in Android Camera settings. Recently I took a photo and it got saved to the memory card. In Gallery there's only a black square instead of the photo. I changed storage by default to the internal memory of my phone, and I can open that photo. How come? Is there a problem with the SD Card?
Answer. If the files disappeared due to Android system failure, check memory card for errors. Provided that your Gallery had been synchronized with the Google Photo service, look for the file copies in there.
But if your Gallery photos had been stored in Android device memory, the task is more complicated. (Read our manual on how to recover data from Android internal memory).
---
1. I lost almost all my Gallery files, only 400 from 20,000 are left. They all were stored on memory card (except for those 400). I read somewhere that I need to delete all the .nomedia extension files, which I did. This way I retrieved about 3,000 files. With the help of R-Undelete app I managed to get back some more but only those I'd deleted earlier.
Not all my files and folders themselves were restored. Please, help me do something about it, I had too many important things among those 20,000 pictures.
2. Photos on my phone simply disappear. When I open Gallery, half of them are gone. And it happens about every second month. What shall I do with it, how to retrieve deleted photos from Gallery? My phone is HUAWEI HONOR 5A.
3. I took a few pictures, then locked the screen. 15 minutes later I didn't find a single photo from those I'd taken. How can I recover deleted pictures from gallery?
4. SOS. About 5 days ago I transferred all the folders from Gallery stored in the internal memory of my phone to a USB stick to free up some space. It all went well, the photos were transferred. A few days later I noticed that of the 531 photos there were only 295 left. I've just removed my SD Card and inserted it back, and I have only 18 photos left… Is it possible to restore deleted photos from Gallery? Help.
5. Lost all pictures from Gallery and photos by free up space by mistake. Please help recover and put saved pictures back where they were. Pictures of new grande date.
6. Hi, Photos from the gallery (DCIM folder) in my Samsung J2 6 seems to have vanished overnight. What could be the reason? And why did it happen? Please tell me the steps how to restore deleted photos from Gallery.
7. Deleted pictures from one album and did go to disk digger to find and did. Had them put in main drive but cant find them when i looked for them - saved images not appearing in gallery. Where did they go and i would like them back. What do i do? Have a Android LG tracphone.
Answer. Among recovery tools we could recommend PhotoRec. This app recognizes many specific image file formats (including PNG and JPG) and can scan for files by signature. However, PhotoRec may possibly recover your photos as is, say corrupted or without a name and date.
Another app you could try to recover your photos is DiskDigger (for Windows); using Dig Deeper mode enhances your chances to get back part of the photos.
---
My phone is Philips Xenium W732. I tap to open one photo but get another one instead, from another folder. Why Android Gallery doesn't show pictures, how can I recover deleted photos on Android? It's been lasting for three days.  
We took photos on holidays on Galaxy S5. All of them opened without any problems. On the following day the last 20 photos or so in Gallery were displayed as grey squares. A few minutes after the view they disappeared at all and Android Gallery not showing pictures. It's not the first time I experience such a problem on Android.
Answer. Photos in Gallery may be wrongly cached. Try opening them not in Android Gallery but in ES Explorer or Total CMD file manager.
Another solution to the problem is connecting your SD card to the computer and transferring pictures to Hard Drive.
---
I was transferring pictures to my computer from a smartphone Lenovo А7000 via a cable. Most of them got transferred ok but the last 200 images had their format changed to 400х400... The photos are not showing in Gallery on Android. In the end I found them via Explorer on the memory card but they open not full size, simply like little squares. Do you know how to recover pictures to their original size?
Yesterday I bought a 32GB SD card, inserted it and transferred photos from the internal memory on my phone to a new folder on the SD card. Then I opened Gallery on my Samsung Galaxy S7. When I tap on the thumbnails, they show grey squares with an exclamation mark. SD card is connected, as I had transferred some other files to it.
Answer. It might be that only thumbnails remained while originals were deleted. This can explain why after transferring files you could open only small images.Clear cached images in Android Gallery. As an alternative, delete file .thumbnails in DCIM folder.
---
As I didn't have enough storage in my Samsung Galaxy phone, I moved all my pictures to SD card. I found them in Gallery in a terrible quality and distorted. What shall I do to recover them in the original quality?
Answer. Alas, you can't recover original quality of photos. You probably transferred (recovered) thumbnails instead of the originals from Android Gallery. Scan the memory card, or DCIM folder, of your phone using DiskDigger, CardRecovery or Piriform Recuva in case the originals are still there.
---
I've messed up my phone! I restarted Android and went to Gallery only to find that saved pictures were not showing up in Gallery. New pictures couldn't be saved either. They all remain in the phone internal memory but I can't get them!
Answer.  To begin with, check the total space in device internal memory. Another variant is that SD card might be unmounted, so the phone doesn't see it and can't save photos to it. Remove the SD card and insert it back.
---
I got a new tablet and new microSD which I moved to the tablet from my camera. It kind of has pictures on it but disrupted, thumbnails aren't displayed fully. In the phone it shows the images no problem. Why are images not showing in Gallery on Android and is there a way to fix it?
Answer: Steps to recover deleted photos from Android Gallery:
Step 1. Go to the folder with the Gallery file on Android,
Step 2. Find .nomedia file on your phone and delete it,
Step 3. Photos and images on Android are stored on SD card (the DCIM/Camera folder);
Step 4. Check if your phone reads the memory card,
Step 5. Unmount SD card from your phone,
Step 6. To recover files use a card reader, check it for the Gallery images and restore them.
---
I removed SD card from a Micromax phone and when I turned it on, downloaded images were not showing in Gallery on Android. I can see them in File manager but how can I get them back if Gallery not showing sd card pictures?
Answer. Transfer your pictures to the DCIM/Camera folder on SD card or in device internal memory; afterwards they should show in Android Gallery.
---
I really want to recover my photos I deleted yesterday. All the apps I downloaded only got back tons of photos (over 1000) deleted long time ago or those which have been saved in Gallery. The available space on the phone is filled straight away. It's hardly possible to find my photos in this pile.
p.s. (yesterday I deleted over 100 photos). Question: is there an app which narrows down the search, say, by date?
Answer. Nearly any recovery app has filter by date. The problem is that recovered files not always contain correct metadata (such as date, title, and other EXIF data). That's why you've got that many photos recovered:
open the preview and delete all corrupted photos
if the files contain metadata, sort them by date
if the date was not saved, sort by title (Android saves the date in the title)
If sorting doesn't help, you'll have to look through all the thumbnails. You can use any photo viewer for this.
---
Today, I downloaded an gallery app from playstore (A+ gallery) and I thought about locking my photos. So, I moved all my pic to securevault (from a+ gallery) (my pic was stored in sdcard). My phone storage full. And I check the app data (a+ gallery) and its 2gb . I got shocked and clicker "clear app data" After I cleared the data of (a+ gallery) the photos I moved to securevault was gone. How to recover that?
---
I have Huawei Hol-u 19. About one & a half years back (before using SD card) my gallery pictures disappeared. I lost lot of important photos. According to the instructions given by the recovery software, I have connected my phone to the computer but unfortunately it didn't support. So pls tell me some other way to retrieve my lost photos.
---
I bought a new phone 3 months ago and just noticed about 2 months of images were missing from my android phone i had them back up on google photos and im positive of this because the same problem happened to me 2 years ago this time i wasn't using a sd card the images just vanished without a trace.from the gallery and google.. play store recovery apps didn't help and i can't find no files under .nomedia.
---
Dear sir, I am in the process of writing a book and have up to now done it on documents where I was able to transfer photos from my gallery to documents. Now suddenly it refuses to do that with a " oops an error occurred....reopen document etc. " I am still able to transfer photos from gallery to an eMail Address. What is the problem?
---
Samsung galaxy a5 2016. I've transferred images and photos from the internal memory to the card. Via the service - my files - memory card I can view all of them, but in the Gallery only those that remained on the internal memory are displayed. However the camera stores new photos on the card, and if I take a photo or make a screenshot, it will be displayed in the Gallery. The problem concerns only the files which were copied.
---
I woke up in the morning and found out that almost all of the photos are gone from the Gallery (why not all of them then?). Let me make it clear straight away, I have no memory card, no file operations have been carried out and the photos aren't in DCIM folder either. There are several files stored on my Google Drive, but it's not them. My phone is Samsung A8(2018) with Android 8.0 operating system.
---
I've accidentally deleted a photo from the Gallery on Samsung phone. I tried to recover it via DiskDigger program, but it was recovered in awful quality, the photo is blurry and you can only see the overall silhouette. And the program description promises that it will completely recover any photo. Maybe I was doing it wrong? How can I recover the original image quality?
---
Three days ago I bought a new phone redmi 5 plus and I transferred all the pictures and videos onto it. The next day when I opened the Gallery, I discovered that there were only a couple of photos left. I reloaded my phone, opened the Gallery again and that time there was nothing left in it at all. It says that the files are deleted or corrupted and the formats aren't supported. It wouldn't be a big deal, if I haven't deleted the photos from my old phone, and they weren't so important.
---
Every single photo (the whole Gallery) has disappeared from my phone. I have no idea what to do. What I did was only connecting the phone via a USB in order to download some music onto my phone, after it was done I disconnected the wire. When I opened the Gallery I found nothing there, it was empty. Please tell me if there is a chance of recovery? The phone model is Lenovo S90. Thank you in advance.
---
My phone is asus with no memory card... After a busy weekend a sign saying that the memory is full appeared. I got a system update notification, but since the memory was full, the update couldn't be downloaded. I deleted some photos to free the space on my phone a bit, started updating the phone and went to sleep. In the morning I wanted to look at the photos but didn't manage to find the folder with them in the Gallery and I didn't find it via my PC either.
---
My phone is Asus Zenfone 2 Android 5.0. One of multiple albums is missing from Android Gallery. I haven't deleted it on purpose. This album is important, please help me to recover it.
---
I transferred some photos from my phone DCIM folder to a personal folder, in the beginning they weren't displayed in the Gallery and it looked as if nothing had been transferred, and in a day or two they actually disappeared. I gave a try to file managers, there are simply no photos. It's Android 8. I'm not willing to install any root programs... At least I want to know why it happened since more than half of the phone memory is free.
---
I decided to clean my mom's phone (Samsung). I opened SD Card Gallery. There were two copies of each photo. As I discovered later, there were only 350 photos in general. I started to delete the duplicates (by selecting all of them). But in the end everything was deleted. I have no clue what to do. I desperately need to recover those photos since they are very important for me and my mom.
---
Recently I've been deleting some files via file manager X-plore. Accidentally I deleted the entire folder called Android in the device memory. As a result, all the photos are missing from the Gallery, or more specifically they aren't displayed. The photos can only be found in such folders as Camera and Screenshots, but there are no folders like WhatsApp or Download. Though I do have all the photos in the storage. Can I somehow recover them?