Published on
How to recover deleted videos from Android phone without root using Recuva

Written by: Ilia
Data recovery specialist, guest author, journalist.
How to recover deleted video from Android phone? Take Recuva, card reader and mobile sd card. Let's begin recovering deleted videos on Android!
Our readers regularly ask how to recover deleted videos from phone, so I've written this guide for you and for them. Basically, all you need is a free app Recuva, card reader and memory card. No rooting is needed.
Let's begin the video recovery! The plan is:
Contents
Download and install Recuva
Recuva is a free video recovery app for Android which I'd recommend to use in the first place; it's easy to use. Besides videos, Recuva finds dozens of other file formats and data types. Overall, it can restore audio, documents and images on condition that your files hadn't been rewritten.
In the most complicated scenarios the deep scan option is of great help; it will make anything literally rise from the ashes (although the files can be corrupted with no chance to view them).
At the moment there's no mobile version of Recuva for Android. So firstly, download Recuva and install it on your computer. It can be installed to any disk but the one from which the files had been deleted!!
Connect your memory card to the computer via USB
To recover deleted videos on Android the sd card needs to be read on the computer and the disk needs to be scanned. For this use a card reader; a laptop would make your life easier because it usually has a built-in card reader which should be perfectly suitable to connect your sd card.
At the worst you can replace a card reader with an mp3 player (which has a slot for a memory card) or Android phone connected using MTP mode. The main thing is for the available disks list to show the phone's sd card when the device is connected.
Start Recuva video recovery Wizard
Recuva recovery Wizard can be of great help for the beginner users as it makes salvaging of videos much easier. The Wizard window appears at startup.
As Recuva Wizard appears, click on Next. Select the filetype(s) you want to recover from the memory card. In our case it's Video (Show only video files, digital camera recording).
Recuva searches for the following file types: avi, mov, mpg, mp4 video, flv, wmv, mpg, mpeg, mpe, mpv, m1v, m4v, ifv, qt.
Restricting the file formats to certain ones will save you time as Recuva will skip all the odd media data types. In general, you can set All File Types (for example, if you don't see the file extension from the list above) but it will definitely make the video recovery process more complicated and slow down the search especially in the Deep scan mode.
In the File location field you need to set the location the video files were deleted and need to be recovered from. Select On my media card or iPod to scan particularly the removable media.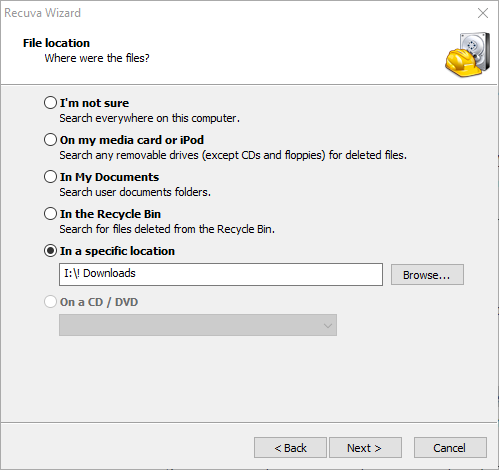 In the last stage enable deep scan. This option is really helpful in recovering after formatting or for a corrupted sd card in your phone. Anyway Deep scan boosts the chances to find deleted videos on Android). Besides, it takes less time to scan an sd card rather than hard drive with the capacity over 2 TB. From our experience we can be certain that scanning for deleted videos doesn't take longer than an hour.
Click Start and wait for Recuva to run the full scan of your phone's memory card.
Save the recovered files to a disk
When the scanning is over Recuva will list the search results. To illustrate it let's move to the Advanced mode.
The line next to the file name displays condition markers in three colours:
red: video file is severely corrupt, chances are super low
yellow: partial or full recovery of files is possible
green: you can get back deleted videos no problem (the file didn't' get corrupt when deleted)
You can find the video file faster if you specify its name; however it's not always possible (when the file is deleted, file name metadata can disappear from the file table). Tick the files you want to recover and press Recover to retrieve deleted videos on Android. Define file save location.
Important! Don't restore the files to the disk they were removed from to avoid rewriting of the data which lessens the chances for the files to be recovered radically.
Check the recovered video files quality
Once you've saved the video on your computer, check it for corrupt fragments, make sure it plays correctly.
For that open any video player and look through the video to see if it's coherent and has no artifacts in it.
A lot of videos can be played even if slightly corrupt but if a video container or its essential part was damaged, it's bad luck. So you can't fix corrupted video using Recuva. 
***
We are close to the end now. As you can see, the procedure isn't too complicated and it's quite possible to undelete video on Android without root. What's of great value is that using Recuva you can recover all the found video files for free.
Video version of the guide
Q&A
---
---
---
Videos taken on the camera with the extension .mov. were copied onto the tablet. For some reason, they were recognized by a music player and when they were opened there was only a sound. Video was opened by another video player. Videos in mov format were deleted from the audio player folder where they were stored. How to recover deleted videos from android phone without computer only by using a tablet? I have no access to a PC.
The answer.
1. Check whether mov videos are still on the camera memory.
2. It's easier to recover the files from the memory card than from the internal memory of a tablet. Connect the sd card via a card reader to a PC. Next step is to recover the video files using Recuva, PhotoRec or CardReader.
3. If the previous step didn't help try using DiskDigger for Android or Undeleter. Both programs don't require installation on your computer.
---
The problem is that I'm trying to recover deleted video files (mkv) from an external HDD 2 TB with the help of different recovery programs, BUT... none of them recognizes it... When I connect an another external HDD 1TB everything works well!... What's the problem? How can I retrieve deleted videos?
The answer. If Windows doesn't find the partition with the video files then try to find/recover the deleted partition via command-line utility TestDisk. It's distributed in the same archive as the program PhotoRec, which in its turn is designed to recover multimedia files.
---
Please help me to recover my photo and video files (saved in the phone)! My Android bugged. The phone is a Chinese one Elephone P8000. The battery died and after turning the phone on the screen shows only the time and the network (top menu). The rest is a black screen. All the apps are working just not displayed. I receive notifications and SMS (I can hear the sound but can't read the text). I answer phone calls and communicate in Skype. Therefore, I hope that photos can also be recovered as all the apps are working. Please tell me how to do that!
The answer. There are many programs for the PC to recover deleted videos on Android via a usb cable. Although their efficiency is questionable in your case they somehow may help. Among those kind of applications are Dr Fone, Mobisaver and MiniTool Mobile Recovery.
However, to access the memory of the mobile device you need to get an approval what can be only done through the phone / tablet itself.
---
I was shooting a video yesterday. The video opened. But then my phone died. I inserted sd card into another phone. I shot a few videos and then inserted it back into the first phone. I charged my phone. As a result,  I don't have neither any of the old videos nor new ones.
Please help me to retrieve deleted videos from sd card. Can I do this without a computer ??? I don't have one. The phone is an Android, Nokia.
The answer. There are such deleted video recovery software for Android as DiskDigger or Undeleter. Both programs can be easily downloaded from Google Play. However, note that their functionality may not be enough, plus for their correct operation an activated root access is required.
If the video was on the memory card, I suggest looking for a PC or a laptop and recover it with the help of Recuva program which will be safer and easier for you.
---
---
So I was transferring some videos from my pc to my phone via USB cable, done it before, no problems everything was being sent and read perfectly fine… Until this one time I was sending a few vids over to the phones memory card one after the other and it seemed that all was sent through. It wasn't until after I disconnected my phone from the computer to view the videos I noticed that only one of 5 videos were playable, the other 4 had marked file type not supported by the device… I was confused because all of the videos I made were made with the same format type so all should've shown up.
Eventually I decided to delete the videos that were not playable n try resending them from my pc.
FAQ
I have mi5a. I have deleted my videos from Android memory as I reset my phone. Can I get back them and does it need to root the phone. I don't want to root my mobile as I just bought one month ago.
Yes, root access must be activated on the phone as the video has been deleted from the internal memory.
As for apps, you can recover files via DiskDigger (Android version) and Recuva. A copy of the internal memory is required so that Recuva can "see" the drive in the list of the devices and will be able to scan it. I have described here how to do it.
---
Is there a possibility to recover the files which have been erased from a dashboard camera by traffic police after an accident.
Yes, if the video has been recorded on the memory card.
Install any of these programs, connect the memory card to a PC (for this you will need a card reader) and run the scanner.
You should also keep in mind that the files could have been overwritten several times. If you have used the dashboard camera after the removal of the video the chances to recover the video aren't that high.
---
Two days ago I deleted a video from my phone. I opened "the Recycle Bin" but the videos weren't there. Where can they be and how to restore deleted videos on Android?
A phone doesn't have a "Recycle Bin" like the one on a desktop by default. Although, for example, there is a Dumpster application for Android which serves as a "Recycle Bin".
But we will take as a base the fact that Dumpster wasn't installed on your phone. In this case what can help you is:
DiskDigger for Android (to recover videos from an internal memory)
Recuva which is for recovering from a memory card.
Both programs support the formats of video and photo and their free versions aren't limited.
---
I was able to how to find deleted videos on Android but there are still many unrecovered and corrupted files. Please make an article on how to download Red/corrupted video files using Recuva.
Unfortunately there is no specific method of how to recover corrupted video files. The result depends on the time factor. If after the removal a lot of time has passed and the device with the deleted files has been in usage than the chances of finding any living video files are reduced.
Tips:
Enable "Deep Scan" option in Recuva and scan the drive with the deleted files
Corrupted files open sometimes although some information is lost. For example, a video player VLC will be suitable in this case.
---
Only for my phone to notify me that the videos were now unable to delete. I decided to restart my phone but when it came on half my app that were saved to the SD card were left blank and my SD card was not being recognized.
The problem can be divided into two parts.
The memory card can't be detected by the phone due to reading errors. How can you fix this is described in this guide.
Very often the data loss happens due to the fact that the files aren't checked by the recipient after copying them. Search for the deleted files on the source (from which you have copied the data), not on the receiver.
Actually, check all the places, where you have stored the required video files: in the "Downloads" folder, messengers correspondence, social networks, in the cloud, on any other memory cards and etc.