WhatsApp photos are not only stored in chats. The file you've accidentally deleted from one place is likely to be found somewhere else: in a conversation, its backup copy, or in your device file storage. If searching for it wasn't successful, try to recover that image via recovery programs for Android and Windows.
Contents:
The Easy Option: Ask for a copy of the photo from its sender or recipient.
Forwarded media is saved on the devices of all the participants of a WhatsApp chat. So iIf nothing works out, anthere's one obvious and easy way to get the file which is to reach out to someone with whom you were chatting and sharing files. The sender or recipient of the image you need can send it to you again, and you'll save time that could be wasted on searching, adjusting and trying to figure out how the various recovery tools"Recuva" and its counterparts work.
If this isn't possible, or the sender/recipient needs help locating the file themselves, some of the following instructions may help.
Where are WhatsApp photos stored?
All photos that have ever been sent from your device or received via WhatsApp are automatically saved. On devices running Android, you'll find the multimedia from this messenger in the folder called WhatsApp in the internal memory.
There are three subfolders inside the WhatsApp directory. Open "Media" and find "WhatsApp Images" and go through its contents. Generally, if a photo has been removed from a chat but not from your smartphone gallery, you'll find it in that folder.
On some smartphones and tablet models, the folder with WhatsApp files are stored on a removable media storage device, for example, a micro SD memory card, rather than on internal memory. This usually happens if you have a Chinese device with modified (rooted) firmware.
How to restore WhatsApp images from a backup file
In addition to the "Media" folder, there is a "Backups" directory inside the WhatsApp folder where all the backups are stored.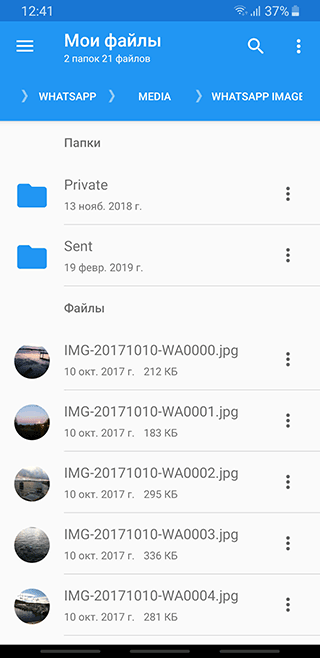 Messenger generates them automatically once a day/ week/ month if this function has previously been enabled in the settings. Backups are created every night by default.
If you've deleted a photo from Android Gallery and/or a chat which was sent more than a day ago, try recovering it from a backup. In order to recover images or a chat from a backup you have to:
Uninstall WhatsApp messenger.
Enter your phone number in order to sign in to your account.
When the system suggests recovering the data from your backup copy, agree to it.
Wait for the installation and recovery process to complete.
Remember that your backup copy has the files which you've received within the last week. It's likely that the documents you're looking for won't be in that archive.
Moreover, we advise you to set up an everyday backup to prevent an accidental deletion of pics / data. You can do it via the settings in "Chats" section called "Chats backup".
How to recover WhatsApp photos from a chat
In the latest version of WhatsApp, media files and documents are stored on the server. Any of them can be downloaded again if you haven't deleted the chat in which they were sent. This can be done by either mobile and browser versions of the messenger.
In order to open the browser version on your computer:
Open the link web.whatsapp.com in a browser.
Open the app on your phone and scan the QR code (Settings → WhatsApp Web).
Wait until all your data is downloaded and you can use the messenger.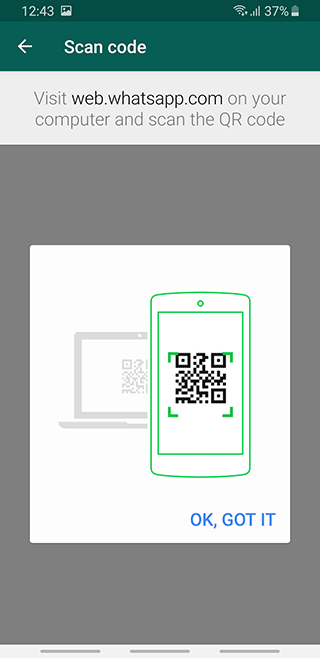 Using DiskDigger or Undeleter to find a deleted photo on your phone
DiskDigger or Undeleter apps for Android might be useful if you no longer have a chat with the image you need, but that image has previously been downloaded to your smartphone memory. These apps allow you to find deleted files that haven't been overwritten yet. This is possible because when you delete a file, it's only marked as a "suitable for overwriting" and not destroyed. Thus, accidentally erased documents and multimedia can be found, especially if it hasn't been a long time since their deletion.
The sequence of actions in DiskDigger or Undeleter mobile versions is the same:
Launch one of the apps on Android.
Choose a scanning path; in your case it should be the address of the folder with WhatsApp media files.
Wait till the searching process is completed.
Go through the results and mark the files you want to recover.
Choose where to save the recovered pics and click "Recover."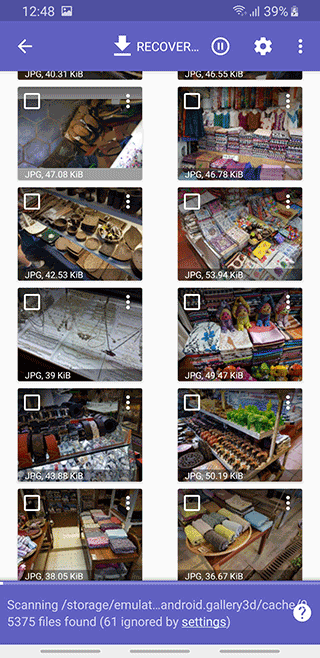 How to retrieve deleted WhatsApp photos on an SD card via Recuva
The Recuva utility is a free desktop counterpart of the above-mentioned DiskDigger or Undeleter. Root isn't required for recovering photos with it, but this app only works with your phone's SD card.
Recuva analyzes the memory of your gadget, which must be connected to a computer, and finds the files with the required extension. After the analysis is complete, you can select the images you need and recover them in a couple of clicks.
The procedure of WhatsApp photo recovery is the following:
Download and launch Recuva. (It's free.)
Select the storage device from which the document has been deleted, e.g."In a specific location".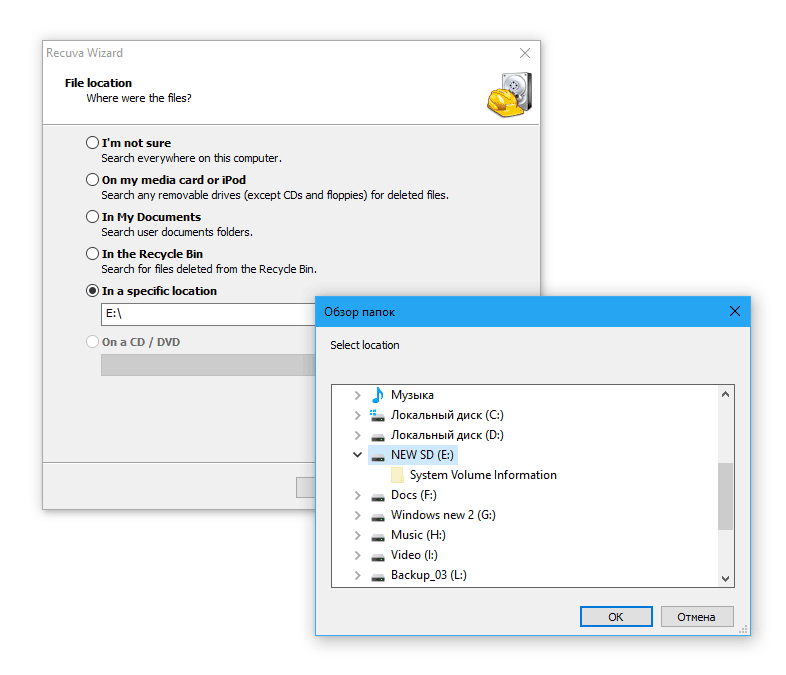 Enable deep scan ("Start" button);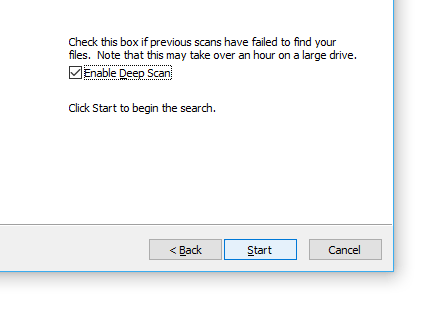 Select the desired file and recover it via the corresponding feature.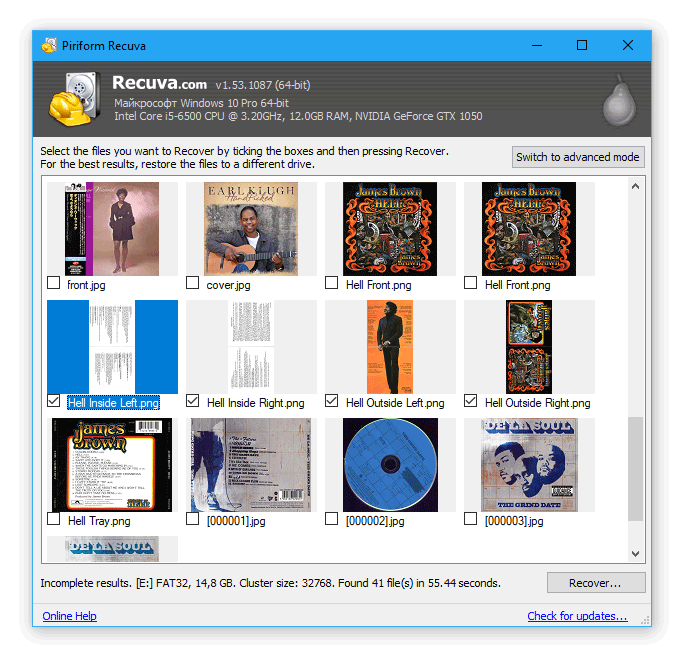 Questions - Answers
[Whatsapp deleted photos]
I deleted my whatsapp in order to backup but I forget that it's been so long since I made a backup and now I lost most of the messages and photos; what should I do to restore Whatsapp media?
---
hi, all of my pictures were stored on google. yesterday i received a new phone and after logging on to gmail i saw all of my old photos but i forgot to backup whatsapp, so i took out the sim and put in my old phone and backed up whatsapp. once it was done, i put the sim in the new phone, downloaded whatsapp again. once doing so, all of the media on whatsapp (photos, videos) were uploaded to google but all of my old pictures disappeared! please help. thanks!
---
[Recovery of my whatsapp photos]
Whatsapp picture which was received to me was got deleted which was 2 years back mess. How could I retrieve it on Android? I wish you could solve my problem!
---
[Whatsapp deleted images]
I mistakenly deleted one of my chats with photos so I reinstalled my WhatsApp but I don't get them back. I tried using the WhatsApp database with the Es File Explorer and it did not work. I ended up deleting all the database there. is there any way I can get my photos back because i've lost everything now?
---
[How to recover data deleted from whatsapp]
I have Redmi 5a Android Mobile. By mistake all data since account opening is deleted from my whatsapp account. Please guide me how to recover all data even if backup files and database files are not available in internal storage. Can I restore whatsapp photos from www.whatsapp.com? How?
Please also give information that if we changed mobile numbers frequently, is whatsapp data lost stored on previous mobile number? If yes, how to recover it. Whether whatsapp account is single however mobile numbers are changed frequently ? If whatsapp account is single, on what name it is stored on www.whatsapp.com and how to find it on website and how to recover all data (photos and videos) from this account?
---
Whatsapp images from a Transcend 128Gb SD card went missing. My phone is Asus_Z00LD. Android 6.0.1. After downloading from Whatsapp the photos were automatically saved on the SD card. When sorting on the SD card by folders, the photos disappeared. The new folders to which the photos were transferred aren't displayed. There are no last photos that I need in the cloud. I want to recover them. When trying to attach photos in WhatsApp, the missing photos are shown, but I can't attach or send them. Please give me a piece of advice on what I should do in such situation?
---
I had two versions of my photo folder, a local one which was cleaned up from duplicates and one in Whatsapp with all files backed up. I wanted to sync the cleaned up folder to the cloud so deleted the folder in Whatsapp which proceeded to delete the folder on the phone too. The files aren't in the Whatsapp bin nor are they anywhere on the phone. I have run diskdigger and several other photo recovery tools, but all i find is low res versions of the photos (640x300) rather than the photo itself. Any ideas?
---
[Recover deleted Whatsapp photos]
My ex deleted a bunch of extremely important photos off my Instagram account I'm desperate to get them back with the likes and comments, Instagram isn't writing back I just want my account restored back to the date before it happened will they ever respond and do something like this? I'll pay even I'm so desperate.