With the advent of messengers (Whatsapp, Viber, Facebook), sms messages are gradually fading into oblivion. However, old problems are still relevant. When you restore Whatsapp chats and messages, you have to carry out some complex actions, which don't always result in a positive way.
Today you are going to learn retrieve whatsapp chat history quickly. First of all, it's so easy to do that even a beginner will get it. So, let's start.
In what cases a Whatsapp chat can be deleted
Most often, Whatsapp chat history disappears:
after an accidental deletion (instead of "Add conversation" you clicked on "Delete chat" button). This often happens not due to user fault, but because of the inconvenience of a touchscreen;
after reflashing a phone: all data stored in internal memory is lost irretrievably;
after changing a phone: you have to reinstall the messenger, as the result all messages are lost.
The main ways of restoring a Whatsapp chat:
How to retrieve deleted chats in whatsapp: the standard way
Fortunately, all WhatsApp chats are safely stored in backups.  Backups are made automatically on a phone: every day and by schedule.
Perhaps the easiest way to retrieve old whatsapp messages is to delete Whatsapp and reinstall it. After specifying your verification number you'll be offered to restore a backup copy from Google Drive or import a local file with your messages history.
Recovering messages via Google Drive
After the first launching, Whatsapp suggests enabling backing up your data to Google Drive cloud.
Accordingly, the most simple and obvious way to restore a chat is from a file stored in Google Drive.
How to restore messages from Google Drive backup copy:
After installing Whatsapp, open the messenger and specify your phone number (the one you used before).
Select the method of restoring in "Restore chat history" window and click "Restore" button.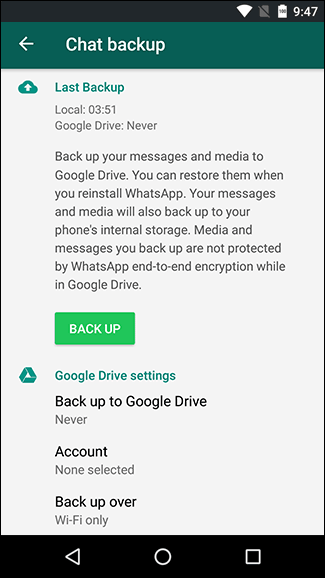 Did you fail to find a backup copy?
It could have happened for the following reasons:
You're using a different Google account not the one you used before in Whatsapp;
You've specified a phone number which wasn't previously used in the app;
The memory card is corrupted or has errors (or the file with Whatsapp messages fails to open);
There are no messages back up copies on a memory card.
Restoring from a local file
If you didn't connecte Google Drive account to Whatsapp, there is another way: to restore messages from a local file.
Chat backup files are stored at /sdcard/WhatsApp/. If you fail to find them, check phone internal memory. If they aren't there, perhaps, you've deleted them. Then see the following recovery method which is via Undeleter / DiskDigger programs.
Note. Google Drive saves only the last chat version, while phone stores Whatsapp data in the last 7 days.
How can i retrieve deleted whatsapp chat history from a local file.
Install a file manager, for example, ES Explorer or TotalCMD.
Open sdcard/WhatsApp/Databases folder. All chat backups are stored there. If there are no files, check main storage also.
Select the file you want to restore from the list (its format should be msgstore-YYYY-MM-DD.1.db.crypt12). Rename it to msgstore.db.crypt12.
Uninstall WhatsApp from your phone (if you have it) and reinstall it again by downloading the latest version from Google Play.
Specify the phone number you've used before during installing,
In "Restore chat history" window click "Restore" in order to import old chats and get back deleted whatsapp messages.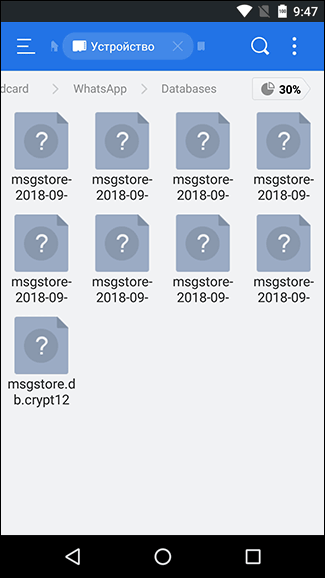 Using EaseUS Data Recovery Wizard to restore messages
If backups were stored on a computer, you can use any software to retrieve deleted whatsapp chat. The example is EaseUS Data Recovery Wizard. In theory it's possible to restore backups via "deep scan" option. However, the chances are high only if backups did exist and not a lot of time has passed since their deletion.
Download EaseUS Data Recovery Wizard
To restore old whatsapp messages:
Select the disk where you stored backups;
Click "Scan" and wait till the end of scanning;
Sort files by their type;
Restore them on a drive ( via "Recover" command).
By the way, there is a free alternative version of EaseUS Data Recovery Wizard which is Recuva and its functionality is pretty much the same.
Using Undeleter to restore messages from phone memory
If chat backups were stored in device internal memory, try searching for them via Undeleter app. The program scans phone memory and retrieves all the files it can get access to. Root access (superuser rights) is required for work.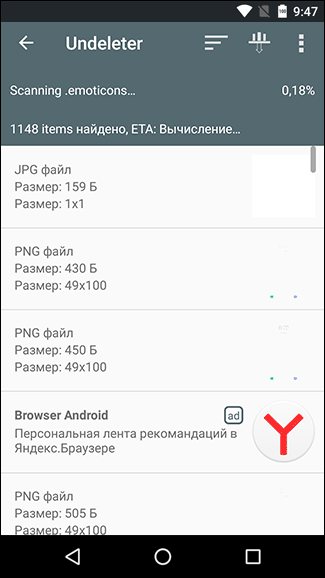 Note. Some manuals state that Undeleter helps to detect Whatsapp call history. In fact it doesn't. Everything this app is able to do is to recover lost backup files that were deleted by user.
Alternative utility to restore whatsapp conversation is DiskDigger for Android. It scans sd and internal memory. It's best suited for recovering photos and videos, but it might also find Whatsapp user files (we haven't checked it, so we offer you to try it yourself and share your experience afterwards).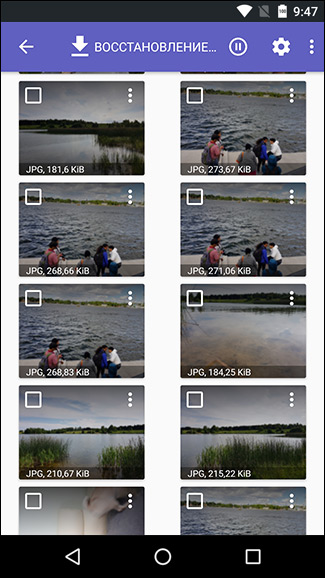 Questions and answers
I could not manage how can i retrieve deleted whatsapp chat history of my phone that did not had any backup using Recuva.
The answer. Backups could have been stored on a sd card or device internal memory. In the later case, Undeleter can help but not Recuva.
Messages can be restored only if you haven't disabled backing up while setting up the messenger for the first time.
---
I accidentally deleted what's app chat backup copies. A chat with important data was among those copies. The story is empty, there is no chat. Is it possible to restore it somehow?
The answer. Check Google Drive Recycle Bin: perhaps, Whatsapp backup copies can still be there. If there are no messages in Google Drive cloud, search in phone memory for a local file. Or ask the recipient of messages to share the chat history with you.
---
I try to fix old mobile latest one has an issue. when I try to retrieve whatsapp backup I have for that phone I find 4 dated sep 2017 dec2016 and other 2 for 2012/2011 I retrieve 2017 it should retrieve 4300 msg but after several hours I find only 2000 though I have more than 8Gb free and it refuses to get any more. I need to keep all messages with a school group. unfortunately I try to retrieve and uninstall again it got worth and I lost even the 2000 got only 600 or less. uninstall 3rd time make it worse no messages before 2 June 2018. now I cannot find these on backup drive neither email it I have only one option on drive delete only :( can I recover or I lost it?
The answer. Check whether there are any other backup copies: local files or on Google Drive.
Perhaps, you've written new files over the deleted ones with messages. So with each new attempt of recovering the chances decrease.
---
[I can't recover WhatsApp retrieve whatsapp messages (backup copy) from my Google Drive]
A few days ago I deleted WhatsApp from my old phone after creating a backup copy on Google Drive.
Today I decided to download WhatsApp on that phone. Downloaded, started the recovery, but after some time an error saying that it was impossible to recover the latest copy occurred and offered to recover an older version. I immediately uninstalled WhatsApp as it's crucial for me to recover Whatsapp chat.
I tried both reloading the phone and reinstalling WhatsApp, but everything was of no use. I asked several of my friends and all of them were facing the same problem.
Please tell me how to restore whatsapp chat history not from the Google Drive (cloud), but locally i.e. from the phone? The thing is that before resetting the phone I made a local copy of the chat and saved it on a computer via a cable. After resetting I created WhatsApp folder, put Databases with msgstore.db.crypt12 file there and downloaded WhatsApp from the store. But no matter what, Google Drive is still offered during the recovery (I've already pressed "skip") and nothing happens. And I even tried storing it on a SD card as well as on internal memory.
p.s. I need to recover the local copy  specifically, as the one stored in the cloud is an extremely outdated one
The answer. To restore deleted Whatsapp messages:
Install WhatsApp.
Sign out of your Google account (unlink the account on your smartphone).
WhatsApp folder must be stored on the same memory as before you reset it (it's better to keep the whole WhatsApp folder instead of 1 file).
Launch WhatsApp and enter your previous number. If you've done everything right, you'll find chats local copy with a suggestion to "Recover".
P.S. The most important point is to get rid of Google account on your device.
---
I need a small piece of advice regarding WhatsApp.
I had to perform a reset to factory settings and saved only msgstore.db.crypt12. There are no copies on Google Drive.
Is it possible to recover the Whatsapp chat history  in this case or should I give up?
The answer. Chats should be recovered without any problems, but only text with no media! Install WhatsApp, transfer your msgstore.db.crypt12 in Databases folder, activate WhatsApp and your chat history should be picked up.
If this method doesn't work out, log out of your Google account and most importantly transfer your database file in the correct folder!
---
Hello everyone! Guys, maybe somebody knows how to help me? Today I received a message in Whatsapp, I needed to delete a chat but accidentally I deleted all the photos from that chat too .... Program backing up wasn't enabled. Is there a chance I can recover the attached photos?
The answer. No, you should ask to send you the photos again.
---
How can I save the entire chat history and all the files, so that after resetting I would be able to recover it. Are there any options on Android apart from Google Drive?
The answer. Copy WhatsApp folder onto external memory card or a computer via a USB cable. Then copy the folder back to your smartphone, on the same memory area as where the folder has been stored before. And only after that you should install WhatsApp.
Before doing anything create a local copy of your chats. (settings = chats = chats backup = click "Copy".)
---
Guys, I need your help. A girl I know is a member of a group for a long time, she has an important conversion there with photos, it's a very long chat. She bought a new phone and a new SIM card (with a new number which was also added to that group), She wants to somehow save the entire conversation from her old phone and leave this group. How can she restore whatsapp messages? You can't select the whole conversation and forward it, you can only select each message individually, but the conversation is so long that it will take you more than 5 years. Please tell her what to do!
The answer. If you've downloaded WhatsApp from Google Play,
Than you can change WhatsApp phone number to the one of your new SIM Card,
Create a server backup.
Insert the SIM card into a new device,
Log in the same Google account as the one on your old phone,
And install WhatsApp. It should find the backup copy and see the deleted messages.
---
This morning while attempting to block a contact, I accidentally clicked "mark as spam" and as a result the whole chat has been deleted (around 60 000 messages).
This conversation is extremely important to me, please tell me how can I recover it? I gave a try to different programs which search for deleted data, but they require root rights and I'm not sure whether they are enabled. The last local backup copy was created yesterday at 2:00. When Google Disk on the 1st of April.
I've been using WhatsApp for more than 3 years and I'd prefer not to lose all the chats. If I delete the app and then recover it, will I lose the chats I've deleted in the morning and all the other with media?
Note. When data deletion started, I managed to copy onto the memory card a part of the media from this conversation (I turned off WhatsApp and saved the entire folder on the memory card).
What should I do in order to recover that chat? Android 7.0 Galaxy S7 edge
Thank you in advance)
The answer. Today's conversation will be gone, if you recover yesterday's copy.
First of all, create a copy of WhatsApp folder (on a memory card or a computer.)
Disable Google disk. After that recover everything in the standard way.
Though it's not easy to recover media. If your WhatsApp folder has been created on a SD Card, it's very good. You can recover it via Recuva, DiskDigger and etc.
If your WhatsApp folder has been stored on the internal memory, it's way more difficult.
Recover from Google disk dated 1 April. A part of media will be recovered (you can also see what other files you've managed to save and add to media folder).
Uninstall WhatsApp app. Replace the base file msgstore.db.crypt12 with the yesterday's one,
Install WhatsApp (all yesterday's chats will be recovered with the text of conversations)
---
I've accidentally formatted the whole internal storage of my phone and decided to install WhatsApp with further data recovery from Google Drive. The problem is that WhatsApp offers to recover only the data of the last backup (14 MB) instead of the full backup copy (about 1.5 GB). Anyway how can I recover the full backup copy from Google Drive? WhatsApp version is 2.18.13 Beta.
The answer. If the matter of question was local backups, their meaning is the same. If you compare it to local backing up, every day the latest copy is created and all of them are stored in one folder, which can weigh 1.5 GB, but in fact they aren't needed, except for the last copy, which is 14 MB.
---
According to you, every chat will be recovered from the cloud, if you recover the account on your new phone, right?
The answer. If you've created backups to the cloud on your old phone, then on the new phone with the same old account and the same number, WhatsApp will recover the chats from the cloud.
---
Photos have been deleted not from the gallery, but from 'Downloads' section. I didn't manage to recover the photos downloaded from the Internet and Whatsapp by any means. Why they were deleted is also unclear: I wanted to stop an uncompleted downloading process which I did but instead of doing what I actually commanded my phone has deleted not only the downloading but also ALL of the photos that were stored in 'Download' section. It didn't affect the other files. Nothing else has been pressed and it's not the first time I delete via 'Download' but this has never happened before.
---
The memory was full. In the setting under storage section there are several others, some of them are cached data and so on. I pressed on the other by mistake and photos which had been sent via WhatsApp were deleted from my phone. I tried to recover them via DiskDigger recovery app. I did recover them, but the photos are of smaller size and now when you open them, they're blurred. Is it possible to recover them in normal size? Thank you!
---
My problem is that when I was deleting all the photos from my old phone, I decided to transfer all of them via WhatsApp before deletion, but when I was doing it, some of them weren't downloaded to my new phone. At the moment, the screen of the old phone doesn't work. The question is whether I can somehow recover some of the photos? Is it possible?
---
On the 1st of September I took photos of my child and everything was alright with the photos as well as with the videos. I managed to send some files via WhatsApp. A few hours later, when I opened the Gallery I found a grey square with a lighting instead of the photos, which as I understand means that the photos and videos are corrupted. Those photos which I managed to send via WhatsApp can be opened, but in the Gallery it says that the photos aren't found. How can I restore deleted photos from whatsapp? Pleeeeease tell me..
---
I have the following problem: the device is Xiaomi Note 4X with no memory card. From the internal memory photos and videos were deleted. How can I recover them? Some photos and videos were received via Whatsapp.
---
I've accidentally deleted it. But I'm on a long business trip abroad. During WhatsApp recovery it asks for the code, but unfortunately I don't have roaming. How can I recover WhatsApp on Samsung s4 without downloading a new app as I need to recover the old and already registered one. For example, we can recover files from the Recycle Bin on a computer. Or any other way.
---
[recover clear whatsapp chats]
Hello.
I am not able to retrieve whatsapp chats. Yesterday i performed function of clear chat from my phone of one particular person but when i reinstall whatsapp i am not able to recover the chats of that person.
Please help and suggest!!
Thanks
---
[How to recover old whatsapp chat after 10 days from local storage]
I have left a group 10 days before and immediately deleted all chat from that group. Now I don't have Google drive backup but I have whatsapp database in my local storage. So can I recover that group chat which I deleted 10 days ago now?
---
[Retrieve old WhatsApp messages]
I have uninstalled WhatsApp and reinstalled it with a new number on my Android device… I did not deactivate my first account and Backup was also not done. I want to retrieve the chat history of one particular contact On a specific date…. is that possible….. it is very very important for me…. the contact has been lying to others about me regarding work and I need this chat as evidence to prove my innocence. Please help me to get back old whatsapp messages.
---
[Deleted messages]
I want to restore old deleted whatsapp chat in Icloud.i don't have back up. if logged in to Icloud from imyfone back ,it does not open,and if I signing out icloud from device it show you will lose all current data.i want to keep current data in phone and restore old whatsapp history in cloud
---
[All information is missing]
All my chats gets continuously deleted,I don't know how and why…and now my businesses information is down the drain.
I don't know what's happening,can you kindly help me in restoring all my old chats especially from 3 months back.
---
[Unable to retrieve chat]
Dear,
I am trying to retrieve the chats I have deleted. I don't have memory card installed. I need your help, i tried many ways. I have samsung galaxy s7
---
[recovering messages]
Hello,
I've got a question for recovering messages.
I've recently lost my phone and so while checking out the new models i used whatsapp on my old backup phone. Now I've bought a new phone and installed whatsapp on it, but when i recovered chat using the chat backup function, it only shows the messages recovered to the last backup, and not the latest messages on my backup phone.
Any suggestions on what i can do to sync the messages from my backup phone to my new phone?
---
[regarding chat backup]
Few days before my whatsapp became error and the process stopped… then reinstalling my whatsapp account my whole chats were deleted….I don't give backup to the Google drive…how to i recover my all the chats because all the chats are important for me… please say me the easiest way to recover my chats
---
[deleted recent whatsapp messages]
I accidentally deleted a few of today's whatsapp messages. Is there any chance/way to retrieve back those deleted messages from whatsapp?
thank you in advance for the help/answer.
---
[restore whatsapp data]
sir i am following es file explorer and reach to rename database but when i make rename as msgstore.db. as you said it comes task failed
---
[recover my messages]
I have unwillingly deleted the whatsapp database from storage…I didn't delete any message from app…how can I get back those messages I have lost???
---
[Can't recover whatsapp messages]
Please help, I stopped using my main line on my mobile, didn't back up the messages. Used another line and use the same whatsapp, now I'm back to my old number but can't find any received offline messages, is there a way I can get them back?
---
[Need to restore whatsapp chats and messages]
Hi Team,
When using whatsapp on my old android phone, I never took a backup. Recently I bought a new android phone by exchanging the old phone. Now i don't have my old phone with me. I did factory restore settings when exchanging. I started using the new phone with same contact number. Is it possible to recover deleted whatsapp messages from my old phone and to be restored in my new phone for the same contact number.
Kindly assist us if possible.