Instructions on how to add the Recycle Bin on phone. Where to find the Recycle Bin, how to empty it and delete from a device, how to get access to deleted files and how to use Dumpster.
Contents:
How the Recycle Bin works on desktop OS
The Recycle Bin on computer works as follows: you delete files and folders by pressing Del or by choosing "Delete" in the context menu. Data you delete is not actually deleted but it is removed to a different area of a physical disk.  
If there is not enough free disk space, you can empty trash. If this is not done, files can be easily restored within a month or even longer depending on the settings and size of the Recycle Bin. 
How to access Recycle bin on Android phone
So does Android OS have the Recycle Bin? Unfortunately, there is no Trash by default. Accordingly, if you delete files, you can restore them with the help of special program, and even then not always. 
There is a fast and free way to fix this flaw. The mobile application Dumpster is a complete counterpart of the Recycle Bin. After installing Dumpster you can safely delete data, empty the Recycle Bin from unnecessary files as it gets full, store files in the cloud.
Main features of the Dumpster application:
Recovery of deleted photos, videos, music (all possible media formats are supported) from Trash 
To install the Recycle Bin on phone you don't need superuser privileges 
Recovery of deleted Android apps from Trash bin folder
File protection of Android trash with a blocker
Storing deleted files in a cloud
Auto-clean function: after a specified time the Recycle Bin in Android is automatically cleared.
Where to download Dumpster for Android
The Dumpster app is available for a free download on Google Play Market.
The last version of Dumpster was released on December 14, 2017,  the number of downloads has reached 10 million - a clear sign that Android-Recycle Bin is in demand.
Dumpster is installed as an ordinary mobile application and works without root. At the same time activated Root access will allow to use the Recycle Bin in more efficient way on phone.  
It is easy to activate root: just check the box next to 'Enable root access'.
How to use Dumpster. Selecting files to store in the Recycle Bin
In the Recycle Bin settings you should specify file types which needed to be taken under control of Dumpster: Images, Videos, Audio, Documents, Apps, etc.
By default all the flags are set, but if necessary you can disable those formats that are not going to be stored in Android Recycle Bin. 
In the next step the program will scan the disk and add to the database all the files that might end up in the Android Trash folder. Give the application time to perform this procedure.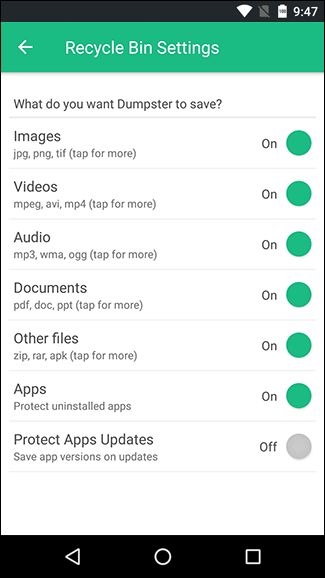 Android trash 'auto clean' option
Auto clean function relieves user from manual cleaning of the Recycle Bin. As function name implies files will be deleted in automatic mode.  
In the sidebar, select the Auto clean section.  Here the interval is adjusted: how often Dumpster will clean the Android Trash bin. The files are stored up to 3 months at most, but you can clean the files on Android manually.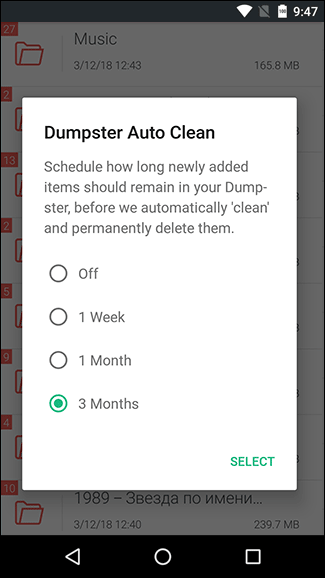 Deletion and recovery of files from Dumpster
As soon as you delete a file it transfers to Dumpster for storing. The files are available on the main page of application. You can use a filter to search (drop-down menu with the list of file types), sort by date, size, type and name. 
It you press on any file and select Restore, the files will be restored from the Recycle Bin to the original folder. Bulk selection is also available.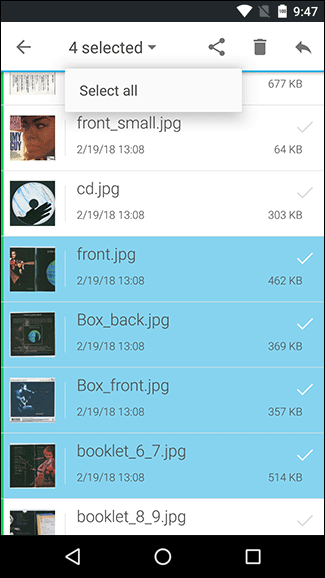 How to empty Recycle Bin on Android phone with the help of Dumpster
In order to delete all the files manually in Dumpster (to empty the Recycle Bin), you need:
Way 1:
Open Dumpster menu (thee-point button),
Choose Delete All.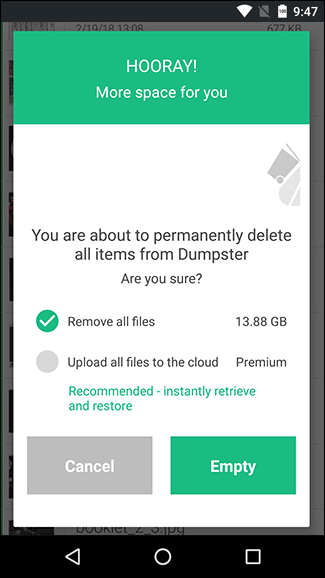 Way 2:
To empty the Recycle Bin from all the files, you can use Empty Dumpster function. 
Open the side menu
Press Empty Dumpster. A window with total size of all the files will appear.  
Press Empty to delete everything.
Way 3:
An alternative option to empty trash in Android is to upload all files to the cloud, and it is the most reliable way. Use the upload to the cloud if you doubt. In case you need files they can be easily restored by downloading from the Web.
Note. This function is available only through a subscription (cost - $2,9/month). You can store up to 20 GB of files in the cloud. And a pleasant bonus: by activating subscription you disable advertising in Dumpster.   
Dumpster: Questions - Answers - Users reviews
There was the application Dumpster 1.0,508 on the smartphone with Android 4.4.4. Everything seems to work properly. Perhaps, I haven't noticed at once, but now the files, that have been deleted earlier, are not restored from the Recycle Bin to the source folder. When restored they turn to end up in the Recycle Bin! And there is no way to get them back.
I have reinstalled Dumpster 1.0.508, installed newer versions of trash bin for Android. Nothing works. During this time I updated Android version and deleted «.thumbnails» folder. This folder appears on my phone memory in DCIM folder. This problem rarely occurs and the reason of it is not clear. File .thumbnails, which should be a base of thumbnail images from the gallery,  increases in size. There is a folder named .thumbnails ("." before the name hides the folder in Android) on devices with Android OS. This folder stores all the thumbnails of the gallery even after the files are deleted. 
So if you made savoury photos and then deleted them, you should know that they are still stored in remote corners of system folders.  
Answer. Thank you for such a detailed description of the problem. Yes, it is true that the files you deleted through the Recycle Bin are stored on the device depending on where you installed Dumpster or set in the settings. The files are stored on phone in an unencrypted form including pictures, photos, thumbnails. While you reinstall Dumpster again and again you decrease your chances  to restore photos because it is likely that the soft is installed in place of deleted files (if they are actually deleted and not stored in the Dumpster folder).
I would recommend to stop looking for a problem in Dumpster and to restore photos with the help of data recovery software like Undeleter for Android. If the photos were deleted on memory card, it can be solved even easier.
---
[Cleaning data in Dumpster app]
I cannot clean the data in the Dumpster recycle bin for Android. In setting I already choose MANAGE STORAGE and remove all device files. But there still 4.49 GB in the phone cause my HP out of memory. This amount keep increasing. Please help me.
---
[Deleted video]
I had my phone connected to my computer while try to attach a video, while trying to open the attachment said it could not open so I deleted it, tried to find it in recycle bin on computer and on phone but it's not there. Also went to dumpster app on phone and all it said was processing but it never went there. Is there any way I could get that video back?
---
Hiya, praying that you can help me! I was at a concert and took quite a lot of videos. Some fantastic ones and some not great. I was going through the videos and deleting some of the bad ones but accidentally deleted the best one I took! I went in to my dumpster trash app and it wasn't there! I am devastated, really hope you can help me to try and get this back? Thank you!
---
This app is a pretty good one, but its deep scan mode doesn't recover all files. For example, I had personal photos and videos stored in the folder titled "personal", which you could open only after entering a password. I have no idea how but everything had disappeared from that folder, I had high hopes for this app but unfortunately it wasn't helpful at all...
---
This is such a great app which works like the Recycle Bin on a PC and apart from this it has a deep recovery mode. I found a lot of my old photos and also something that was filling up the memory and it wasn't easy to detect it. To sum up, I'm fully satisfied with this app and I'd recommend it.
---
Dumpster app works pretty fine. At least, I haven't come across any other similar app. It recovers a wide range of different formats. Apart from the one I need for personal usage. These are the formats *.kmz and *.kml. I'd really appreciate, if the developer adds them.
---
This app is very convenient and easy-to-use. There might be some things to think about. For example, a differentiation of files according to their types can be added. Nevertheless the present state of the app is sufficient enough. However I'd definitely add the confirmation of the deletion from the Recycle Bin. Available features can fully satisfy an ordinary user like me but I'd be happy to hear about any future updates.
---
I'd give Dumpster app 6 out of 5 and it completely deserves it. Recently when I was cleaning my phone memory  I've deleted photos from a birthday party. I was very upset to put it mildly and suddenly I remembered that I have the Recycle Bin. It saved both the photos and lots of my nerves :) This app is a very good and convenient one. I'd recommend it to everyone!
---
This app is a very useful one and it performs its functions well, but there is a significant drawback. If the size of deleted files is bigger than the amount of your phone memory free space, after opening the app a note saying "Wait" will appear instead of a downloaded file or a folder with files which makes it impossible to work with those files. The only way to make the app operate again is to delete it and download again (Samsung galaxy j730).
---
The lack of advanced settings is quite strong: different time periods for different types of files (for example, being able to choose a shorter time period due to the auto saving of pictures/videos to Yandex and Google clouds), by their size and etc. In the general settings of the Recycle Bin different types are mixed altogether and there is "App" option and other files have apk. All the above mentioned remarks give me the impression of this app inefficient development.
---
Dumpster is fine, but.. I have few cases when deleted files weren't shown by Dumpster. Bear it in mind. I guess, it may happen if you open the Recycle Bin straight away. Besides, the size of the app increases by 3-5 times and it can be up to 300 MB even after you empty the Recycle Bin. The cache won't be cleaned. When you reinstall the app it returns to its original 53 MB.
---
When I installed it for the first time and started using it, it didn't work at all. There were no deleted files in the Recycle Bin so I got rid of this app. Well, then I gave it another try and installed it again. I didn't change any settings and oh miracle it worked. Deleted files were shown there and then I could safely recover them from deleted files storage spaces.
---
Personally, I like Dumpster app. There are some cases when you accidentally delete very important information and via this app it all can be recovered. I've just read through the reviews. Guys, if you deleted something a week ago, but only today you've downloaded Dumpster, of course, it won't be found in the Recycle Bin. Photos/videos/ and etc. are added to the Recycle Bin only after you've installed Dumpster app on your device. I'm grateful to the developers of  recycle bin app for Android.
---
It's been working perfectly for 2 days. Today I emptied the trash and then out of curiosity I opened the Recycle Bin and realized that it was the day with zero chances to recover an accidentally deleted file as the Recycle Bin was empty! Well, maybe this app works only when the weather is cold and cloudy? :-)) By the way, it shows advertisement flawlessly! No problems at all!
---
It stores the Recycle Bin on device internal memory and not on your external card. Thus about 1 GB of free space is required. I lowered the rating to three stars. It used to save all the images from the Gallery and since recently only a part of them. I had to delete 5 photos from the Gallery and then recover them. And guess what? I didn't find them in the Recycle Bin. Even though I've previously checked that Dumpster works, then I minimized it and deleted the photos via a standard command "delete".
---
I installed the app and during a few days everything went fine, then my friend and I were at a concert, we took photos and she deleted a lot of them including the photos I liked. After 5 hours I decided to recover them, opened the program and surprise-surprise there was nothing. What should I do now? How can I recover the photos?
---
This app is a good and convenient one, it stores recently deleted files and provides you with an opportunity to work with them directly through the app, for example browse the files and delete them straight away.
It recovers every single file. Apart from those that have been deleted before you installed the app. There is another program for this purpose. Look for it in the Internet. When my kid deleted all the photos, I recovered them and then installed this app and since that I have no worries.
---
Dumpster says that an error occurred in the Android phone recycle bin and I have to open it for several times. In overall this app is satisfying, except for the mentioned drawback. Dear developers, please fix this bug.
---
I've been using trash on my phone for several months. Photos and videos go to the Recycle Bin directly. But if I delete an app, not always it can be found in the Recycle Bin. Well, it doesn't matter. As I have connected my Google Drive. This is where I store all the files from my phone. It's a good working app. And on the plus side, I have a Recycle Bin on my phone.
---
Today in the morning I didn't have the  phone recycle bin app, when my sister deleted all the photos, and there were about 200 of them. After downloading the app, I thought that I wouldn't have to go to the help service, but apparently I was wrong. As it promised that EVERYTHING would be saved!!! Shame on you developers for lying to honest folks. I demand a reply to my review and also I want you to try to recover all my photos. You'll get a higher rating after you fix all the errors. I give you 2 stars hoping that it'll make you fix the app.
---
Brilliant! Keep up the good work! But I'd suggest three changes for recycle bin for Android mobile: the feature of setting the self-cleaning for a period of less than a week, the feature of skipping photos of a small size (like cache and thumbnails) and the feature of disabling the saving of deleted files from chosen apps (e.g. news aggregators). For these functions, by the way, you can charge one-off payments.