In this review we are presenting several apps which can be helpful in SMS recovery on your mobile phone. Besides, we added some backup tools to our list, so you can make sure your important text messages won't be lost.
How Dr. Fone app can be used for deleted SMS restore
Dr. Fone is probably the most widely promoted mobile data recovery app. In spite of the fact that Dr. Fone's efficiency is often exaggerated, better a little than nothing at all.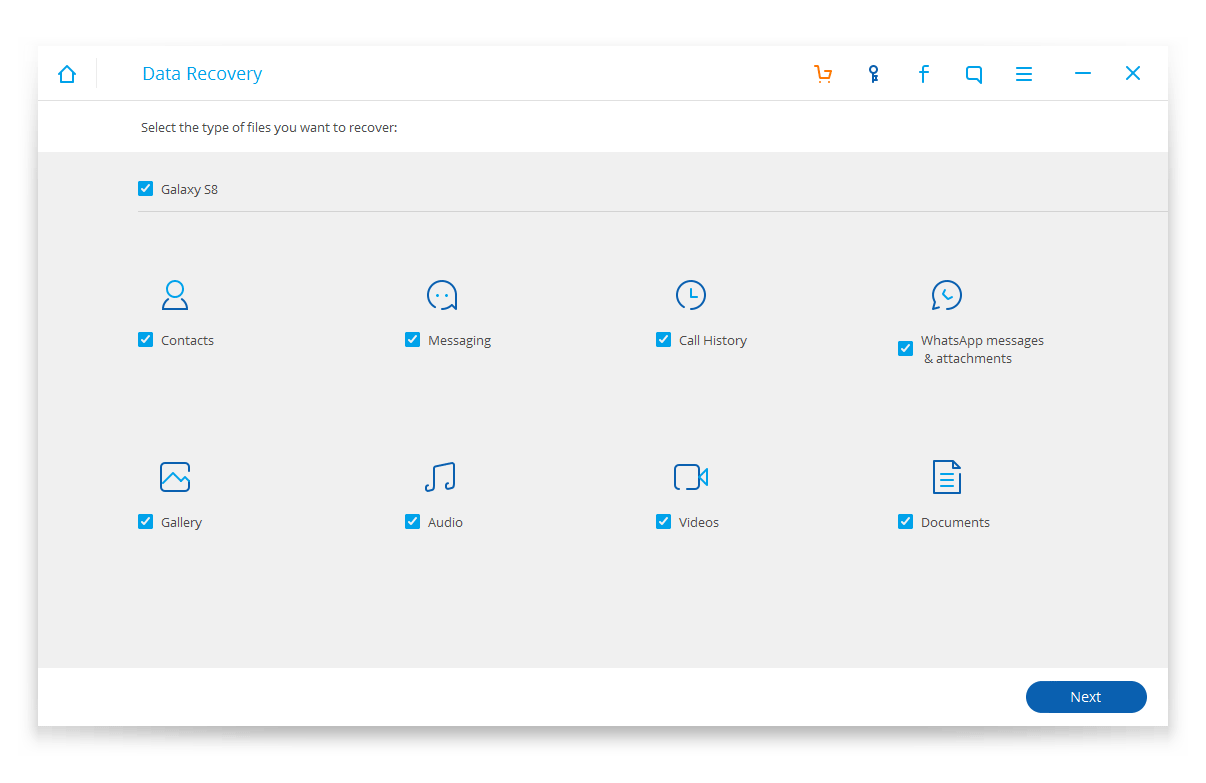 We can name a number of reasons why this software is worth using for SMS restore:
Simple and intuitive interface, handy recovery wizard. In other words, you don't need any special knowledge to work with this tool; all instructions and tips are given in Dr. Fone window
The chances for restoring text messages which have been removed just recently are quite high
Using Demo version of Dr. Fone you can assess the probability of recovery and only then pay for the full version of the app
This app is universal, Dr. Fone's set of tools can be used for many purposes: photo, documents, contacts and other types of data recovery on a mobile device
Security: Dr. Fone developers reassure that it won't brick your device
Summing up, Dr. Fone, with all its pros and cons gives one a chance to recover their text messages on Android, so why not use it?
Coolmuster Android SMS+Contacts Recovery – One Click Solution
In this app, as you could guess from the name, sms recovery function is the key one. Similarly to Dr. Fone, the simplest interface here has one button – Start which you need to start scanning the internal memory of your mobile device.
What you need to do:
Connect your phone to the computer using USB
Enable USB Debugging Mode on your phone
Sync your computer with the app installed on it and the phone from which the messages were deleted
Coolmuster works in the Read-Only Mode, so it doesn't make any changes to the phone memory (which could narrow your recovery chances). 
We'd recommend downloading a free trial version of the app and test how effective it is; if it works for you, you can pay to get your recovered data. The Preview shows content of the messages, deletion date and the sender/recipient.
Although the app is claimed to do the deep scan, it wouldn't retrieve deleted text messages after, say, a hard reset. At the same time, Coolmuster can help get back other data types: contacts, images, video and audio.
Download Coolmuster Android SMS Recovery
Yaffs extractor - app to recover deleted text messages on a broken phone
In the vast majority of scenarios recovery soft is supposed to do the job on mobile devices which are 100% operational. But in more complicated cases an SMS needs to be retrieved from:
a bricked Android phone
a mobile device with a broken screen
Basic recovery software like Dr. Fone appears to be useless then. There is an alternative way to get deleted text messages, but it requires a bit of skill from you.
Text messages on Android are stored in the /data/data/.com.android.providers.telephony/databases/mmssms.db. The file format is SQL. To access it, you need to root your device using mobile rooting apps. From this database you can retrieve the following data:
text of the messages,
date,
sender's name.
Unfortunately, by far not all software which reads SQL can read the contents of the text messages database file. Yaffs extractor, also known as mmssms.db & contacts2.db converter, comes in handy here.
The database file with text messages is the easiest of all to convert to XML format by executing the extract.exe -s mmssms.db command.
The retrieved text messages can then be read in any word processing program or transferred to SMS Backup & Restore (see above) to be exported to Android device memory afterwards.
Undeleter - app to retrieve deleted text messages from the internal memory
The specific feature of the Undeleter app is that the data is recovered from the internal memory of the phone. Taking into account the fact that the majority of the Android recovery programs only work with sd cards, Undeleter is a nice option compared to them.
In general, this text retrieval app works with all types of mobile data. These can be photos, videos, documents, and contacts, and, of course, SMS messages and text notes (plain text).
Undeleter has an option to view messages before recovering them through a special preview window. Received messages may be stored not only on the phone but also they can be uploaded to the cloud storage like Dropbox or Google Drive. Thus, your deleted messages will not be overwritten and the chances of their recovery will remain the same (for example, if you take several attempts).
Undeleter is not a free text retrieval app and you must purchase a license to recover messages fully. Otherwise, you can recover only images / photos in JPG, PNG and some other formats.
Note that without an activated root access Undeleter functionality will be significantly limited and the recovery of sms messages and texts will be possible only from sd cards.
MiniTool Mobile Recovery to recover deleted messages on Android
MiniTool Mobile Recovery has two modules: Recover from a Phone and Recover from a SD-Card. It's logical that you will need the first module to restore text messages on Android because the messages and sms are stored on the phone memory.
The text message retrieval app is compatible with the majority of modern smartphones and tablets like Samsung, HTC, Lenovo, Huawei and etc. In addition to the ordinary messages, the program searches for Viber and WhatsApp chats on the memory device.
Testing has shown that Mobile MiniTool Recovery scans the memory not too deeply but recovering messages will be problematic  if you haven't enabled the root settings.
As in other applications, there are two ways to scan deleted messages such as Quick/Deep Scan. I advise you to choose the Deep option: the time difference is minimal but the results are higher than with the Quick method.
The free version of MMR isn't as functional as expected but there is still a limit on the recovery of only 10 items. Accordingly, only 10 text messages can be recovered from the chat. The MiniTool Recovery Full Mobile edition doesn't have these restrictions.
Download MiniTool Mobile Recovery
EaseUS MobiSaver for Android - free text recovery app to search for documents
MobiSaver which is similar to Mobile MiniTool Recovery isn't a free app at all. Full version of MobiSaver is more functional and doesn't have limits; it can be tested in a trial mode.
In the MobiSaver app there is a built-in step-by-step wizard with the help of which mobile data, including text messages can be easily recovered. When connecting the phone via USB the program will check whether your phone has a root access. Full access to file system is really necessary when searching for deleted messages; using MobiSaver for Android without a root is actually pointless.
Saved messages and sms can be saved in txt or html format to the mobile device sd card.
Software for restoring SMS messages from a backup copy
In Google Play you can come across some applications which restore SMS from a backup copy. Well, obviously they are helpful only if you do have a backup copy. However, we'd suggest examining some backup tools and, consequently, backing up all your text messages.
We are listing a number of apps which have got the feedback of 4+ in Google Play:
SMS Backup & Restore
Titanium Backup
SMS Backup +
Best tools to backup phone messages
What's good about it is that you don't need to do a backup copy of your text messages manually. As a rule, SMS backup apps automatically create a backup copy and do online synchronization. To recover your SIM card after deletion of data or if your phone broke down, simply export the backup copy to your phone.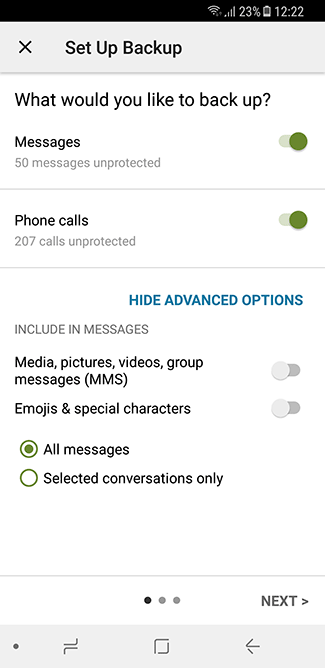 How to recover lost text messages: FAQ
Is it possible to recover deleted text messages android without sim card?
The answer. Yes, but only if they have been stored in the internal memory or on the sd card. In fact, messages are rarely stored on sim card due to the limitations of the sim memory. If only the user haven't exported the data on the sim card himself. Almost any program listed in the review will work for recovering sms and text messages.
---
Is it possible to extract text messages from android without using the recovery programs that cost money and aren't always effective?
The answer. Try Yaffs extractor. This app retrieves the chat texts from the file mmssms.db stored in sql format. To use it you need to get the root access on Android.