One of the biggest problems for owners of Samsung Galaxy mobile phones (S7, S8, S9) is the loss of photos, images, and video files from the phone's memory.
Contents:
Does Samsung have a "recently deleted" option?
Unfortunately, Android doesn't offer backup by default in with a "recently deleted" recovery area.. As a result, users must search for the recently deleted photos themselves, with the help of various programs, and then recover the photos.
In this guide, you will find valuable advice on how to recover deleted pictures on a Samsung - Galaxy S4, S7 – S9, J3, A5, etc. By using this guide, the files are likely to be restored without any damage.
1. Find out where the photos have been deleted from
The first thing you should do is to find out where the photos were stored on your mobile device before they were deleted. The images could be stored on the internal memory, or on the smartphone / tablet SD card. If possible, you should also identify the type of images that have been deleted: screenshots, photos from the phone gallery, downloads from a messenger file, etc.
This article will help you find the location of the files:
Where the photos are stored on an Android
2. Install the DiskDigger program on Android
The DiskDigger program scans the SD card (if it's installed on your Samsung device) and the mobile device memory, allowing you to find deleted pictures and save them to the Dropbox Cloud or Google Drive. The DiskDigger program is safe and doesn't overwrite any valuable data.
DiskDigger is also one of the best recovery utilities in terms of quality and price. As a bonus, part of the data can be recovered for free. Unlike other programs (like Dr. Fone or Mobisaver) it works directly on the phone and partially works without root-access to the file system.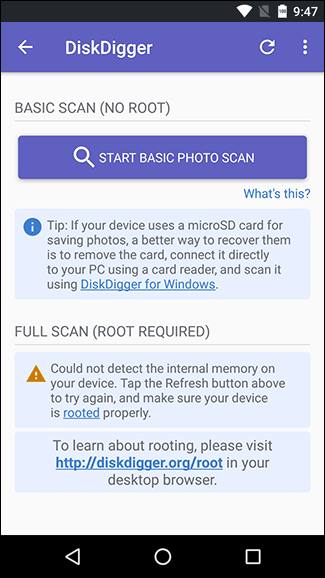 3. Remove the SD card and recover it via your PC
It's worth trying to recover the photos using a PC. You need to insert the SD card into a built-in card reader or a card reader connected via USB to a computer. Then scan the card with one of the following recovery programs:
Disk Digger
Card Recovery
Disk Drill
Photorec
Dr Fone
MobiSaver
A comparative review can be found here:
The best programs to recover files on a sd card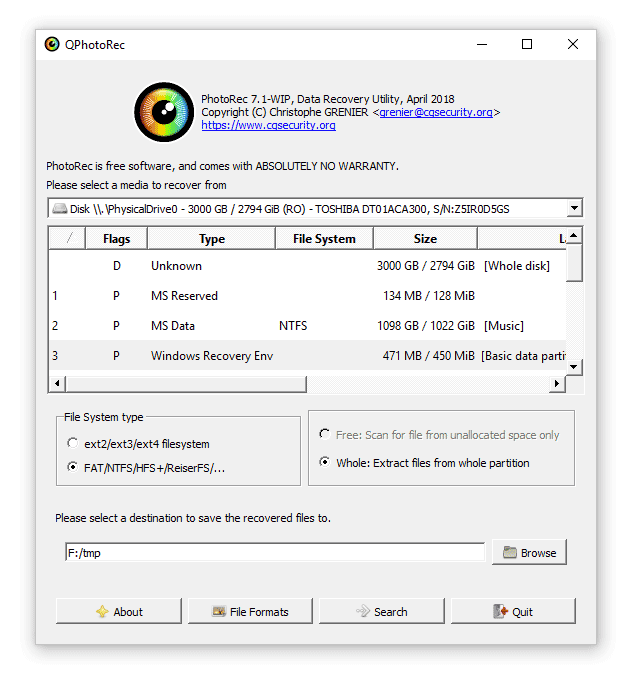 4. Recovering from the internal phone memory
Unfortunately, the images are not always stored on the phone's SD card, which would more easily facilitate the recovery. If internal phone storage was selected in the Android application settings, you will not be able to recover deleted pictures on a Samsung in the usual way.The device memory is not listed as a separate drive, and recovery software will not recognize the phone's memory when it is being scanned. It is necessary to make a copy of the internal memory and then scan the copy of the memory with the help of a free program, such as Recuva or other program of your choice.
Instructions for recovery from the internal memory
5. Check the photos backup in Google Photos
If you have installed the Google Photos app on your phone, it is likely that backup image copies were saved to the Cloud. You can check this by logging into your Google Photos account from your phone or via a browser on your computer.
To read the details on restoring from the Google Photos Cloud, click here.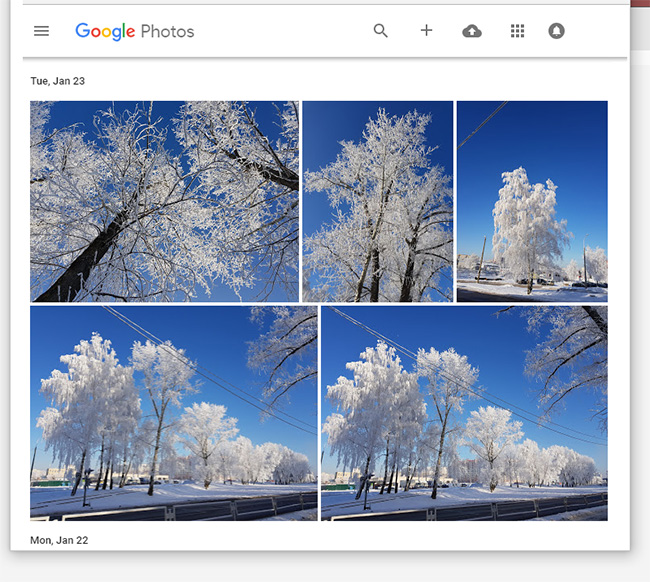 Samsung Picture Recovery: Reader Questions
A few days ago, I upgraded my phone (from a Samsung Mini to a Samsung A5). The shop transferred/upgraded everything from my old phone and all appeared fine, but for whatever reason, my new phone didn't connect to the network. Yesterday I called the shop, and they initiated the network change again. I didn't notice until after I returned home that all my pictures that were stored on my SD card have now disappeared from both phones. How can I recover deleted pictures from my phone? Thanks a lot.
The answer: To recover the SD card use Recuva, PhotoRec, or DiskDigger (PC version). I advise you to scan both the new and old SD cards.
Also, if the pictures were synced with Google Photos, check the Recycle Bin content on the service and the sync settings. Maybe you have simply disabled them.
---
Regarding my wife's phone, a Samsung J3: she took many photos in April and again in October 2017. She can't find those photos and doesn't know if they were stored in the DCIM internal or on the SD card. I have used my PC to check both the DCIMs and can't find them. If my wife deleted them by mistake, is there a way to get deleted pictures back on my Android? Do those cards have any hidden files which the deleted photos have gone into? Any help will be greatly appreciated.
The answer: You can find out where the photos were stored by clicking on the camera settings (depending on whether it's a default app or another camera app) and looking for the default storage location. By doing this you will narrow down the deleted pictures search area. After doing it, start the recovery by choosing one of the methods mentioned above.
---
(recover photos from phone storage - not on an SD card)
Without rooting it, how do I restore deleted pictures on my Android? Recuva does not recognize my phone and therefore I cannot recover the deleted photos from my phone storage.
The answer: Try using the Android DiskDigger program, which works without a root. However, note that the probability of recovering from phone memory in this case will be significantly lower than with activated root-rights: scanning will be done only within the sections with open access.
---
I wanted to send pictures from my phone to the computer. I have cut the folder and pasted it on the Desktop by accident. The folder was empty and the pictures disappeared from the phone. Is it possible to somehow undelete the pictures on Android? I have tried various programs for Android and they haven't helped.
The answer: It is clear that searching for the images on the PC is pointless. Therefore, only the SD card and the internal memory of the phone are left. You've probably tried programs which scan the memory on the surface. Try using Diskdigger or Recuva (if you're making a copy of the Android internal memory). In general, go through all the paragraphs of the guide step by step.
---
I have a problem: lately the photos that I download are then deleted from my device. At the time of downloading, the photo is shown, but after some time, the picture disappears and is then replaced with a black background saying "No thumbnail". I've lost a lot of pictures because of it, and this only happens with the pictures I download. Screenshots and camera photos have never disappeared. The memory is both internal and on the SD card. My phone is a Samsung Galaxy S7, which I've been using already for 2-3 years.
The answer: Select another location for storing the files in the camera settings: the SD card or internal phone memory. Next, check whether the images are there.
To improve Android's capability, it's extremely useful to create more free space on the phone. This can be done with the help of CleanMaster, CCleaner, or the built-in Samsung Utility.

---
[Retrieving deleted files on Samsung phone]
I connected my android to my computer through a USB cord to download some pictures. At the same time I decided to also trash unwanted ones by dragging them from the phone to the desktop Recycle Bin. Some were accidentally trashed and when I checked the bin to get them back, it was empty. Is there a way to get those files back?
---
[Please help]
I had accidentally deleted some pictures on a Samsung device and thought it was saved on my archives they mean a lot to me. The are truly valuable and will do anything it takes to get them back. It was pictures of me and my husband first encounters please help. The comments were so important to me. Can you help me get deleted pictures back. It was 3 days ago.
---
[deleted Photo folders on my phone]
i have a Samsung note3 phone and last week i deleted all of my pictures and some other folders by mistake. i'm not technically educated to recover pictures. please guide how to get back pictures recently deleted on Samsung.
---
[Lost Picture]
I took 2 pictures of where President Trump came to Tri-Cities. I had both of them, but it is just showing one. One was the length of the plane, & the other was the front of plane. Could you recover this for me bc this will be once in a lifetime thing. Thanks for your help!
---
My device (Samsung Galaxy S9) was saying it was running low on storage space, and so i cleared what it told me to, and it deleted all my pictures!! Please help me restore them!!
---
[Private storage]
My phones were stolen and I had some very important pictures in my private storage. Is there any way I can retrieve them? Your help is greatly appreciated.
---
[Pictures showing gray on sd card, won't open]
Most of my pictures from my sd card are showing a blank gray page with an exclamation mark in the middle. They won't open. I used the card reader to view them on my PC, they would not open either. This phone is galaxy s8+ fairly new, SD card though was from my old phone. I just transferred it to this phone. I've taken so many pictures from my recent vacation and would like to recover them.
---
[Samsung galaxy five phone]
My Photos got accidentally deleted. They were not backed up to the Sim card or in the cloud. We have tried numerous things is Sam song site you download the doctor font gon. And none of those sites worked . Is there anyway to retrieve them. Before we waste money thank you very much
---
[deleted files on Samsung s9]
I was very pleased to recover my files on Samsung Galaxy S9 using your app, however, the quality of files is not readable very clearly. Is there a way to recover the files in full resolution as before? Is it just some choice of options or does the phone need to be rooted for advanced features of your app? Thanks, Abdon.
---
[Retrieve photos]
I have a Google Pixel phone, the screen has gone black, but the phone is still working underneath, the problem is I asked the guys at carphone warehouse to set me up fully, and it turns out that they hadn't synced my phone to the iCloud.
The phone is holding all my pics of my son, is there anything I can do to get the pictures off?
Touching the screen does nothing. Thanks Charlie
---
[Help to recover deleted photos from Gallery on Samsung]
Last wednesday morning i went into my Gallery and saw the pics after an hour i went back again and on my sd card i only found videos ALL pictures were gone.
I putted the sd card in my pc and with recuva i managed to find the pics but i cannot open them…. PLEASE kindly can you help me what are the best steps to do, i wish i won't lose the pics
---
[Lost pictures]
Last Wednesday 3 pictures were taken on my husband's Samsung Galaxy S9. When we looked they immediately minimized, but did not show in photos. And at the time we could not pull them up but did see them minimized. They are not in trash, they are not in Google photos (he never signed up), they are not in gallery, or in Drive. Please, please help me find deleted photos on galaxy s9, they were so important.
---
If you save your photos and videos in pick lock app and your phone got reset you don't even know what's wrong with your fone and after that if you downloaded that pic lock app again from the same google account but your pics and videos are not there. then how to restore pictures from it ?
---
so I deleted my private account with a help of a friend, and today i saw the pics from my profile disappeared from my phone (1300 pics). Is there any chance of me getting them back?
---
[Recover deleted photos from Samsung Galaxy S9 with good quality]
My most important pictures were deleted from my phone internal memory (there is no memory card slot). I used some apps to recover the pictures, it did the job. But the original pictures were 5 to 6 MB in size, I was able to recover 200 to 300 KB images. So, the clarity was very poor. Any help would be more appreciated, please.
---
I need to retrieve deleted photos that my child mistakenly deleted from from samsung s9 already. yesterday please find a way or app for me to it's really important thanks.
---
[I lost Data after heard wear]
Before one week I send my phone Galaxy J7pro to fix screen on its guaranty the man there doing software for my phone while lam didn't have backup for my data l have very special photos and video really I sad and caring every day for that . How can I recover my stuff ?
---
1 year ago some of my family photos are deleted they are very important for me and I used many ways to recover and also used diskdigger without root… My Android mobile (Samsung Galaxy S9) doesn't have slot to insert the memory card… So the photos are deleted in my internal memory… Plz sir tell me how I recover these photos…
---
I have a S9+ and I deleted from the gallery everything thinking it had uploaded to a cloud. I had not. I tried 3 different apps and it worked for the photos but not the videos. Any suggestions please. And thank you
---
[Recovery of deleted photos and videos]
i have mistakenly deleted some of my important photos and videos, they were whatsapp media, but i deleted them from my internal storage, as i was freeing up some space of my phone. so can you please help me to get back deleted photos on Samsung?
---
[lost pictures on Android Phone]
The Samsung phone just stopped working. It was strange, there were no explanations or reason for it. Took it to Verizon and they had to start it up like a new phone installation. In the meantime the pictures, all notes I had written in memo, my text messages were all deleted. i had not stored it into the cloud. Only on phone. I am so sad because there were many pictures of my Golden Retriever who is 13 and on his last days.
Thank you for your help
---
My lady and i split up she had my S9 phone and cleared all my pictures and videos from years of saving. it was the only pictures and videos of my son I had growing up. and ones of the son I just lost… she deleted the back ups and all the trashes… please I need to get them recovered its all I have
---
Actually i have my some personal photos in app like gallery vault and all and by mistake i uninstall those apps and now I'm unable to recover my so i just wanna get back my deleted photos on Samsung S9 please!
---
[After recovering]
Formatted sd card on galaxy S9, moved sd card to laptop and performed deep scan. Everything shows up, but the majority of the photos either say "It looks like we don't support this file format." Or the photos have a gray bar through it cutting off half of the photos. Any ideas on how to recover deleted photos?
---
I lost my Samsung phone and had to get a new one. My question is how many I retrieve my photos with the new chip. Although, I lost my my old phone?
---
My smartphone is Samsung Galaxy S7. I transferred photos and videos on a SD card with the capacity of 16 gb. And I checked whether everything was downloaded. Then I deleted the files from the Gallery and Google Photos and they were gone from everywhere, including the SD card. Could you please tell me why the files were deleted from the external memory and how can I retrieve deleted photos on Samsung S7?
---
My phone is Samsung Galaxy S9 and I bought a 32 Gb sd card. The phone sees it and everything is fine, but after I transferred some photos from the phone on the sd card none of them is displayed in the Gallery. I checked the settings and found the feature "to display from the device and from the Google account", but it doesn't mention a memory card. Is there anything I can do to find recently deleted photos?
---
I have a Samsung GT-19060 running under Android 4.2.2 version. I wanted to delete some files in order to free up some space on the phone internal memory. I accidentally opened "documents" section and somehow erased all the videos, photos and uploaded MP3 music at once by mistake. But what is interesting, all the videos and photos stored on the memory card were left untouched. Only the files which I had on the phone internal memory were removed. Google Photos app wasn't helpful since I hadn't updated it in advance. Are there any chances to retrieve my deleted photos and videos on Samsung?
---
If photo backup is enabled, but photos were deleted (from the Recycle Bin too), are those photos deleted permanently? Or can they be found in the cloud?
---
I was removing not needed photos when my phone hung up and then the majority of photos was lost and the phone memory lessened. The strange thing is that the hidden photos (i.e. those that aren't displayed in the Gallery) aren't missing.
And also only the photos taken within a certain period of time (around 2 years) are missing and the rest of them was left untouched. I gave a try to photo recovery apps, but I managed to find only a few photos out of several hundred. Please tell me how to get deleted photos that are so important to me back.
---
I was copying photos from my phone memory card to a hard drive via a laptop (when I made a mistake and clicked on "cut and paste" instead of "copy") and now I can't find them neither on the HDD nor on the phone, please help me to recover them.
---
All photos and videos were moved from a micro SD to the Recycle Bin after an automatic software update. After I'd tried to recover them from the Recycle Bin they were gone completely. The micro SD can't be detected on any storage device, even on a computer. How can I recover those important photos? Is there a program for it or anything else (for example, in Samsung S9 recycle bin?)?
---
I had very precious photos stored on my phone. I created an additional folder for some photos in the Camera folder and gave it a different name, then I cleared the cache and the whole folder disappeared from my phone, but all the other photos were left untouched. I have no clue what to do next and how to recover the folder. I really need it ...
---
I created a new album in the Gallery, moved some photos there and in just ten minutes it was gone with all the photos. I found them in ES Explorer in the library. When I try to move them to any album their quality significantly deteriorates. What should I do to find deleted photos?
---
I connected my phone (Android 5.0.2) to a computer in order to print photos. I found a bunch of different folders showing 0 memory on the phone memory and decided to delete one of them. After I'd done it, I lost all the photos, videos and music (including the files stored on the phone memory card)! Are the files likely to be recovered? About 1000 photos of great importance are gone...
---
I deleted some photos or to be precise a folder with photos from the internal memory of my Samsung S9. Moreover no synchronization with clouds services was enabled at this time. I had many attempts to find the photos via various apps, but none of them was successful. Even the most popular DiskDigger was helpless. Help me to retrieve deleted photos, please. Maybe it's somehow possible to recover the photos via a PC? I don't have high hopes, but it's such a pity to lose all of them...
---
My phone has a 8GB memory card and when I open any website in its full version I can see a text but with no images, i.e. I see empty white squares instead of images or sometimes one or two squares manage to download, but there are plenty of those that don't. The phone says "not enough memory", but it's impossible for a webpage to require more than 8GB of memory. I had no problems with downloading a video (up to 300MB) on my phone. Why is there such an issue with websites? Is it possible that a page weighs more than 8 GB in its full version? It downloads only one or two images and that's it.
---
Recovery of deleted photos from Samsung S7
As my device storage space was full I deleted all files accidentally in settings-storage-others so that I lost all the data and unfortunately my backup was off. How can I recover those photos from Samsung phone.
---
Dear developer,
I tried this app but i am truly disappointed. If it is really possible to restore deleted photos kindly advise me. I really wants those photos to be restored ,my Mobile is ASUS Max pro M1. I deleted last month. Kindly suggest , advise and help. Hope you understand my situation.
---
Galaxy Prime 5, Android gallery A certain period of time my photos are missing in my gallery. They are not appearing in the SD card, so where else would they be and how can I access them if they are still on my device.
---
Hey please help in getting back my photos which is being deleted by my mom mistakenly it was the photo of my best friend please help me recover my photos from samsung device!
---
Recovering photos from Samsung Galaxy S9
My Samsung Galaxy S9 is stuck on the android screen. I have tried rebooting and starting in safe mode, but it won't let me. i want to do a factory reset, but I want to save my photos first. Will this work on my phone and can i operate it from my pc windows 7? My phone shows up in my devices as an android device, but I can't see any files. It's set on charge only and I can't get into it to change it to file sharing.
---
Permanently delete from Android cloud
Hi recently I lost my device and it had all my financial data on it. I went into the Verizon store and got a new phone they said they deleted all my photos and messages that were on my old phone cause I had pics of passwords. Since I don't have the device is it deleted for good?? I don't want them to be able to get my stock passwords and my crypto stuff… please help
---
Missing pictures
How can i restore all my photos from my camera album (S8). All 1000++ photos were gone. My phone has no SD card. Please help.
---
Hi. I had created an album under photos and I used to save my work related photos so it's easy to go click and access. 3 days before by mistake som3 working pictures got deleted from the album folder and same I cannot see them on deleted folder. This means the photos are deleted permanently. How can I recover them deleted photos? Please advise best way. I am using android phone OPPO.
---
How do I recover my files on my Android phone (Samsung Galaxy S8). There's file's I don't recognize but need to review. There's also files that are missing from my phone. Please advise me of what to do because I have had 4 phones stolen in the past 8 months and I am certain that my accounts were hacked or something because I am not able to operate my accounts like I usually have done in the past. This is very urgent please contact me asap.
---
I have an SGalaxy with android 9.0 and I was on the storage settings and looked under "other" so I deleted some of the files which turned out to be valuable photos and videos. I went to the trash folder to recover them but the thumbnails of them are a a gray box with a ! inside of a triangle, and it says I cant restore them. I have 6 days until they are permanently deleted from my device
---
I have transferred my photos from mobile to laptop. Firstly it was opening in Samsung phone. But suddenly it stopped and it is showing the message the file is damaged..so I transferred it to the laptop just to see..if it will open but now. The size of the photos has become 111 bytes what to do sir?
---
I want to recover the photos from my Samsung phone. I can't give root access since I forgot the password from my Samsung account. Third-party root rights software doesn't support my phone model. Via DiskDigger I was able to recover deleted pics, but in very poor quality.
The question: how can I recover the deleted photos in their original quality without root rights? They were deleted from the phone memory.
---
[Accidental Deletion of photos]
Hello, I recently updated my Samsung Galaxy S7 to Android 9. I tried to restore deleted photos from trash. As soon as I clicked restore, deleted photos went in to DCIM folder and replaced a folder called ALBUM. All my recent photos gone missing and replaced by the photos from trash. I used a few free trial versions to recover, but was not successful, I could only get small thumbnails of some pics that too not full resolution pics. Please let me know how can I recover lost pics from samsung galaxy s7?
---
I am using Samsung Galaxy S9; accidentally my mobile got factory reset on Friday night 10.30 with proper back up. But it is not fully backed up last 1 year to till date missing photos videos of my kids, family travelling . I am dying to get back those photos videos but could not able to recover. I installed disk debugging pro also but it shows not properly rooted n so please solve this issue to get back my pictures disappeared from galaxy s9. Kindly help
---
I uploaded a few pictures a couple weeks ago from a recent vacation. The first picture from the slideshow (?) was of an In-N-Out Burger restaurant I visited. I just noticed today that the picture has disappeared from the slideshow completely.
Not mad that this happened, just wondering why it happened? It was a decent picture too so I'm kind of sad that it's gone! How could this happen to an amazing In-N-Out photo?!
---
[Recover sequence of samsung s7 pictures]
I have lost my pictures on my Samsung S7 SD card by accidently deleting all the pictures. Since I was photographing birds, I took multiple shots at once, so I had sequences of around 5 pictures each time. I have been able to find the single pictures I took from the sunset but I could not find any Multi-burst sequences I took. I have tried many different programs, but it did not work. Could you help me?
---
[Transferred Photos from Samsung Galaxy Alpha to Laptop have Gone Missing]
I have not been able to find, or recover, recent vacation photos that were taken on my Samsung Galaxy Alpha. I created a folder on the phone and moved them into the folder. I then went to transfer them to my laptop (plugged the phone into the USB port on my laptop; then dragged the folder to my Pictures files). The folder was visible and accessible where I had transferred it, but when I opened it, there were no photos and it was empty. It is also now completely missing from my phone -- I can see the folder location in "My Files", but it's empty. My local tech team tried running a recovery program on the laptop and the phone, as well as searching on the phone and searching on the Google cloud, all to no avail. Their suggestion at this point, as is that of "Geek Squad", is to send the phone out to a lab. The working theory is that the photos are stored somewhere in the phone's hard memory that is both invisible and unaccessible. Any suggestions? Thank you!
---
I am using intex mobile. Recently it's software got failure and my personal data like photos and videos got deleted. I didn't do any backup options earlier. Do I able to get deleted photos back?? If possible means,please let me know
---
I attempted to transfer my images/videos from internal storage on my samsung 9 plus to the sd card and it looked as though it worked originally but all the files were scrambled in my gallery. I went to go have a look at storage in device maintenance and exited out as was not what was required. When I went back to the gallery all images were lost (2 months worth) besides those backed up to the cloud. How do i recover these images from samsung gallery? Are they in a nomedia folder? I'm so confused and saddened as I have a newborn child and all images are lost. Please help.
---
Recovering my photos and videos I was in the 02 shop yesterday and he said I had to delete some of my photos and stuff on my Samsung Galaxy A8 because the storage was full said if I go in to google iCloud they would be saved but I can't find my recently deleted photos on samsung, can you help me?
---
My Note 5 died and most, but not all of my pictures transferred to my Samsung Note 8. They're mostly the older photos that are missing. Where are they? How do I get them?
---
[lost all my photos importing them from my android phone, Samsung S6 edge to my Imac]
My phone wouldn't let me take or look at my photos..because i didn't have enough memory..so i got the android app..and imported 2500 photos into my computer..iphoto.. and saw them there.. and then they were still in my phone..so I hit delete all photos from the phone..and they got deleted from the phone and the computer.. can i still retrieve them?