Deletion or damage of photos on phone external or internal memory is always an unpleasant case, but you can find a solution. At least in half of the cases you can find the images in temporary storage or recover them via special Android app or Windows utility. The most important is to keep trying out different variants in an attempt to find a perfect one which will solve the problem. We've collected for you in this article the most effective methods among the existing ones.
Check out all the places where the photos can be stored
All the devices running under Android operating system store photos at the same address:
/storage/emmc/DCIM on your device internal memory
/storage/sdcard0/DCIM on an external storage device
In some cases, the images won't display in the Gallery due to messed up settings. However, the files actually are at their place, where they can easily be found with the help of a user-friendly file manager like ES Explorer or Total Commander.
The system create smaller copies (thumbnails) of all created images and pictures for a quick download of preview icons. Thumbnails are stored here by default:
/storage/emmc/DCIM/.thumbnails on device internal memory
/storage/sdcard0/DCIM/.thumbnails — on a sd card
Their quality is much worse than of the original, but it's better to recover at least them rather than nothing.
How to find thumbnails folder on Android
Go through the contents of Google Photos Recycle Bin
You're extremely lucky, if backing up photos onto Google Photos was set on your device by default. In such case, even if anything has disappeared from your device or "Google Photos" files list, a part of the missing files can be found in the service Recycle Bin.
Try to check Recycle Bin contents and recover it:
Launch Google Photos app.
Choose "Bin" (Recycle Bin) tab from the menu.
Mark the files and folders you need in the contents list.
Click "Restore" (Recover).
Following your actions the files will be recovered at the same address they were available оn оr before deletion. Files from Google Photos Recycle Bin are permanently deleted after 60 days of storing by default.
Test out the best apps for camera photo recovery
A simple search didn't help? It's high time to start acting decisively. Install one or more app for recovering deleted files onto your device:
All the listed above software products allow you to recover accidentally deleted from your device memory photos, screenshots and pictures absolutely for free. To start the recovery process you have to launch scanning, mark in shown results the photos you need for photo recovery and click on start recovery button. Depending on the app you choose, the buttons and operating mode can differ, but the general principle is the same no matter what.
Recovering photos taken by a camera via Recuva program
If apps for recovering deleted data on Android don't help, you should give a try to Windows tools. On such occasions Recuva is the most efficient one among camera photo recovery apps. In addition to this, it has a step-by-step mode for beginners in order to simplify the working process.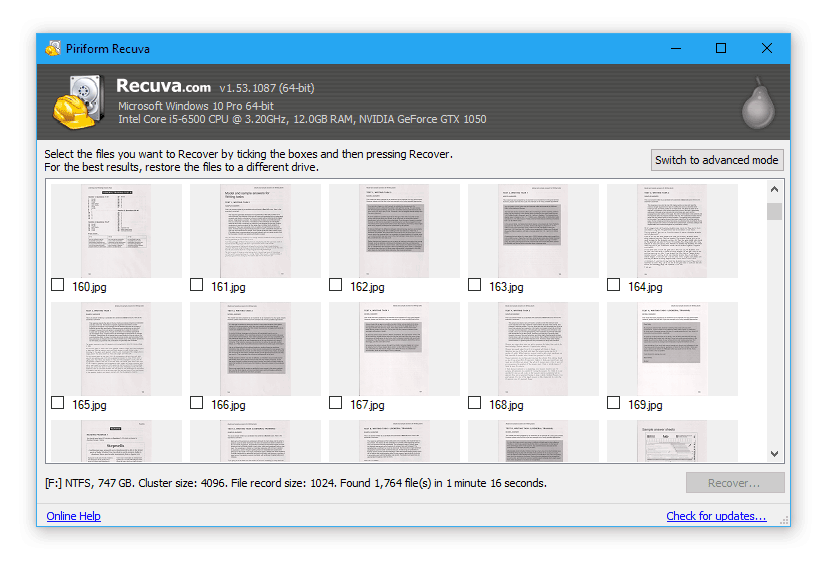 To start the searching process plug in your flash drive/phone, open "Welcome to Recuva Wizard" mode and scan the device after setting "Pictures" as the type of files. If the results don't satisfy you, deep scan option is there to help you (Options – Actions – Deep Scan). In order to recover images indicate their thumbnails by a check mark in the scanning results and click "Recover".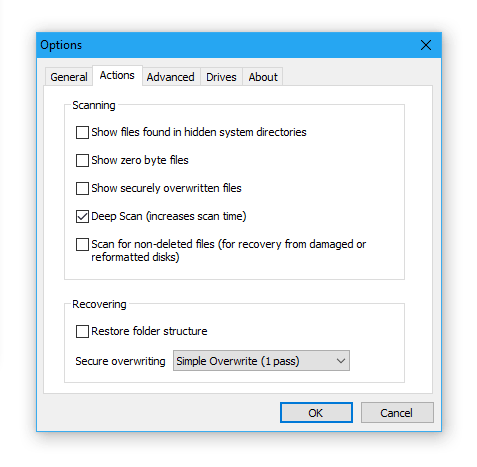 What to do if images taken by a camera have been damaged
The following apps will assist you in fixing photos recovered in awful quality: PixRecovery, RS File Repair, JPEGfix and etc.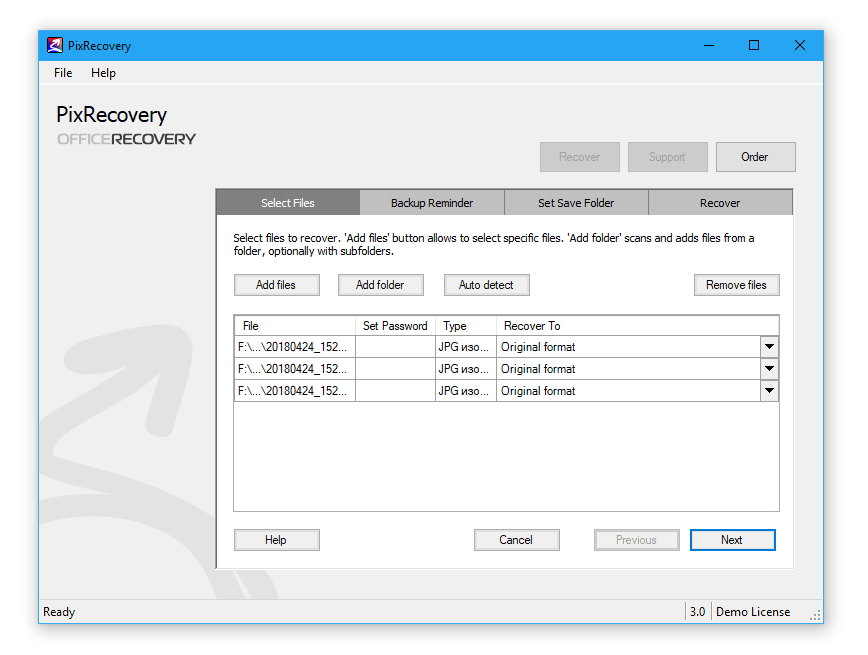 Every app has its own operating peculiarities, but the process of adjusting recovery settings in general is the same:
You choose a photo.
Specify a folder for saving the result.
Launch the recovery process.
The following happens: in technical information of a jpg file the software finds data required for recovering it to the original state and uses this data to eliminate the impact of viruses and device software and hardware failures.
If none of the above mentioned apps help
If you didn't succeed in recovering camera photos,
perform safe formatting via SDFormatter and deep recovery of all non clobbered information on your storage device,
reach out to companies that provide recovery service.
Read more: https://howtorecover.me/how-recover-files-sd-card-without-formatting
FAQ
I was planning to delete some photos that were taken on my phone camera, but accidentally I pressed "mark all" and all the camera photos were deleted. I couldn't prevent it from happening. Now I have no idea how to recover them. There were all the photos I've taken since I bought this phone and among them were a lot of important photos.
The answer. If the images have been deleted from the camera recently, DiskDigger for Android will help you. If you need to restore camera photos from a memory card, then the best option is Recuva. In general, the methods we describe above can save the situation.
---
Hello! Firstly, my Xiaomi Redmi Note 3 wouldn't recognize the SD card (with which everything was fine) and I started saving photos onto its internal memory. Then it began constantly sending notifications stating that there wasn't enough memory. I cut "Camera" folder from DCIM on my phone and then I paste the folder on my computer, but instead of 500 photos only 40 were transferred. Obviously "Camera" folder is gone from the phone. My question is: how can I recover the photos which weren't transferred?
The answer. Those photos can be stored on a memory card. You won't find them on your computer as there wasn't enough time for them to be transfered. Focus on your sd card and try to solve the case via relevant programs.
---
[how to recover lost pictures from my mobile set]
while taking pictures, it was shown memory is running out. then what happened i do not know... later on i find out all the pictures taken by camera are lost. kindly suggest how to recover those.
The answer. Most likely, you won't manage to recover the photographs due to the fact that if there isn't enough memory, there are no chances that the files can be physically saved.
---
When I was going through new photos in the Gallery, I came up with a decision to transfer my favourite photos from "camera" folder to another one for the sake of convenience. I chose "images" folder from all the available as it had the smallest amount of files. I wanted to check what I had transferred and I ended up not being able to find the folder. Photos are gone from my phone, but they are on Google photos, where they are displayed as gray squares. Everything is stored on my phone internal memory. How can I  recover deleted camera photos from Android?
The answer. First of all you should try to recover those files through Google Photos, as it's described in this guide. If it doesn't help either, give a try to DiskDigger or Undeleter app for Android. For full operation of these programs root access is required.
---
1. My phone is Lenovo. We took some photos with the phone camera. Before taking just another photo a window with "deny" or "allow" popped up. I don't remember what exactly it was saying. Firstly I pressed "deny" but then I couldn't take a photo so I pressed "allow". We managed to took photos, everything is OK. Then while going through them, I noticed that the phone shows only the last photos which were made after I pressed "allow". And the previous are gone. I restarted the phone: and now it shows only the previous photos and the latest ones disappeared and we can't find them anywhere.
2. I downloaded Sweet selfie app on my phone. After I took the photo I forgot to click on "Save" and the photo wasn't saved. Now I need it. Is there a chance that the photo can be somewhere on my phone?
The answer. Definitely not.
---
[need help to recover my flash lighting, camera and deleted photos]
my back camera stops. I mistaken deletes my photos and I need to recover them back to my phone with my videos. also my flashlight is not working I need help. thanks
---
[mobile camera photo recovery]
Galaxy note 2. My photos that were taken by the built in camera are no longer on phone. Photos were saved on internal phone, no sd card is inserted. This issue has never occurred. Screenshot photos are still on phone. Camera will not allow me to record, take pictures or save them. Thumbnail is gray at the bottom once photo is taken, then says no files or pictures. How can i recover camera deleted photos? Is there a solution
---
I accidentally deleted an album that stores the pictures you took with the camera in my samsung galaxy j3, is there a way to recover the album or the photos. I tried different apps and the diskdigger recovered some but some were not recovered. What do I do, how to recover deleted camera photos from android?
---
[Pics Folders Recovery]
I make many of pics folder with particular names in my gallery. When my storage is full so i just del thumbnails and log and caches and suddenly i find that how my all folders of particular pics were deleted. I also download diskdigger but it can't find my pics it just find the whatsapp pics and mobile camera pics even these pics are not deleted from my phone. I want to find my all pics.
---
[Lost photos]
After mistakenly deleting some photos from the camera folder of my galaxy s8, I restored them from the trash folder in Cloud and Accounts but after restoring them I can not see them back in camera folder. Where could they be?!
---
[corrupted photos]
All the photos taken by my photo camera are stored on a memory card but when I connect it to my computer, it says that the sd card or the files are damaged and their reading is impossible. Is there anything I can do in order to fix it? It has important photos that I need to transfer to the PC.
---
I have a Xiaomi Redmi 4A. Several times my phone notified me that there was a lack of memory (I deleted some unnecessary apps and cleaned the cache), and in the evening all the photos from my albums were deleted (in some of them there were a couple of photos which wouldn't open), and the photos from the system albums (for example, the Camera folder) weren't deleted. How can I recover deleted photos from camera?
---
I was transferring files from my phone to its memory card via MIUI Explorer (and by mistake I used "cut" first). Transferring a folder with screenshots (3.5 GB) resulted not only in a complete reset of the creation date of all files, but also in mixing almost all of them in random order (apparently now the Explorer and the Gallery consider the time of transferring to be the date of creation, and I have no clue how it managed to transfer the majority of the files from one folder in random order, while keeping the order in another folder with not much less files. However, I believe that these are the drawbacks of this system utility. The same problem happened to browser downloads folder. In a very peculiar way everything is fine with downloads and camera photos folders…
Is there a chance I can return everything to its previous state? For example, via the same data recovery program, which might be able to recover screenshots and deleted camera photos in the right chain (well, only if it can recover the previous date of creation).
---
[My camera photos all gone]
Please help me my galley photos all are gone i can't see them anymore i already deleted nomedia file but still i can't see my photos on galley
---
[Sd card saying it corrupted]
Went to mpc store with problem. My camera would not flip icon was not there anyway. Girl removed sd card just like that. Handed me phone back and said sorry. Well i get home no it say sd card corrupted. Now i had to buy refurbished phone new sd card. And i am just a wreck. Pls help. Need my pics and videos.
---
[Recover files]
I would like to ask if I'm still be able to recover files on my accidentally formatted SD card when I've overwritten some files on it? Someone used my camera and accidentally formatted the card and continuing to take photos without acknowledging. Looking forward for your reply. Much appreciated. Thanks.