Published on

Updated on 
HDD Health Check
Authors
HDD Health Check: Monitoring Your Hard Drive Health
Do you have problems with your hard drive? Noticed write or read speed dropping down? Thinking to get a new HDD? HDD Health tool demonstrates disk performance (status) in the form of a visual scale.
Our advice is to download and install this HDD diagnostic tool beforehand in order to prevent data loss in case of its failure.
HDD Health and SMART monitoring
HDD Health tool is used to check SMART attributes.
With the help of SMART attributes you can determine the total running time of your HDD, the amount of write/read errors and many others. SMART information gets updated automatically without participation of the user.
Where to download HDD Health
HDD Health tool can be found on its official page. It's free of charge and compatible with all Windows versions. The latest version, HDD Health 4.2, works with SSD drives perfectly.
How to check HDD Health
To get started select the HDD/SSD disk by the model name in the main window of the program. Below the list there are tabs.
![hard disk health check for HDD](/sites/default/files/inline-images/2018-01-22 05_14_28-HDD Health.png)
In the Hard drives section temperature and health status are displayed in the form of a percentage scale. Basically, this is how you can effectively monitor the performance of a data storage device. In the same section you can also find such information as serial number, firmware, model and manufacturer but it doesn't affect HDD performance in any way.
Available space on the disk can be checked in the Partitions. By the way, despite the fact that low disk space causes OS failure, it has no effect on HDD performance.
To get more detailed stats on SMART, navigate to Drive menu – SMART attributes, and select the preferred disk from the list. Depending on a hard disk model, some data can fail to be accessed.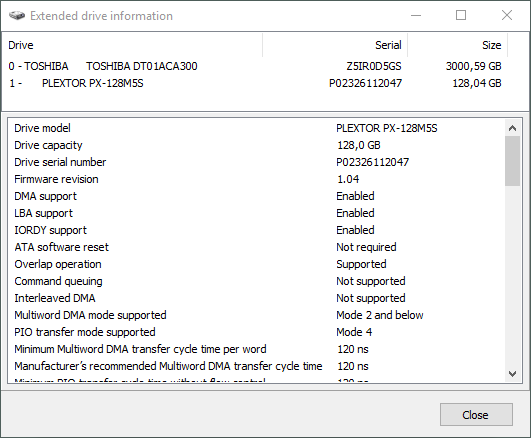 Threshold column gives us critical values overstepping which leads to hard drive failure.
The column next to that one displays the worst value over the total hard disk running time calculated by smart self-tests.
HDD Health settings
HDD Health settings are located in the menu File – Option. A few words about some major of them.
In Startup options you can activate Autorun at startup in Windows. Handy if you need constant monitoring of HDD status.
In Notifications you can set triggers for important events, be it Critical drive health or Partition low space.
There are several notification types – Sound, Popup, Network, and Email – which can be combined.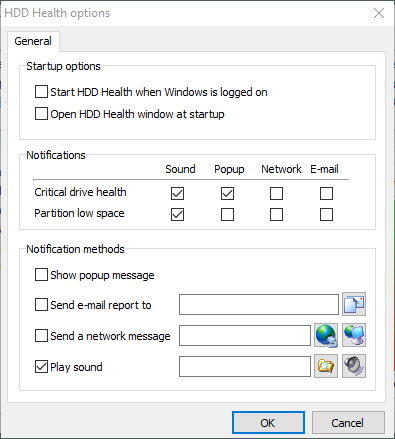 Conclusion
HDD Health is a good hard disk life checker for
constant monitoring;
SMART attributes info;
predicting HDD failure
Checking SSD status.
Remember that detecting a problem at earlier stages and backing up your data is better than losing and restoring it, which is more time-consuming and complicated.

Ilia is a professional writer. He has expert knowledge in data recovery with 15 years of experience. He started his career as a journalist by reviewing PC and mobile apps. His current responsibilities are to keep track of users' questions and answer them.