Losing files, usually photos, documents and other data on computer is many users' pain in the neck. This guide describes basic principles of data recovery. Hopefully you'll be able to put them into practice. If any questions arise, send them to us using our feedback form.
Let's have a closer look at three main scenarios of data recovery on computer:
Recovery software for PC:
Are all files recoverable on computer?
Not all but lots.
After a file is deleted, it stays on a hard drive. In the file table it is assigned 0 value. It means that the space is free and can be used to write other data.
This way a file gets hidden from your eyes but it can be restored unless it's been overwritten. By the way, it is actually possible to recover overwritten files but parts of them are likely to be damaged.
How to recover an overwritten file on Windows 10
How to assess recovery chances?
The likelihood of data recovery depends on a number of factors. Check out the following:
If your files were removed bypassing Recycle Bin (Shift + Del) or via formatting
The time from the moment your files were deleted on PC: the longer it's been, the higher the probability they have been overwritten
Type of deleted data: some items (images, videos) can be recovered partially, while others you won't be able to retrieve even if a byte of its was lost
Data storage type: HDD/SSD, RAID, etc.
Filesystem type: NTFS/FAT/exFAT and others.
With luck, you'll be able to get back your files in the full or parts of them.
How to restore permanently deleted files from Recycle Bin (helpful for newbie)
Usually after you delete files using Del key, they are moved to Recycle Bin – a temporary storage – where they are stored for 30 days and then get removed automatically. If you change your mind, say realize having deleted some really important files, check Recycle Bin and restore all files from there.
How to retrieve permanently deleted items:
Open Recycle Bin via the shortcut on the desktop or Explorer
Choose files/folders to restore – click Restore in the right-click menu
All deleted files will be restored to their original location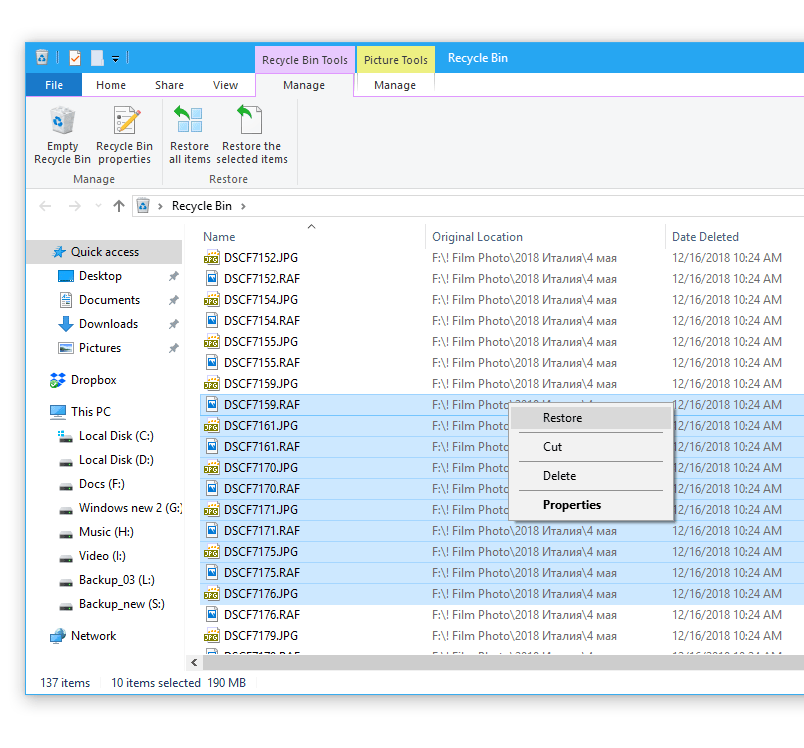 How to recover files from emptied Recycle Bin
Even after emptying Recycle Bin files are not deleted from PC irretrievably (see above). However, you'll need certain utilities and time to get back your data successfully.
All recovery tools function in a similar way involving scanning the filesystem on your computer for the files marked as deleted.
Note. Installing an application you unavoidably make changes to the file table lessening the likelihood of recovery (depending on the volume of data written on the hard disk). We would recommend you to install recovery software on a USB stick, to another computer or disk partition which isn't used as storage for deleted data .
Recovering files after formatting
Now let's move on to tougher cases. Formatting affects not just single files but the whole hard drive partition. As a result files are lost for good. Yet is there a chance to retrieve deleted files on PC after that?
After quick format – yes
After full format – minimal
Among good apps we recommend Auslogics File Recovery desktop app. Here is a guide to using it:
How to restore files on computer after formatting
Which software can recover files on a hard drive?
In fact, there are dozens of HDD recovery apps for desktop. We wouldn't suggest grabbing any first available since you risk wasting money on practically useless soft which won't restore your data.
We listed three applications for computer file recovery ranked high by users.
1. EaseUS Data Recovery Wizard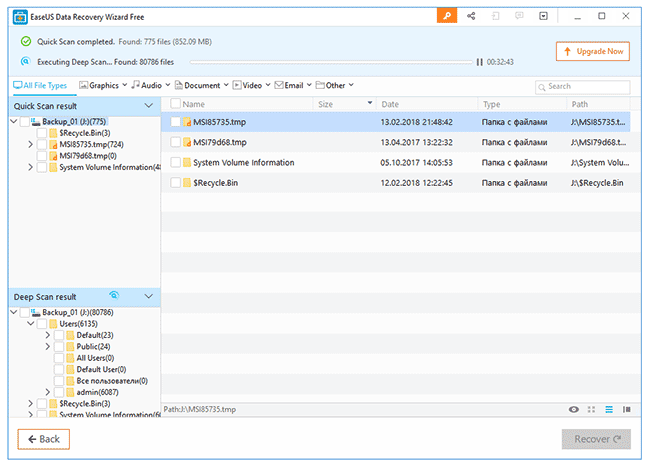 EaseUS Data Recovery Wizard is a program for recovering deleted files from HDD / SSD drives and removable devices (such as (micro)SD cards and USB flash drives). It successfully combines the features of other recovery programs.
The program can be used for restoring photos, documents, videos, music and other data. The scan is not limited, any type of files is suitable for recovery.

Some basic features of Data Recovery Wizard:
User-friendly. Data Recovery Wizard is integrated with Windows filesystem. Due to the built-in Recovery Wizard it is intuitively easy to operate.
Protected Recycle Bin. Unlike a basic Recycle Bin, this one enables you to recover deleted files even after it gets emptied.
Handling difficult cases. Restoring files removed bypassing Recycle Bin (Shift+Delete key), after formatting or raw partitions of HDD.
You can choose between Quick Scan / Deep Scan mode, which affects the speed / recovery success
Quick preview for recovered audio and video files before saving
You can save session, pause or resuming the search the next time the program starts
How to recover deleted files
from hard drive via EaseUS Data Recovery Wizard
2. Recuva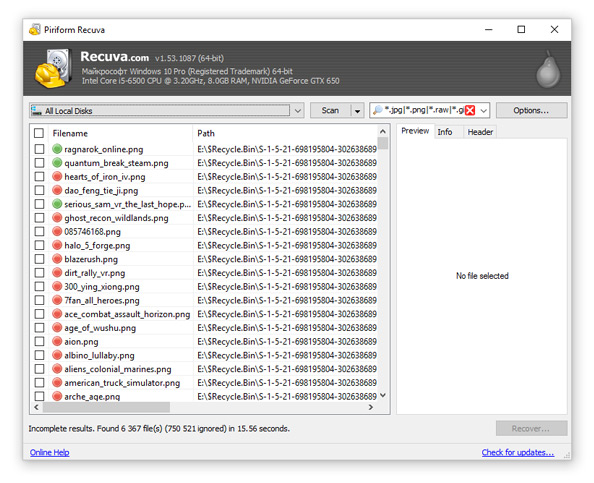 Recuva is free actively developing software to recover deleted files from PC. Recovering data with Recuva is simple, and it doesn't make you pay for basic features or removing limitations. The three most advantageous features of this app are:
Recuva Wizard. For those who use Recuva for the first time it offers Recovery Wizard. You specify file type (say, images), location where you expect them to be found and other parameters helpful in finding your deleted data.
Deep Scan. By activating this option you enhance your chances to recover deleted data, restore shift deleted files even if a lot of utilities in a regular scan mode didn't manage to find any.
Visual aspects. All found files are marked. The color marks the likelihood of recovery: high, average, low. Quick preview is provided for photos.
3. DiskDrill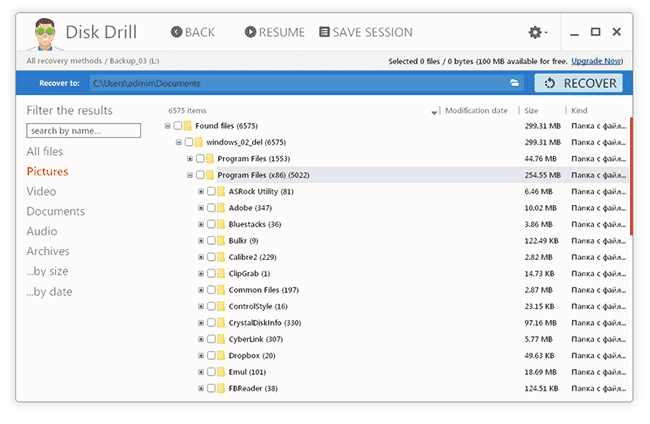 DiskDrill is a new product on recovery software market for desktop. Yet sufficient technical support and community prove program's maturity. It can be used to recover most file types stored on a personal computer: images, music, video, documents, archives. There are versions of this tool both for Windows and Mac OS. Regardless of OS, 100MB of data can be restored for free (which is quite generous we must admit).
Other features of DiskDrill:
Selecting type of data to recover. Only the types which will be in the search results can be selected. Filter by attributes and flexible search for recovered files are available too.
Pause and continue scan at any stage. A nice feature for large HDD/SSD.
Write protection. Enabling this option for the time DiskDrill does its job, you make sure your deleted files won't be overwritten.
Related: Best Hard Drive Recovery Software
FAQ
Photos from my computer got deleted, no idea how it happened. I suppose it's a virus. I tried recovering deleted files using Wise Data Recovery. The status of the files which had been found was "LOST". As far as I understand, they are irretrievable? Have they been destroyed by a virus? Or is there a chance to cure and recover them? How do I recover deleted files? Please help me.
Answer. Check out Deep Scan mode in Wise Data Recovery. It's unlikely though. Install other recovery apps, for example Recuva – it provides deep scan which boosts the likelihood of file recovery. To get back deleted photos on computer try PhotoRec. Both utilities are free.
---
[Chance of recovery]
Hello, about two years ago i deleted pictures and I'm wondering what my chances are of getting the pictures back. Because it is quite a while ago i'm not sure if I already had my new laptop or not. In the first case, pics was uploaded onto a Windows computer and almost immediately deleted. It also got deleted from the Recycle Bin. After that there would have been a few weeks of normal computer use. If I already had my new laptop at that moment the file would have been uploaded onto a macbook, almost immediately deleted and after that there would have been more than a year of normal computer use. So, how do I recover permanently deleted pictures? I want to know what the chances are of getting files back before doing all the effort. Thanks in advance!
PS: i don't think it can be restored from the SD card in my camera because it has been overwritten a few times.
---
Can i recover my documents (Pics and Some 10mbs recorded Videos which I was deleted 2 yrs ago??
Actually after deleting them my HDD harddisk of pc formatting 2 times and i was also deleted the partitions and rewrite multiple times so there is a chance to get that old data back? How to recover deleted documents from Recycle Bin?
---
[File recovery difficulty]
I am having difficulty restoring the specific files that I mistakenly deleted them from my PC desktop folder. I already did recovery but the specific files that I am looking for were not showing. Would you mind helping me by sending tips for recovering the specific files that I mistakenly deleted them from my PC desktop folder, please?
---
I recently downloaded a free to the public (retired version of a) Screenwriting app called Celtx. It was/is a "as-is" version of the app, and I was using it for several weeks (downloading my work nightly, but I forgot to last night) and lo-and-behold, one file out of six lost 90% of the material I had written over the last two weeks--odd right… that just one file's data was affected? Anyway, it is a desktop version and I have two problems:
1) I can't contact them for tech support or for them to check their servers for my data. 2) My system restore won't allow me to recover it either. I don't know if you have any advice for this scenario, or not, but any advice would be greatly appreciated. Thank you.
---
[Recovery Files]
I was accidentally delted my movie files from my desktop lastnight. Btw I used windows 10 for your info. And I am bothering what can I do to retrieve all those files? Even in the recycle bin I cannot see them. Please help me to surely guided me on how can get permanently deleted files back.
---
[Difficulty in recovery of documents]
I deleted a folder containing some documents from my recycle bin 2 weeks ago and I have tried using recuva and easeofus to recover them but have not had any success. It recovered some really old documents but not these recent ones. How can you help me with this.
---
[File recovery]
I recovered some files from the recycle bin and after three days the files disappeared from the desktop. How to restore deleted file on Windows?