Recovery programs to be reviewed:
DiskDigger for Android – app to recover deleted pictures from Android internal storage
It's not that easy to find a good (=effective) app to recover deleted photos from an Android device as not all of them are able to scan device's internal memory. DiskDigger for Android is a nice exception on the photo recovery apps list. This application not only has a free version but also doesn't require for your device to be rooted. DiskDigger is undemanding to install and compatible with Android versions starting from 2.2.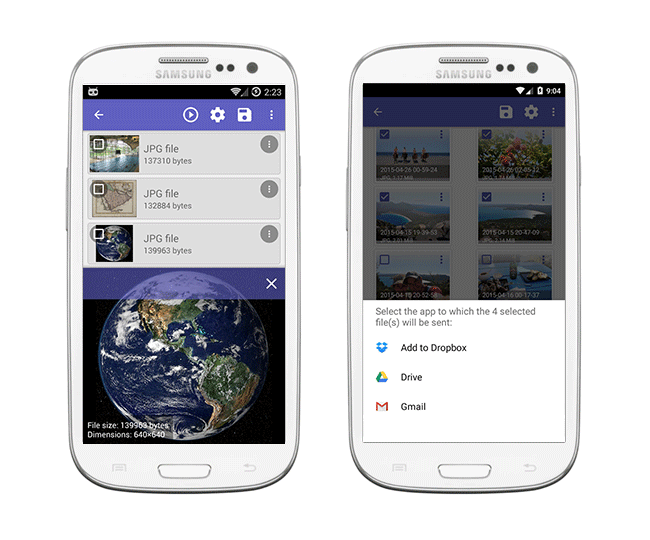 The DiskDigger for Android free version features are limited insignificantly and will solve your main problem, it will undelete photos on your Android phone. Yet you won't be able to recover files of other types or upload them from a mobile device to remote server using FTP.
There are two modes in which you can find deleted pictures on Android: Basic scan and Full scan. In the former DiskDigger doesn't require root-access to your phone memory. For full scan you'll need root-access to the file system (Superuser privileges). This will make it more likely for you to recover lost photos due to scanning the whole internal storage of a device. Check rooting apps for Android here. 
As in many other photo recovery apps, in DiskDigger a results preview window appears. Thus you can select out the files and images to recover and identify which of them were damaged and can't be restored. The files can be filtered based on date, file size and name.
The recovered files can be saved to a memory card or uploaded online, for instance to Dropbox and Google Drive, or e-mailed. As it's not recommended to save photos on the same disk they were restored from (to avoid damaging or overwriting), this option is extremely helpful.
Download DiskDigger app for Android
Recuva – popular app to recover deleted photos from a memory card
If you had files deleted from a memory card, we'd suggest looking closely at Recuva app. This free data recovery tool hardly needs any introduction as it's been among top apps which recover deleted photos from Android memory card as well as phone or computer.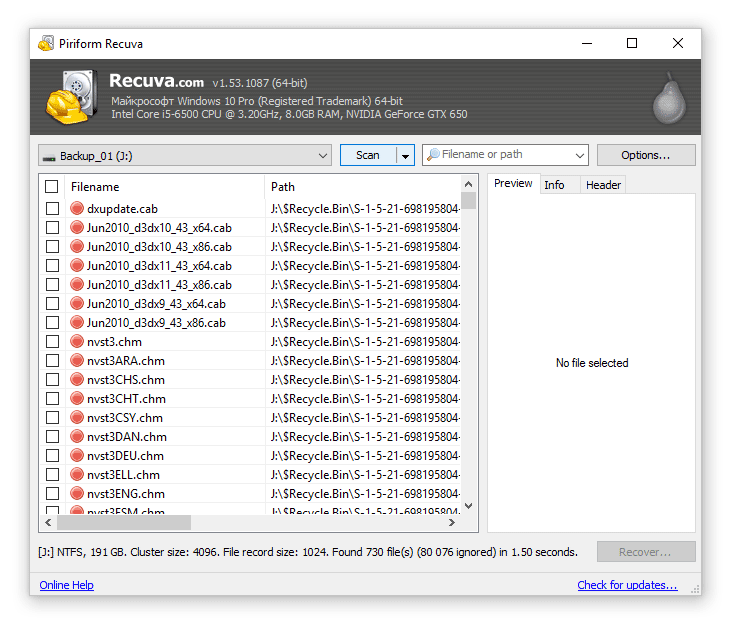 Since we are talking about recovering photos from a phone, it's worth mentioning that Recuva can't restore lost files from device's internal memory because to read from internal storage it needs to be mounted as a separate disk and displayed in the Explorer (we'll have an article specifically about it). Thus the app searches images on a memory card, connected to the computer via card reader.
The application scans selected memory card sectors restoring the folders' structure. As a result, to recover pictures from Android will be a bit easier because you won't have to delve in a pile of nameless files (when you delete an image its name is often lost).
Deep Scan is one of Recuva's most useful features. Activating it you increase the recovery chances massively although you still can find corrupted images with grey areas, distortions, etc.
Shortly speaking, Recuva will render assistance in case you deleted photos stored on your Android device microsd. Even an inexperienced user can figure out how to operate this recovery app (it has a step-by-step recovery wizard) while there's also an Advanced Mode for more experienced users.
Wondershare Dr Fone for Android – easy photo recovery without root
Wondershare has long been in top 3 best photo and data recovery software for Android, iOS and other platforms. Believe it or not, developers tested Dr Fone on 6000 devices (according to the official report on their website), and our own tests show it is compatible with Android 2.2 and above. Keep it in mind that for the app to work properly you need root access which can be activated by the Dr Fone wizard.
Dr Fone for Android recovers accidentally deleted photos on Android phones and tablets. In the recovery wizard tick Gallery and select Standard or Advances mode. In the latter the application gets complete access to Android file system, which in theory increases your chances to find an image using this app. Yet it's not very safe and fraught with troubles.
In the preview window one can look through the found data as well as filter it by date and name or save to the computer.
Wondershare Dr Fone app supports two scan modes – one for a memory card and the other for internal storage. It also has an experimental scan mode for the devices which don't work. If your phone is broken (physically damaged or wouldn't switch on), Dr Fone is able to recover the device and restore your precious images.
EaseUS MobiSaver for Android – recover lost photos from Android Gallery in two clicks
MobiSaver is a relatively new photo recovery product. Considering it was developed by the well-known company Easus, it's clear why other products' features migrated into MobiSaver - a memory scanner app for mobile.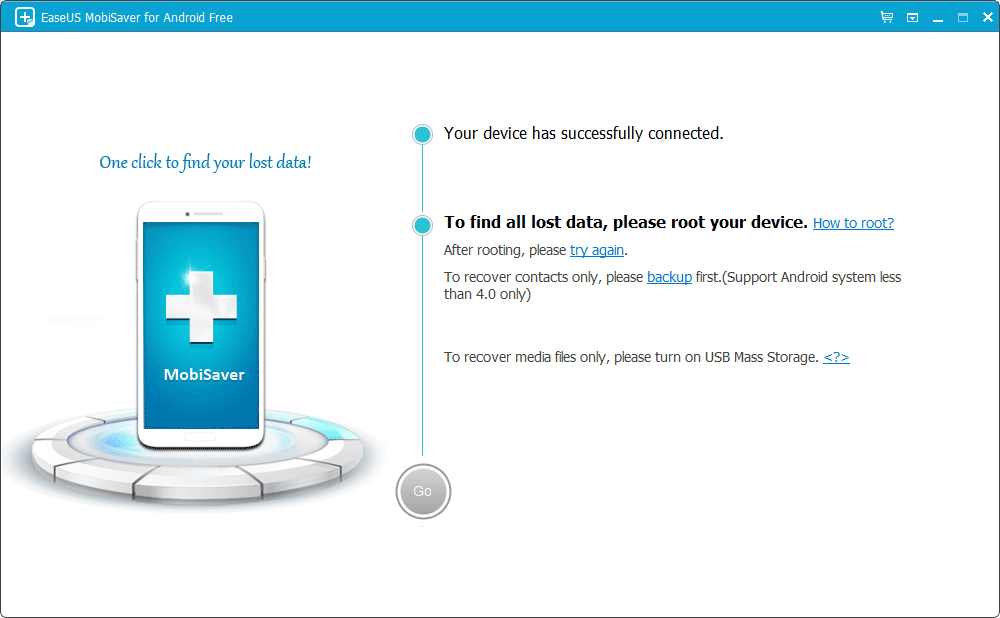 This application was designed to recover data from internal memory or microsd. It's recovery features are very similar to those of, say, Wondershare Data Recovery, which means that it won't take you long to figure out the recovery settings (MobiSaver doesn't have its own settings). All the operations are performed in a wizard. As a result, in Gallery you'll be able to see the pictures which were found and can be restored.
EaseUS MobiSaver doesn't guarantee that it will find the images in remote sections of your device memory with limited root access. Yet it will get you back the data which hasn't been rewritten.
Dumpster – recovery of photos from recycle bin
Lost photos are a lesson to learn: remember to back up your files to Dropbox, Google drive or your computer's hard drive to recover them easily. If you haven't done that, there's another sound way to keep your photos and other data from being lost from the internal memory and sd card.
Dumpster is a real recycle bin on your Android device. Once you install this free app on your device, your photos are backed up automatically. When deleted they move into the recycle bin and can be restored from it.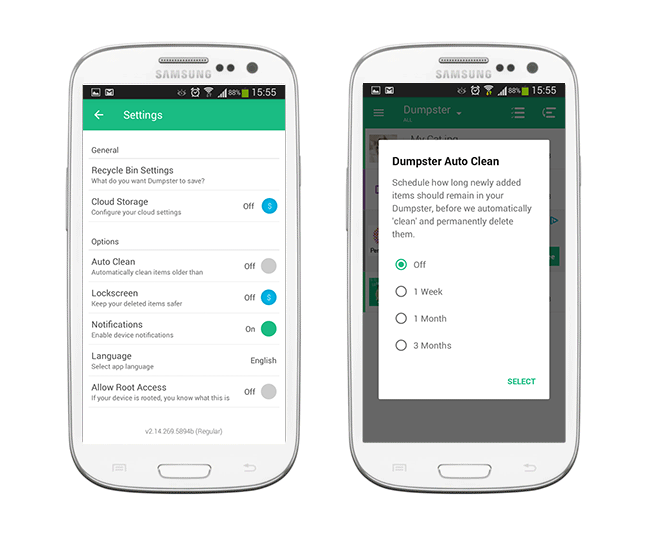 In the settings define storage size and period. You can also turn on cloud backup to keep the deleted files on the Internet. This function is paid but most of Dumpster's basic features will allow you to recover lost photos that you had on your Android device for free.
We highly advise you to have Dumpster to secure your pictures, videos and other data from being lost irretrievably.