Published on
Best photo recovery apps for Android phone

Written by: Ilia
Data recovery specialist, guest author, journalist.
Recovery programs to be reviewed:
Contents
DiskDigger for Android – recover deleted pictures from Android internal storage
It's not easy to find a good (i.e. effective) app to recover deleted photos from an Android device as not all of them are able to scan the device's internal memory. In that sense, DiskDigger for Android is a nice exception on the photo recovery apps list. This application has a free version and also doesn't require your device to be rooted. DiskDigger is undemanding to install and compatible with Android versions starting from 2.2.
The free version of DiskDigger for Android is not significantly limited  and the features included will solve your main problem; it will undelete photos on your Android phone. However, you won't be able to recover files of other types with DiskDigger, nor can you upload the recovered photos from your mobile device to a remote server using FTP.
There are two modes in which you can find deleted pictures on Android using DiskDigger: Basic Scan and Full Scan. In Basic Scan, DiskDigger doesn't require root-access to your phone memory. For Full Scan, you'll need root-access to the file system (superuser privileges). Full Scan will make it more likely you'll recover lost photos due to scanning the whole internal storage of a device. Check rooting apps for Android here.
As in many other photo recovery apps, a results preview window appears in DiskDigger. There you can select the files and images to recover, and identify which of them were damaged and can't be restored. The files can be filtered based on date, file size and name.
The recovered files can be saved to a memory card, e-mailed, or uploaded online, e.g. to Dropbox or Google Drive. As it's not recommended to save photos on the same disk they were recovered from – to avoid damaging or overwriting – this option is extremely helpful.
Download DiskDigger app for Android
Recuva – recover deleted photos from a memory card
If you had files deleted from a memory card, we'd suggest looking closely at the Recuva app. This free data recovery tool hardly needs any introduction, as it's been among the top apps with which to recover deleted photos from an Android memory card as well as from a phone or computer.
Since we are talking about recovering photos from a phone, it's worth mentioning that Recuva can't restore lost files from a device's internal memory. In order to  read from internal storage, it needs to be mounted as a separate disk and displayed in the Explorer. (We have an article specifically about this procedure.) Recuva searches images on a memory card connected to the computer via card reader.
The application scans selected memory card sectors, restoring the folders' structure. As a result, recovering pictures from Android will be a bit easier because you won't have to delve into a pile of nameless files. (When you delete an image, its name is often lost.)
Deep Scan is one of Recuva's most useful features. By activating it, you massively increase the chance of recovery, although you still can find corrupted images with grey areas, distortions, etc.
In short, Recuva will render assistance in case you deleted photos stored on your Android device microSD. Even an inexperienced user can figure out how to operate this recovery app with its step-by-step recovery wizard. There's also an Advanced Mode for more experienced users.
Wondershare Dr Fone for Android – easy photo recovery without root
Wondershare has long been in the top three best photo and data recovery softwares for Android, iOS and other platforms. Believe it or not, developers tested Dr Fone on 6000 devices,according to the official report on their website, and our own tests show it is compatible with Android 2.2 and above. Keep in mind that, for the app to work properly, you need root access, which can be activated by the Dr Fone wizard.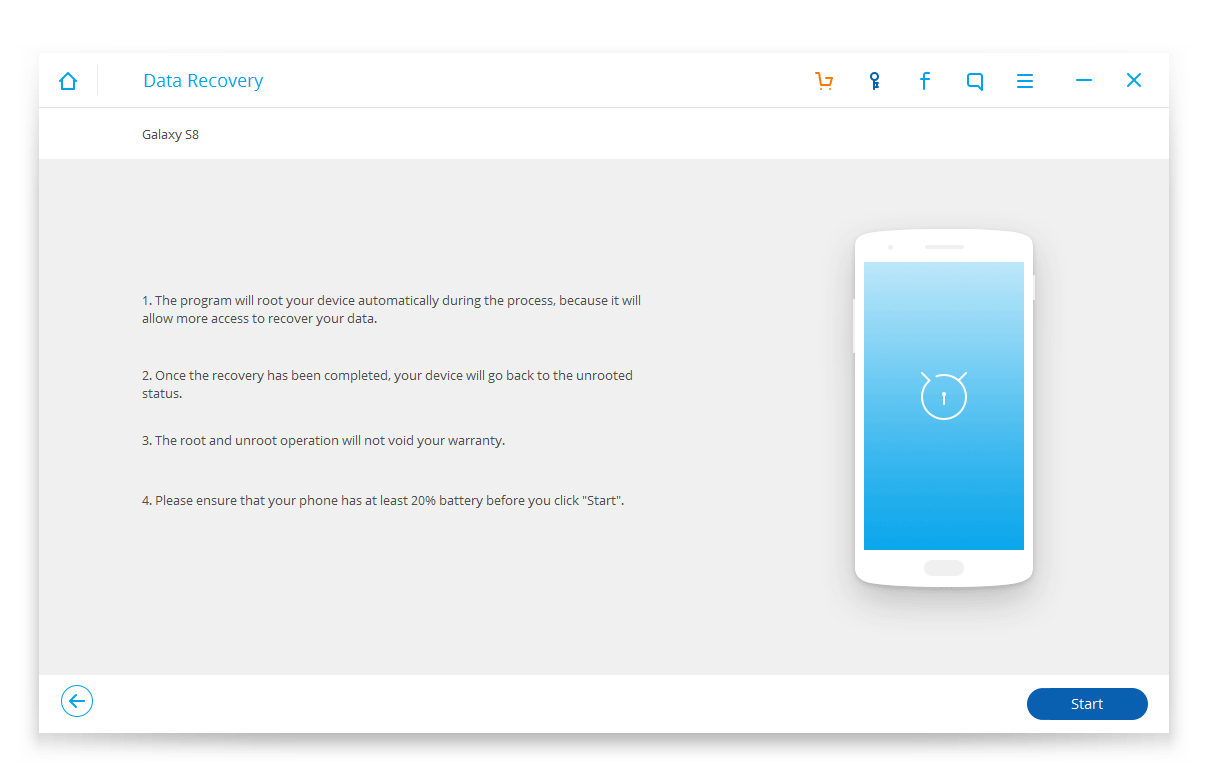 Wondershare Dr Fone
Dr Fone for Android recovers accidentally deleted photos on Android phones and tablets. In the recovery wizard, tick "Gallery" and select "Standard" or "Advanced" mode. In the latter, the application gets complete access to the Android file system, which in theory increases your chances to find an image using this app. Yetgranting complete access is not safe and fraught with troubles.
In the preview window, one can look through the found data,  filter it by date and name, and save to the computer.
Wondershare Dr Fone app supports two scan modes – one for a memory card and the other for internal storage. It also has an experimental scan mode for the devices which don't work, like if your phone is physically damaged or won't switch on. - In this mode, Dr Fone is able to recover from the device and restore your precious images.
EaseUS MobiSaver for Android – recover lost photos from Android Gallery in two clicks
MobiSaver is a relatively new photo recovery product. Considering it was developed by the well-known company EaseUS, it's clear why other products' features migrated into MobiSaver - a memory scanner app for mobile.
This application was designed to recover data from internal memory or microSD. Its recovery features are very similar to those of, say, Wondershare Data Recovery, which means that it won't take you long to figure out the recovery settings. (MobiSaver doesn't have its own settings.) All the operations are performed in a wizard. As a result, in the Gallery, you'll be able to see the pictures which were found and can be restored.
EaseUS MobiSaver doesn't guarantee that it will find the images in remote sections of your device's memory with its limited root access. Yet it will get you back the data which hasn't been rewritten.
Dumpster – recovery of photos from a Recycle bin
Lost photos are a lesson to learn: remember to back up your files to Dropbox, Google drive or your computer's hard drive to recover them easily. If you haven't done that, there's another sound way to keep your photos and other data from being lost from the internal memory and sd card.
Dumpster is a real recycle bin on your Android device. Once you install this free app on your device, your photos are backed up automatically. When deleted, they move into the recycle bin and can be restored from it.
In the settings, define storage size and period. You can also turn on cloud backup to keep the deleted files on the Internet. This function is paid, but most of Dumpster's basic features will allow you to recover lost photos that you had on your Android device for free.
We highly advise you to have Dumpster to secure your pictures, videos and other data from being lost irretrievably.
Undeleter
Undeleter is a program for recovering deleted files from Android's internal memory and/or SD card. It works with all data types and it also allows you to bring accidentally deleted photos and/or videos back to their initial states.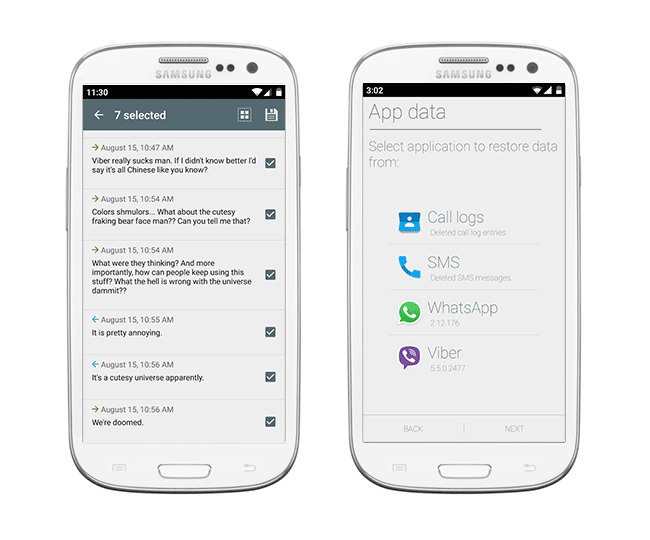 Undeleter for Android
In order to use the whole range of its capabilities, you have to install root rights on your device, i.e. give the utility full access to the file system. Without it, the results of recovery from internal memory will be very limited. However, Undeleter can be used to retrieve files from SD cards without granting root rights to the app.
The program is free if you agree to viewing ads. To disable advertising and get the feature of working in the background mode, you will need a key, which can be bought on Google Play.
The program features:
Scanning for deleted and corrupted photos on the internal memory and external storage of a device.
Previewing deleted photos before their recovery.
Creating backup copies of retrieved photos in Dropbox and Google Drive and synchronizing with the existing accounts of the specified cloud storage.
Completely removing photos and/or videos without the possibility of their recovery.
The advantages:
high probability of recovering a photo in its original state;
high speed;
the capability to create a cloud copy;
previewing feature.
The disadvantages:
advertising;
a key required for more comfortable use;
the probability that some photos can't be recovered or that they will differ from the original ones.
Photorec
This data recovery app allows you to restore photos deleted from cameras, video recorders, tablets and smartphones. Even if the file system of your SD card is severely damaged, Photorec searches for signatures and successfully recovers files with corrupted headers.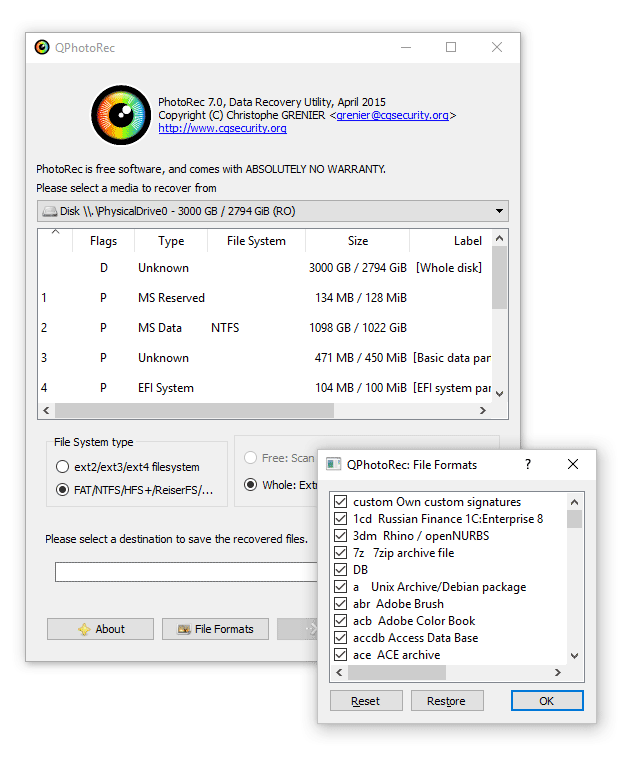 PhotoRec 7.0
The program can be downloaded for free from the official website along with the manual on its use.
Its features:
You can recover photos on your phone in the following ways: by scanning the entire disk (Whole) or only free zones (Free).
You can check the integrity of a file before its recovery.
You can reconstruct fragmented files.
It supports all existing formats.
The advantages:
Photorec uses read-only mode which protects you against accidental overwriting of data;
It allows you to find and recover the majority of lost images;
Complies with Windows/Linux/Mac OS operating systems;
Has user-friendly graphical interface;
Bypasses the file system.
The disadvantages:
With the high efficiency of this utility its main disadvantage is that recovered photos are saved in free order and with other titles, which might make it difficult to sort them further.
MiniTool Mobile - Android photo recovery
A free tool for recovery of lost and corrupted photos and images from devices running the Android operating system. It successfully recovers multimedia formats and WhatsApp attachments, as well as custom and downloaded files.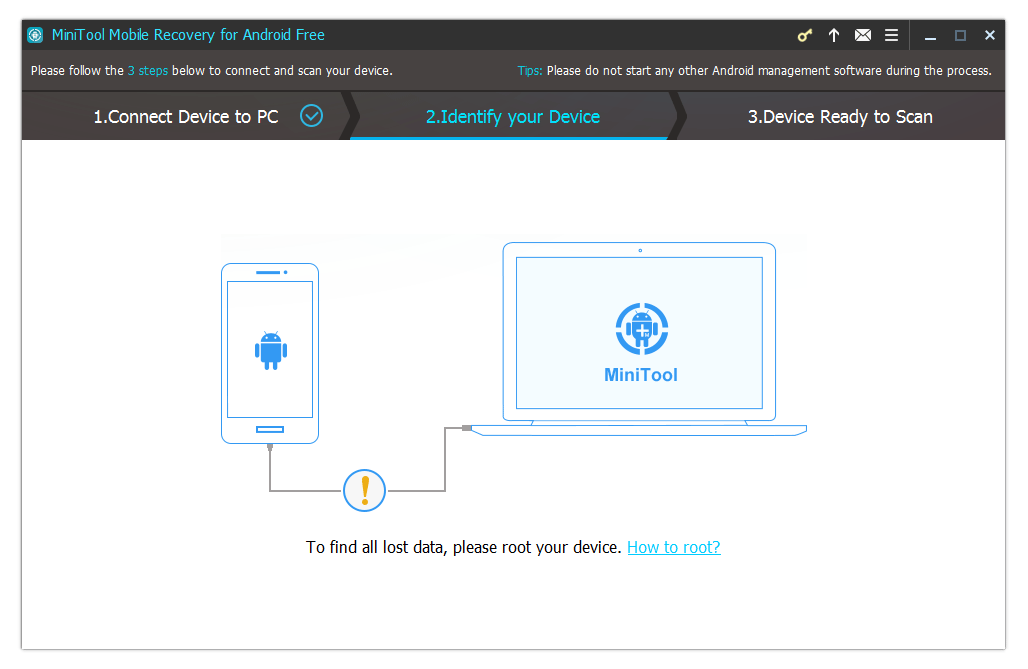 MiniTool Mobile Recovery
MiniTool Mobile Recovery can cope with:
accidental deletion of files;
OS system errors;
virus attacks;
incorrect updates and hard reset;
errors in the performance of a memory card.
MiniTool Mobile Recovery can recover data from both phone and memory card, regardless of the reason for data disappearance. Root rights are required for proper scanning of your gadget.
There are two program versions available: a free (trial) version and a paid one. Via the free version (Free) you can recover up to 10 files. When in the full version (Full) there is no limit on the number of saved images.
The pros of the program:
The speed of the scanning process: it searches for deleted files on your phone very fast;
Since the program works in read mode you can stop the process at any time;
You can review found images.
Among the drawbacks of MiniTool Mobile Recovery is its inability to work with the internal memory of Android devices.
Download MiniTool Mobile Recovery
GT Recovery
GT Recovery is the best Android data recovery software to restore accidentally deleted photos without connecting your device to a computer. It works only on root devices.
This software supports the recovery of images lost after:
accidental deletion;
deleted photo recovery after memory card formatting;
device hard reset.
GT Recovery works quite simply.
In the main window you have to select your case of file deletion;
Run the scan;
Upon completion of the scanning process, a list with all found items will be displayed on the screen;
You have to mark the files you need and specify the folder in which you want to store them.
The advantages:
works with the majority of available formats;
has easy-to-understand interface;
you can preview the results of search;
you can run the app from a SD card;
it scans the devices connected via a USB.
DiskDrill
A program for recovering deleted images from any storage device: from a phone, tablet, memory card, external device and HDD/SSD.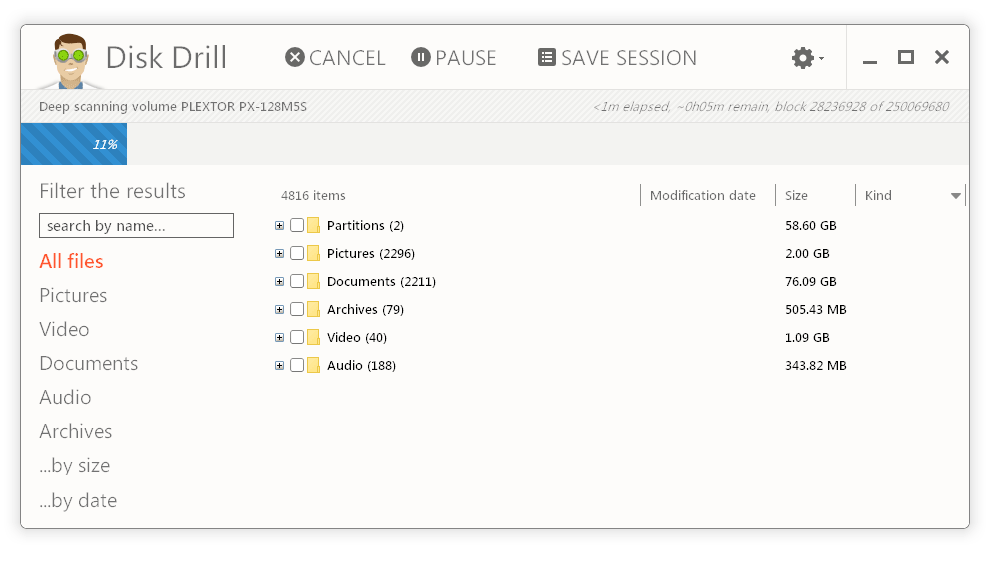 DiskDrill app for PC
Its features:
Three recovery modes: quick search, deep scan and undelete;
Recovery of photos after formatting;
Protection against accidental deletion in the future.
DiskDrill has two versions available: free and PRO. Via the free version you can recover up to 5000 MB of information.It can also  protect your data and has unlimited preview. The PRO version, in addition to the above-mentioned features, has quick and deep scan modes,can search for partitions, and has no limit on the recovery of all existing file formats.
Its advantages and disadvantages:
Among the advantages of DiskDrill are:
ease of use;
several modes allowing retrieval of an image right after its accidental deletion or full formatting;
protection of data against deletion;
general applicability, i.e. the app complies with any formats and devices.
The main drawback of the utility is that the titles of files aren't always restored in their original state, which can make it difficult to find them.
FAQ
Is it possible (if yes, then via which program) to recover photos without root right on a phone?
Yes, it's possible, but keep in mind that in such case you'll manage to retrieve only the photos that were stored in the DCIM folder or just their thumbnails (more often). You can start a recovery without root via the DiskDigger utility for Android or give a try to its counterpart called Undeleter.
---
My phone with a huge amount of data died, so it might be a software problem. How can I recover the data from the phone internal storage?
The only possible option is to turn to an expert qualified in repairing mobile devices (preserving the functionality of the main components). If it's a phone display failure, you can replace it by saving the data stored on your phone. If its chips are damaged, then hardly anyone will agree on conducting any repair services.
The most important thing is that your phone starts and you can provide access to the Android file system.
---
I open the program and there are no photos which I want to recover. Instead of them, I can see the photos that are already in the Gallery.
Indeed, such programs as Dr Fone and Mobisaver have a tendency to display in the results photos which aren't deleted. However, you can set a filter – Show only deleted items – via the settings. Anyway, it's better not to expect incredible results from such tools, as they always tend to "lie" a little bit.
---
Is there a tool to recover the photos deleted within the last 24 hours or within a specified time period?
The date filter is available in most desktop and mobile apps. For example, in Diskdigger for Android, when the scanner is active, you can specify the date when the photo you're looking for was created on your mobile device. You can also save time by setting the minimum and maximum image sizes. Similar options are available in Recuva for Windows.
---
I copied data (photos, videos) onto an SD card. After connecting the SD card to a PC, it won't see the card. You have to recover the files via the Recuva software.
Read the article on this topic "What to do if your computer doesn't see a USB flash drive". Such problem usually occurs due to the presence of read errors on an SD card. After fixing the errors, you can connect your flash drive via the card reader to a PC. The last resort is to format and recover the already formatted media storage drive.
---
I was deleting some photos from my phone memory card on a PC, when I accidentally deleted the folder with photos. I downloaded the DiskDigger program, but it can't find files.
There is other free software with the same functionality. Among the most specialized tools, I would highly recommend using PhotoRec. You can choose to scan both the entire file system and the free space on your SD card. Photo and image formats are also supported, including jpg, png, gif, raw and others.
---
I encountered a problem with file recovery. When I got to the 6th step (save and recover on a drive), the software said that a premium version is required in order to save a file.
Many programs use similar algorithms. If one of them doesn't provide results, try using another free tool for the same purpose. In your case, give a try to Recuva or PhotoRec, which are distributed completely for free but only for non-commercial use.